| | |
| --- | --- |
| AceNotes Today | Wednesday, October 5, 2016 |
Early Bird winner announced
The winner of the United Way Early Bird pledge prize is Lori Harriss, staff accountant in the Office of Fiscal Affairs and Administration. Congratulations, Lori!
While you may not have won the Early Bird prize, there are still prizes to be had! Turn in your pledge form today to be eligible to win prizes, including:
- Day off of work (3)
- Men's and Women's Basketball tickets
- Theatre tickets
- Gift certificates to UE bookstore and Jazzman's
- And MORE!
Please read the information in your packet and if you have any questions, feel free to contact Office of Human Resources at ext. 2943.
Vehicles must be moved from Lot Q by 5:00 p.m. today
All vehicles parked in Lot Q (the lot north of the Weinbach townhouses) must be moved from the lot today by 5:00 p.m. On Friday, October 7, the lot will be cleaned and restriped by members of the campus community who have volunteered to be part of the UE Gives Back on Campus project. Parking will be available in Lot H, which is located north of the tennis courts.
Shannon Richardson receives October 2016 Employee Excellence Award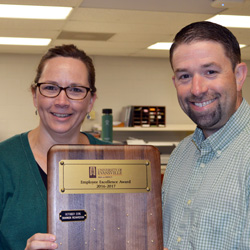 Shannon Richardson, lead in Distribution Services, has received the October 2016 Employee Excellence Award.
Shannon is well known across the UE campus for her roles in copy and mail services and receiving. Her "can do" attitude has ensured that distribution services maintained its high level of service during recent staffing shortages.
As one of those nominating Shannon said "She has done everything that this award represents and is the perfect candidate to be recognized."
Congratulations, and thank you Shannon, for all that you do!
Charlas: Informal Conversation in Spanish
Students of all levels of Spanish are invited to meet at Jazzman's in Ridgway University Center from 5:00- 6:00 p.m. on Wednesdays to practice Spanish in a relaxed atmosphere with Belén Alemán Mansilla, a Fulbright foreign language teaching assistant from Argentina. Come make some handcrafts and learn about Argentina this week!
I-House: Mexico
Today's I-House presentation will be about Mexico and Marina will be presenting. She is a sports management and business administration double major. She loves to play tennis, read, and spend time with her family. Her favorite part about UE is the athletics program and international club. She also plans on bringing us some food! Be sure to come by todayat 7:00 p.m. upstairs in Ridgway University Center.
Phi Mu presents Rock for Riley
Phi Mu's annual fall philanthropy, Rock for Riley, is Friday, October 21, at 7:00-9:00 p.m. in Eykamp Hall, Ridgway University Center. Tickets will be on sale October 17-20 in Ridgway University Center lobby for $5, and at the door on the night of the event for $5.
All proceeds from the event go toward Phi Mu's national philanthropy, Children's Miracle Network Hospitals.
Blood drive on October 18
The Newman Club is hosting a fall blood drive on Tuesday, October 18, from noon-6:00 p.m. If you are interested in either giving blood or donating your time through volunteer work, contact Paige Hignite at ph89@evansville.edu.
International Club Fall Fest bus rides today
This week the members of the International Club are going to the annual West Side Fall Festival in Evansville! They will be taking a bus to the event today.
The bus will be parked outside of Carson Center on Walnut Street, and will leave for the festival at 6:00 p.m. and at 7:00 p.m. The bus will return to UE at 7:30, 8:00, 8:30, and 9:00 p.m.
For more information about Fall Fest and its activities, go here.
For information on food, see the Munchie Map.
Gregory Gregory Night and Harlaxton presentations planned for Harlaxton College at 45
A variety of events are planned from October 14-15 to celebrate Harlaxton College's 45th anniversary. Students, faculty members, and other Harlaxton fans are invited to join the celebration.
Gregory Gregory Night will kick off the activities on Friday, October 14, at 7:00 p.m. at Ri Ra Irish Pub.
On Saturday, Harlaxton headquarters with British sweets, Harlaxton T-shirts and posters, will open in the Krannert Gallery from 9:00 a.m.-3:00 p.m. Presentations will be held in Wheeler Concert Hall.
10:00 a.m. - Mark Valenzuela, associate professor of mechanical and civil engineering
1:00 a.m. - Kristina Arnold of WKU and her Harlaxton spring 2016 students
1:30 p.m. - Harlaxton principal Jerry Seaman
Find out more details and register online here.
Questions? Contact alumni@evansville.edu or ext. 2586.
Senator Greg Taylor to discuss hate crime proposal via Skype
Indianapolis State Senator Greg Taylor introduced a bias motivated hate crime proposal in the Senate in August and would like to gain more support for the proposal in Southern Indiana. Other universities, such as Indiana University and IUPUI in Indiana are supporting the proposal.
Bias crime, or hate crime, laws punish the motivation behind a crime. For example, if a person attacks someone because of the victim's race, religion, or gender, the attacker could receive a harsher punishment.
There will be a Skype discussion with Taylor about his proposal this Thursday, October 6, at 12:30 p.m. in the Vectren Board Room (Room 270), in the Schroeder School of Business Building. The discussion is expected to last one hour. All are welcome to attend.
To reserve your spot, please e-mail LaNeeca Williams at lw161@evansville.edu.
Mid-terms have you stressed? Join us for Stress LESS
The Office of Counseling Services and Health and Wellness Education are sponsoring a stress management program today from 1:00-4:00 p.m. in Eykamp Hall, Rooms 254 and 255, Ridgway University Center. At this event, there will be multiple stations with various activities for stress management. Attendees will have the opportunity to move through each of the stations at their leisure, as well as some cool giveaways to help manage stress.
Poet George David Clark appearing at Coffee Hour today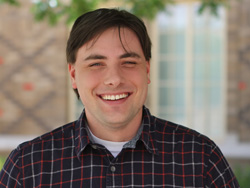 You are invited to join us at the Creative Writing Coffee Hour today to welcome poet George David Clark. All the lectures in the Creative Coffee Hour series begin at 4:00 p.m. in UE's Melvin Peterson Gallery, and are free and open to the public.
Clark's current book, Reveille (Arkansas, 2015), won the Miller Williams Prize, and his more recent poems can be found in Agni, The Cincinnati Review, The Gettysburg Review, Image, The New Criterion, University of Evansville's Measure, and others.
He edits the journal 32 Poems and lives with his wife and their three young children in Western Pennsylvania where he teaches creative writing at Washington & Jefferson College.
Volunteer opportunity with Multiple Sclerosis Autumn Walk
The Tri-State Multiple Sclerosis Association needs the help of the University of Evansville community at its upcoming Autumn Walk, planned for Sunday, November 6, at Harrison High School. Tri-State Multiple Sclerosis Association enhances the quality of life for individuals living with multiple sclerosis and their families in southern Indiana, western Kentucky, and Southern Illinois. Take this opportunity to be a part of the change and offer support in the community!
Volunteer Time Slots
· 11:00am-12:30 pm: Set-up before the event – unloading table and chairs and setting them up
· 2:30-4:00 pm: Clean up after the walk – loading tables and chairs, trash pick-up
· 1:30-3:30 pm: Cheering on walkers
· 1:30-3:30 pm: Traffic control at the walk
· Making signs for the walk route
If you are interested in volunteering fill out this survey or contact Myka Goode at mg222@evansville.edu or Lauren Clowers at tristatemsfundraising@gmail.com.
It's FAFSA time!
Yes, you heard right. It's FAFSA time. Due to changes in the FAFSA, you can now file your FAFSA beginning October 1 each year. Beginning with the 2017-18 FAFSA, you will use federal tax data from one year earlier than previously required. This means that you will use your 2015 federal tax data to complete the 2017-18 FAFSA.
Since you have already filed your 2015 taxes, we encourage you to use the IRS Data Retrieval Tool in the FAFSA to load tax data straight from the IRS into your FAFSA. This is a quick and easy process for those that qualify to use the tool.
Need help completing the FAFSA? Stop into the Office of Financial Aid and we will be happy to help you.
Bookstore student charge deadline is October 7
The last day for eligible students to charge textbooks and supplies to their student account in the UE Bookstore is Friday, October 7. After that date no more charges will be allowed. If you need a textbook please make sure you do the transaction before the deadline. If you have questions contact the UE Bookstore.
USPS closed Monday, October 10 for Columbus Day
The United States Postal Service will be closed for Columbus Day on Monday, October 10. Please note that because of that, UE will not be able to pick up mail from the USPS. Any mail picked up from UE areas by distribution services/mail services that day will be metered and mailed on the afternoon of Tuesday, October 11. For mail related questions, please contact Mail Services at ext. 2197 or mailservices@evansville.edu.
Federal loan repayment counseling session required for students graduating or transferring
Students who have received federal direct (subsidized/unsubsidized) loans and plan to graduate in the fall (or transfer after the fall semester) are required to attend a loan repayment counseling session. The Office of Financial Aid will hold the first session of the semester on Thursday, October 20 at 1:00 p.m. in Eykamp Hall, Room 251, Ridgway University Center. The last session will be held December 7 at 2:00 p.m.
Make your free LinC portrait appointment today
Make an appointment today to have your portrait taken for the 2017 LinC. If you are graduating in December 2016 or May 2017, you're eligible. It's free — all you need is an appointment. Call 812-488-2846 or visit Student Publications, located on the second floor Ridgway University Center. Information letters went out last week to pending graduates. If you didn't receive one, stop by Student Publications.
All students - voter registration happening today!
On October 3, 4, and 5, faculty, staff, and community partners will be on hand in the lobby of Ridgway University Center to help students register to vote! The deadline to register in Indiana is October 11, and we can help make sure you are informed and registered for the upcoming election on Tuesday, November 8.
In-house office supply form has been revised
Effective immediately - central receiving is now accepting the newest version of the in-house office supply order form (dated 9/2016) which includes updated pricing. The revised in-house office supply order form is available on the central receiving and purchasing websites in AceLink. Please note that previous versions of the in-house form will no longer be accepted as of October 12. Please e-mail your questions to centralreceiving@evansville.edu or call ext. 2197.
Dion discusses VP debate and Governor Pence with media
Robert Dion, department chair of Law, Politics, and Society, appeared on an "In Depth with Brad Byrd" segment on WEHT Eyewitness News Tuesday night. The topic was the vice presidential debate, featuring Indiana governor Mike Pence. The story can be found here.
Dion was also featured yesterday in a statewide story about Governor Mike Pence by Indiana Public Media.
Aces improve in final day at MVC Preview
Kayla Katterhenry was the low shooter of the day as the University of Evansville Women's Golf team completed the MVC Preview on Tuesday at Dalhousie Golf Club.
Katterhenry shot a 75 in Tuesday's final round to finish in a tie for 22nd with a final score of 228. Her rounds on Monday checked in at 77 and 76. Maggie Camp was second for the Purple Aces. Scores of 77 in the last two rounds saw her finish the event with a 238, good for a 49th place finish.
Third on the squad was Madison Chaney. She tied for 62nd with a final score of 243. Her top round of the event was in the second trip around the course where she registered a 77. Giulia Mallmann carded an 86 on Tuesday to finish with a 256 while Maria Pickens completed the event with a 268.
As a team, Evansville moved up to 12th place with a 965. Taking top honors on the team side was Murray State with an 871. Their dominant effort continued as they defeated UMKC by 13 shots. Taryn Torgerson of Wichita State was the medalist. Her final of 213 gave her the championship by one stroke.
Next up for the women is the Dayton Invitational on October 17 and 18. The NCR Country Club in Kettering, Ohio, will be the host course.
Tyler Gray wins Butler Fall Invitational
Tyler Gray shot a 1-under 69 on Tuesday to earn the win at the Butler Fall Invitational as the University of Evansville men's golf team took second place in the event at Highland Country Club.
Gray's round of a 1-under 69 was his lowest round of the event and gave him a 210 over the course of the tournament. He defeated UIndy's Evan Stoker by one stroke. Gray opened the event with rounds of 71 and 70 on Monday.
All five Purple Aces finished in the top 21 as the team took second place on the team side. Evansville posted an 855 over the three rounds while the University of Indianapolis notched an 854. Both teams had strong efforts in the final rounds as Indianapolis notched a 284 with Evansville carding a 287. Those were the lowest team rounds of the day.
Second for UE was Wil Pahud. His 72 on Tuesday gave him a 213 for the event, tying him for sixth place. Sophomore Zac Turi had another solid round of play. After shooting a career-low 69 in the opening round, Turi recorded a 74 to finish with a 218. He tied for 13th.
One shot behind Turi was Noah Reese. A 75 in the final round saw Reese post a 219 for the tournament, tying for 16th. Rounding out the team was Matthew Ladd, who had his best round of the weekend. He shot a 72 to tie for 21st place with a 222.
Cameron Weyer led the individuals for the Purple Aces. A 2-under 68 on Tuesday saw Weyer rocket up the leaderboard to tie for sixth with a score of 213. Jon Pick also brought home a stellar finish. His final round of 75 gave him a total of 217, good for a 12th place finish.
Austin Carmack fired off a 76 on the final day to tie for 27th with a 226 while Robert Waggoner took 48th place with a 241.
A busy stretch continues for the Aces as they travel to Morganton, North Carolina, next Monday and Tuesday for the Donald Ross Intercollegiate at Mimosa Hills Country Club.

Contribute to AceNotes
To have content considered for inclusion in AceNotes, please submit a Marketing Request Form. Deadline for submission to AceNotes is 10:00 a.m. on the requested date of publication. Only articles concerning UE related/sponsored activities will be accepted. Articles submitted to AceNotes may be edited for length and clarity. Submitter contact information is at the end of each article.