| | |
| --- | --- |
| AceNotes Today | Tuesday, October 4, 2016 |
It's your turn – turn in your UW form today!
Deadline: October 12 at 5:00 p.m.
Even though the Early Bird deadline has passed, you still have a chance to WIN! Turn in your pledge form at any time this week and be eligible to win prizes including:
• Days off work (three)
• Men's and Women's Basketball tickets
• Theatre tickets
• Gift certificates to UE Bookstore and Jazzman's
• And MORE!
Please read the information in your packet and if you have any questions, feel free to contact Office of Human Resources at ext. 2943.
Vehicles must be moved from Lot Q by 5:00 p.m. today
All vehicles parked in Lot Q (the lot north of the Weinbach townhouses) must be moved from the lot today by 5:00 p.m. On Friday, October 7, the lot will be cleaned and restriped by members of the campus community who have volunteered to be part of the UE Gives Back on Campus project. Parking will be available in Lot H, which is located north of the tennis courts.
Shannon Richardson receives October 2016 Employee Excellence Award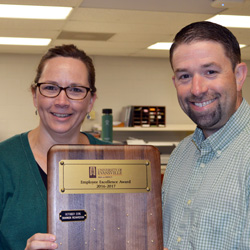 Shannon Richardson, lead in Distribution Services, has received the October 2016 Employee Excellence Award.
Shannon is well known across the UE campus for her roles in copy and mail services and receiving. Her "can do" attitude has ensured that distribution services maintained its high level of service during recent staffing shortages.
As one of those nominating Shannon said "She has done everything that this award represents and is the perfect candidate to be recognized."
Congratulations, and thank you Shannon, for all that you do!
This Week in Music: The Eykamp String Quartet
The Department of Music continues its concert season today in Wheeler Concert Hall at 7:30 p.m. with a performance by the department's resident string ensemble, the Eykamp String Quartet. Quartet members include violinist and Evansville Philharmonic Orchestra concertmaster Robert Anemone, violinist and EPO associate concertmaster Alicia Choi, EPO principal violist Rose Wollman, and EPO principal cellist Kirsten Jermé. The program will include works by Mozart, Schubert, and twentieth-century Czech composer Leoš Janáek. The Eykamp String Quartet is made possible by the special underwriting of Rita, Richard, and Dorothy Eykamp, friends of the University of Evansville, and the Evansville Philharmonic Orchestra.
Lunch and Lead: Leading as a Person of Color
The next Lunch and Lead is set for today in the Class of '59 Gallery and Lounge on the second floor of Ridgway University Center (note that the location of the event has changed). A panel from the Evansville community will speak on their individual experiences as people of color serving in leadership roles. Courtney Johnson, Stephanie Terry, Darin Lander, and Danyelle Granger will also be giving advice to college students looking to be leaders in their respective career fields and communities.
This event is free and open to all students, faculty, staff, and UE community members. We encourage attendees to bring their lunch with them to these events!
Eco Club call out meeting today
Are you interested in having a more environmentally friendly campus? Then you should come to the Eco Club call out meeting. Join us today at 8:00 p.m. in Room 124 in the Koch Center for Engineering and Science. We will be discussing our plans for this year (composting, community garden, recycling, etc.).
Homecoming 2016 Reunion Weekend - October 14-16
Many alumni will return to campus October 14-16, as many anniversaries are celebrated during Homecoming Reunion Weekend. The class of 1966 is 50, Chi Omega celebrates 65 years at UE, Lambda Chi Alpha - 60 years, Harlaxton is 45 years, and neuroscience is 40.
The full schedule of events is online here.
Questions? Contact alumni@evansville.edu or ext. 2586. Join us in welcoming alumni back to campus and join in the fun!
International Club Fall Fest bus rides today
This week the members of the International Club are going to the annual West Side Fall Festival in Evansville! They will be taking a bus to the event today.
The bus will be parked outside of Carson Center on Walnut Street, and will leave for the festival at 6:00 p.m. and at 7:00 p.m. The bus will return to UE at 7:30, 8:00, 8:30, and 9:00 p.m.
For more information about Fall Fest and its activities, go here.
For information on food, see the Munchie Map.
Senator Greg Taylor to discuss hate crime proposal via Skype
Indianapolis State Senator Greg Taylor introduced a bias motivated hate crime proposal in the Senate in August and would like to gain more support for the proposal in Southern Indiana. Other universities, such as Indiana University and IUPUI in Indiana are supporting the proposal.
Bias crime, or hate crime, laws punish the motivation behind a crime. For example, if a person attacks someone because of the victim's race, religion, or gender, the attacker could receive a harsher punishment.
There will be a Skype discussion with Taylor about his proposal this Thursday, October 6, at 12:30 p.m. in the Vectren Board Room (Room 270), in the Schroeder School of Business Building. The discussion is expected to last one hour. All are welcome to attend.
To reserve your spot, please e-mail LaNeeca Williams at lw161@evansville.edu.
Charlas: Informal Conversation in Spanish
Students of all levels of Spanish are invited to meet at Jazzman's in Ridgway University Center from 5:00- 6:00 p.m. on Wednesdays to practice Spanish in a relaxed atmosphere with Belén Alemán Mansilla, a Fulbright foreign language teaching assistant from Argentina. Come make some handcrafts and learn about Argentina this week!
I-House: Mexico
Today's I-House presentation will be about Mexico and Marina will be presenting. She is a sports management and business administration double major. She loves to play tennis, read, and spend time with her family. Her favorite part about UE is the athletics program and international club. She also plans on bringing us some food! Be sure to come by todayat 7:00 p.m. upstairs in Ridgway University Center.
Mid-terms have you stressed? Join us for Stress LESS
The Office of Counseling Services and Health and Wellness Education are sponsoring a stress management program today from 1:00-4:00 p.m. in Eykamp Hall, Rooms 254 and 255, Ridgway University Center. At this event, there will be multiple stations with various activities for stress management. Attendees will have the opportunity to move through each of the stations at their leisure, as well as some cool giveaways to help manage stress.
It's FAFSA time!
Yes, you heard right. It's FAFSA time. Due to changes in the FAFSA, you can now file your FAFSA beginning October 1 each year. Beginning with the 2017-18 FAFSA, you will use federal tax data from one year earlier than previously required. This means that you will use your 2015 federal tax data to complete the 2017-18 FAFSA.
Since you have already filed your 2015 taxes, we encourage you to use the IRS Data Retrieval Tool in the FAFSA to load tax data straight from the IRS into your FAFSA. This is a quick and easy process for those that qualify to use the tool.
Need help completing the FAFSA? Stop into the Office of Financial Aid and we will be happy to help you.
TIAA-CREF counseling appointments
The TIAA-CREF representative will be on the UE campus for individual counseling sessions on Wednesday, October 19 and Thursday, October 20. To schedule an appointment, call TIAA-CREF at 1-800-732-8353 or 317-706-6200.
Please note that the meeting location has been changed to room 208 of the University Libraries.
The change is counted – a victor has emerged!
While the United Way Coin War silently plinked the week away, one residence hall's change rang the loudest.
Congratulations Morton/Brentano Residence Halls for winning the inaugural United Way Coin War! A total of $230.55 was donated by all residence halls.
Final Tally
First Place: Morton/Brentano with 9,969 points ($127.55)
Second: Hughes with 934 points ($41.69)
Third: Powell with 554 points ($15.79)
Fourth: Moore with 552 points ($12.69)
Fifth: Hale with 237 points ($23.13)
Last Place: Schroeder/Villages with -3 points ($9.70)
A big thank you to everyone who donated their change for this event and made the inaugural Coin War a big success!
Bookstore student charge deadline is October 7
The last day for eligible students to charge textbooks and supplies to their student account in the UE Bookstore is Friday, October 7. After that date no more charges will be allowed. If you need a textbook please make sure you do the transaction before the deadline. If you have questions contact the UE Bookstore.
Make your free LinC portrait appointment today
Make an appointment today to have your portrait taken for the 2017 LinC. If you are graduating in December 2016 or May 2017, you're eligible. It's free — all you need is an appointment. Call 812-488-2846 or visit Student Publications, located on the second floor Ridgway University Center. Information letters went out last week to pending graduates. If you didn't receive one, stop by Student Publications.
All students - voter registration happening today!
On October 3, 4, and 5, faculty, staff, and community partners will be on hand in the lobby of Ridgway University Center to help students register to vote! The deadline to register in Indiana is October 11, and we can help make sure you are informed and registered for the upcoming election on Tuesday, November 8.
Women's Golf finishes opening day at MVC Preview
With two rounds in the books at the MVC Preview, the University of Evansville Women's Golf team ranks in 13th place on the leaderboard at Dalhousie Country Club.
Evansville was led by Kayla Katterhenry, who ranks in a tie for 31st place. She stands at a +9 153 following the first two rounds of play. She began the day with a 77 before carding a 4-over 76 in the second round.
Next up was Madison Chaney. Rounds of 80 and 77 have her in a tie for 50th with a 157. She stands at 13 over par. Third on the squad was Maggie Camp. After posting an 84 in the first round, she improved her score by seven strokes to a 77. Her score checks in at a 161.
Giulia Mallmann finished the opening day with rounds of 86 and 84. Rounding out the squad were Lexie Sollman and Maria Pickens. Sollman registered rounds of 91 and 86 to finish the day with a 177 while Pickens' 94 and 86 have her sitting at a 180.
There is a 3-way tie atop the individual leaderboard as Taryn Torgerson (Wichita State), Cynthia Diaz (UMKC), and Beth Ann Compton (Arkansas State) each have scores of 141 entering Tuesday's final round.
On the team side, Murray State completed the day with a 581, just five over par. UMKC is six behind in second place while Arkansas State is in third place, 12 strokes off the lead.

Men's Golf leads the pack at Butler
Tyler Gray and Wil Pahud are tied for second place on the individual leaderboard as the University of Evansville Men's Golf team leads the way at the Butler Invitational at Highland Country Club.
With two out of three rounds completed, the Purple Aces sit with 568 strokes, two ahead of UIndy and three in front of Butler. In the opening round, UE shot a 278, the lowest round of the day for any team in the field.
Pacing the Aces were Tyler Gray and Wil Pahud. Gray opened the tournament with a 1-over 71 before shooting an even par in the second round to stand with a 141. Pahud began the day with an even 70 before firing off a 71 in the second round.
Standing in a tie for 11th place is the duo of Zac Turi and Noah Reese. Turi had his best day of college play on Monday, shooting a 1-under 69 in the first round. He followed that up with a 75 to stand with a 144. Reese was even better in the first round. He posted a 2-under 68 before notching a 76 to sit with a 144.
Freshman Matthew Ladd also had a solid day at the office. Following a 76, Ladd carded a 74 in the second round to complete the day with a 150. He is tied for 29th.
Evansville's individuals also had stellar days. Jon Pick is tied for sixth place. His efforts of 70 and 72 gave him a 142 for the day. Three behind him was Cameron Weyer, who notched rounds of 73 and 72 to stand at a 145. Austin Carmack is tied for 29th place following rounds of 74 and 76 while Robert Waggoner finished the day with a 159 (79-80).
Patrick Allgeier of Butler is the top individual. His rounds of 71 and 69 have him one ahead of Pahud and Gray with a 140.
One more round of action was set for this morning at 8:30 a.m. ET.

Contribute to AceNotes
To have content considered for inclusion in AceNotes, please submit a Marketing Request Form. Deadline for submission to AceNotes is 10:00 a.m. on the requested date of publication. Only articles concerning UE related/sponsored activities will be accepted. Articles submitted to AceNotes may be edited for length and clarity. Submitter contact information is at the end of each article.