| | |
| --- | --- |
| AceNotes Today | Friday, September 30, 2016 |
Improper Parking on Rotherwood Avenue and Walnut Street
The Evansville Police Department has notified the University that they have received complaints about individuals violating the parking restrictions on Walnut Avenue near the Townhouses. Parking is not allowed on the north side of Walnut between the hours of 6:00-9:00 a.m. and from 3:00-6:00 p.m. on the south side. They will be issuing parking citations for violators and vehicles may be towed. They have also received complaints about improper parking on Rotherwood Avenue between Lincoln Avenue and Walnut. Citations were issued today in this area for parking in front of a fireplug and parking on yellow curbs. No vehicles were towed today, however we were advised that future violators will be subject to having their vehicles towed. Please obey the parking regulation on the streets around our campus.
UE Theatre offers buy one ticket, get one free for Failure: A Love Story
Audiences are being delighted by the UE Theatre season opening production of Failure: A Love Story, by Philip Dawkins, in Shanklin Theatre. Any remaining seats for the final three performances - Friday and Saturday at 7:30 p.m. and Sunday at 2:00 p.m. - can be purchased using a buy one, get one free offer. Stop by the UE Theatre ticket office, open at noon, and use the code word sweetheart, to receive the discount. Don't miss this charming musical fable!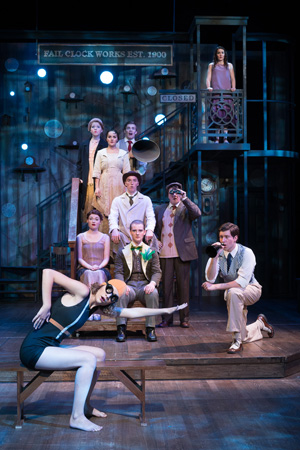 Rosary group meeting this afternoon
The Newman Club will have a Rosary group today at 2:00 p.m. in Room 209 in the library. All students and faculty are welcome and we hope to see you there!
All of campus invited to Skyzone tonight
The Newman Club and Center for Student Engagement invite all of campus to Skyzone tonight from 7:00-9:00 p.m. Register online through WebAdvisor by filling out the student activities waiver. Meet on Walnut at 6:30 pm. Admission to the event is free and transportation will be provided. Contact Olivia at ov4@evansville.edu or Rachel at rs255@evansville.edu
DREAM ON: Panel Discussion and WNIN Program Screening Tomorrow at 2:00 p.m.
Members of the UE campus community including President Kazee, Sharon Kazee, Gene Wells, and Kenton Hargis will participate in a program screening and panel discussion tomorrow, Saturday, October 1, at 2:00 p.m. in Smythe Lecture Hall, Room 170, Schroeder School of Business Building.

The national PBS show Dream On features political comedian John Fugelsang as he retraces the journey of Alexis de Tocqueville, whose study of our young country in 1831 came to define America as a place where anyone could climb the ladder of economic opportunity. Following in the Frenchman's footsteps, Fugelsang speaks with fast-food workers and retirees, prisoners and entrepreneurs, undocumented immigrants, and community organizers about their hopes, dreams, and daily struggles. Dream On explores whether the optimistic spirit of the American Dream that Tocqueville observed is alive and well in the twenty-first century, or whether George Carlin was right when he famously quipped, "It's called the American Dream because you have to be asleep to believe it."

Tomorrow's event will feature an excerpt of Dream On and the locally-produced show Old Dreams, New Ideas followed by a panel discussion on the pertinent topics discussed in both programs.

More information is available here.
UE faculty members and student to talk at TEDxEvansville this weekend!
Don't miss the TEDxEvansville event this Saturday, October 1, from 1:00-4:00 p.m. Tickets for the event to be held at the Evansville Museum's Koch Immersive Theater are sold out, but there will be a free viewing party in the Ridgway University Center. All talks will be streamed free online as well.
UE speakers will include:
Jill Griffin, director of the Institute for Global Enterprise, will talk about "Changemaker Math and the Art of Critical Doing."
Basel Al Haj, a Syrian biochemistry major, will present "A Syrian Story."
James MacLeod, professor of history, and Joe Atkinson, digital multimedia specialist, will present "Rising to the Challenge: Evansville Then and Now."
For more information, visit www.tedxevansville.com/speakers.

Eco Club call out meeting today
Are you interested in having a more environmentally friendly campus? Then you should come to the Eco Club call out meeting. Join us today at 8:00 p.m. in Room 124 in the Koch Center for Engineering and Science. We will be discussing our plans for this year (composting, community garden, recycling, etc.).
Student planning/registration information sessions
With the launch of student planning this fall for spring registration, we are offering several information sessions (see below) to help students become familiar with the new online registration process. We will also be posting video tutorials and step-by-step instructions prior to advising week (October 24).
Students: Join us for one of these sessions:
Monday, October 3 at 1:00 p.m. in Room 170 in the Schroeder School of Business Building
Tuesday, October 4 at 4:30 p.m. in Room 170 in the Schroeder School of Business Building
Wednesday, October 5 at noon in Room 170 in the Schroeder School of Business Building
Tuesday, October 11 at 6:00 p.m. in Room 100 in the Koch Center for Engineering and Science
Thursday, October 20 at noon in Room 101 in the Koch Center for Engineering and Science
Monday, October 24 at 4:30 p.m. in Room 170 in the Schroeder School of Business Building
Blood drive on October 18
The Newman Club is hosting a fall blood drive on Tuesday, October 18 from noon-6:00 p.m. If you are interesting in either giving blood or donating your time through volunteer work, contact Paige Hignite at ph89@evansville.edu.
TedX livestream event featuring Scholars for Syria member
On October 1, there will be a TedX viewing party from noon-3:00 p.m. upstairs in Ridgway University Center. This TedX Evansville event will feature our very own UE student and Scholars for Syria member Basel Al Haj.
Basel will be sharing his immigration story and will highlight the ways in which the turmoil of war and global politics has negatively impacted his culture. In the midst of the Syrian war, Basel will be catalyzing an important dialogue about Syrian culture and immigration.
We invite all students, faculty and community members to attend the viewing party free of charge. For more information, please contact km349@evansville.edu.

UE alumna and Air Force First Lieutenant meets with SNAP
Last night, Katie Pejka, BSN '13 and First Lieutenant in the Air Force, met with Student Nurse Association of Peers (SNAP) to share her military experiences and life after UE graduation. Here she is pictured with the group.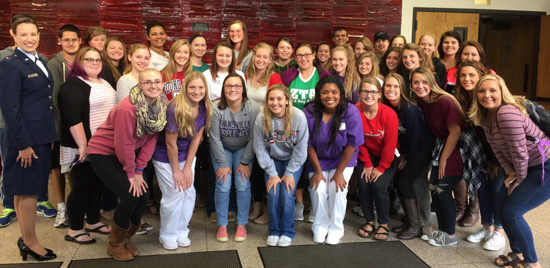 Announcement - outsourcing of USPS meter mailing services
Effective Monday, October 17, UE distribution services/mail services will outsource the metering of United States Postal Service domestic and international mail (letters, flats, etc.) and USPS domestic parcels to Data Mail Inc., a local third party vendor. UE mail services will no longer have equipment to meter mail and/or process parcels for shipment in-house after Friday, October 14.
What Is Changing!
• UE will no longer have a USPS meter or mailing equipment. Additionally, UE will no longer have a UPS account or UPS shipping equipment.
• The current UE mail processing form is being updated and re-named the UE USPS mail/parcel processing form.
• The current UE account barcode cards will be replaced with new cards provided by Data Mail Inc. However, the name of the barcode cards will remain unchanged. Departments having existing UE account barcode cards will be asked to turn in these cards to be exchanged for 8-10 new Data Mail Inc. generated UE account barcode cards.
• UE Mail Services will no longer provide UPS services due to low outgoing package volumes, removal of equipment, and upcoming UPS rate increases on average of 4.9% with an overall increase of 9 percent for packages weighing 1-10 pounds. Departments desiring UPS services may contact UPS directly, set up a department account, request a site pickup, and pay UPS directly with a UE Pcard.
• Departments desiring to ship USPS International parcels will go directly to a local post office, complete the required USPS documentation (customs forms, etc.), and pay USPS directly with a UE Pcard. The same can be accomplished with UPS but typically at a much higher cost.
What Remains the Same!
UE distribution services/mail services will continue to:
• Pickup UE incoming mail and parcels from the USPS, Monday through Friday, except for UE holidays
• Process incoming business reply and short paid UE mail
• Sort mail by UE campus department in the mail services area
• Make a daily - Monday through Friday - campus mail run to deliver and/or pick up department mail that is pickup ready and includes USPS domestic and international letter mail, USPS domestic parcels, pre-stamped and sealed mail, and campus mail.
• Deliver to residence halls as is currently performed.
• Distribute newspapers received (i.e. Evansville Courier & Press, Wall Street Journal, etc.)
• Deliver UE mail and contract mailings to Data Mail, Monday through Friday, for processing.
Departments will continue to be responsible for existing processes that include:
• Preparing USPS mail parcels for distribution services/mail services pickup by completing a UE USPS mail/parcel processing form to provide the required department name, account number and mail/parcel requirements/instructions selected by the department. USPS parcels are to be packed and ready for shipping with an attached UE USPS mail/parcel processing form.
• Sorting, separating, and bundling (rubber bands or binder clips) USPS letter mail by account number, mail class, special services, domestic, international, etc., and securely attaching the appropriate UE account barcode card to each mail bundle being picked up on the mail run by the UE mail courier. Specific mailing information continues to be available on the mail services website located on AceLink under Areas. (New UE account barcode cards will be distributed as soon as available.)
• Follow existing campus mail guidelines to prepare campus mail bundled separately for ue mail services courier mail run pickup.
• Sealing envelope flaps with department affixed stamps for USPS domestic and/or international letter mail sorted by account number, domestic, international, etc., with a securely attached UE account barcode card to each bundle being picked up on the mail run by the UE mail courier.
• Taking USPS international and non-USPS mail/parcels requiring express services or International parcel services directly to the local post office for processing and payment via a UE Pcard.
• Following current contract mailing (large mailings of 200 mail pieces or weighing a total of 50 pounds) processes and procedures. Specific contract mailing information continues to be available on the contract mailing website located on AceLink under Areas.
If you have questions regarding this information, please contact Kim Winsett at kw83@evansville.edu or ext. 2940 or Shannon Richardson at sr205@evansville.edu.

The change is counted – a victor has emerged!
While the United Way Coin War silently plinked the week away, one residence hall's change rang the loudest.
Congratulations Morton/Brentano Residence Halls for winning the inaugural United Way Coin War! A total of $230.55 was donated by all residence halls.
Final Tally
First Place: Morton/Brentano with 9,969 points ($127.55)
Second: Hughes with 934 points ($41.69)
Third: Powell with 554 points ($15.79)
Fourth: Moore with 552 points ($12.69)
Fifth: Hale with 237 points ($23.13)
Last Place: Schroeder/Villages with -3 points ($9.70)
A big thank you to everyone who donated their change for this event and made the inaugural Coin War a big success!
UE Department of Art receives gift from Efroymson Family Fund
The Office of Development is pleased to announce that the University of Evansville's Department of Art was recently awarded a $22,000 grant from the Efroymson Family Fund. This generous gift will fund the Efroymsom Family Contemporary Artist Lecture Series, facilitate programming to bring additional local visiting contemporary artists to exhibit their work in the Krannert and Melvin Peterson Galleries, fund a marketing and event planning intern, and provide funds to purchase two new ceramic kilns. The gift represents the Efroymson Family Fund's generous and continued support of the arts at the University of Evansville.
Propose your own GAP project
GAP is now accepting project proposals from both faculty members and students. If you have an idea to make a difference in your community, we encourage you to apply. Class credit and financial support is available and your idea can help nonprofits, for profit businesses, or civic projects.
Submit your proposal no later than 5:00 p.m. on October 7. Spots are limited, so apply early!
Faculty members can submit their project suggestions here
Students can submit their project suggestions here.
For more information, call 812-488-5002 or visit www.evansville.edu/gap.
Be part of a research study!
Be part of a research study – it's as easy as breathing! Kyle Kiesel, professor of physical therapy, and students in the Department of Physical Therapy are searching for individuals to participate in a research study investigating the relationship between breathing and movement. Participants should be between 20-50 years old. The testing session is a one-time commitment lasting approximately 20-30 minutes. Testing takes place Monday, October 3, at 10:00 a.m.-2:00 p.m., in Carson Center in the aerobics room. Contact jk245@evansville.edu if interested to schedule your testing session or for any questions.
Mr. and Miss UE Nominations
During Homecoming Weekend we plan to recognize and crown Mr. and Miss UE. To be eligible, students must be a fulltime student and member of the senior class. Nominations may be made by anyone on campus, either a student organization, group of friends, team, roommates, etc. To nominate someone, you are asked to complete the nomination form by next Wednesday, October 5 by 5:00 p.m. Nominations can be made based on the student's preferred gender.
Flu Shot Blitz on October 3 and 4
Come get your flu shot on October 3 from 7:00-11:00 a.m., and October 4 from 2:00-6:00 p.m. at the UE Medical Clinic. These are free flu shots for employees and family members on the UE insurance. Other participants will pay $20 and will receive a receipt to submit for reimbursement through their insurance. Go to Acelink > Home page > and click on the Flu Shot Blitz to sign up!
New OGSP featured grant opportunities
The Office of Grants and Sponsored Programs (OGSP) would like to announce the third round of featured grant opportunities for the Fall 2016 semester!
At OGSP, we oversee federal and state funding opportunities, assisting faculty and staff in the process of applying for external funding in support of scholarly and creative activities. These activities include: basic research, applied research, fellowships, curriculum development, community outreach, international exchange, sabbatical support, and faculty-guided student research.
Starting this year, OGSP plans to publish information regarding upcoming grant opportunities and deadlines in AceNotes.
These are the featured opportunities for this posting:
• Summer Research Education Experience Program - Deadline: March 23
• The Pollination Project - Deadline: rolling
• Henry Luce Higher Education Grant - Deadline: proposals reviewed in March, June, and November
We encourage faculty and staff to contact us with any questions regarding these grants or any other opportunities. Our office is in Room 205 in the Olmsted Administration Building and you can reach the director of OGSP and IRB administrator and chair Johnna-Denning Smith by phone at 812-488-2551 or by e-mail at jd184@evansville.edu.
Indiana voter registration deadline is October 11
Don't know how to register to vote? The deadline to register to vote for the upcoming election in Indiana is October 11. Faculty, staff, and community partners will be on hand in the lobby of Ridgway University Center on October 3-6 from 10:00 a.m.–2:00 p.m., to help students register to vote! This non-partisan initiative can help students from all states get informed and get registered. Every vote matters and all voices should be heard in this upcoming election.
Documentary "From the Ashes" to premiere at Heartland Film Festival
The Evansville, Indiana-produced documentary film From the Ashes: The University of Evansville Purple Aces will make its public premiere at next month's Heartland Film Festival in Indianapolis.
The film, which tells the story of the 1977 UE Men's Basketball team and the tragic plane crash that killed 29 people (including all 14 players), will debut at 5:30 p.m. EST. on Thursday, October 27. A second showing will follow on Saturday, October 29 at 10:15 a.m. EST.
"We're extremely proud and excited to premiere From the Ashes at this year's Heartland Film Festival," said Joe Atkinson, the film's producer and director. "Many of the families and friends of those killed on December 13, 1977, shared the stories of their loved ones with us in the hope of keeping their memories alive through the film's audience. Heartland has a reputation as a great festival with a terrific audience, and we're looking forward to debuting the film for them."
From the Ashes primarily tells the team's story through firsthand accounts. In producing the film, Atkinson conducted more than 75 interviews, including retired UE officials, family members of the victims, and first responders to the site of the tragic accident.
Their stories, alongside narration from Rusty James, tell a story that begins with the University's decision in January 1977 to move its basketball program to Division I, and ends in the aftermath of one of sports' greatest tragedies.
For more information about the Heartland Film Festival, or to purchase tickets to one of the screenings, visit the Heartland Film Festival's website.
For more information about From the Ashes, contact Joe Atkinson at 812-893-1642 or joe.w.atkinson@gmail.com.
View the trailer for From the Ashes: The University of Evansville Purple Aces online here.
Robert Dion discusses presidential debate on Canadian radio broadcast
Robert Dion, chair of the Department of Law, Politics, and Society, was interviewed on Radio-Canada on Tuesday and gave his impressions of the first presidential debate between Donald Trump and Hillary Clinton. The interview was broadcast live nationwide on the Midi Info program and was conducted entirely in French. A link to the broadcast can be found here. The interview starts at about 12:27 and lasts for about eight minutes.
Mathematics professor publishes music history article
Clark Kimberling, professor of mathematics, has an article on "Two Early American Women and Their Hymns: Elizabeth Ann Seton and Matilda Durham Hoy," in the current issue of The Hymn (journal of The Hymn Society in the United States and Canada).
The article establishes that a hymn tune named Jerusalem, published anonymously in Baltimore before 1820, was composed by Seton. This new earliest known hymn tune by an American-born woman has been overlooked in previous writings about Mother Seton, who in 1974 became the first native-born citizen of the United States to be canonized by the Roman Catholic Church. It was in 1812 that she composed Jerusalem and added three original verses of words to a pre-existing first verse.
Kimberling's article also discusses Promised Land, which is presently sung in many churches. Evidence is presented that Durham composed the tune, rather than merely arranging a pre-existing folk melody.
Men's Soccer ready for MVC showdown with Missouri State
It will be a battle for conference positioning on Saturday as the University of Evansville Men's Soccer team returns to action with a Missouri Valley Conference showdown with Missouri State at Arad McCutchan Stadium.
After picking up wins at Bradley and against Central Arkansas over the last two weeks, the Aces (6-3-1, 2-0-0 MVC) are off to their best league start since 1997. A win over the visiting Bears (4-3-1, 1-0-0 MVC) would give the Aces their first 3-0-0 start since joining the conference in 1994.
The task at hand could prove challenging, as MSU enters the weekend with the second-best defense in the league. Through eight matches this season, the team has surrendered just six goals. They've tallied three shutouts on the year, and the lone league win was a 2-1 decision against Bradley last weekend.
UE, meanwhile, also boasts a stout defense, putting up four clean sheets. In addition, the offense has been dynamic as well. With nine combined goals, both Ian McGrath and Jared Robinson rank in the top three in the MVC in goals scored, and service from the midfield has been a large contributor to the scoring as Zac Blaydes and Jesse Stafford Lacey are among the league leaders with six and four assists, respectively.
UE has scored in each of the first 10 matches of the season, which hasn't occurred since 2007.
The defense, which has been led by the centerback pairing of Trevor Baum and Chris Shuck, has held opponents to one or fewer goals in six contests on the year. Freshman goalkeeper Frederik Reimer has been in net for all four shutouts, which includes each of the past two conference matches.
Kickoff on Saturday is slated for 6:00 p.m.
UE student-athletes honored for academics
On Thursday morning, the University of Evansville athletic department held its tenth annual Academic Breakfast at Ridgway University Center.
President Tom Kazee and athletics director Mark Spencer co-hosted the event, which recognized student-athletes who made the Dean's List during the 2015-16 academic year. Student-athletes who made the dean's list are in attendance and invite faculty members who have been impactful in the academic experience at UE.
Men's Basketball player Blake Simmons also spoke at the breakfast on behalf of the student-athletes.
Student Sport
Brandon Gomer* Baseball
Matthew Jones * Baseball
Stewart Nelson* Baseball
Nathan Reeder* Baseball
David Howard ** Men's Basketball
Blake Simmons** Men's Basketball
Andrew Barrett Men's Cross Country
Paul Schwartz Men's Cross Country
Jon Pick** Men's Golf
Zachary Blaydes Men's Soccer
Kyle Brown Men's Soccer
Ian Gammon Men's Soccer
Cameron Gilreat Men's Soccer
Cesar Guitunga Jr.* Men's Soccer
Matthew Keller* Men's Soccer
Michael Matic Men's Soccer
Eric McDougal Men's Soccer
Gregory Niven Men's Soccer
Jacob Baugh Men's Swimming
Matthew Childress** Men's Swimming
Andrew Cotton Men's Swimming
Luke Hoffman Men's Swimming
Keystone Marcy* Men's Swimming
Brendan Ninneman* Men's Swimming
Everett Plocek* Men's Swimming
Nicolas Riffel Men's Swimming
David Stoddard Men's Swimming

Student Sport
Peyton Langston Women's Basketball
Katherine Beaber* Women's Cross Country
Ashton Bosler Women's Cross Country
Sienna Crews Women's Cross Country
Michelle Karp* Women's Cross Country
Elizabeth Kingshott Women's Cross Country
Anna Loef* Women's Cross Country
Ashley Torres Women's Cross Country
Madison Chaney Women's Golf
Giulia Chaves Mallmann Women's Golf
Kayla Katterhenry* *Women's Golf
Maria Pickens Women's Golf
Carly Waggoner Women's Golf
Whitney Biggs** Women's Soccer
Bronwyn Boswell** Women's Soccer
Caitlin Dierkes Women's Soccer
Colleen Dierkes* Women's Soccer
Emily Griebel** Women's Soccer
Molly Lear Women's Soccer
Laura Minor Women's Soccer
Sierra Selene Pagan Women's Soccer
Montana Portenier Women's Soccer
Emily Richardson* Women's Soccer
Bailee Bostic Softball
Mickaela Fleming** Softball
Samantha Fleming** Softball
Danielle Freeman Softball
Student Sport
Tess Hupe* Softball
Clara Johnson Softball
Ashlee Kawall* Softball
Kristin Koepke Softball
Morgan Lambert** Softball
Alexandra Latoria Softball
Michal Luckett Softball
Susan Norris* Softball
Chandra Parr** Softball
Kayla Aitken* Women's Swimming
Courtney Coverdale Women's Swimming
Taylor Davidson Women's Swimming
Kaylee Gubricky Women's Swimming
Jessica Hildebrand* Women's Swimming
Madison Jones Women's Swimming
Michaela Kent** Women's Swimming
Charlotte Lechner Women's Swimming
Kasey Rein* Women's Swimming
Amy Smith Women's Swimming
Andela Brguljan* Women's Tennis
Leah Helpingstine* Women's Tennis
Joselyn Coronel Volleyball
Rocio Fortuny Volleyball
Olivia Goldstein Volleyball
Jelena Merseli* Volleyball
Montana Schafer* Volleyball
Catherine Schreiber * Volleyball
*Denotes our 2016 National College Athlete Honor Society Inductees. To be an inductee, a student-athlete must have a minimum cumulative grade point average of 3.40, must have achieved at least junior academic standing by the fifth semester and have lettered in their respective sport.
**Denotes our 2016 National College Athlete Honor Society second year honorees receiving a pin. To be recognized, a student-athlete must have a minimum cumulative grade point average of 3.40, must have achieved at least senior academic standing and have lettered in their respective sport.

CBS and MVC announce men's basketball package
For the second consecutive year, CBS Sports Network will televise a package of Missouri Valley Conference men's basketball games, including the State Farm MVC Tournament semifinals as well as eight regular-season contests, Commissioner Doug Elgin announced today.
CBS Sports will continue to televise the title game of Arch Madness for a twelfth consecutive year on March 5.
"As the lead-in to the final week of college men's basketball, our tourney begins the final march to Selection Sunday, and we are grateful to have the increased visibility for Arch Madness on CBS Sports and CBS Sports Network," said Elgin, who is in his twenty-ninth year with the Conference.
The University of Evansville is set to host Wichita State on January 17, on the CBS Sports Network. There is also a chance that the February 25 home contest against Indiana State could be picked up by the network as part of the wildcard weekend.
"CBS Sports' commitment to the MVC brand paid immediate dividends in 2016. Northern Iowa took full advantage of the national stage, upsetting MVC regular-season champion Wichita State in overtime in the semifinals before edging Evansville on a buzzer-beater on CBS Sports in the finale to win the title," Elgin added.
The 2017 regular-season package of league games on CBS Sports Network reflects the 2016 postseason success by The Valley, which saw Wichita State (versus Vanderbilt and Arizona) and UNI (against Texas) win games in the NCAA Tournament.
Of the seven pre-determined league match-ups, Wichita State will appear in three games, while UNI, Missouri State, and Southern Illinois are slated for two appearances each.
The CBS Sports Network package, which features contests on Saturdays and select mid-week nights, begins on January 7, as Southern Illinois visits Missouri State for a 3:00 p.m. Central telecast.
The men's basketball regular-season package in January also showcases Wichita State at Evansville (January 17), Illinois State at Bradley (January 18), Southern Illinois at WSU (January 24), and UNI at Drake (January 28).
In the month of February, telecasts include Indiana State at UNI (February 4) and Missouri State at Wichita State (February 9).
The February lineup concludes on Saturday, February 25, when ESPN and CBS Sports Network will utilize the Wildcard Selection process to choose from five games -- Illinois State at UNI, Indiana State at Evansville, Wichita State at Missouri State, Loyola at Southern Illinois, and Bradley at Drake.
The wildcard games selected to air on ESPN and CBS Sports Network will be announced on Friday, February 10.
CBS Sports' coverage of the 2017 State Farm MVC Men's Basketball Championship -- the league's twenty-seventh consecutive tournament in St. Louis -- will include the semifinal games on March 4 on CBS Sports Network. The title contest on March 5 will air at 1:00 p.m. Central on CBS Sports.
There will also be additional non-conference exposure through Loyola's participation in the Paradise Jam and Drake's participation in the Great Alaska Shootout in November.
Should Loyola win its first-round game against Saint Joseph's on Nov. 18, the Ramblers will meet the winner of Oral Roberts-Ole Miss on CBS Sports Network at 5 p.m. Central on November 20. They could also gain an appearance at 5:00 or 7:30 p.m. Central on November 21.
Drake plays Iona on November 24 at 8:00 p.m. Central on CBS Sports Network. Both semifinals on November 25 and the championship game on November 26 are being carried by CBS Sports Network.
The final non-conference contest for the league on CBS Sports Network will occur on Saturday, December 3 at 4:00 p.m. Central, when Wichita State visits Colorado State in a Mountain West-Missouri Valley Challenge game -- one of nine such match-ups contested on that date.
The two leagues are in the second year of a four-year Challenge series, their second such term following a previous series played from 2009 to 2012.
Evansville, Indiana State, Southern Illinois, and Wichita State were victorious in the 2015 Challenge.
Contribute to AceNotes
To have content considered for inclusion in AceNotes, please submit a Marketing Request Form. Deadline for submission to AceNotes is 10:00 a.m. on the requested date of publication. Only articles concerning UE related/sponsored activities will be accepted. Articles submitted to AceNotes may be edited for length and clarity. Submitter contact information is at the end of each article.