| | |
| --- | --- |
| AceNotes Today | Tuesday, September 27, 2016 |
Attention all students: the United Way Coin War has commenced!
Students will have noticed the Coin Wars buckets in their residence halls and a strategically located table in Ridgway University Center. Take part in this friendly competition between residence halls.
The competition begins on September 26 and ends on September 28. Get your change ready!
How to Play:
Put coins in this bucket.
Pennies = +1 point (Put these in your hall's bucket)
Silver coins = -1 point (Put these in other halls' buckets)
The residence hall with the most points on September 28 is the winner!
Prizes
Pizza party with President Kazee.
Eternal glory all across campus.
All proceeds will be donated to the United Way of Southwestern Indiana as part of UE's United Way Campaign. United Way serves the community by funding programs focusing on education, income, and health.

This Week in Music
Professor of trumpet and director of jazz studies Timothy J. Zifer and assistant professor of voice Alanna Keenan will present this week's faculty recital in Wheeler Concert Hall this evening, September 27, at 7:30 p.m. Repertory for the recital will include music from the Baroque to the present, and department faculty members Anne Fiedler (piano), Helen Skuggedal Reed (harpsichord and organ), and Jennifer Farny (cello) will provide accompaniment on various pieces. The recital is free and open to the public.
Chinese Club planning a dumpling night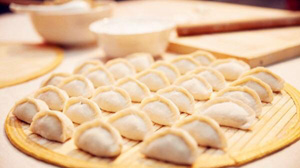 The Chinese Club is planning a dumpling night at the restaurant Yang's Shabu Shabu on September 30 from 4:15-6:00 p.m. To attend, you must pay the club's $2 membership fee. With the $2, you get a free meal of dumplings and have the opportunity to learn to make dumplings yourself. As a member of Chinese Club, you will also be able to attend other events planned for the year, including Chinese knot lessons, a ping pong ball race, a cookout featuring Asian food, and Chinese movie night.
You can pay the membership fee and sign up to attend dumpling night at a table in the lobby of Ridgway University Center on Tuesday and Wednesday from noon-2:00 p.m. Or sign up and pay the membership fee by e-mailing ac281@evansville.edu.
Car pool transportation to dumpling night will be provided for those without a car. The car pool group will meet at the parking lot between Moore and Brentano Halls at 4:00 p.m. to leave for the event. If you would like to car pool, e-mail ac281@evansville.edu.
Graduate School Fair this Wednesday
Many schools have registered for the Graduate School Fair on Wednesday, September 28. The event is scheduled from 1:00-3:00 p.m. in the Class of 1959 Gallery and Lounge on the second floor of Ridgway University Center.
Registered schools are:
Atlantic University School of Medicine
Campbellsville University
Garrett-Evangelical Theological Seminary
Indiana Institute of Technology
Indiana Tech Law School
Indiana University - Bloomington Kelley School of Business,
Graduate Accounting and Information Systems Program
Indiana University School of Medicine
Indiana University School of Social Work
Indiana University - Purdue University Columbus,
MBA program and MA in Mental Health Counseling
IU Lilly Family School of Philanthropy
IUPUI School of Public and Environmental Affairs
Kelley School of Business Indianapolis
Methodist Theological School in Ohio
Purdue University Graduate School
University of Evansville School of Public Health
University of Indianapolis MBA Program
University of Southern Indiana
Valparaiso University Law School
Vanderbilt Divinity
University of Evansville DPT and Physician Assistant Programs
I-House: Greece
Today's I-House presentation is about Greece and Theda Soldatou will be our lovely speaker! She is an international studies and political science double major. Her hobbies include tennis, books (psychology and science fiction), painting, sketching, listening to music, hanging out with friends, watching TV shows, and dancing. Her plan is to teach us some dances and have us eat some delicious food and listen to awesome songs. Her favorite part about UE is how friendly everyone is and how UE is like a family. So, tonight at 7:00 p.m., come upstairs in Ridgway University Center to learn all about Greece.
Lunch and Lead: People Smart
The next Lunch and Lead is set for today at noon in Eykamp Hall, Room 252, in Ridgway University Center. Associate professor of psychology Lora Becker will be making a presentation titled "People Smart." She will be discussing how to speak about emotional intelligence and how to better interact with others.
This event is free and open to all students, faculty, staff, and UE community members. We encourage attendees to bring their lunch with them to these events!

Chipotle fundraiser for Road to Mafraq is today
Come to Chipotle on Green River Road in Evansville today from 5:00- 9:00 p.m. to show your support for refugee children in Syria and Jordan and to have a great time! Present the flyer, digital image, or mention it to the cashier at the time of purchase and 50 percent of your payment will go directly to support Road to Mafraq.
Road to Mafraq is a nonprofit organization which works to increase access to education for children affected by conflict in the Middle East. All proceeds from this event will go towards Road to Mafraq's endeavors to educate children in Jordan. Science Alliance for Syria has organized this fundraiser for Road to Mafraq.
Science Alliance for Syria is the joint project of science clubs at the University of Evansville including Society of Physics Students, Biological Sciences Club, Environmental Concerns Organization, and Chemistry Club.
Venturing Crew fall break trip
Join the members of Venturing Crew for fall break in Missouri. They will kick off the trip with a visit to the City Museum in St. Louis - which is an adult playground. They will spend the majority of Fall Break canoeing the Current and Jack's Fork Rivers, camping, and hiking. After a trip full of outdoor cooking and activities, they will swing by Lambert's Café ("Home of Throwed Rolls") on the way back to campus.
Venturing Crew officers will be available at Ridgway University Center tables from September 27-29 during lunch and dinner. The cost of the trip is $130, and you must be a Venturing Crew member to attend. The deadline for payment is September 30.
If you would like more information, visit the Ridgway University Center tables or e-mail venturing@evansville.edu.
They hope you will join them for a wonderful fall break!
Make your free LinC portrait appointment today
Make an appointment today to have your portrait taken for the 2017 LinC. If you are graduating in December 2016 or May 2017, you're eligible. It's free — all you need is an appointment. Call 812-488-2846 or visit Student Publications, located on the second floor Ridgway University Center. Information letters went out last week to pending graduates. If you didn't receive one, stop by Student Publications.
Need a textbook?
The UE Bookstore will soon begin the return process of unsold books so if you still need a textbook please come to the bookstore and purchase your requirements. If for some reason you still need a textbook but do not have the funds to purchase your book now the bookstore will be happy to hold you a copy until a designated date. You may do this at the bookstore's textbook counter. If you have any questions please contact the UE Bookstore.
UE student package reminder
Packages requiring a signature for UE students living in UE residence halls and village properties are received in distribution services - mail services for security purposes. DS mail services notifies students via e-mail that a package has arrived for them and is ready for pickup. Students are required to bring their UE student ID with them, which is scanned for identification/signature and package pickup. For security reasons including homeland security, student packages cannot be delivered to campus departments or picked up from DS mail services by someone else.
DS mail services is located in the General Services Building at 1 S Frederick Street and is open Monday-Friday, 8:00 a.m. to 5:00 p.m.
For questions, contact DS mail services at ext. 2197 or e-mail mailservices@evansville.edu.
Pahud shoots low round for UE in final day at NKU
Wil Pahud fired off an even 72 as the University of Evansville Men's Golf team completed the NKU Fall Collegiate Classic in twelfth place on Monday at Elks Run Golf Club.
Pahud's even round for the day gave him a total of 227 for the event - good for a tie for forty-sixth out of the 100 golfers. Tyler Gray was the top finisher for the Purple Aces. He shot a 1-over 73 on Monday and tied for twenty-third. He completed the event with a 222.
Third on the squad was Cameron Weyer. His 79 in the final round saw him finish the tournament with a 234. He tied for seventy-second. One behind Weyer was Noah Reese. His 78 on Monday gave him a total of 235, tying for seventy-sixth. Matthew Ladd registered an 88 in the final day and total a 238 in the three rounds of play.
Evansville's top individual finisher was Zac Turi. The sophomore carded a 79 in the final round and tied for sixty-first in the final finishing order. His total was a 231. Austin Carmack was two behind Turi with a 3-round score of 233. He finished tied for sixty-ninth.
Dayton took the team title by 12 strokes over Oakland. The Flyers finished with an 859. Fort Wayne was third with an 874. On the individual side, there was a three way tie between Joe Duchateau of Green Bay, Fort Wayne's Devin Jenkins, and Phillip Johnson of Dayton. Jenkins won on the fourth hole of the playoff with a par.
Next week, the Aces are back in action at the Butler Invitational.

Volleyball falls by 3-0 final at Wichita State
Tabitha Brown posted a game-high nine kills to lead Wichita State to a 3-0 victory over the University of Evansville Volleyball team on Monday evening in Missouri Valley Conference action.
Mildrelis Rodriguez was the top performer for the Purple Aces (4-12, 0-3 MVC) as she finished with six kills. Olivia Goldstein notched 14 digs while Jelena Merseli chipped in 10 assists. For Wichita State (9-4, 2-0 MVC), Emily Hiebert notched a game-high 31 assists while Katy Dudzinski and Jody Larson had seven kills apiece.
Evansville held its own early on in the first set, taking an 8-7 lead. Mildrelis Rodriguez had a pair of kills while Olivia Goldstein added a service ace. That would be the last lead that the Aces would enjoy in the opening frame as the Shockers registered eight of the next ten points on their way to a 25-16 win.
The Aces played well in the early moments once again in game two, fighting Wichita State to a 5-5 tie. From there, it was all Shockers. Up 7-6, WSU finished the set on an 18-1 run to open up a 2-0 lead thanks to a 25-7 triumph. In the third stanza, the Shockers opened on a 9-2 run before finishing with a 25-12 victory.
It is back to the road this weekend for UE as they make a trek through the state of Illinois to face Loyola and Bradley.
Katterhenry earns top ten at Loyola Invitational
Seniors Maggie Camp and Kayla Katterhenry paced the University of Evansville Women's Golf team with scores of 83 as the Purple Aces wrapped up the Loyola Invitational at Flossmoor Country Club.
Katterhenry's round saw her finish the tournament with a 244, which put her in a tie for tenth place overall. Her rounds on Monday finished at an 80 and 81. Second for the Aces was Camp. Her effort of 83 on Tuesday saw her finish in a tie for twenty-second. She completed the tournament with a 252.
Two strokes behind Camp was Madison Chaney. Her total on Tuesday of 85 put her in a tie for twenty-sixth place with a 254. Next was Maria Pickens. An 84 in the final round was good for a final of 257, giving her a thirty-third. Giulia Mallmann was one spot back in thirty-fourth with a 259.
Lexie Sollman and Carly Waggoner continued play as individuals for Evansville. Sollman's 92 saw her finish the event with a 274 while Waggoner's 88 in the final round put her final total at a 276.
Butler and Loyola tied atop the team standings with scores of 963, but in a tiebreaker, the Bulldogs were declared the champions. The tiebreaker was the score of each team's #5 player. Southern Illinois was third with a 968 with Indiana State (985) and Chicago State (998) completing the top five. Evansville finished in sixth with a 1,000.
Brooke Cusamano of SIU was the medalist, carding a 76 in the last round to finish with a 232. She was one ahead of Loyola's Morgan Brown.
In two weeks, the Purple Aces will be in Cape Girardeau, Missouri, for the MVC Fall Preview. On October 3 and 4, UE will participate in the event, which will be held at Dalhousie Golf Club.
Contribute to AceNotes
To have content considered for inclusion in AceNotes, please submit a Marketing Request Form. Deadline for submission to AceNotes is 10:00 a.m. on the requested date of publication. Only articles concerning UE related/sponsored activities will be accepted. Articles submitted to AceNotes may be edited for length and clarity. Submitter contact information is at the end of each article.