| | |
| --- | --- |
| AceNotes Today | Wednesday, September 21, 2016 |
UE grad Rami Malek wins Emmy Award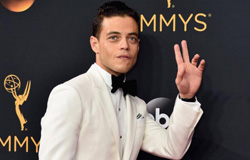 University of Evansville Department of Theatre alumnus Rami Malek '03 won the 2016 Emmy Award for Outstanding Lead Actor in a Drama Series on Sunday, September 18, for his leading role in the USA Network hit Mr. Robot.
Rami, who was born and raised in Los Angeles, California, attended UE from 1999–2003 where he had roles in The Real Thing, Othello, Book of Days, Death and the Kings Horseman, and The Kentucky Cycle.
Rami's win was also a victory on a larger scale, as he was the first ethnic actor to win this coveted award since 1998. Rami was nominated with many big name actors like Kevin Spacey of Houses of Cards and last year's winner, Jon Hamm of Mad Men.
After receiving his BFA in Theatre Performance at UE in 2003, Rami went on to book guest appearances on television shows like Gilmore Girls, Over There, Medium, and The War at Home before booking his first feature-length film, Night at the Museum, in 2006 where he played King Ahkmenrah.
Rami later went on to book roles in major films including Need for Speed, Battleship, Short Term 12, Larry Crowne, and two additional installments in the Night at the Museum franchise. He also appeared in the television show 24, the HBO miniseries The Pacific, and did voice work for The Legend of Korra.
Rami's latest project and first lead role in a film, Buster's Mal Heart, premiered earlier this September at the Toronto International Film Festival.
Go here to see a video in which he thanks all of his teachers at the University of Evansville.
College Mentors call-out meeting today
The mission statement for College Mentors for Kids is to "pair college students with the most to give with kids who need it most." To learn more about what this means and the responsibilities of being a mentor, attend our call-out meeting today in Room 126 in Hyde Hall from 3:30-4:30 p.m.
College Mentors for Kids holds weekly activities with kids from Joshua Academy on Wednesdays from 3:00-5:00 p.m. If you have class until 4:00 p.m., you are still eligible to join but need to apply on collegementors.org.

I-House: International Day of Peace
We have a special event for you today at I-House. Today is International Day of Peace. We are so excited to share that we have a lot planned for you. From song to prayer and more, we will be sharing how peace is spread throughout the world. Come this evening at 7:00 p.m. upstairs in Ridgway University Center to see how peace and love work together. Hope to see you there!
Sigma Alpha Iota fall recruitment begins today
Fall recruitment for SAI, a music fraternity open to all women with at least one credit of music, regardless of their major of study, begins today. Recruitment will be held today, Tuesday, and Wednesday from 8:30-9:30 p.m. in Room 127 in the Krannert Hall of Fine Arts. Come and enjoy food, friends, and fun!
Department of Theatre kicks off season with "Failure: A Love Story"
The Department of Theatre kicks off the 2016–17 season with Philip Dawkins' Failure: A Love Story.
From one of Chicago's most-intriguing theatrical voices, this fanciful and charming play introduces us to the Fail sisters, all of whom will be dead within a year. This vibrant comedy finds these three quirky women unwittingly living out their final days in their family's bustling 1920s Chicago clock shop–and falling in love with the same suave and dashing man. Audiences will certainly be charmed by this musical fable and yearn to truly understand and harness the power of love.
The show runs September 23, 24, 29, and 30, and October 1 at 7:30 p.m., and September 25 and October 2 at 2:00 p.m. in Shanklin Theatre.
Tickets are $15 for adults and $13 for senior adults, non-UE students, and UE faculty and staff. UE students are entitled to one free ticket on the day of the performance they wish to attend.
Tickets can be reserved by stopping by or calling the ticket office at 812-488-2031 between noon-5:00 p.m. Monday through Saturday or from noon-1:00 p.m. on Sunday.
NSLS orientation today
NSLS will be holding a second orientation for those who were unable to attend the first one. It will be today from 7:00-8:00 p.m. in Room 162 in the Schroeder School of Business Building.
Students: The United Way Coin War begins soon!
Students will have noticed the Coin Wars buckets in their residence halls and a strategically located table in Ridgway University Center. Take part in this friendly competition between residence halls.
The competition begins on September 26 and ends on September 28. Get your change ready!
How to Play
Put coins in your hall's bucket:
Pennies = +1 point (Put these in your hall's bucket)
Silver coins = -1 point (Put these in other halls' buckets)
The residence hall with the most points on September 28 is the winner!
Prizes
Pizza party with President Kazee.
Eternal glory all across campus.
All proceeds will be donated to the United Way of Southwestern Indiana as part of UE's United Way Campaign. United Way serves the community by funding programs focusing on education, income, and health.

Graduate School Fair next week
A Graduate School Fair is planned for Wednesday, September 28, 1:00-3:00 p.m. in the Class of 1959 Gallery and Lounge on the second floor of Ridgway University Center.
Schools registered for the fair are:
Atlantic University School of Medicine
Campbellsville University
Garrett-Evangelical Theological Seminary
Indiana Institute of Technology
Indiana Tech Law School
Indiana University - Bloomington Kelley School of Business,
Graduate Accounting and Information Systems Program
Indiana University School of Medicine
Indiana University School of Social Work
Indiana University - Purdue University Columbus,
MBA program and MA in Mental Health Counseling
IU Lilly Family School of Philanthropy
IUPUI School of Public and Environmental Affairs
Kelley School of Business Indianapolis
Methodist Theological School in Ohio
Purdue University Graduate School
University of Evansville School of Public Health
University of Indianapolis MBA Program
University of Southern Indiana
Valparaiso University Law School
Vanderbilt Divinity School
Newman Club going to Seton Harvest
The UE Newman Club will be volunteering at Seton Harvest on Thursday, September 22. Seton Harvest is an organic farm that gives its food to local food shelters. The event will be from 5-7:30 p.m. If interested in participating, please contact Paige Hignite at ph89@evansville.edu for more info.
New student-focused group - resiliency and stress management
Life is stressful! College life especially so - classes, assignments, friends, relationships, and campus activities can begin to pile up! Stress should not keep you from succeeding. Join UE Counseling Services for a three-part series addressing strategies for managing stress as a normal part of college life!
Attendance at all three sessions is encouraged but not required. Sessions will be held in Room 218 in Ridgway University Center from 4:00-5:00 p.m. on September 22 and 29.
E-mail em232@evansville.edu to reserve your spot for our September series!
Rock Star Blackout energy drink sampling
Pepsi Beverages Company is sponsoring a promotional energy drink sampling event today on campus. The event will take place from 11:00 a.m. to 1:00 p.m., outside of Ridgway University Center near the Graves Hall bike rack
This is an opportunity to try a sample the new Rockstar Blackout energy drink that is only available on college and university campuses.
Be sure to try a sample on Wednesday!
Found - Visa gift card
A Visa gift card was found in Graves Hall late last week. If you can prove that it is yours, contact Jeannette Oakley in the Tapley Center, located in Room 243 in Graves Hall, or e-mail at jo29@evansville.edu.
Food Advisory Board seeks student members
The Resident Students Association and Sodexo are looking for a student input team. Selected students can earn up to $30 in AceBucks each month.
The Food Advisory Board (FAB) program gives students the opportunity to act as a liaison between the students, the University of Evansville, and Sodexo. The FAB at University of Evansville was created as a breakout group of the Resident Students Association (RSA) to represent the voices of the students, while also assisting with shaping Sodexo's culinary programs and offerings. Not only do they help shape promotions, they continuously provide insight from students to Sodexo.
If you are interested in applying to be part of the Food Advisory Board, fill out this application and return it to Brian Conner in the Office of Residence Life by September 30. All students can apply, but it is helpful if you have a meal plan and/or dine regularly on campus.
New study abroad process
The Office of Education Abroad is reworking its entire process to make studying abroad much simpler for students.
If you've previously passed up the opportunity to study abroad because you thought it was too complicated, feel free to stop by to see how things have changed. Or, if you've ever been interested in study abroad but haven't started the process yet, swing by the office to get more information and ask any questions you might have. They will show you how much simpler it is now to go abroad, and will work with you step-by-step to make it happen.
They will also be set up in Ridgway University Center this Friday from 11:00 a.m.-12:30 p.m. to answer your questions.
Don't hesitate to come see them!
Family Weekend online registration deadline
The deadline to register online for Family Weekend is Wednesday, September 21, at midnight. After Wednesday, families can still register by calling 812-488-2586. Walk-ups are welcome all weekend too! Be sure to register at the Family Weekend Headquarters. For a full schedule or to register, go here.
Author of "Where Am I Eating?" to speak in Evansville
One Book One Community of Southwestern Indiana is excited to welcome Kelsey Timmerman, author of Where Am I Eating: A Journey Through the Global Food Economy, to Evansville on Wednesday, September 21, at 7:00 p.m. at the Old National Events Plaza.
Have your questions ready for the Q & A after his presentation, and don't forget about the book signing that follows. Bring your own book or purchase one at the event. See you there!
Student-Phonathon moving to Center for Student Engagement
This fall the Phonathon campaign is moving from the basement of Hyde Hall to an area in the Center for Student Engagement. To say our staff is excited is an understatement! We would like to thank Geoff Edwards, Dean Clayton, Mike Smith, and all their staff for helping us move and welcoming us into their home.
Our campaign begins Monday, September 19, and runs through Sunday, November 20.
The Student-Phonathon, managed by the Office of Annual Giving, has many important purposes. Not only does it raise much needed funds for all areas of campus but it also employs over 30 current students. Student-callers thank current donors for their continued support of UE, as well as update all alumni contact information. That information is shared throughout campus to better serve our alumni community.
We hope many alumni, friends, and parents answer our call! If you have questions about the Phonathon campaign or would like to make a gift, please contact Jennifer Jacobs at ext. 2021 or jj130@evansville.edu.
GRE Fee Reduction Certificates available in Office of Financial Aid
Planning to take the GRE this year? You may be eligible for a GRE Fee Reduction Certificate.
To be eligible, you must be a US citizen or resident alien who is a college senior or an unenrolled college graduate.
College seniors must be:
Receiving financial aid through an undergraduate college in the United States, American Samoa, Guam, US Virgin Islands, or Puerto Rico, and
A dependent who has an Institutional Student Information Report (ISIR) that shows a parental contribution of not more than $2,500 for the senior year, or
Self-supporting and have an ISIR that shows a contribution of not more than $3,000 for the senior year
Unenrolled college graduates must:
Have applied for financial aid, and
Have an ISIR that indicates self-supporting status and a contribution of not more than $3,000
If you are interested in receiving a certificate, contact Cathleen Wright in the Office of Financial Aid at cw259@evansville.edu and provide the following information: name, ID, type of test you are taking (computer-delivered or paper-delivered), and whether you will be taking a subject test as well.

UE Bookstore Family Weekend sale and extended hours
The UE Bookstore will have extended hours during Family Weekend and also will be offering 15 percent off the regular price on all clothing and gift purchases.
Hours for the store and sale are:
Friday, September 23 from 8:00 a.m.-6:00 p.m.
Saturday, September 24 from 10:00 a.m.-4:00 p.m.
Sunday, September 25 from noon -2:00 p.m.
Stop in for some great savings.
OGSP featured grant opportunities
The Office of Grants and Sponsored Programs (OGSP) would like to announce the next round of featured grant opportunities for the Fall 2016 semester!
At OGSP, we oversee federal and state funding opportunities, assisting faculty and staff in the process of applying for external funding in support of scholarly and creative activities. These activities include: basic research, applied research, fellowships, curriculum development, community outreach, international exchange, sabbatical support, and faculty-guided student research. Starting this year, OGSP plans to post in AceNotes with information regarding upcoming grant opportunities and deadlines.
These are the featured opportunities for this posting:
We encourage faculty and staff to contact us with any questions regarding these grants or any other opportunities. Our office is located in Room 205 in Olmsted Administration Hall, and you can reach director of grants and sponsored programs Johnna-Denning Smith by phone at ext. 2551 or by e-mail at jd184@evansville.edu.
Fantastic Fall Healthy Behavior Challenge
Earn HRA credit by participating in the Fall Healthy Behavior Challenge. Challenge from September 26- November 20. E-mail Ashley Chipps, wellness coordinator, at ac375@evansville.edu to sign up or for more information.
Those who successfully complete the challenge will earn $150 in HRA credit. The minimum requirement is 150 minutes of exercise weekly or 1200 points at the end of week eight.
Participants record the total number of minutes they exercise daily. They can earn five bonus points for trying a new activity. The weekly exercise logs are then turned in to the wellness coordinator by e-mail or by dropping them into the collection box in the Medical Clinic.
In-house office supply form has been revised
Effective immediately - central receiving is now accepting the newest version of the in-house office supply order form (dated 9/2016) which includes updated pricing. The revised in-house office supply order form is available on the central receiving and purchasing websites in AceLink. Please note that previous versions of the in-house form will no longer be accepted as of October 12. Please e-mail your questions to centralreceiving@evansville.edu or call ext. 2197.
Review course for Fundamentals of Engineering Exam offered
The University of Evansville College of Engineering and Computer Science has announced dates for the annual review and preparation course for those planning to take the Fundamentals of Engineering Exam.
Classes will be Thursdays at 6:30 p.m. in the Koch Center for Engineering and Science. Classes are divided into relevance per discipline. Fees are adjusted accordingly.
Civil engineering candidates will attend from October 6-February 2.
Candidates in mechanical engineering and other disciplines candidates will attend from October 6-December 1.
Electrical and computer engineering candidates will attend November 3-December 1.
Registration forms and payment must be returned by 3:00 p.m. on Tuesday, October 4.
On campus registrations should be returned to Room 250 in the Koch Center for Engineering and Science.
Community members may obtain registration information by contacting Kimberly Higgins via e-mail at kh209@evansville.edu or phone at 812-488-2651.
Early registration is encouraged as space is limited.

David Unger publishes paper on fracture mechanics
David J. Unger, professor of mechanical and civil engineering, has published an article titled "Path-dependent J-integral evaluations around an elliptical hole for large deformation theory in the Journal of the Mechanical Behavior of Materials," vol. 25, 77-81 (2016).
Kyle Matsel visits Google headquarters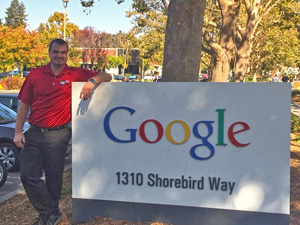 Kyle Matsel, assistant professor of physical therapy, recently traveled to Google Headquarters in San Jose, California, regarding fitness testing. Matsel and Gray Cook, co-founder of Functional Movement Systems, spent two days with the personal trainers, strength coaches, massage therapists, and chiropractors that work with the over 30,000 Google employees in San Jose. Google's large campus houses over 14 fitness and wellness centers where the employees can exercise and receive personal training. Matsel and Cook introduced the Fundamental Capacity Screen, a battery of tests used to systematically identify performance deficits, to the Google healthcare team and administrators.
Green joins editorial board
David Green, senior lecturer in British Studies at Harlaxton College, has joined the editorial board of Fourteenth Century England, a biennial journal published by Boydell and Brewer. The board also sponsors a number of sessions at the annual meeting of the International Medieval Congress held at the University of Leeds in the UK.
Contribute to AceNotes
To have content considered for inclusion in AceNotes, please submit a Marketing Request Form. Deadline for submission to AceNotes is 10:00 a.m. on the requested date of publication. Only articles concerning UE related/sponsored activities will be accepted. Articles submitted to AceNotes may be edited for length and clarity. Submitter contact information is at the end of each article.