| | |
| --- | --- |
| AceNotes Today | Tuesday, September 20, 2016 |
UE grad Rami Malek wins Emmy Award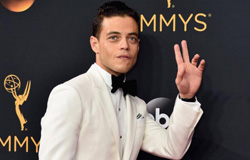 University of Evansville Department of Theatre alumnus Rami Malek '03 won the 2016 Emmy Award for Outstanding Lead Actor in a Drama Series on Sunday, September 18, for his leading role in the USA Network hit Mr. Robot.
Rami, who was born and raised in Los Angeles, California, attended UE from 1999–2003 where he had roles in The Real Thing, Othello, Book of Days, Death and the Kings Horseman, and The Kentucky Cycle.
Rami's win was also a victory on a larger scale, as he was the first ethnic actor to win this coveted award since 1998. Rami was nominated with many big name actors like Kevin Spacey of Houses of Cards and last year's winner, Jon Hamm of Mad Men.
After receiving his BFA in Theatre Performance at UE in 2003, Rami went on to book guest appearances on television shows like Gilmore Girls, Over There, Medium, and The War at Home before booking his first feature-length film, Night at the Museum, in 2006 where he played King Ahkmenrah.
Rami later went on to book roles in major films including Need for Speed, Battleship, Short Term 12, Larry Crowne, and two additional installments in the Night at the Museum franchise. He also appeared in the television show 24, the HBO miniseries The Pacific, and did voice work for The Legend of Korra.
Rami's latest project and first lead role in a film, Buster's Mal Heart, premiered earlier this September at the Toronto International Film Festival.
Go here to see a video in which he thanks all of his teachers at the University of Evansville.
Lunch and Lead: "Who's Getting Your Time?"
Lunch and Lead: "Who's Getting Your Time?" is set for today at 12:30 p.m. in Eykamp Hall, Rooms 253-254, in Ridgway University Center.
Come join Jackie Luedtke, assistant director for civic engagement and community service, and learn about how to utilize your time to benefit others right here in Evansville. Don't forget to follow up by attending the Volunteer Fair on Wednesday!
Lunch and Lead is a free weekly leadership discussion series open to all students, faculty, staff, and guests of UE. Each week, participants are encouraged to bring their lunch and learn about various topics in leadership.
Circle K's first meeting is today
Circle K will have its first meeting of the year today at 9:00 p.m. in Room 103 in Hyde Hall. This club is all about the volunteering and community service. We are also a worldwide organization, so for you travelers this is a wonderful way to make connections!
Humanities and Social Sciences Night planned for today
Humanities and Social Sciences Night is set today in Eykamp Hall in Ridgway University Center. Please join us for an evening dedicated to providing post-graduate information to humanities and social sciences students!
5:00-6:15 p.m. - Internship Showcase: Five students will present their internship experiences to you and a panel of judges. Prizes will be awarded and pizza will be served.
6:30-8:00 p.m. - Speed Networking Sessions: Students can attend their choice of speed networking sessions featuring experienced alumni, and members of the community. The evening will conclude with a reception for students, faculty, and panelists. Dress is business casual.
This event is sponsored by the Office of Alumni and Parent Relations and the Center for Career Development in conjunction with academic departments. Contact Career Development at ext.1083 with questions.

Sigma Alpha Iota fall recruitment begins today
Fall recruitment for SAI, a music fraternity open to all women with at least one credit of music, regardless of their major of study, begins today. Recruitment will be held today, Tuesday, and Wednesday from 8:30-9:30 p.m. in Room 127 in the Krannert Hall of Fine Arts. Come and enjoy food, friends, and fun!
NSLS orientation today
NSLS will be holding a second orientation for those who were unable to attend the first one. It will be today from 7:00-8:00 p.m. in Room 162 in the Schroeder School of Business Building.
Students: The United Way Coin War begins soon!
Students will have noticed the Coin Wars buckets in their residence halls and a strategically located table in Ridgway University Center. Take part in this friendly competition between residence halls.
The competition begins on September 26 and ends on September 28. Get your change ready!
How to Play
Put coins in your hall's bucket:
Pennies = +1 point (Put these in your hall's bucket)
Silver coins = -1 point (Put these in other halls' buckets)
The residence hall with the most points on September 28 is the winner!
Prizes
Pizza party with President Kazee.
Eternal glory all across campus.
All proceeds will be donated to the United Way of Southwestern Indiana as part of UE's United Way Campaign. United Way serves the community by funding programs focusing on education, income, and health.

This Week in Music: a wind recital
Elizabeth Robertson, consortium instructor of oboe, and Emily Britton, consortium instructor of horn, will present this week's faculty recital in Wheeler Concert Hall this evening at 7:30 p.m. Robertson and Britton will perform various works by composers ranging from Haydn to modernist French composer Eugène Bozza. Professor of piano Anne Fiedler, pianist Jaime Teichmer, and assistant professor of guitar Renato Butturi will accompany Robertson and Britton. The concert is free and open to the public.
I-House: International Day of Peace
We have a special event for you today at I-House. Today is International Day of Peace. We are so excited to share that we have a lot planned for you. From song to prayer and more, we will be sharing how peace is spread throughout the world. Come this evening at 7:00 p.m. upstairs in Ridgway University Center to see how peace and love work together. Hope to see you there!
EXSS Club's first meeting
EXSS Club will have its first meeting of the semester on Thursday, September 22, at 7:00 p.m. in Room 100 in Koch Center for Engineering and Science. Make connections with upperclassmen, find job and volunteer opportunities, build your resume, and get pizza (if you pay your dues of $5 for the semester or $10 for the whole year)!
Newman Club going to Seton Harvest
The UE Newman Club will be volunteering at Seton Harvest on Thursday, September 22. Seton Harvest is an organic farm that gives its food to local food shelters. The event will be from 5-7:30 p.m. If interested in participating, please contact Paige Hignite at ph89@evansville.edu for more info.
Women of the Church event
The Newman Club would like to announce the upcoming Catholic leadership conference called Women of the Church. The event will take place October 7-9 in Ferdinand, Indiana. This conference will acknowledge, support, and honor the work of women in the Catholic Church. Keynote speakers include Carolyn Woo, Kathleen Sprows Cummings, and Mary Catherine Hilkert. The deadline to register for this event is Monday, September 26! Scholarship money is available. Contact Olivia Voegerl at ov4@evansville.edu or Jenny Koch at je46@evansville.edu for more information or go to the conference website.
New student-focused group - resiliency and stress management
Life is stressful! College life especially so - classes, assignments, friends, relationships, and campus activities can begin to pile up! Stress should not keep you from succeeding. Join UE Counseling Services for a three-part series addressing strategies for managing stress as a normal part of college life!
Attendance at all three sessions is encouraged but not required. Sessions will be held in Room 218 in Ridgway University Center from 4:00-5:00 p.m. on September 22 and 29.
E-mail em232@evansville.edu to reserve your spot for our September series!
UE Volunteer Fair set for tomorrow!
Non-profits and community agencies from the Evansville community want to connect with UE students and help them find their next volunteer opportunity! If you are interested in volunteering, attend the UE Volunteer Fair on Wednesday, September 21, from 9:00 a.m.–noon. The event will be in front of Ridgway University Center. (In case of inclement weather, the fair will take place inside Ridgway University Center on the second floor in Eykamp Hall.)
If you have questions or concerns, please contact Jackie Luedtke at jl295@evansville.edu or ext. 1115.
Family Weekend online registration deadline
The deadline to register online for Family Weekend is Wednesday, September 21, at midnight. After Wednesday, families can still register by calling 812-488-2586. Walk-ups are welcome all weekend too! Be sure to register at the Family Weekend Headquarters. For a full schedule or to register, go here.
Author of "Where Am I Eating?" to speak in Evansville
One Book One Community of Southwestern Indiana is excited to welcome Kelsey Timmerman, author of Where Am I Eating: A Journey Through the Global Food Economy, to Evansville on Wednesday, September 21, at 7:00 p.m. at the Old National Events Plaza.
Have your questions ready for the Q & A after his presentation, and don't forget about the book signing that follows. Bring your own book or purchase one at the event. See you there!
Student-Phonathon moving to Center for Student Engagement
This fall the Phonathon campaign is moving from the basement of Hyde Hall to an area in the Center for Student Engagement. To say our staff is excited is an understatement! We would like to thank Geoff Edwards, Dean Clayton, Mike Smith, and all their staff for helping us move and welcoming us into their home.
Our campaign begins Monday, September 19, and runs through Sunday, November 20.
The Student-Phonathon, managed by the Office of Annual Giving, has many important purposes. Not only does it raise much needed funds for all areas of campus but it also employs over 30 current students. Student-callers thank current donors for their continued support of UE, as well as update all alumni contact information. That information is shared throughout campus to better serve our alumni community.
We hope many alumni, friends, and parents answer our call! If you have questions about the Phonathon campaign or would like to make a gift, please contact Jennifer Jacobs at ext. 2021 or jj130@evansville.edu.
GRE Fee Reduction Certificates available in Office of Financial Aid
Planning to take the GRE this year? You may be eligible for a GRE Fee Reduction Certificate.
To be eligible, you must be a US citizen or resident alien who is a college senior or an unenrolled college graduate.
College seniors must be:
Receiving financial aid through an undergraduate college in the United States, American Samoa, Guam, US Virgin Islands, or Puerto Rico, and
A dependent who has an Institutional Student Information Report (ISIR) that shows a parental contribution of not more than $2,500 for the senior year, or
Self-supporting and have an ISIR that shows a contribution of not more than $3,000 for the senior year
Unenrolled college graduates must:
Have applied for financial aid, and
Have an ISIR that indicates self-supporting status and a contribution of not more than $3,000
If you are interested in receiving a certificate, contact Cathleen Wright in the Office of Financial Aid at cw259@evansville.edu and provide the following information: name, ID, type of test you are taking (computer-delivered or paper-delivered), and whether you will be taking a subject test as well.

OGSP featured grant opportunities
The Office of Grants and Sponsored Programs (OGSP) would like to announce the next round of featured grant opportunities for the Fall 2016 semester!
At OGSP, we oversee federal and state funding opportunities, assisting faculty and staff in the process of applying for external funding in support of scholarly and creative activities. These activities include: basic research, applied research, fellowships, curriculum development, community outreach, international exchange, sabbatical support, and faculty-guided student research. Starting this year, OGSP plans to post in AceNotes with information regarding upcoming grant opportunities and deadlines.
These are the featured opportunities for this posting:
We encourage faculty and staff to contact us with any questions regarding these grants or any other opportunities. Our office is located in Room 205 in Olmsted Administration Hall, and you can reach director of grants and sponsored programs Johnna-Denning Smith by phone at ext. 2551 or by e-mail at jd184@evansville.edu.
UE student package reminder
Packages requiring a signature for UE students living in UE residence halls and village properties are received in distribution services - mail services for security purposes. DS mail services notifies students via e-mail that a package has arrived for them and is ready for pickup. Students are required to bring their UE student ID with them, which is scanned for identification/signature and package pickup. For security reasons including homeland security, student packages cannot be delivered to campus departments or picked up from DS mail services by someone else.
DS mail services is located in the General Services Building at 1 S Frederick Street and is open Monday-Friday, 8:00 a.m. to 5:00 p.m.
For questions, contact DS mail services at ext. 2197 or e-mail mailservices@evansville.edu.
Kyle Matsel visits Google headquarters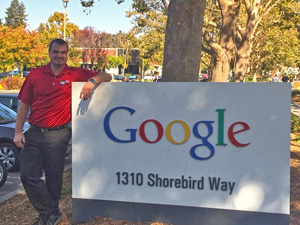 Kyle Matsel, assistant professor of physical therapy, recently traveled to Google Headquarters in San Jose, California, regarding fitness testing. Matsel and Gray Cook, co-founder of Functional Movement Systems, spent two days with the personal trainers, strength coaches, massage therapists, and chiropractors that work with the over 30,000 Google employees in San Jose. Google's large campus houses over 14 fitness and wellness centers where the employees can exercise and receive personal training. Matsel and Cook introduced the Fundamental Capacity Screen, a battery of tests used to systematically identify performance deficits, to the Google healthcare team and administrators.
Men's Soccer to take on 10th-ranked Butler
After extending the current unbeaten streak out to four matches this past weekend, the University of Evansville Men's Soccer team will face its stiffest test of the season today as the Purple Aces are set to take on 10th-ranked Butler.
The Aces (4-2-1) have been buoyed by success on both ends of the pitch this season. Offensively, Jared Robinson, who was named Missouri Valley Conference Player of the Week on Monday, has more than doubled his career goal tally to lead the way. The senior out of Powell, Ohio, has found the back of the net four times this season, and that's due in large part to the quality of service coming from the Aces midfield, which features Zac Blaydes, who leads the conference with five assists, and Jesse Stafford Lacey, who has recorded an assist in four consecutive matches.
In all, seven different Aces have scored a goal this season, with Ian McGrath, an all-conference honorable mention last year, ranking second with three.
Defensively, UE is enjoying one of its more prolific starts to a season in recent years. The Aces have shut out three opponents thus far, which is already a better total than the team recorded in each of the past two seasons.
The centerback duo of Trevor Baum and Chris Shuck has spearheaded the Aces' defensive efforts this season, and rotating group of fullbacks as well as goalkeeper Frederik Reimer, who earned all three clean sheets, has helped UE limit opponents to just one goal from the run of play over the last four matches.
Today, the team's defensive prowess will be challenged as the Bulldogs enter the game averaging just under three goals per game. BU, which is ranked in all four major polls, is the last remaining unbeaten team in the Big East Conference, and the match will mark the first at home for the school since September 3.
Kickoff is slated for 7:00 p.m. Eastern at the Butler Bowl.
UE Women's Golf opens Loyola Fall Invitational
On a windy and warm day at Flossmoor Country Club, the University of Evansville Women's Golf team wrapped up the opening two rounds of the Loyola Fall Invitational.
Evansville finished the day in fifth place out of the eight participating teams with a score of 665. UE is just three behind fourth place Chicago State. Butler leads on the team side with a 644 while Loyola enters the final round just three strokes behind. Southern Illinois is third, four shots off the lead.
Kayla Katterhenry was the top performer of the day for the Aces. The senior began the day with an 80 before registering an 81 to finish Monday's action with a 161. She is tied for seventh place overall.
Maggie Camp and Madison Chaney finished the day in a tie for twenty-fourth place with scores of 169. Camp's rounds checked in at an 83 and 86 while Chaney carded scores of 81 and 88.
Giulia Mallmann and Maria Pickens ended the first two rounds tied for 31st. Mallmann started off with a 92, but lowered her score to an 81 in round two. Pickens also improved as the day went along, opening with an 89 before notching an 84.
Lexie Sollman and Carly Waggoner were the individuals for the Purple Aces. Sollman finished the day with scores of 90 and 92 to rank in a tie for forty-fifth with a 182. Waggoner had identical scores of 94 and is tied for forty-seventh with a 188.
Loyola's Morgan Brown sits atop the leaderboard with a 155. She shot the low round of the day in the second round, notching a 75. Brooke Cusamano of SIU is one behind with a 156. Butler has two players tied for third with scores of 158. Katterhenry is six off the lead.
One more round of play is set for this morning.

Softball announces fall schedule changes
With the cancellation of Saturday's doubleheader against Wabash Valley, the University of Evansville Softball team has finalized date changes for its final two weekends of fall play.
The doubleheader against Wabash Valley will now take place on Friday, September 30 at 4:00 and 6:00 p.m. Another game has been added on Saturday, October 1, as the Purple Aces welcome Brescia to Cooper Stadium for a single game at noon.
This week, the squad will be in action on Friday evening as USI makes the trip across town for a 7:00 p.m. contest.
Contribute to AceNotes
To have content considered for inclusion in AceNotes, please submit a Marketing Request Form. Deadline for submission to AceNotes is 10:00 a.m. on the requested date of publication. Only articles concerning UE related/sponsored activities will be accepted. Articles submitted to AceNotes may be edited for length and clarity. Submitter contact information is at the end of each article.