| | |
| --- | --- |
| AceNotes Today | Thursday, September 15, 2016 |
UE College of Engineering and Computer Science receives gift of $1 Million
The University of Evansville's College of Engineering and Computer Science will soon purchase some new equipment thanks to a recent gift of $1 million. The generous donation comes from Paul and Patricia Jones, longtime supporters of UE.
The Joneses have a strong connection to the University of Evansville, and as a couple have contributed immensely to the institution's success.
They met as students at the University and later married in the school's Neu Chapel. Patricia pursued a major in medical technology, while Paul earned his degree in engineering. Paul is currently a member of the University's Board of Trustees, and is the retired chair and CEO of A.O. Smith Corporation.
"We truly appreciate the Jones's generosity to our engineering programs," said UE president Thomas A. Kazee. "Their support has been instrumental in transforming much of campus. This particular gift represents the perfect marriage of our shared vision for how state-of-the art engineering education – grounded on the solid foundation of the liberal arts and sciences - can help the region build the workforce of the future."
Items that will be bought with the Jones's gift have long been on the wish lists of UE's engineering programs. Equipment to be purchased includes a 3D scanner, multiple 3D printers, thermal imaging scanner, a 5-axis milling machine, and a project realization laboratory.
Philip Gerhart, dean of UE's College of Engineering and Computer Science, noted that "equipment and facilities obtained with Paul and Pat Jones's magnificent gift will play a key role in continuing the University's commitment to excellence through both rigorous academics and hands-on experiences."
UE's engineering programs are designed to meet local, national and global needs. Students have the opportunity to study civil engineering, computer engineering, electrical engineering, mechanical engineering, and computer science. UE also offers a biomedical option in both electrical and mechanical engineering and a certificate program in energy engineering that prepares current students and graduate engineers for opportunities in alternative and traditional energy technologies; an area believed to be key to developing the economy of the region.
UE recognized a Best Regional University by U.S. News & World Report
The University of Evansville has again been named one of the Best Regional Universities: Midwest in the annual Best Colleges rankings by U.S. News & World Report. UE was eighth in this year's ranking, which is based on measures of academic excellence such as student graduation and retention rates, faculty resources, student selectivity, and class sizes. The list includes approximately 200 schools, and rankings are designed to help prospective students and their families evaluate college choices.
UE was also named on the Best Value – Regional Universities (Midwest) list. This ranking is based on the school's academic quality and the net cost of attendance for a student receiving the average need-based financial aid.
UE was listed in other Best Colleges U.S. News & World Report rankings as well, including: Best Colleges for Veterans, a top 10 Best Undergraduate Business Program among small private colleges, and a Best Undergraduate Engineering Program.
"We are pleased to again be recognized as a Best Value in the Midwest and as one of the Midwest's top universities," said UE president Thomas A. Kazee. "The recognitions in this report reflect our continued commitment to providing students with a high quality, affordable education."
The Best Colleges rankings are available online at www.usnews.com/colleges and will be published in U.S. News & World Report's Best Colleges 2017 guidebook on newsstands later this month.
UE alumni featured in Evansville Business Journal's "20 Under 40" for 2016
Several University of Evansville alumni were featured in the Evansville Business Journal's list of "20 Under 40" for 2016.
Click on their names below to read more about each UE graduate:
Evansville Business Journal has recognized young community leaders with its annual "20 Under 40" edition since 2010.
According to the publication, this edition "brings a spotlight to individuals — all younger than 40 — who make a difference in the community through their roles in business, government, education, health care, law, religious organizations, nonprofits and more."
New student-focused group - resiliency and stress management
Life is stressful! College life especially so - classes, assignments, friends, relationships, and campus activities can begin to pile up! Stress should not keep you from succeeding. Join UE Counseling Services for a three-part series addressing strategies for managing stress as a normal part of college life!
Attendance at all three sessions is encouraged but not required. Sessions will be held in Room 218 in Ridgway University Center from 4:00-5:00 p.m. on September 22 and 29.
E-mail em232@evansville.edu to reserve your spot for our September series!
Psychology Club call out meeting tonight
Psychology Club will have its first meeting tonight, September 15, at 6:30 p.m. in Room 71 in the Schroeder School of Business Building. This meeting is open to everyone! Come prepared with ideas for activities that you would like to see the Psychology Club do this year.
This Weekend in Music: a guest recital
Violinist Bohdan Subchak and pianist Maira Liliestedt will present a duo guest recital in Wheeler Concert Hall this Sunday afternoon, September 18, at 4:00 p.m. Both Subchak and Liliestedt serve on the Department of Music faculty of the University of Mount Union in Alliance, Ohio. Additionally, soprano Brookelle Bailey, a student of assistant professor of voice Alanna Keenan, will offer her senior recital in Wheeler Concert Hall this Saturday afternoon, September 17, at 4:00 p.m. Both recitals are free and open to the public.
University Worship and tailgate party this Sunday in Neu Chapel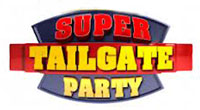 Everyone is welcome to the University Worship and tailgate party this Sunday, at 11:00 a.m., in Neu Chapel! This week we seek to understand Jeremiah's perspective of destruction and healing. Join us for "Neu" words of hope! All are welcome at the table. There will be a tailgate party with homemade comfort food immediately following worship.
International Club water balloon fight today!
Today at 4:30 p.m., on the Neu Chapel lawn, International Club will be having a water balloon fight with several fun activities to beat the heat. Be sure to come and wear appropriate clothing because you are going to get wet!
John Wesley minister and assistant chaplain candidate to officiate at prayer service
The University community is invited to attend a 30-minute prayer service on Friday, September 16, at 11:00 a.m. in Neu Chapel. Zen Hess is a candidate for the position of John Wesley minister and assistant chaplain and will officiate and offer a brief homily during the prayer service. Feedback forms will be available following the service.
Sigma Alpha Iota fall recruitment begins today
Fall recruitment for SAI, a music fraternity open to all women with at least one credit of music, regardless of their major of study, begins today. Recruitment will be held today, Tuesday, and Wednesday from 8:30-9:30 p.m. in Room 127 in the Krannert Hall of Fine Arts. Come and enjoy food, friends, and fun!
College Mentors call-out meeting date changed
College Mentors for Kids has changed its call-out meeting date to Wednesday, September 21. The meeting will be from 3:30-4:30 p.m. If you are attending please apply to be a mentor on collegementors.org, and then join the group to match college students who have the most to give with younger kids who need it the most!
For more information, contact the chapter president Myka Goode by e-mail at mg222@evansville.edu.

Family Weekend 2016 is set for September 23-25!
The University of Evansville will have over 200 families on campus during Family Weekend, September 23-25! Students who have family coming in from out of town may win a free hotel night stay by registering for Family Weekend before September 16.
Hotels that give special UE family Weekend rates include:
Courtyard by Marriott
Holiday Inn Express & Suites
Drury Inn & Suites Evansville East
Fairfield Inn & Suites
When you check in at the Family Weekend Headquarters, you will receive:
A free UE purple cloth bag.
A free University of Evansville Parent bumper sticker.
An athletics wristband for free admission to athletic events
Pre-ordered theatre tickets to Failure: A Love Story
A Family Weekend Passport that will give you a chance to get credit for attending certain events for the chance to win a passport prize at the Parent Social.
An updated Family Weekend Schedule of Events.
The opportunity to purchase a UE T-shirt for $10
Good news - students can check in for their families! Check in at the Class of 1957 Atrium and Grand Lobby in Ridgway University Center on Friday from 4:30-7:30 p.m., and Saturday, 7:30 a.m.-2:00 p.m.
There is something for everyone this year. Some new events include:
A new family game room
Opening session with a welcome by President Kazee and a presentation by Gene Wells
New parent information sessions: Self-Service and Student Planning Session and The Balancing Act: Helping Your Student Successfully Manage Academic Responsibilities and Co-curricular Opportunities
ZTA's Stand Against Breast Cancer and ZTA's Dad's Day Dinner
Self-defense for moms and UE daughters – be prepared
Family ice-cream social
The Kid ACE illusionist and musician show, sponsored by Student Activities Board
If you would like to register for Family Weekend events, go here or call the Office of Alumni and Parent Relations at ext. 2586.
The full detailed schedule of events can be found here.

Fantastic Fall Healthy Behavior Challenge
Earn HRA credit by participating in the Fall Healthy Behavior Challenge. Challenge from September 26- November 20. E-mail Ashley Chipps, wellness coordinator, at ac375@evansville.edu to sign up or for more information.
Those who successfully complete the challenge will earn $150 in HRA credit. The minimum requirement is 150 minutes of exercise weekly or 1200 points at the end of week eight.
Participants record the total number of minutes they exercise daily. They can earn five bonus points for trying a new activity. The weekly exercise logs are then turned in to the wellness coordinator by e-mail or by dropping them into the collection box in the Medical Clinic.
Employee of the Month nominations
The University of Evansville, in pursuit of excellence in service, wishes to recognize a non-faculty employee displaying records of achievement as a leader. Leadership may be demonstrated in any of the following areas: service to the University, service to students, job performance and attitude towards fellow employees. To be eligible, an employee must be a full-time member of administration or staff. Nominations for the October 2016 Employee of the Month are due no later than Tuesday, September 20. To nominate someone, please go here.
Career Advocates Fall 2016 drop-in schedule
Have you been meaning to come to the Center for Career Development? Do you need to start a cover letter, learn about UEJobLink, or update your resume after a summer internship? Come visit your career advocates for peer-to-peer help to get you started! No appointment necessary. Just stop by the CCD, located on the second floor of Ridgway University Center.
Advocates are available at the following times:
Monday: 9:00 a.m.-4:00 p.m.
Tuesday: 8:00-11:00 a.m. and 1:00-3:00 p.m.
Wednesday: 8:00 a.m.-noon and 3:00-5:00 p.m.
Thursday: 10:00-11:00 a.m.- and 2:00-4:00 p.m.
Friday: 10:00-11:00 a.m. and 1:00-4:00 p.m.

2016-17 LOVCIF scholarship applications now available
Applications for 2016-17 Lower Ohio Valley Construction Industry Fund Scholarship (LOVCIF) are available.
You can find the application here, or you can pick up an application in the Office of Financial Aid, located in Room 116 in Olmsted Administration Hall. You can also request a copy by e-mailing cw259@evansville.edu.
Completed applications should be returned to the Office of Financial Aid by October 1.
Questions may be directed to the Office of Financial Aid via e-mail or by phone at 812 488-2364 or, 800-424-8634.
Consider completing the application by October 1 if you meet these criteria:
Eligible first-time recipients must be sophomores in 2016-17.
Priority is given to students whose parents or grandparents have worked at one of the following companies in either a management position or as a union laborer. The companies are Industrial Contractors, Peyronnin Construction, Arc Construction, Deig Brothers construction, Empire Contractors, or Traylor Brothers.
Students must be United States citizens who graduated from a high school within a 100 mile radius of Evansville, Indiana.
If the second criteria listed above does not apply, students may apply who are majoring in a construction related field (i.e., civil engineering) or management in the School of Business.
Consideration will be given for both financial need and scholastic ability.
There will be no discrimination based upon race, color, religion, sex, ethnic group, age, or disability.
Library offering trial of Global Road Warrior database
The UE Library has set up a trial of the Global Road Warrior database. You can access the database here.
Global Road Warrior features country statistics for 175 countries offering global perspectives, maps, cultural reports, business and travel statistics, and information about society and culture. If you're planning travel in the near future or creating a report for class, Global Road Warrior has what you need.
Please send comments and questions to Danielle at dw56@evansville.edu.
Illustrated London News Historical Archive trial
The library has set up a trial for Illustrated London News Historical Archive, Gale NewsVault Historical Newspaper Collection, and Artemis Primary Sources Database. Access is available here.
The trial allows access to all content in each of the databases and will run until October 5. Please send feedback or questions to Danielle at dw56@evansville.edu.
The Illustrated London News Historical Archive 1842-2003 is a full-color online archive that contains every issue of the world's first illustrated weekly newspaper providing perspective on British life.
The Gale NewsVault is the definitive cross-searching experience for exploring more than 10 million digitized facsimile pages from Gale's historical newspaper collections.
Gale (formerly Artemis) Primary Sources is a groundbreaking research platform that integrates formerly disparate digital collections to enable innovative research. This trial includes dozens of primary sources to give you an example of how you can build up your research collection.

Fall cheerleading tryouts
Cheerleading tryouts for the 2016-17 basketball season will be held on September 18 at 10:00 a.m. in Carson Center. More information and tryout waivers can be found on gopurpleaces.com or by contacting Brent Coach at brent.couch2@gmail.com. We are looking to build a team of women and men to cheer on our Aces. Go ACES!
UE Theatre professors open gallery show at Arts Council of Southwestern Indiana
Eric Renschler, Department of Theatre chair and scenic designer, and Patti McCrory, costume designer, have opened an art exhibit, Designs for the Theatre and Life: An Exhibition. This is a collection of set and costume designs and other expressions of the need to make art at the Arts Council of Southwestern Indiana, located at 318 Main Street, in downtown Evansville. The exhibit displays both collaborations between the two and individual work.
Designs for the Theatre and Life runs through October 5, with a closing reception on Friday, September 30, from 5:30–7:00 p.m.

Christia Ward presents Wabash River Radio Revue in New Harmony
Department of Theatre professor Christia Ward, who is currently on sabbatical, will be collaborating with Cary Gray and Kim Patrick Bitz to present Wabash River Radio Revue at New Harmony's Kunstfest. The event will be at 3:00 p.m., on Saturday, September 17.
Wabash River Radio Revue will treat audiences to quick-witted comedy segments, humorous banter, and special musical guest After Hours.
Tickets for this radio play comedy are $5 and are available day-of-show only beginning at noon.
Wabash River Radio Revue will take place in New Harmony's Thrall's Opera House and will be recorded for future broadcast.
UE Theatre alumni nominated for 2016 Emmy Awards
Three UE Theatre alumni have been nominated for the 2016 Emmy Awards. The categories for Carrie Preston '89 and Jack McBrayer '95 were announced this past weekend. Tune in to ABC on September 18 to see if Rami Malek takes home the Emmy for Outstanding Lead Actor in a Drama Series for USA's Mr. Robot!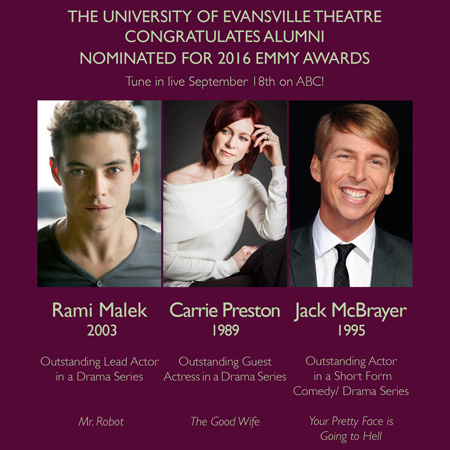 English Department reaches 1,000 followers on Twitter
The University of Evansville's English department recently reached the social media landmark of 1,000 Twitter followers. The department is currently one of the most popular college-level English departments on Twitter.
Robert Baines, assistant professor of English and Twitterer-in-chief, said that he is "very happy about this. The achievements of our majors are continually extraordinary, and it is great to be able to communicate those achievements to such a large audience. I hope that our social media presence continues to grow."
You can follow the English department on Twitter at @ueenglish.
Biology and physics professors engage students in EVSC STEM fest
New Tech Institute in Evansville recently hosted a STEM (science, tech, engineering, and math) fest to engage high school students and the community in these disciplines. UE professors Angie Reisetter, Joyce Stamm, Ann Powell, and Noah Gordon helped kids visualize their voices and "see" in the infrared.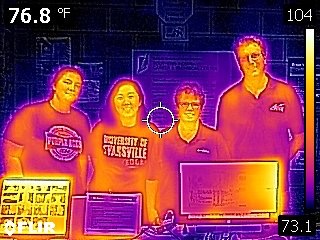 These techniques were used to connect kids to UE faculty research in energy conservation and wildlife.
Kids' activities included painting on their skin with ice - visible in the infrared - and seeing how well they could imitate a frog call.

Day of Caring volunteers
Last Friday, many UE employees volunteered for the United Way Day of Caring. We would like to extend a big thanks to all who came out to support UE's longstanding tradition of community service.
Volunteers worked at the following locations:
Salvation Army
Painted Food Pantry
Painted hallways
Cleaned and organized walk-in refrigerator and freezer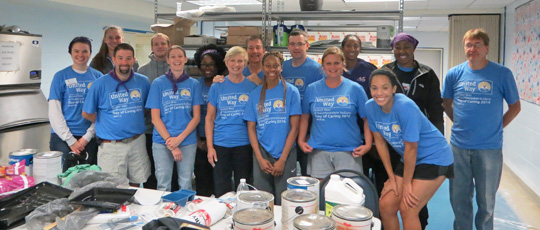 Seton Harvest
Harvested
Weeded
Planted new crops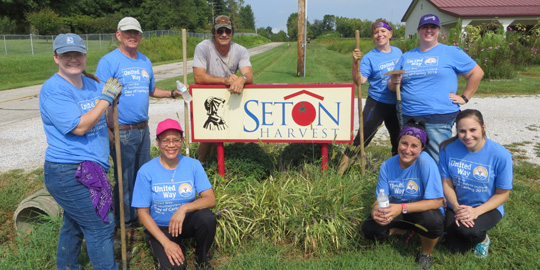 Walt Ferber named Voice of the Aces
University of Evansville director of athletics Mark Spencer has announced that Hall of Fame broadcaster Walt Ferber will be the new Voice of the Aces this season.
He replaces Lance Wilkerson, who was promoted to senior associate athletics director of development and external operations in the middle of last season.
"We are extremely lucky to be able to attract such a great sports casting talent like Walt to replace such a recognizable voice as Lance" said Spencer. "Walt has a wealth of knowledge and experience and will do a great job representing the Purple Aces over the airwaves."
"This is like a dream for me," Ferber said. "I have been in the business for 44 years, and it always has been a dream of mine to call basketball games for one of the top programs in the country. I appreciate the flexibility of WITZ for allowing me to pursue this opportunity."
Ferber's career in radio has spanned 44 years with the last 36 coming at WITZ in Jasper, Indiana, broadcasting a wide array of sports including: football, men's and women's soccer, volleyball, men's and women's basketball, softball, and baseball. He began his career at WREY in New Albany in 1972.
The 2010 inductee into the Indiana Sportswriters and Sportscasters Association Hall of Fame was also the recipient of the Marv Bates Sportscaster of the Year Award, which is also given out by the ISSA.
A native of New Albany, Ferber graduated from New Albany High School in 1974. He received his degree in telecommunications and business from Indiana University in 1978.
Contribute to AceNotes
To have content considered for inclusion in AceNotes, please submit a Marketing Request Form. Deadline for submission to AceNotes is 10:00 a.m. on the requested date of publication. Only articles concerning UE related/sponsored activities will be accepted. Articles submitted to AceNotes may be edited for length and clarity. Submitter contact information is at the end of each article.