| | |
| --- | --- |
| AceNotes Today | Tuesday, September 13, 2016 |
Snyder Lecture Series presents Bennet Omalu
The Patricia Snyder Concert and Lecture Series will present Dr. Bennet Omalu on Thursday, October 13, at 7:00 p.m. in Eykamp Hall in the Ridgway University Center. Omalu is the first doctor to diagnose chronic brain damage in NFL athletes, as portrayed by Will Smith in the 2015 film Concussion.
The event is free and open to the campus community and public. Registration for the event is now open online at www.uealumnionline.com/omalu.
There will also be a special session with Omalu on campus for UE students, faculty, and staff from 3:00-4:00 pm on October 13. More details about this event will be released at a later date.
This Week in Music: a string recital
Eykamp String Quartet member and EPO associate concertmaster Alicia Choi will present this week's faculty recital in Wheeler Concert Hall this evening at 7:30 p.m. To begin the program, Choi will be joined by violist Yoni Gertner and cellist Brady Anderson for a performance of Beethoven's String Trio in E-flat Major, Op. 3. Pianist Futaba Niekawa will then join Choi for a performance of Francis Poulenc's Sonata for Violin and Piano, FP 119. All four musicians will conclude the recital with a performance of Antonin Dvorák's Piano Quartet No. 2 in E-flat Major, Op. 87. The recital is free and open to the public.
French Club call-out meeting set for today
The French Club will hold a call-out meeting today - Tuesday, September 13 - at 6:30 p.m. in Room 105 in Hyde Hall. Please join us to share your ideas for activities this year.
First PT Club meeting is today
The first PT Club meeting of the year will be today - Tuesday, September 13 - at noon in Room 100 in Graves Hall. Please bring your dues to the meeting, either $5 for the semester or $10 for the entire year. If you cannot make the meeting and want to join PT Club, contact Katlyn Baker at kb297@evansville.edu or Michaela Bortle at mb315@evansville.edu.
Family interest meeting for UE Global Friends and Families Program
The UE Global Friends snf Families Program, coordinated by the Office of Cultural Engagement and International Services, matches families with international students for intercultural communication and understanding for all participants. International students spend long periods of time away from their homes and families, and the Global Friends and Families Program is designed to provide them with an additional support system in which they can also experience another facet of American culture. In this way, this program aims to assist with retention of international students.
Families who participate can expect to acquire knowledge of another country and culture and to build a meaningful relationship with a student. It is estimated that approximately 75 percent of international students never enter an American family home while visiting the United States; therefore, they never get to experience true American culture. The Global Friends and Families Program is not a home-stay program, and matches will vary in length due to differing academic programs offered for international students.
If this program interests you and your family, please join us today for a short interest meeting, at 12:30 p.m. and 5:00 p.m. in Room 72 in the Schroeder School of Business Building.

If you are unable to attend, questions can be directed to Megan at ms331@evansville.edu or ext. 2280.
NSLS orientation today
The members of the National Society of Leadership and Success will be having their first orientation today - Tuesday, September 13 - from 7:00-8:00 p.m. in Room 162 in the Schroeder School of Business Building. A second orientation will be announced at a later date.
Part-Time and Seasonal Job Fair today
Need a part-time job? Drop by and meet with area employers at the Seasonal and Part-Time Job Fair, planned for today from 11:00 a.m.-1:00 p.m. in the lobby of Ridgway University Center.
Professional attire is not required - just stop by and bring many copies of your resume!
Schedule an appointment with Center for Career Development to prepare for the fair and perfect your resume. Call ext. 1083 or e-mail career@evansville.edu.
Psychology Club call out meeting
Psychology Club will have its first meeting this Thursday, September 15, at 6:30 p.m. in Room 71 in the Schroeder School of Business Building. This meeting is open to everyone! Come prepared with ideas for activities that you would like to see the Psychology Club do this year.
Delta Sigma Pi recruiting events
Calling all business students! Interested in developing your professional network and finding like-minded people to spend time with? Delta Sigma Pi, professional business fraternity, will be having recruiting events this week for freshmen-juniors who are interested.
Events are planned are:
Meet the Chapter, today - Wednesday, September14 - at 7:00 p.m. in Room 172, Schroeder School of Business Building
Game Night, Friday, September 16 at 7:00 p.m.. in Room 172, Schroeder School of Business Building
If you have any questions or would like more information, please contact Amber Stull (as625@evansville.edu), Nick Riffel (nr57@evansville.edu), or Anna Kalt (ak195@evansville.edu).
Venturing Crew fall campout!
Join the members of Venturing Crew for their Fall Campout in New Harmony, Indiana. Come have a blast with activities including camping, cooking outdoors, visiting a labyrinth and a roofless church, and experiencing the annual Indiana Kunstfest. The group will depart at 9:00 a.m. on Saturday morning and return around noon on Sunday. The cost of the trip is $17, and participants are encouraged to bring $20 cash for lunch at the Kunstfest, which will include vendors, crafts, food, and music. You must be a Venturing Crew member to go on this trip, and participants may sign up for this trip at Ridgway University Center lobby tables today from 11:00 a.m.-2:00 p.m. or Wednesday from noon-2:00 p.m. or 5:00-7:00 p.m. The members of Venturing Crew hope you will join them for an exciting weekend of camping in New Harmony! For more information, e-mail venturing@evansville.edu.
Sigma Alpha Iota fall recruitment begins today
Fall recruitment for SAI, a music fraternity open to all women with at least one credit of music, regardless of their major of study, begins today. Recruitment will be held today, Tuesday, and Wednesday from 8:30-9:30 p.m. in Room 127 in the Krannert Hall of Fine Arts. Come and enjoy food, friends, and fun!
College Mentors call-out meeting date changed
College Mentors for Kids has changed its call-out meeting date to Wednesday, September 21. The meeting will be from 3:30-4:30 p.m. If you are attending please apply to be a mentor on collegementors.org, and then join the group to match college students who have the most to give with younger kids who need it the most!
For more information, contact the chapter president Myka Goode by e-mail at mg222@evansville.edu.

Today''s Creative Writing Coffee Hour features Joseph Harrison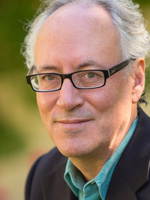 The first Creative Writing Coffee Hour will take place today - Wednesday, September 14 - at 4:00 p.m. in the Melvin Peterson Gallery. You are invited to join us in welcoming Joseph Harrison as our guest speaker.

The Creative Writing Coffee Hours are free and open to the public.

Harrison's most recent volume of poetry, Shakespeare's Horse, was published by The Waywiser Press in 2015. His other books are Identity Theft (Waywiser, 2008), Someone Else's Name (Waywiser, 2003), and The Fly in the Ointment (1994; 20th anniversary edition: Syllabic Press, 2014). Harrison's poems have been widely published in journals and anthologies.

In 2005 he received an Academy Award in Literature from the American Academy of Arts and Letters. In 2009 Harrison was awarded a Fellowship in Poetry by the John Simon Guggenheim Memorial Foundation. He is senior American editor for The Waywiser Press, and lives in Baltimore, Maryland.
I-House: Brazil
This week's I-House presentation will be by Gabi Tom on her country Brazil. She is an international studies and political science double major. She loves to dance, work out, and travel. Her favorite part about UE is the International Bazaar. She will be bring delicious sweets called brigadeiros! So come this Wednesday to I-House Brazil at 7:00 p.m. upstairs in Ridgway University Center.
Career event on Physician Assistant School
Are you interested in being a physician assistant (PA)? Do you know what a PA does or what it takes to become one?
Come learn about this career from noon-2:00 p.m., on Friday, September 16, in Room 255 in Koch Center for Engineering and Science. There will be two guest speakers: Nicole Hamilton, who earned her biology degree from UE in 2014 and who is currently a student in the PA program at Butler University, and Michael Roscoe, UE's PA program director.
Boxed lunches will be available; please RSVP to alumni@evansville.edu by Wednesday, September 14, to reserve your lunch.
This is an informal event. If you have a class at noon, feel free to come at 1:00 p.m. If you have a class at 1:00, feel free to come at noon and leave when it's time for class.
This is the first event of the SAMS Career Colloquium series for 2016-17. This career series is designed to introduce you to the wide variety of job opportunities available for students interested in science or math. All are welcome.
Lunch and Lead: Leading with Letters
At the Lunch and Lead session set for noon today, active and alumni fraternity and sorority members discuss how being in a Greek organization can enhance your leadership abilities. The session will be in Room 126, Hyde Hall, and will feature Tad Dickel, Andrea Wallace, Jalen Lee, and Victoria Salsman.
Lunch and Lead is a free weekly leadership discussion series open to all students, faculty, staff, and guests of UE. Each week, participants are encouraged to bring their lunch and learn about various topics in leadership.

Orr Fellowship recruitment for upperclassmen
The Orr Fellowship connects talented and energized college graduates with top companies in Indianapolis. Don't miss UE Orr Fellows' last trip to the University of Evansville on September 15, to learn more and gain insight into their recruitment process!
Seniors of all majors can apply: minimum 3.5 GPA (or 3.2 GPA with extensive leadership)
To learn more about the Orr Fellowship, go here.
Attend a Networking Workshop on September 15 from 4:00-5:00 p.m. in Dunigan Lounge in the Schroeder School of Business Building. Get experience in networking and practice for the Orr recruitment process! Seniors and juniors who meet the GPA requirement and are interested are encouraged to attend. RSVP to Emily Fiedler at ef31@evansville.edu by Tuesday, September 13.
Questions? Contact Emily Fiedler at ef31@evansville.edu or Sethlyn Morgan at sm247@evansville.edu or go here for more details.

Recycling work study - get paid to help protect the environment
There are still work study positions available in the recycling area, and the pay/hours have been increased! Go to WebAdvisor/Student Employment/Student Employment Positions Listing, Risk Management Department, Recycling Assistant to find out more. Hours are flexible within the range of Monday-Friday, 8:00 a.m.–4:30 p.m. Please e-mail js652@evansville.edu or call ext. 2697 if you have questions
Student employment jobs still available!
Need a job? On campus jobs are still available for both international and domestic students. Job postings are available on the student menu of WebAdvisor under student employment.
The student employment application should be completed and sent to the supervisor as show in the job posting.
Not awarded work-study? Check with the Office of Financial Aid to see if you are eligible. International students who are eligible may be awarded UE work-study.
Financial aid staff are available to answer questions you may have about the process.
Harlaxton Summer 2017 applications now open
Are you planning on attending Harlaxton in the summer of 2017? Applications are now open on our online system. Simply go here and look under Summer Programs.
All applications for Harlaxton are now electronic. Once you have applied, the Harlaxton office will contact you.
For more information please e-mail hc110@evansville.edu.

Katie Darby Mullins publishes poem
Assistant professor of creative writing Katie Darby Mullins has a new poem, "My Illinois Life," coming out in the next issue of Gravel.
Atkinson and MacLeod to present at TedX Evansville
Joe Atkinson, digital multimedia specialist in residence in the Department of Communication, and James MacLeod, professor of history, have been selected to present at the second TedX Evansville event on October 1 at the Evansville Museum Koch Planetarium.
Their Ted Talk will be based on their documentary series Evansville at War, which will be broadcast on WNIN Public Television on December 7-8.
"Our talk is intended to be an inspiration to the people of Evansville," said Atkinson. "We did so much in a short time during the War, and we believe that that spirit is still alive today."
MacLeod added that the Ted Talk will feature some video clips of interviews they have conducted with World War II veterans from Evansville.
"The current developments downtown make it clear that the can-do spirit we saw in the city 75 years ago is still alive and well," MacLeod said.
The entire TedX Evansville event will be streamed live on the Internet, and tickets for the live show are also available.

Day of Caring volunteers
Last Friday, many UE employees volunteered for the United Way Day of Caring. We would like to extend a big thanks to all who came out to support UE's longstanding tradition of community service.
Volunteers worked at the following locations:
Salvation Army
Painted Food Pantry
Painted hallways
Cleaned and organized walk-in refrigerator and freezer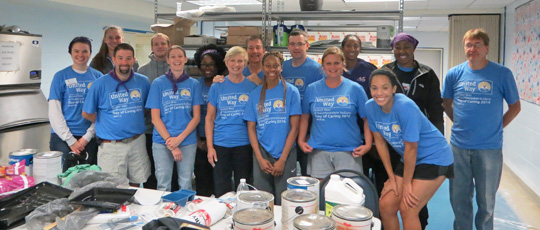 Seton Harvest
Harvested
Weeded
Planted new crops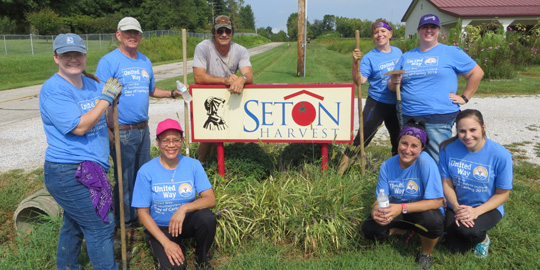 Men's Golf in top five at Murray State
A successful opening two rounds of play saw the University of Evansville Men's Golf team complete the opening day of action in fourth place at the Murray State Invitational at Miller Memorial Golf Course.
Leading the way for the Purple Aces was Wil Pahud. He is tied for sixth place on the leaderboard with a 2-under 140 through 36 holes. Pahud opened the day with a 2-under 69 before shooting an even 71 in the second round.
Second on the squad was Tyler Gray. The junior began the tournament with a solid 73, but upped his play even more in round two. His 3-under 68 saw him rise into a tie for tenth place entering Tuesday's final round of play.
Newcomer Matthew Ladd was next for UE. In his first round of action for the Aces, Ladd finished with a 77, but settled in nicely for the second round. His 1-under 70 saw him rocket into a tie for twenty-seventh in the standings. Noah Reese finished the opening day tied for thirty-ninth place. Reese carded scores of 79 and 73. Jon Pick rounded out the squad with a pair of solid rounds. He began the day with a 75 before finishing the second round with a 78.
Austin Carmack played as an individual and recorded rounds of 74 and 82. He is tied for forty-seventh.
UT Martin has a 2-stroke lead going into the final 18 holes. The Skyhawks finished Monday's play with a 562. They are ahead of Southern Illinois. Green Bay ranks third, 13 shots off the lead while the Aces are one behind the Phoenix with a 576. Evansville leads 5th-place Western Illinois by five shots.
Joe Duchateau of Green Bay and Austin Sawfford of UTM sit atop the individuals. Each finished the day with a 5-under 137. Frankie Thomas of SIU is third with a 138. Pahud is just three off the lead heading into the final round of 18, which will begin this morning.
Contribute to AceNotes
To have content considered for inclusion in AceNotes, please submit a Marketing Request Form. Deadline for submission to AceNotes is 10:00 a.m. on the requested date of publication. Only articles concerning UE related/sponsored activities will be accepted. Articles submitted to AceNotes may be edited for length and clarity. Submitter contact information is at the end of each article.