| | |
| --- | --- |
| AceNotes Today | Thursday, September 8, 2016 |
UE sees increases in enrollment and retention for 2016-17
The University of Evansville has seen increases in incoming freshmen, retention rates, full-time head count, and doctor of physical therapy students for the 2016-17 academic year.
"UE is growing and students are staying," said Shane Davidson, vice president for enrollment services at the University of Evansville. "Not only are we adding new programs and initiatives to attract new students, those already here say they've found their home at UE."
The number of full-time entering freshmen has increased by four percent from 515 last year to 537 this year; the full-time head count and number of doctor of physical therapy students has increased by two percent from 2097 to 2140; and fall-to-fall freshmen student retention has increased eight percent for a total of 89 percent retention of the fall 2015 cohort.
"Our core purpose is to provide students with life-transforming educational experiences that prepare them to engage the world as informed, ethical, and productive citizens. We're committed to supporting students so they can afford a quality education that will lead to a quality life," said Tom Kazee, UE president. "To back this commitment, we created the UE Guarantee. This semester, we welcomed the first freshmen eligible for it."
The UE Guarantee makes five assurances. It promises that students will graduate in four years or the fifth year is free; 100 percent of full-time incoming freshmen will receive a scholarship; every student will have access to at least one internship and the opportunity for more; every student will have the opportunity to study abroad; and every student will be mentored by faculty fully committed to their success.
Family Weekend 2016 is set for September 23-25!
The University of Evansville will have over 200 families on campus during Family Weekend, September 23-25! Students who have family coming in from out of town may win a free hotel night stay by registering for Family Weekend before September 16.
Hotels that give special UE family Weekend rates include:
Courtyard by Marriott
Holiday Inn Express & Suites
Drury Inn & Suites Evansville East
Fairfield Inn & Suites
When you check in at the Family Weekend Headquarters, you will receive:
A free UE purple cloth bag.
A free University of Evansville Parent bumper sticker.
An athletics wristband for free admission to athletic events
Pre-ordered theatre tickets to Failure: A Love Story
A Family Weekend Passport that will give you a chance to get credit for attending certain events for the chance to win a passport prize at the Parent Social.
An updated Family Weekend Schedule of Events.
The opportunity to purchase a UE T-shirt for $10
Good news - students can check in for their families! Check in at the Class of 1957 Atrium and Grand Lobby in Ridgway University Center on Friday from 4:30-7:30 p.m., and Saturday, 7:30 a.m.-2:00 p.m.
There is something for everyone this year. Some new events include:
A new family game room
Opening session with a welcome by President Kazee and a presentation by Gene Wells
New parent information sessions: Self-Service and Student Planning Session and The Balancing Act: Helping Your Student Successfully Manage Academic Responsibilities and Co-curricular Opportunities
ZTA's Stand Against Breast Cancer and ZTA's Dad's Day Dinner
Self-defense for moms and UE daughters – be prepared
Family ice-cream social
The Kid ACE illusionist and musician show, sponsored by Student Activities Board
If you would like to register for Family Weekend events, go here or call the Office of Alumni and Parent Relations at ext. 2586.
The full detailed schedule of events can be found here.

Black Student Union hosts first meeting of the year
The Black Student Union will have its first meeting tonight in Room 125 in Koch Center for Engineering and Science at 8:00 p.m. Come to meet the group's executive board members and hear about plans for this year's events. ALL are welcome to attend. For more information contact Marks Cannon, BSU president, at mc281@evansville.edu.
15th anniversary of 9/11 Interfaith Service for Peace, Hope, and Service
The University of Evansville will host an interfaith community prayer service beginning at 7:00 p.m. in Neu Chapel on Sunday, September 11, commemorating the 15th anniversary of 9/11. Everyone is invited.
"September 11, 2001 and its aftermath demonstrated the importance of open, respectful dialogue among practitioners of the world's many faiths," said Tamara Gieselman, University chaplain. "Fifteen years after the attacks, we can look back and assess great progress in terms of interfaith collaboration, but the need for unity and understanding is still great. The interfaith worship service will focus on peace, hope, and service in the community, which echoes the national theme, "9/11 Day of Service."
Following the prayer service, local agencies (Aurora, Habitat for Humanity, United Caring Services, World Changers, Scholars for Syria) will be on site to talk with people about volunteering beyond a "one and done" effort. The goal is to inspire people to make outreach part of their family culture, to live lives of service.
Students and representatives from the local interfaith community will participate in the worship service. Global music begins at 7:00 p.m. and the bagpipe processional starts at 7:15 p.m.
For more information, please contact the Office of the Chaplain at tg85@evansville.edu.
University Worship this Sunday in Neu Chapel at 11:00 a.m.
Love, love, love the grace! Student preacher Dominic Bolt will focus on Luke 15: 1-10 this week with his homiletical work, "Love Songs, Religion, and Lost Sheep." Join us at 11:00 a.m. this Sunday! All are welcome. As always, Donut Bank donut balls and coffee are available before and after the service.
Mark your calendars for the September 18 Tailgate Party immediately following worship! All are welcome to come and enjoy home-cooked food, sponsored by the Neu Chapel Society.

Student Interfaith Alliance call out for this Sunday at 5:00 p.m.
Students interested in interfaith dialogue, engagement, and travel should plan to attend the Student Interfaith Alliance meeting this week, which precedes the Interfaith Prayer Service for Peace, Hope, and Service. Plan to meet in Grabill Lounge (lower level of Neu Chapel) at 5:00 p.m. Interfaith food served at 5:30 p.m. For more information e-mail db211@evansville.edu.
SAB movie tonight!
Just a reminder that the Student Activities Board will be showing Captain America: Civil War tonight at 9:00 p.m. in Eykamp 251 in Ridgway University Center. Admission is free and popcorn will be provided
First annual UE Volunteer Fair!
Come one, come all to the first annual UE Volunteer Fair on September 21! Non-profits and community agencies from across Evansville will be on campus looking to connect with students like you!
The fair will take place from 9:00 a.m.–noon. The event will be in front of Ridgway University Center. (In case of inclement weather, the fair will take place inside Ridgway University Center on the second floor in Eykamp Hall.
Whether you need to complete hours for your organization, are looking to boost your resume, want to enhance your classroom experience, or just help out your community, we want to see you there!
If you have questions or concerns, please contact Jackie Luedtke at jl295@evansville.edu or ext. 1115.
SAAC and Buffalo Wild Wings team up for Bailey George fundraiser
Today the University of Evansville Student-Athlete Advisory Committee is teaming up with Buffalo Wild Wings in a Give Back Night.
From 11:00 a.m. until close that day, 10 percent of proceeds raised at the restaurant will benefit the Bailey George Memorial Scholarship in memory of the UE runner.
All you have to do is mention the cause during your visit and 10 percent of your purchase will go to her scholarship. This offer is only good at the Buffalo Wild Wings location on North Green River Road in Evansville.
This is a great opportunity to come out as it will be the first Monday Night Football game of the 2016 NFL season.

Venturing Crew canoe trip and fall campout
Kick off the year with UE Venturing Crew as we begin the semester with our annual canoe trip and cookout at Blue Grass Fish and Wildlife Area this Sunday, September 11, from 11:30 a.m.-6:00 p.m. The event is free and includes food. All participants need to be a Venturing Crew member. That means you must complete a registration form and pay your annual dues ($25) to take part in this event. To sign up, RSVP via e-mail to ao64@evansville.edu or visit tables in Ridgway University Center lobby on Thursday from 11:00 a.m.-2:00 p.m. and 5:00- 7:00 p.m., or on Friday from noon- 2:00 p.m.
Next weekend, join Venturing Crew for our Fall Campout in New Harmony, Indiana. Come have a blast with activities including camping, cooking outdoors, visiting a labyrinth and a roofless church, and experiencing the annual Indiana Kunstfest! We will depart at 9:00 a.m. on Saturday morning and return around noon on Sunday. The cost of the trip is $17, and participants are encouraged to bring $20 cash for lunch at the Kunstfest, which will include vendors, crafts, food, and music. You may sign up for this trip at the Ridgway University Center lobby tables above or in Ridgway on Monday from noon-2:00 p.m.
If you were unable to sign up for the crew at the open house, our officers will be available at the following times and locations this week to get you registered: 1:00-3:00 p.m. on Tuesday or noon-2:00 p.m. on Wednesday in the Office of Human Resources, located in Room 118 in Olmsted Administration Hall.
If you are unavailable during these times and still want to sign up for the crew, please contact ao64@evansville.edu.
A few seats left for Friday's trip to historical Lyles Station
On this Friday, September 9, the University of Evansville's Office of Diversity Initiatives and the Center for Student Engagement is planning a trip to visit historical Lyles Station. The bus will arrive on campus at 5:45 p.m. and depart by 6:00 p.m. The trip will conclude at 8:00 p.m. and the bus will arrive back on campus at 8:45 p.m.
Lyles Station, a small community located 4.5 miles west of Princeton, Indiana, began in the 1840s as a settlement of freed slaves. In 1886, the settlement was named Lyles Station in honor of one of the early settlers Joshua Lyles. There is a rich history there which features the Lyles Consolidated School Building, the African Methodist Episcopal Church, and a grain elevator.
The trip to Lyles Station is an opportunity for campus members to see why the Smithsonian's National Museum of African American History and Culture, scheduled for a grand opening on September 24, has chosen Lyles Station as a prominent settlement that will cover one entire floor in the new museum.
Seating is limited. If interested, contact LaNeeca Williams at lw161@evansville.edu or 812-488-2413.
There is no cost for students. Faculty members, staff, and friends pay $5. All participants will receive a box sandwich meal with drink for the trip.
In-house office supply form has been revised
Effective immediately - central receiving is now accepting the newest version of the in-house office supply order form (dated 9/2016) which includes updated pricing. The revised in-house office supply order form is available on the central receiving and purchasing websites in AceLink. Please note that previous versions of the in-house form will no longer be accepted as of October 12. Please e-mail your questions to centralreceiving@evansville.edu or call ext. 2197.
Library after-hours start on September 11
After-hours will start at the UE library on Sunday, September 11. The first floor will be open until 4:00 a.m. with limited library services. The upper floors will close at midnight and will not be accessible after that. The current after-hours schedule is Monday-Friday from midnight-4:00 a.m. Access to the libraries after 11:50 p.m. from Sunday-Thursday is through the Ridgway door only.
This service is dependent on student staffing. Interruptions to the after-hours schedule will be posted to the UE app.
For more information, contact Meg Atwater-Singer at ma35@evansville.edu or ext. 2487.
Fall cheerleading tryouts
Cheerleading tryouts for the 2016-17 basketball season will be held on September 18 at 10:00 a.m. in Carson Center. More information and tryout waivers can be found on gopurpleaces.com or by contacting Brent Coach at brent.couch2@gmail.com. We are looking to build a team of women and men to cheer on our Aces. Go ACES!
Office of Education Abroad welcomes new members
The Office of Education Abroad would like to welcome new colleagues to campus this month as our international programs continue to evolve. Amara Stuehling will serve as the senior study abroad advisor, responsible for external providers and faculty-led programs. Greta Becker takes the role of office coordinator and will be involved in student and faculty outreach as well as logistical processes surrounding all education abroad programs. Laura Scott will serve as our new Harlaxton College intern, working in the UE office this academic year and then moving to student development at Harlaxton the following year. Additionally, Molli Keller will serve as a part-time intern working on Harlaxton student preparation. Finally, Holly Carter will assume the role of director of education abroad and Harlaxton College Programs. Please come by the office, located in Room 260 in the Schroeder School of Business Building, to introduce yourselves and start or renew the conversations about study abroad.
Fall 2016 study-skills/time-management workshops
Want to earn higher grades with lower stress? Attend one of our workshops where you will learn strategies to help you better manage your time, study more effectively, and improve reading, note-taking, and in-class listening skills. The workshops are geared for new UE students, but all are welcome. (Student athletes: you will be assigned to separate workshops.)
Workshops are planned for:
Thursday, September 8 4:30 p.m. Writing Center (Clifford Memorial Library)
Tuesday, September 13 7:00 p.m. Moore Hall (Main Lounge)
Wednesday, September 14 7:00 p.m. Morton/Brentano (Pit)
Thursday, September 15 7:00 p.m. Hall Hale (Game Room)
Mark your calendars!
Independent Colleges of Indiana will be hosting a meeting on Wednesday, November 9, for Grant Writing and Development. This meeting will be held in Indianapolis at the ICI office. Any UE faculty or staff member who is interested in attending should contact Johnna Denning-Smith, director of grants and sponsored programs, at ext. 2551.
The presenters at the meeting will be Yvonne Chang and Sarah Nerenberg, who work with the University of Notre Dame.
The three-hour workshop will include discussion on types of funders, determining your fit with a program, developing a concept note, how to pitch the concept note and steps to develop a full grant proposal. Two break-out sessions will be included to work on goals and objectives and a concept note outline based on attendees' own research ideas. After completing each session, the presenters will facilitate a discussion where attendees will be able to share their ideas and learn from each other.
Fall health screenings
Sign-ups are now available for Fall Health Screenings. Screenings will be held in the basement of Neu Chapel on Sept. 6, 7, and 8, from 7:00-11:00 a.m. To schedule your screening go to AceLink>Home>Wellness Screenings. Please do not sign up under the Employee Health Clinic.
Each employee is allowed to schedule two time slots in order to schedule their spouse.
Each person is eligible to earn up to $350 in HRA credits by screening.
A 12-hour fasting period is highly encouraged. Water and black coffee are permitted during that time.
Ranganathan publishes paper in Soundings
Bharat Ranganathan, visiting assistant professor of religion, has published an article, "Mahmood, Liberalism, and Agency," in the journal Soundings.
In addition to explicating an account of liberal agency, Ranganathan's article further argues that religious practices that override one's status in moral and political communities cannot be defended on the grounds that they are necessary for particular forms of human flourishing.

Baby Announcement - Arthur Calvin Lattner
Alex Lattner, student services specialist in the Office of the Registrar, and her husband Joe announce the arrival of their bouncing baby boy. Arthur Calvin Lattner was born on Sunday, September 4. Mom and baby are both doing great.
Mark Cirino writes article for Huffington Post
Mark Cirino, associate professor of English and Melvin M. Peterson Chair in English, co-authored an article that has been published by The Huffington Post.
Cirino's article, written with Robert K. Elder, is titled "Was Ernest Hemingway the Original American Sniper?" and explores Hemingway's assertion that he killed 122 German soldiers during World War II. Cirino and Elder co-wrote Hidden Hemingway, a book about Hemingway's Oak Park, Illinois, roots, which was published this summer.
Cirino will appear at Barnes & Noble in Evansville this Saturday, September 10, at 7:00 p.m. to present images from Hidden Hemingway, answer questions, and sign books.
You can read Cirino's article by going here.
For more information about the Barnes & Noble appearance, go here.
Patti McCrory wins Barbara St. Clair McKenna Award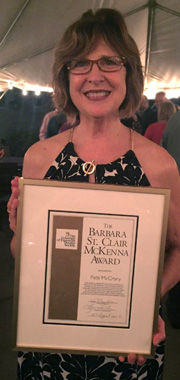 The University of Evansville Theatre Society held its annual dinner for UE board and faculty members last week at the home of UE President Tom and Sharon Kazee. The Barbara St. Clair McKenna Award was given to professor of theatre Patti McCrory at the event. This award is the highest honor bestowed by the board and is given to the person who exemplifies the spirit of service to the Department of Theatre and the Theatre Society. Congratulations on this well-deserved honor!
Clark Kimberling presents paper at mathematics meeting in France
In July, Clark Kimberling, professor of mathematics, attended the 17th International Conference on Fibonacci Numbers and Their Applications at the University of Caen, in Caen, France. Kimberling chaired two sessions and presented research conducted during the past year with British engineer Peter Moses. The title was "Polynomial Trees and Subtrees."
As editor for the problem proposals section of the conference proceedings, Kimberling is preparing a chapter based on 14 problems which were unsolved at the time that various mathematicians presented them at the conference.
Local health care documentary to be shown
A stunning award-winning documentary dealing with health care in Evansville will be shown at USI's Mitchell Auditorium on Wednesday, September 14, at 6.30 p.m. Directed by Patrick O'Connor and featuring Jessica MacLeod, it tells the story of MacLeod's work as a nurse practitioner in Evansville, providing health care to home-bound patients who exist on the very edges of our health care system.
The film is a fascinating revelation of a part of Evansville that most of us don't even know exists.
O'Connor is married to UE professor emerita Margaret McMullan and has taught courses at Harlaxton College. MacLeod studied at Harlaxton and was a nurse in the UE Health Center for several years.
The show is free and open to the public, and there will be a question and answer session with O'Connor and MacLeod after the film.

Kayla Katterhenry named MVC Women's Golfer of Week
After winning the eighth tournament of her University of Evansville career on Monday at the Redbird Invitational, senior Kayla Katterhenry was named the Missouri Valley Conference Women's Golfer of the Week.
In the season-opening Redbird Invitational, Katterhenry continued to add to her record-setting numbers. The Newburgh, Indiana, native opened the tournament with a 7-under 65.
That broke her own school record of 67, which was set in April 2016 at the Missouri Valley Conference Championship. Following a 75 in the second round, Katterhenry fired a 4-under 68 in Monday's final round to defeat her nearest competition by five strokes.
Katterhenry and the Purple Aces are off this weekend and return to the course on September 19 at the Loyola Invitational.

UE Men's Basketball MVC slate released
The 2016-17 University of Evansville Men's Basketball season is quickly approaching and another major step towards the campaign was taken today as the Missouri Valley Conference portion of the schedule has been released.
Play begins on the road at Illinois State on December 29 in Normal. Last year, the Aces picked up their first road win at Redbird Arena since January of 2011.
New Year's Day will mark the home MVC opener as the Purple Aces welcome UNI to the Ford Center. Two years ago, the squads also tangled on January 1 and UE defeated the nationally-ranked Panthers by a final of 52-49. Bradley comes to the Ford Center for a January 4 meeting before UE takes to the road at Drake (January 8) and Missouri State (January 11).
A pivotal 2-game home stretch will see Evansville welcome Southern Illinois and Wichita State in mid-January. The Salukis make their annual visit on Saturday, January 14 before the Shockers come to town three days later on January 17.
Next up is a trip to Chicago where the Aces take on Loyola on January 21. They remain on the road until January 25 when they complete the regular-season series against UNI in Cedar Falls.
Evansville will then play three of its next four games at home, beginning on January 29 versus Illinois State. After a February 1 trip to Indiana State, UE will play host to Missouri State on February 4 and Loyola on February 8.
The final road swing of the season will see Evansville on the road for three out of four contests in the middle of the month. On February 11, UE makes the quick trip over to Carbondale, Illinois, to take on SIU before returning home to face Drake on Valentine's Day. It is back to the road on February 18 at Bradley before the Aces travel to Wichita State for a February 21 game.
Senior Day will take place on Saturday, February 25 against Indiana State. From there, the Aces head to Arch Madness, which will be held from March 2-5 in St. Louis
Game times and TV contests will be announced as soon as they are available.
Season tickets are currently on sale at the Carson Center Ticket Office or by calling 812-488-ACES. Single game tickets will go on sale in October. Full information will be released at a later date.
Contribute to AceNotes
To have content considered for inclusion in AceNotes, please submit a Marketing Request Form. Deadline for submission to AceNotes is 10:00 a.m. on the requested date of publication. Only articles concerning UE related/sponsored activities will be accepted. Articles submitted to AceNotes may be edited for length and clarity. Submitter contact information is at the end of each article.