| | |
| --- | --- |
| AceNotes Today | Wednesday, September 7, 2016 |
UE sees increases in enrollment and retention for 2016-17
The University of Evansville has seen increases in incoming freshmen, retention rates, full-time head count, and doctor of physical therapy students for the 2016-17 academic year.
"UE is growing and students are staying," said Shane Davidson, vice president for enrollment services at the University of Evansville. "Not only are we adding new programs and initiatives to attract new students, those already here say they've found their home at UE."
The number of full-time entering freshmen has increased by four percent from 515 last year to 537 this year; the full-time head count and number of doctor of physical therapy students has increased by two percent from 2097 to 2140; and fall-to-fall freshmen student retention has increased eight percent for a total of 89 percent retention of the fall 2015 cohort.
"Our core purpose is to provide students with life-transforming educational experiences that prepare them to engage the world as informed, ethical, and productive citizens. We're committed to supporting students so they can afford a quality education that will lead to a quality life," said Tom Kazee, UE president. "To back this commitment, we created the UE Guarantee. This semester, we welcomed the first freshmen eligible for it."
The UE Guarantee makes five assurances. It promises that students will graduate in four years or the fifth year is free; 100 percent of full-time incoming freshmen will receive a scholarship; every student will have access to at least one internship and the opportunity for more; every student will have the opportunity to study abroad; and every student will be mentored by faculty fully committed to their success.
I-House: Zimbabwe
It's I-House time again! Rebecca Nelson and Kudzi Mandingwa will be making a presentation about their country of Zimbabwe tonight at 7:00 p.m., upstairs in Ridgway University Center.
Rebecca is a biology major and Kudzi is a computer science major. Rebecca loves hiking, kayaking, and reading. Kudzi likes to swim, watch Harry Potter and Sherlock Holmes, hike, and listen to music. They both love the people here and the school pride that UE has.

International Bazaar call out meeting
Following tonight's I-House, which begins at 7:00 p.m. on the top floor of Ridgway University Center, the International Club will have a meeting about the upcoming International Bazaar. The bazaar is planned for November.
If you are interested in submitting recipes and cooking for the bazaar, or in becoming a booth leader in charge of your country's very own booth for the event, be sure to attend this important meeting for more information regarding the biggest event on campus!

SAB showing Captain America: Civil War Thursday
The Student Activities Board will be showing its first movie of the year on Thursday, September 8. At 9:00 p.m. in Eykamp Hall, Room 251, Ridgway University Center. SAB will be showing Captain America: Civil War. Admission is free and we will provide popcorn. Hope to see you all there!
SAAC and Buffalo Wild Wings team up for Bailey George fundraiser
Today the University of Evansville Student-Athlete Advisory Committee is teaming up with Buffalo Wild Wings in a Give Back Night.
From 11:00 a.m. until close that day, 10 percent of proceeds raised at the restaurant will benefit the Bailey George Memorial Scholarship in memory of the UE runner.
All you have to do is mention the cause during your visit and 10 percent of your purchase will go to her scholarship. This offer is only good at the Buffalo Wild Wings location on North Green River Road in Evansville.
This is a great opportunity to come out as it will be the first Monday Night Football game of the 2016 NFL season.

Run for Refugees 5K
Burn some calories and save the world! Join us on Saturday, September 10, at 8:00 a.m. at USI to help raise money to support Road to Mafraq, a non-profit dedicated to providing education for Syrian refugee children living in Jordan. Activities at the event will include a 5K run as well as a 1-mile run/walk in addition to a community fair.
Use this link to sign up or go to the Scholars for Syria Facebook page for the event announcement.
Thanks and hope to see you there!
Love volunteering? Join College Mentors for Kids!
College Mentors for Kids is an organization that connects college students who have the most to give with kids who need it most. Through weekly after-school activities on Wednesdays from 3:00-5:00 p.m., mentors show kids the importance of trying harder in school and help them understand higher education opportunities.
The group's call-out meeting will be September 14 at 3:00 p.m. in Room 126 in Hyde Hall.
Apply to be a mentor today by going to collegementors.org.
If you have any additional questions, contact chapter president Myka Goode by e-mail at mg222@evansville.edu.
Newman Club Dinner and Discussion today
Join the members of the Newman Club today at 5:00 p.m. for great conversation with Kim Baker, a professor at St. Meinrad. She will be speaking about her wonderful experiences in India. We will be having homemade creamy chicken and rice for dinner. All are welcome! You can find us at the house on Lincoln Avenue, right across from campus with the purple banner. For more information, please contact Olivia Voegerl at ov4@evansville.edu.
Fall cheerleading tryouts
Cheerleading tryouts for the 2016-17 basketball season will be held on September 18 at 10:00 a.m. in Carson Center. More information and tryout waivers can be found on gopurpleaces.com or by contacting Brent Coach at brent.couch2@gmail.com. We are looking to build a team of women and men to cheer on our Aces. Go ACES!
Office of Education Abroad welcomes new members
The Office of Education Abroad would like to welcome new colleagues to campus this month as our international programs continue to evolve. Amara Stuehling will serve as the senior study abroad advisor, responsible for external providers and faculty-led programs. Greta Becker takes the role of office coordinator and will be involved in student and faculty outreach as well as logistical processes surrounding all education abroad programs. Laura Scott will serve as our new Harlaxton College intern, working in the UE office this academic year and then moving to student development at Harlaxton the following year. Additionally, Molli Keller will serve as a part-time intern working on Harlaxton student preparation. Finally, Holly Carter will assume the role of director of education abroad and Harlaxton College Programs. Please come by the office, located in Room 260 in the Schroeder School of Business Building, to introduce yourselves and start or renew the conversations about study abroad.
September is Suicide Prevention Awareness Month
Have you ever sensed something wasn't quite right with a friend? Ever felt you needed to say something and weren't quite sure what to say? We can help! UE Counseling Services will be hosting a walk-through event to acknowledge September as Suicide Prevention Awareness Month and to provide you with the opportunity to "B1" for a friend!
Learn how to be aware of this silent epidemic, be able to identify the warning signs, and be prepared to react when you know a friend may be in need of help.
Counseling Services will have a table downstairs in Ridgeway University Center on Thursday, September 8, from 11:00 a.m.-1:00 p.m. Stop by and see us to be entered in a raffle for some UE gear!
New Fall 2016 supplemental instruction schedules
The Fall 2016 supplemental instruction schedule begins Sunday, September 5! Free tutoring is available for chemistry, biology, anthropology, exercise science, nursing, all math classes, business, quantitative methods, and foreign languages. Check out the schedule on AceLink.
For more information about SI, contact Stacey Shanks, director of student success services, at ss581@evansville.edu.

Overnight hosts needed for September 15
Are you interested in hosting a prospective student? The Office of Admission is looking for current students to help host prospective students on Thursday, September 15, starting at 5:00 p.m., for Purple Visit Day. Dinner will be provided. The students staying overnight will be doing their campus visit the following day.
If you are interested in being a host, please e-mail Catie Taylor at ct37@evansville.edu with your name, roommate's name, hall, room number, and cell phone number.
TIAA-CREF counseling appointments
The TIAA-CREF representative will be on the UE campus on Tuesday, September 20, for individual counseling sessions. To schedule an appointment, call TIAA-CREF at 1-800-732-8353 or 317-706-6200.
The sessions are held in the Clifford Rare Books Room of the University Libraries (Room 158).
If you have any questions, call Carol McCraney at 812-488-2943.
Book bags are 20 percent off
During the week of September 5-10, all book bags at the UE Bookstore will be 20 percent off their regular price. This includes Columbia, Everest, Ogio, and Under Armour brands. Stop in and look around.
Fall 2016 study-skills/time-management workshops
Want to earn higher grades with lower stress? Attend one of our workshops where you will learn strategies to help you better manage your time, study more effectively, and improve reading, note-taking, and in-class listening skills. The workshops are geared for new UE students, but all are welcome. (Student athletes: you will be assigned to separate workshops.)
Workshops are planned for:
Thursday, September 8 4:30 p.m. Writing Center (Clifford Memorial Library)
Tuesday, September 13 7:00 p.m. Moore Hall (Main Lounge)
Wednesday, September 14 7:00 p.m. Morton/Brentano (Pit)
Thursday, September 15 7:00 p.m. Hall Hale (Game Room)
Student applicants wanted
WFF Facility Services (on-campus housekeeping) is hiring students interested in part-time employment with flexible hours. Please reply to Kregg Woosley at 812-488-2045 or inquire at the physical plant office, located in the same building as the security office. You may also apply online here. Click on careers tab and follow prompts.
Mark your calendars!
Independent Colleges of Indiana will be hosting a meeting on Wednesday, November 9, for Grant Writing and Development. This meeting will be held in Indianapolis at the ICI office. Any UE faculty or staff member who is interested in attending should contact Johnna Denning-Smith, director of grants and sponsored programs, at ext. 2551.
The presenters at the meeting will be Yvonne Chang and Sarah Nerenberg, who work with the University of Notre Dame.
The three-hour workshop will include discussion on types of funders, determining your fit with a program, developing a concept note, how to pitch the concept note and steps to develop a full grant proposal. Two break-out sessions will be included to work on goals and objectives and a concept note outline based on attendees' own research ideas. After completing each session, the presenters will facilitate a discussion where attendees will be able to share their ideas and learn from each other.
Fall health screenings
Sign-ups are now available for Fall Health Screenings. Screenings will be held in the basement of Neu Chapel on Sept. 6, 7, and 8, from 7:00-11:00 a.m. To schedule your screening go to AceLink>Home>Wellness Screenings. Please do not sign up under the Employee Health Clinic.
Each employee is allowed to schedule two time slots in order to schedule their spouse.
Each person is eligible to earn up to $350 in HRA credits by screening.
A 12-hour fasting period is highly encouraged. Water and black coffee are permitted during that time.
Discounted parking permits for UE license plate holders
Students, faculty, administrators, and staff who sport the UE State of Indiana license plate in 2016 (new and renewal plates) will receive a $25 discount off the UE parking permit fee for 2016-17. The registration process for the plates is now handled through the state.
If you want to purchase or renew a UE plate, go here.
If you already have your 2016 UE plate, bring your State of Indiana vehicle registration to the Office of Safety and Security when you purchase your parking permit for the new academic year.
If you have not registered your vehicle yet, you will need to pay the full parking permit fee and then bring your registration to the Office of Safety and Security to get a credit for $25.
If you have any questions, contact alumni@evansville.edu.
Harlaxton Summer 2017 applications now open
Are you planning on attending Harlaxton in the summer of 2017? Applications are now open on our online system. Simply go here and look under Summer Programs.
All applications for Harlaxton are now electronic. Once you have applied, the Harlaxton office will contact you.
For more information please e-mail hc110@evansville.edu.

Baby Announcement - Arthur Calvin Lattner
Alex Lattner, student services specialist in the Office of the Registrar, and her husband Joe announce the arrival of their bouncing baby boy. Arthur Calvin Lattner was born on Sunday, September 4. Mom and baby are both doing great.
Mark Cirino writes article for Huffington Post
Mark Cirino, associate professor of English and Melvin M. Peterson Chair in English, co-authored an article that has been published by The Huffington Post.
Cirino's article, written with Robert K. Elder, is titled "Was Ernest Hemingway the Original American Sniper?" and explores Hemingway's assertion that he killed 122 German soldiers during World War II. Cirino and Elder co-wrote Hidden Hemingway, a book about Hemingway's Oak Park, Illinois, roots, which was published this summer.
Cirino will appear at Barnes & Noble in Evansville this Saturday, September 10, at 7:00 p.m. to present images from Hidden Hemingway, answer questions, and sign books.
You can read Cirino's article by going here.
For more information about the Barnes & Noble appearance, go here.
UE Theatre alumna premieres new series
UET alumna Rutina Wesley '01 stars in OWN network's Queen Sugar, which has a two-night series that premiered yesterday - Tuesday, September 6 - and today- Wednesday, September 7 - at 9:00 p.m. Wesley's performance has already garnered praise from Variety who said "Wesley is sublime, and DuVernay films her so gorgeously that Queen Sugar could just be that, and be enough."
Patti McCrory wins Barbara St. Clair McKenna Award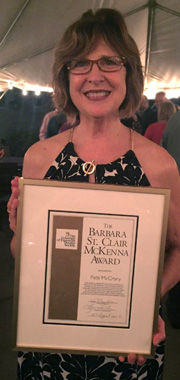 The University of Evansville Theatre Society held its annual dinner for UE board and faculty members last week at the home of UE President Tom and Sharon Kazee. The Barbara St. Clair McKenna Award was given to professor of theatre Patti McCrory at the event. This award is the highest honor bestowed by the board and is given to the person who exemplifies the spirit of service to the Department of Theatre and the Theatre Society. Congratulations on this well-deserved honor!
Maass presents research at American Political Science Association
Richard Maass, assistant professor of political science, presented a research paper titled "Command and Conquer: Ideologies of Superiority, Democracy, and Annexation" at the annual conference of the American Political Science Association in Philadelphia on Saturday, September 3.
Maass's paper examines how similar ideologies of superiority can produce different foreign policies when filtered through different domestic institutions, using case studies of Nazi Germany and the US during the Mexican-American War.
Clark Kimberling presents paper at mathematics meeting in France
In July, Clark Kimberling, professor of mathematics, attended the 17th International Conference on Fibonacci Numbers and Their Applications at the University of Caen, in Caen, France. Kimberling chaired two sessions and presented research conducted during the past year with British engineer Peter Moses. The title was "Polynomial Trees and Subtrees."
As editor for the problem proposals section of the conference proceedings, Kimberling is preparing a chapter based on 14 problems which were unsolved at the time that various mathematicians presented them at the conference.
Peter Schmidt has article published in Materials Science and Technology
Peter Schmidt, associate professor of mechanical engineering, has an article titled "Residual surface stress: comparing traditional and modulated tool path machining processes" in the journal Materials Science and Technology.
The article documents a study of the effect of modulated tool path machining on residual stresses found in metal parts fabricated using single point turning.

Local health care documentary to be shown
A stunning award-winning documentary dealing with health care in Evansville will be shown at USI's Mitchell Auditorium on Wednesday, September 14, at 6.30 p.m. Directed by Patrick O'Connor and featuring Jessica MacLeod, it tells the story of MacLeod's work as a nurse practitioner in Evansville, providing health care to home-bound patients who exist on the very edges of our health care system.
The film is a fascinating revelation of a part of Evansville that most of us don't even know exists.
O'Connor is married to UE professor emerita Margaret McMullan and has taught courses at Harlaxton College. MacLeod studied at Harlaxton and was a nurse in the UE Health Center for several years.
The show is free and open to the public, and there will be a question and answer session with O'Connor and MacLeod after the film.

Contribute to AceNotes
To have content considered for inclusion in AceNotes, please submit a Marketing Request Form. Deadline for submission to AceNotes is 10:00 a.m. on the requested date of publication. Only articles concerning UE related/sponsored activities will be accepted. Articles submitted to AceNotes may be edited for length and clarity. Submitter contact information is at the end of each article.