| | |
| --- | --- |
| AceNotes Today | Tuesday, September 6, 2016 |
This Week in Music: Fall Faculty Gala
The Department of Music kicks off the academic year and this year's First Tuesday Concert Series with the annual Fall Faculty Gala in Wheeler Concert Hall in the Krannert Hall of Fine Arts today - Tuesday, September 6 - at 7:30 p.m. The concert will feature selections from several works, ranging from the nineteenth century to the modern era, performed by Department of Music faculty members.
The concert is free and open to the public, as are all Tuesday night faculty recitals throughout the year.
For information on future events, consult the Concert Calendar on the Department of Music's website.
Venturing Crew canoe trip and fall campout
Kick off the year with UE Venturing Crew as we begin the semester with our annual canoe trip and cookout at Blue Grass Fish and Wildlife Area this Sunday, September 11, from 11:30 a.m.-6:00 p.m. The event is free and includes food. All participants need to be a Venturing Crew member. That means you must complete a registration form and pay your annual dues ($25) to take part in this event. To sign up, RSVP via e-mail to ao64@evansville.edu or visit tables in Ridgway University Center lobby on Thursday from 11:00 a.m.-2:00 p.m. and 5:00- 7:00 p.m., or on Friday from noon- 2:00 p.m.
Next weekend, join Venturing Crew for our Fall Campout in New Harmony, Indiana. Come have a blast with activities including camping, cooking outdoors, visiting a labyrinth and a roofless church, and experiencing the annual Indiana Kunstfest! We will depart at 9:00 a.m. on Saturday morning and return around noon on Sunday. The cost of the trip is $17, and participants are encouraged to bring $20 cash for lunch at the Kunstfest, which will include vendors, crafts, food, and music. You may sign up for this trip at the Ridgway University Center lobby tables above or in Ridgway on Monday from noon-2:00 p.m.
If you were unable to sign up for the crew at the open house, our officers will be available at the following times and locations this week to get you registered: 1:00-3:00 p.m. on Tuesday or noon-2:00 p.m. on Wednesday in the Office of Human Resources, located in Room 118 in Olmsted Administration Hall.
If you are unavailable during these times and still want to sign up for the crew, please contact ao64@evansville.edu.
International Bazaar call out meeting
Following tonight's I-House, which begins at 7:00 p.m. on the top floor of Ridgway University Center, the International Club will have a meeting about the upcoming International Bazaar. The bazaar is planned for November.
If you are interested in submitting recipes and cooking for the bazaar, or in becoming a booth leader in charge of your country's very own booth for the event, be sure to attend this important meeting for more information regarding the biggest event on campus!

Run for Refugees 5K
Burn some calories and save the world! Join us on Saturday, September 10, at 8:00 a.m. at USI to help raise money to support Road to Mafraq, a non-profit dedicated to providing education for Syrian refugee children living in Jordan. Activities at the event will include a 5K run as well as a 1-mile run/walk in addition to a community fair.
Use this link to sign up or go to the Scholars for Syria Facebook page for the event announcement.
Thanks and hope to see you there!
I-House: Zimbabwe
It's I-House time again! Rebecca Nelson and Kudzi Mandingwa will be making a presentation about their country of Zimbabwe tonight at 7:00 p.m., upstairs in Ridgway University Center.
Rebecca is a biology major and Kudzi is a computer science major. Rebecca loves hiking, kayaking, and reading. Kudzi likes to swim, watch Harry Potter and Sherlock Holmes, hike, and listen to music. They both love the people here and the school pride that UE has.

September is Suicide Prevention Awareness Month
Have you ever sensed something wasn't quite right with a friend? Ever felt you needed to say something and weren't quite sure what to say? We can help! UE Counseling Services will be hosting a walk-through event to acknowledge September as Suicide Prevention Awareness Month and to provide you with the opportunity to "B1" for a friend!
Learn how to be aware of this silent epidemic, be able to identify the warning signs, and be prepared to react when you know a friend may be in need of help.
Counseling Services will have a table downstairs in Ridgeway University Center on Thursday, September 8, from 11:00 a.m.-1:00 p.m. Stop by and see us to be entered in a raffle for some UE gear!
New Fall 2016 supplemental instruction schedules
The Fall 2016 supplemental instruction schedule begins Sunday, September 5! Free tutoring is available for chemistry, biology, anthropology, exercise science, nursing, all math classes, business, quantitative methods, and foreign languages. Check out the schedule on AceLink.
For more information about SI, contact Stacey Shanks, director of student success services, at ss581@evansville.edu.

Overnight hosts needed for September 15
Are you interested in hosting a prospective student? The Office of Admission is looking for current students to help host prospective students on Thursday, September 15, starting at 5:00 p.m., for Purple Visit Day. Dinner will be provided. The students staying overnight will be doing their campus visit the following day.
If you are interested in being a host, please e-mail Catie Taylor at ct37@evansville.edu with your name, roommate's name, hall, room number, and cell phone number.
TIAA-CREF counseling appointments
The TIAA-CREF representative will be on the UE campus on Tuesday, September 20, for individual counseling sessions. To schedule an appointment, call TIAA-CREF at 1-800-732-8353 or 317-706-6200.
The sessions are held in the Clifford Rare Books Room of the University Libraries (Room 158).
If you have any questions, call Carol McCraney at 812-488-2943.
Fall 2016 study-skills/time-management workshops
Want to earn higher grades with lower stress? Attend one of our workshops where you will learn strategies to help you better manage your time, study more effectively, and improve reading, note-taking, and in-class listening skills. The workshops are geared for new UE students, but all are welcome. (Student-athletes: you will be assigned to separate workshops.)
The workshops are planned for:
Tuesday, September 6 4:30 p.m. Writing Center (Clifford Memorial Library)
Thursday, September 8 4:30 p.m. Writing Center (Clifford Memorial Library)
Tuesday, September 13 7:00 p.m. Moore Hall (Main Lounge)
Wednesday, September 14 7:00 p.m. Morton/Brentano (Pit)
Thursday, September 15 7:00 p.m. Hall Hale (Game Room)
The Office of Admission welcomes new team members
The Office of Admission would like to welcome two new employees to campus! Jill Fisher has been hired as an admission counselor with territory responsibility for Southern Illinois and most states not contiguous to Indiana. Ashley Anderson has also been hired as the new regional admission representative who will serve our growing number of prospective students in the Indianapolis area.
Travel season is just around the corner, so both Jill and Ashley are ready to start their fall 2017 recruitment by hitting the ground running.
The Office of Admission has also seen a change in leadership recently. We would like to congratulate Kenton Hargis on becoming the new director of admission!
We look forward to recruiting our next class and continuing to welcome prospective Aces to campus.
UE welcomes DPT Class of 2019
The Department of Physical Therapy welcomed the Doctor of Physical Therapy Class of 2019 at its annual White Coat Ceremony on August 23. During the ceremony, 41 first-year doctor of physical therapy students received their white coats, a symbol of clinical care and service.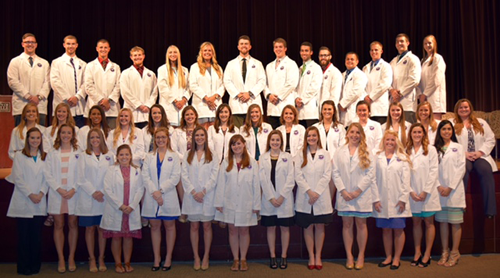 Student applicants wanted
WFF Facility Services (on-campus housekeeping) is hiring students interested in part-time employment with flexible hours. Please reply to Kregg Woosley at 812-488-2045 or inquire at the physical plant office, located in the same building as the security office. You may also apply online here. Click on careers tab and follow prompts.
Mark your calendars!
Independent Colleges of Indiana will be hosting a meeting on Wednesday, November 9, for Grant Writing and Development. This meeting will be held in Indianapolis at the ICI office. Any UE faculty or staff member who is interested in attending should contact Johnna Denning-Smith, director of grants and sponsored programs, at ext. 2551.
The presenters at the meeting will be Yvonne Chang and Sarah Nerenberg, who work with the University of Notre Dame.
The three-hour workshop will include discussion on types of funders, determining your fit with a program, developing a concept note, how to pitch the concept note and steps to develop a full grant proposal. Two break-out sessions will be included to work on goals and objectives and a concept note outline based on attendees' own research ideas. After completing each session, the presenters will facilitate a discussion where attendees will be able to share their ideas and learn from each other.
Harlaxton Fall 2017 applications now open
Are you planning on attending Harlaxton in the fall of 2017? Applications are now open on our online system. Simply go here and look under Semester Programs.
All applications for Harlaxton are now electronic. Once you have applied the Harlaxton office will contact you.
For more information please email hc110@evansville.edu.
UE Theatre alumna premieres new series
UET alumna Rutina Wesley '01 stars in OWN network's Queen Sugar, which has a two-night series that premiered yesterday - Tuesday, September 6 - and today- Wednesday, September 7 - at 9:00 p.m. Wesley's performance has already garnered praise from Variety who said "Wesley is sublime, and DuVernay films her so gorgeously that Queen Sugar could just be that, and be enough."
Patti McCrory wins Barbara St. Clair McKenna Award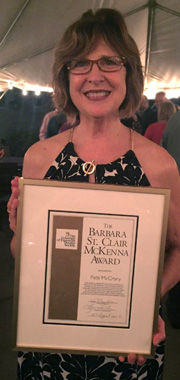 The University of Evansville Theatre Society held its annual dinner for UE board and faculty members last week at the home of UE President Tom and Sharon Kazee. The Barbara St. Clair McKenna Award was given to professor of theatre Patti McCrory at the event. This award is the highest honor bestowed by the board and is given to the person who exemplifies the spirit of service to the Department of Theatre and the Theatre Society. Congratulations on this well-deserved honor!
Maass presents research at American Political Science Association
Richard Maass, assistant professor of political science, presented a research paper titled "Command and Conquer: Ideologies of Superiority, Democracy, and Annexation" at the annual conference of the American Political Science Association in Philadelphia on Saturday, September 3.
Maass's paper examines how similar ideologies of superiority can produce different foreign policies when filtered through different domestic institutions, using case studies of Nazi Germany and the US during the Mexican-American War.
Clark Kimberling presents paper at mathematics meeting in France
In July, Clark Kimberling, professor of mathematics, attended the 17th International Conference on Fibonacci Numbers and Their Applications at the University of Caen, in Caen, France. Kimberling chaired two sessions and presented research conducted during the past year with British engineer Peter Moses. The title was "Polynomial Trees and Subtrees."
As editor for the problem proposals section of the conference proceedings, Kimberling is preparing a chapter based on 14 problems which were unsolved at the time that various mathematicians presented them at the conference.
Peter Schmidt has article published in Materials Science and Technology
Peter Schmidt, associate professor of mechanical engineering, has an article titled "Residual surface stress: comparing traditional and modulated tool path machining processes" in the journal Materials Science and Technology.
The article documents a study of the effect of modulated tool path machining on residual stresses found in metal parts fabricated using single point turning.

Hochwender presents at conference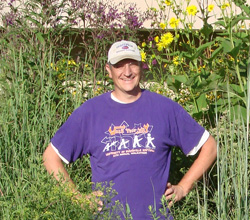 Professor of biology Cris Hochwender gave an invited talk at the 10th Annual Eastern Native Grass Symposium. His talk, "Sustaining insect wildlife by enhancing native plant diversity," focused on using host plants to enhance herbivore diversity (including butterfly species).
Other seminars included topics on the establishment, maintenance, and benefits of warm season grasses in a variety of settings.
This year's symposium was organized by Southwest Indiana Soil and Water Conservation Districts, including Posey, Vanderburgh, Warrick, Gibson, and Pike Counties.
Local health care documentary to be shown
A stunning award-winning documentary dealing with health care in Evansville will be shown at USI's Mitchell Auditorium on Wednesday, September 14, at 6.30 p.m. Directed by Patrick O'Connor and featuring Jessica MacLeod, it tells the story of MacLeod's work as a nurse practitioner in Evansville, providing health care to home-bound patients who exist on the very edges of our health care system.
The film is a fascinating revelation of a part of Evansville that most of us don't even know exists.
O'Connor is married to UE professor emerita Margaret McMullan and has taught courses at Harlaxton College. MacLeod studied at Harlaxton and was a nurse in the UE Health Center for several years.
The show is free and open to the public, and there will be a question and answer session with O'Connor and MacLeod after the film.

Aces earn exciting 3-2 win over SEMO in home opener
Mildrelis Rodriguez posted 18 kills while Erlicia Griffith notched 11 blocks to lead the University of Evansville volleyball team to a 3-2 win over Southeast Missouri State in Monday's home opener at the Carson Center.
Rodriguez had the best performance of the season for a UE (1-5) player. She also had 15 digs, a team-high. Rocio Fortuny had a stellar match as she finished with 13 kills and 10 digs. On defensive, it was Griffith getting the job done once again, finishing with two solo blocks, nine block assists, and seven kills.
"The girls are staying calm and reacting better with every game we play," head coach Manolo Concepcion said. "We talked about three things – urgency, competitiveness, and teamwork. We wanted to raise the standard. Instead of just trying, we wanted to execute. We are still learning how to win, but the girls are getting better with the process."
Pacing the Redhawks (1-6) was Krissa Gearring, who notched 23 kills. Just behind her was teammate Madeline Grimm who had 22.
Erlicia Griffith notched four block assists in the opening set as SEMO took a 25-20 win. After Evansville took a 4-2 lead, the Redhawks reeled off the next five points before Deja Clark ended the run with a kill. Olivia Goldstein helped UE tie it back up at 9-9 with back-to-back service aces, but SEMO wrestled the advantage away, going up by a 24-16 score. Evansville notched four in a row but the Redhawks finished with a 25-20 win.
Game two was a back-and-forth battle down to the wire. The Aces once again opened up a 4-2 advantage before Southeast Missouri State went up by four at 17-13. Evansville rallied back as a Jelena Merseli ace made it a 17-16 game.
Later, the Aces were able to tie it up at 21-21 on a double block from Griffith and Mildrelis Rodriguez. Joselyn Coronel added an ace of her own to put UE on top at 22-21. After the Redhawks took a 23-22 lead, Evansville was able to make the plays down the stretch as Griffith hit a powerful kill to complete the 31-29 win.
SEMO got the quick start in the third frame, jumping out to a 6-2 advantage. The Aces made a run as a pair of Rocio Fortuny kills put UE up 8-7 and the lead extended from that point to 19-14. The Redhawks fought back before Rodriguez had the clinching kill to give UE a 25-21 win and a 2-1 lead in the match.
The Redhawks put forth their most dominating effort of the night in the fourth set, forcing a fifth set with a 25-10 win. Their momentum continued as they grabbed a 5-2 advantage. Rachel Tam helped UE tie it up with an ace before a Jelena Merseli kill was part of a rally that gave UE a 9-8 lead. From there, they pulled away for a 15-9 triumph as Fortuny had the final two kills of the match.
This weekend, the Aces are home for three matches in the Dunn Hospitality Tournament. A match against Austin Peay gets the weekend started at 7:00 p.m. Friday before UE faces Dayton at 12:30 p.m. on Saturday. The finale will see Evansville take on Kent State at 6:30 p.m. on Saturday evening.

Kayla Katterhenry wins Redbird Invitational
For the eighth time in her career, Purple Aces senior Kayla Katterhenry brought home a tournament win as she took top honors at the Redbird Invitational at Weibring Golf Club.
Katterhenry set the school record with a 7-under 65 in Sunday's opening round before carding a 75 in the second trip around the course. On Monday, Katterhenry put the finishing touch on the weekend, shooting a 4-under 68. She finished the tournament with a 208, defeating Butler's Abigail Gleixner by five strokes.
As a team, the University of Evansville jumped three spots in the finishing order to tie for tenth place. UE shot its top team round of the weekend, finishing play on Monday with a 304.
Tying for fifty-first was Maggie Camp. She matched her total from Sunday's second round, notching a 77, to finish with a 239. Third for the Aces was Giulia Mallmann. After identical scores of 83 on Sunday, the junior lowered her total on Monday by five strokes, registering a 78 to finish with a 244.
Maria Pickens was next up for UE. She tied for seventy-first with an 81 in the final round, completing the event with a 245. Lexie Sollman registered an 84 on Monday to finish with a 246.
Madison Chaney was the second-best UE player as she participated as an individual. Chaney posted a 78 in the third round, tying for fortieth with a final tally of 234.
Monday's efforts by the Purple Aces saw them finish in a tie for tenth place after sitting in thirteenth following the opening day of action. With their 304, UE tied Ball State for tenth with a 930. Boston College took top team honors, shooting a 293 to finish with a 980. They finished two strokes ahead of Northern Illinois.
The next event for the women will be on September 19 and 20 as the squad heads to the Loyola Invitational. Flossmoor Country Club in Flossmoor, Illinois, will host the tournament.

Contribute to AceNotes
To have content considered for inclusion in AceNotes, please submit a Marketing Request Form. Deadline for submission to AceNotes is 10:00 a.m. on the requested date of publication. Only articles concerning UE related/sponsored activities will be accepted. Articles submitted to AceNotes may be edited for length and clarity. Submitter contact information is at the end of each article.