| | |
| --- | --- |
| AceNotes Today | Friday, September 2, 2016 |
Retirement reception for Keith Fox
Keith Fox, who was named the staff 2008-09 Employee of the Year, is retiring from the University as the central receiving courier after 10 years. Please join us on September 2 from 3:00–4:30 p.m. in central receiving area of the General Services Building for a reception to thank Keith for his years of service and wish him all the best in his retirement and travel adventures. If you will not be able to stop by for a few minutes, please wish him well if you seem him out delivering on campus.
First PRIDE meeting of year is planned for today!
PRIDE's first club meeting of the year will be today in Room 250 in the Schroeder School of Business Building from 9:00-10:00 p.m. However the group will first meet next to the fountain in Ridgeway University Center for those who don't know how to get to the room.
PRIDE is the campus LGBTQ+ group, and allies are welcome. Come on out for a night of introductions and maybe a game.
See you there!
Trip to historical Lyles Station on Friday, September 9
On Friday, September 9, the University of Evansville's Office of Diversity Initiatives and the Center for Student Engagement is planning a trip to visit the historical Lyles Station. The bus will arrive on campus at 5:45 p.m. and depart by 6:00 p.m. The trip will conclude at 8:00 p.m. and the bus will arrive back on campus at 8:45 p.m.
Lyles Station, a small community located 4.5 miles west of Princeton, Indiana, began in the 1840s as a settlement of freed slaves. In 1886, the settlement was named Lyles Station in honor of one of the early settlers Joshua Lyles. There is a rich history there which features the Lyles Consolidated School Building, the African Methodist Episcopal Church, and a grain elevator.
The trip to Lyles Station is an opportunity for campus members to see why the Smithsonian's National Museum of African American History and Culture, scheduled for a grand opening on September 24, has chosen Lyles Station as a prominent settlement that will cover one entire floor in the new museum.
Seating is limited. If interested, contact LaNeeca Williams at lw161@evansville.edu or 812-488-2413.
There is no cost for students. Faculty members, staff, and friends pay $5 dollars. All participants will receive a box sandwich meal with drink for the trip.
University Worship this Sunday at 11:00 a.m. in Neu Chapel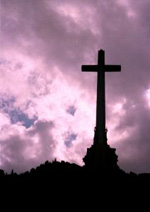 Join us at 11:00 a.m. this Sunday in Neu Chapel. This week: "How much does a cross weigh?" from Luke 14:25-33. All are welcome! As always, Donut Bank donut balls and coffee are available before and after the service.
Mark your calendars for the September 18 Tailgate Party immediately following worship! All are welcome.

15th Anniversary of 9/11 Interfaith Service for Peace and Hope
The University of Evansville will host an interfaith community prayer service on Sunday, September 11, on the 15th anniversary of the 9/11 tragedy. The service will begin at 7:00 p.m. in Neu Chapel. We will share a time of remembrance, honoring those who suffer because of the events on 9/11, and we will emphasize service to others, which fosters hope and peace in the world. The prayer service is open to the campus and Evansville communities.
Students and representatives from the local interfaith community will participate in the worship service.
For more information, please contact the Office of the Chaplain at tg85@evansville.edu.
Venturing Crew Open House
Join the members of Venturing Crew for their open house at 7:00 p.m. on Monday, September 5, in Room 251 in Eykamp Hall in Ridgway University Center. Come to learn about all of the exciting events planned for the semester and to meet members of the crew! If you love the outdoors or you are a current member, you are encouraged to come to this event.
Sign-ups for the crew will be available as well as membership renewals. To officially join this outdoor club, there is a $25 fee and you will need to complete a registration form.
T-shirts will be for sale at the event. The shirts are a deal at $5 at this open house. They cost $7 at any other time! Nalgene water bottles will also be available for sale at $9.
In addition, you will have the chance to begin signing up for some of the group's first events.
Make sure to check out our table at the organization fair on Friday, too!
Ladies in Pink a capella auditions
Ladies in Pink, UE's all-female a capella group, is hosting auditions on September 3 at 6:00 p.m. in Room 142 in the Krannert Hall of Fine Arts. All UE female undergraduate students are invited to audition. Please prepare a one-minute cut of a pop song that shows your vocal range. And of course, come show us your beatboxing skills as well!
The Office of Admission welcomes new team members
The Office of Admission would like to welcome two new employees to campus! Jill Fisher has been hired as an admission counselor with territory responsibility for Southern Illinois and most states not contiguous to Indiana. Ashley Anderson has also been hired as the new regional admission representative who will serve our growing number of prospective students in the Indianapolis area.
Travel season is just around the corner, so both Jill and Ashley are ready to start their fall 2017 recruitment by hitting the ground running.
The Office of Admission has also seen a change in leadership recently. We would like to congratulate Kenton Hargis on becoming the new director of admission!
We look forward to recruiting our next class and continuing to welcome prospective Aces to campus.
UE welcomes DPT Class of 2019
The Department of Physical Therapy welcomed the Doctor of Physical Therapy Class of 2019 at its annual White Coat Ceremony on August 23. During the ceremony, 41 first-year doctor of physical therapy students received their white coats, a symbol of clinical care and service.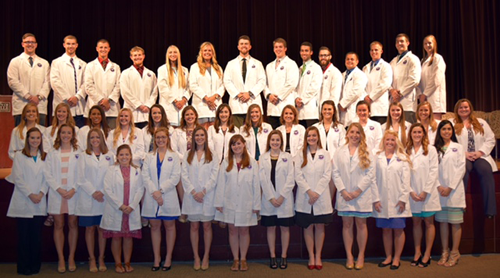 Evansville Vanderburgh Central Dispatch Center offers emergency contact text-to-911
The Evansville Vanderburgh County Central Dispatch Center currently has a wireless text messaging service that provides the ability to connect emergency calls to the Dispatch Center through your wireless telephone service.
According to director Rodney Buchannan, "While a voice call is always the preferred method of citizens contacting 911, we understand that there are times when a person is not safe to make a voice call."
Central Dispatch has inbound and outbound texting.
The process for using the service is basically the same as sending any text message. You send a message to 911. You can create a new contact for 911 and place a shortcut on the home screen of your phone to make direct messaging available to the number.
It is extremely important for you to use this service as the very last resort and to always use plain language. It is also important to understand you must have a text plan with your current provider to access this feature.
The four major providers of this service to the immediate area are: AT&T, Verizon, Sprint, and T- Mobile.
USPS closed Labor Day
The United States Postal Service will be closed Monday, September 5 for Labor Day. Please note that because of this, UE will not be able to pick up mail from the USPS on that day. Any mail picked up from UE areas by Distribution Services on Monday, September 5, will be metered and mailed on the afternoon of Tuesday, September 6. For mailing questions, contact Distribution Services at ext. 2197.
UE Orchestra calling for string players
Students, staff, faculty members, and administrators are invited to play in the University Symphony Orchestra and String Chamber Ensemble. The University Symphony Orchestra meets on Monday at 5:30 p.m. and Wednesday at 4:00 p.m. The String Chamber Ensemble meets on Thursday at 4:00 p.m. in the Krannert Hall of Fine Arts. If you play string instrument, come join us!
E-mail Chun-Ming Chen, director of orchestral activities, at cc319@evansville.edu for more information.
Fall health screenings
Sign-ups are now available for Fall Health Screenings. Screenings will be held in the basement of Neu Chapel on Sept. 6, 7, and 8, from 7:00-11:00 a.m. To schedule your screening go to AceLink>Home>Wellness Screenings. Please do not sign up under the Employee Health Clinic.
Each employee is allowed to schedule two time slots in order to schedule their spouse.
Each person is eligible to earn up to $350 in HRA credits by screening.
A 12-hour fasting period is highly encouraged. Water and black coffee are permitted during that time.
Discounted parking permits for UE license plate holders
Students, faculty, administrators, and staff who sport the UE State of Indiana license plate in 2016 (new and renewal plates) will receive a $25 discount off the UE parking permit fee for 2016-17. The registration process for the plates is now handled through the state.
If you want to purchase or renew a UE plate, go here.
If you already have your 2016 UE plate, bring your State of Indiana vehicle registration to the Office of Safety and Security when you purchase your parking permit for the new academic year.
If you have not registered your vehicle yet, you will need to pay the full parking permit fee and then bring your registration to the Office of Safety and Security to get a credit for $25.
If you have any questions, contact alumni@evansville.edu.
Hochwender presents at conference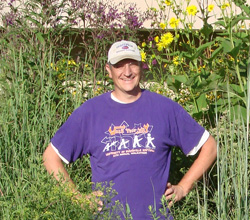 Professor of biology Cris Hochwender gave an invited talk at the 10th Annual Eastern Native Grass Symposium. His talk, "Sustaining insect wildlife by enhancing native plant diversity," focused on using host plants to enhance herbivore diversity (including butterfly species).
Other seminars included topics on the establishment, maintenance, and benefits of warm season grasses in a variety of settings.
This year's symposium was organized by Southwest Indiana Soil and Water Conservation Districts, including Posey, Vanderburgh, Warrick, Gibson, and Pike Counties.
Article in mathematical probability theory published
Clark Kimberling, professor of mathematics, has an article entitled "A directory of families of infinitely extendible Archimedean copulas" in the journal Fuzzy Sets and Systems.
The article introduces new copulas, which are ways of combining single probability distributions to form multivariate joint distributions.
Men's Soccer back in action this weekend in Peoria
After an opening weekend split, the University of Evansville Men's Soccer team will be looking to keep momentum going this week with a trip to the Hotels at Grand Prairie Soccer Series, which will take place on the campus of Bradley in Peoria, Illinois, today and Sunday.
The Aces (1-1-0) are coming off their first win of the season last time out, a 2-0 decision at Northern Kentucky, but they may be facing their toughest opponent of the season today as the team is set to square off with 16th-ranked Utah Valley, which is in just its third season. The Wolverines (1-0-0) opened the year with a 2-1 win over then-No. 20 Washington, which actually had a man advantage over UVU for the majority of the second half.
Following today's contest, the Aces will return to action Sunday for a showdown with Fairleigh Dickinson, which also enters the weekend with a 1-1 record. The Knights fell in last Friday's opener 1-0 against NJIT before rebounding with a 4-0 victory over Howard.
Meanwhile, UE will be looking to replicate the kind of production it had out of its freshman class in the NKU win, a match that saw both Ben Weber and Ian Gammon find the back of the net. In addition, another newcomer in Frederik Reimer earned his first career clean sheet in goal. In all, eight freshmen saw action for the Aces in the contest.
However, it's not just newcomers excelling for UE. Jared Robinson, a senior, found the back of the net inside the first two minutes of the season in Friday's match at Xavier and followed up with an assist at NKU. Both Ian McGrath and Zac Blaydes, who each took home league recognition last season, have also notched assists on the year.
Kickoff today is slated for 4:30 p.m., and Sunday's contest will begin at noon.

Cross Country to open season today
Cross country season officially begins today as the University of Evansville travels to Charleston, Illinois, for the Eastern Illinois University Walt Crawford Open.
Set to take place at Tom Woodall Panther Trail, the women begin with a 4:45 p.m. race with the men taking the course at 5:30 p.m.
Other schools running include: Southern Illinois, SIUE, Eastern Illinois along with McKendree University, Lincoln College, Danville Area CC, Kaskaskia College, and Illinois Track & Cross Club.
Evansville's men are led by a pair of seniors in Ross Frondorf and Ben Woolems. Frondorf, a native of Cincinnati, Ohio, was the top finisher for the Purple Aces in four events last season. His top time of the season came in the 8K Missouri Valley Conference Championship at the Angel Mounds Cross Country Course.
Woolems, who is from Lincoln City, was UE's top runner in three events last year. His best time also came at the MVC Championship where he posted a time of 27:57.94.
Siena Crews burst onto the scene as a freshman in 2015. Crews was the top runner for the Evansville women in each race last season. The highlight of her year came at the Austin Peay Cross Country Festival where she came home victorious in a time of 19:05.00.
Junior Michelle Karp is also coming off of a strong campaign. Karp lowered her 5K time in each event last year and set her PR in the MVC Championship, running a 19:32.83.
Women's Soccer looking to bounce back in third weekend
After falling in a pair of contests last weekend, the University of Evansville Women's Soccer team will be looking to get back on track this week as the Purple Aces are set for a pair of meetings with Morehead State and Southeast Missouri.
The Aces (1-3-0) will start the weekend with a trip today to Morehead before returning home Sunday evening for their showdown with the Redhawks, which will mark the third consecutive Ohio Valley Conference opponent that UE will face this season.
Sunday's contest will also serve as a fundraiser and a celebration of the Women's Soccer team's connection to Field of Dreams Uganda, a Missouri-based charity that uses soccer as an outlet to provide hope and education for the orphaned and otherwise vulnerable children of Uganda. A number of current and former Aces players were involved in a team trip to Uganda to work with the organization last spring, and donations for the charity will be accepted throughout the course of Sunday's match.
However, before that contest, the Aces will make their first trip to Morehead, Kentucky, since 2011 to take on MSU. The Eagles enter the weekend with a 1-2 record overall, with the lone win being a 2-1 victory over Bowling Green in August. The match will mark the home opener for MSU, which was picked to finish sixth in the OVC this season.
Meanwhile, the Aces, who dropped a 2-0 contest to Austin Peay last Sunday, will be looking to get back to the form that saw them score four goals in the preceding two contests. The productivity of Bronwyn Boswell has been a major factor in the offensive surge, and the Frisco, Texas, native has already equaled her output from a year ago by finding the back of the net three times, including twice from the penalty spot. Montana Portenier, who returned to the team this season after an injury derailed last year's campaign, has the team's only other goal, netting the opener against Cincinnati last Friday.
Sunday's SEMO contest represents a continuation of a long-standing series between the two teams, who have met 10 times since the 2003 season. This year, the Redhawks are off to a hot start, winning all four of their games, including a pair of 1-0 decisions at both Green Bay and Milwaukee last weekend.
Kickoff today is scheduled for 5:00 p.m., and Sunday's match is set for a 7:00 p.m. start.
UE athletic department unveils new student rewards program
With the 2016-17 athletic seasons underway, the University of Evansville athletic department has unveiled a new student rewards program moving forward.
The program is a chance for your group/organization to win up to $1,000 in cash each semester just by attending UE Athletics events and supporting your fellow classmates.
First Place: $1,000
Second Place: $500
Third Place: $250
Fourth Place: $250
To get started in the awards program, you need to:
Get a minimum of 10 students together to create a group. This could be an organization that already exists or any combination of 10 or more students.
Select a group captain to submit the name of your group to the Athletic Department by emailing af199@evansville.edu.
Download the Aces Student Fan Rewards App on the App Store or Google Play and register your account using your UE Student ID number and await confirmation e-mail on your UE email address.
Go to "Set Group" to select the group you wish to join.
Your app will feature a QR code specific to each user that will be scanned at the student gate.
Make sure you check in at the student table each UE home game to earn points for your group.
Each person that attends a UE event (Men's Soccer, Women's Soccer, Volleyball, Women's Basketball, Men's Basketball, Baseball, and Softball) will earn points for their team. Bonus points and other special prizes/opportunities can be earned a select UE events. Individuals who choose not to join a group can still earn points towards special prizes as an individual.
Registration begins August 21. Point tallying begins at the Women's Soccer home opener on August 26.
First semester prizes will be awarded at the final Men's Basketball game before winter break Second semester prizes will awarded at a baseball or softball game at the end of the semester.
You can only be a member of and earn points for one group. Total accumulated points reset each semester. Points CANNOT be accumulated when school is not in session.
Contribute to AceNotes
To have content considered for inclusion in AceNotes, please submit a Marketing Request Form. Deadline for submission to AceNotes is 10:00 a.m. on the requested date of publication. Only articles concerning UE related/sponsored activities will be accepted. Articles submitted to AceNotes may be edited for length and clarity. Submitter contact information is at the end of each article.