| | |
| --- | --- |
| AceNotes Today | Friday, August 26, 2016 |
University Alcohol Policy – Effective August 2016
In May of 2016, the UE Board of Trustees approved a modification to the UE alcohol policy. The new alcohol policy allows for the consumption of beer and wine under in compliance with certain guidelines. The new policy is grounded in General Provisions and Guiding Principles including compliance with State Law, acceptable behavior, and education. It also includes the Responsible Good Neighbor Exemption. The alcohol policy will be implemented in stages beginning in August 2016 with a full implementation planned for the Spring 2017 semester. Alcohol is limited to beer and wine, and may only be distributed and consumed in accordance with the Acceptable Use Guidelines outlined in the policy (see www.evansville.edu/alcoholpolicy/ and click on Policy Details.) All members of the UE community are expected to familiarize themselves with these policies. Alcohol is not permitted on campus outside of these Acceptable Use Guidelines regardless of one's age.
Acceptable Use Guidelines
The alcohol policy includes "acceptable use guidelines" that all members of the university community are expected to follow. Alcohol outside of these guidelines is not permitted on campus. The guidelines are specific to University Approved Events and Programs, Tailgating at Varsity events, University house, and approved Greek social events. To review the policy and the Acceptable Use Guidelines, see www.evansville.edu/alcoholpolicy/.
Phase One – Fall 2016
University Approved Events: For the fall 2016 semester, beer and wine may be served by a third party vendor at approved university events, see www.evansville.edu/alcoholpolicy/universityevents.cfm. Information regarding the application and request for approval will be distributed to University departments in the coming week. Please contact Kari Hughes, coordinator of special events and guest services, (812-488-5608), with any immediate questions regarding the application and approval process.
Tailgating Events: Beer and wine may also be consumed at Tailgating events for Varsity competitions in accordance with the Acceptable Use Guidelines. (see www.evansville.edu/alcoholpolicy/varsityevents.cfm.)
Phase Two – Spring 2017
University Housing: Students who are 21 and over and live in University Villages or Approved University Housing may apply for "21+ Status" if they wish to consume alcohol within their residence. Alcohol is not permitted in the residence halls or in Village Units where the residents have not received "21+ Status." Information regarding the "21+ Status" application process will be provided to Village residents during the fall 2016 semester. See www.evansville.edu/alcoholpolicy/21status.cfm
Approved Greek Social Events: Processes for serving alcohol to guests of legal age at approved social events will be implemented for the spring 2017 semester. (see www.evansville.edu/alcoholpolicy/greekevents.cfm)
Comedian Jessi Campbell in Café Court tonight
The Student Activities Board will be hosting comedian Jessi Campbell tonight at 9:00 p.m. in the Café Court in Ridgway University Center. Admission is free, so come by for some good laughs!
Blessing of the Athletes set for today
The annual Blessing of the Athletes ritual is scheduled for today - Tuesday, August 30 - at 6:00 p.m., in Neu Chapel. Student-athletes, coaches, and athletic staff are invited! University faculty, administrators, and staff are invited to attend and may sit in the Neu Chapel gallery (upstairs loft).
University Worship this Sunday, Neu Chapel, 11:00 A.M.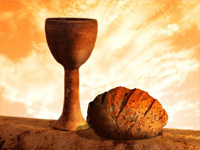 Sleep in and still make it to church! University Worship is this Sunday, at 11:00 a.m., in Neu Chapel. This Sunday we're asking: "Who's at your table?" All are welcome! As always, Donut Bank donut balls and coffee are available before and after the service.
ESPN3 information session
Have you ever wanted to work for ESPN? Here's your chance! There will be an informational meeting with regards to UE's ESPN3 streaming for this year today at 5:00 p.m. in Room 113, in Carson Center. UE will broadcast over 70 athletic events to ESPN3 this year, and paid positions - both on-camera and behind-the-scenes - are currently available for students to be a part of productions.
If you have questions, please contact assistant athletic director for Purple Aces Productions Tom Benson via e-mail at tb39@evansville.edu or by phone at ext. 3200.
Newman Center cookout planned for today
Everyone is invited to come to the Newman Center today from 5:00-7:00 p.m. for a fun cookout! The Newman Center is located on Lincoln Avenue right in front of campus. (Look for the purple banner). Food, fun conversations, and meaningful connections will be provided. Looking forward to seeing you there. For more information, contact Olivia Voegerl at ov4@evansville.edu or Fran Prexl at fp21@evansville.edu.
Sunday Mass
All are welcome to Join the Newman Catholic Campus Ministry at Mass on Sunday, August 28, at 1:00 p.m. in Neu Chapel. Hope to see you there! For more information, contact Olivia Voegerl at ov4@evansville.edu or Fran Prexl at fp21@evansville.edu.
Create your own native backyard garden!
A training day for people interested in transforming their backyard into an environment that will support native plants and animals is being offered September 10 from 9:00 a.m.-noon at Wesselman Nature Center. The University of Evansville is acting as a partner with Wesselman Nature Society and Southwest Indiana Native Plant and Wildflower Society. Come learn how to transform your outdoor space into a vibrant and viable habitat, learn about the Mayor's Monarch Pledge, and receive a native plant starter kit. UE professor of biology Cris Hochwender will be among the speakers; he will discuss food resources needed for wildlife. Visit the Wesselman Nature Society's events page to learn more about registering for Habitat Hoopla.
Ladies in Pink a capella auditions
Ladies in Pink, UE's all-female a capella group, is hosting auditions on September 3 at 6:00 p.m. in Room 142 in the Krannert Hall of Fine Arts. All UE female undergraduate students are invited to audition. Please prepare a one-minute cut of a pop song that shows your vocal range. And of course, come show us your beatboxing skills as well!
University Band open to all UE
Students, staff, faculty, and administrators are invited to play in the UE University Band. The band meets on Mondays at 4:00 p.m. in Room 110 in the Krannert Hall of Fine Arts. If you play a woodwind, brass, or percussion instrument, come join us.
E-mail Kenneth Steinsultz, associate professor of music and director of bands, at ks306@evansville.edu if you have questions.
See you Monday!
Fall meal plan changes
Students are able to adjust their meal plans for the fall semester until Wednesday, August 31, at 5:00 p.m. The link to request a meal plan change is here.
Louisiana disaster relief
Southern Louisiana suffered disastrous flooding last week. Thousands of people have been displaced, living in shelters and with families and friends. Many families have had to leave behind all of their belongings including cribs. There is a terrible risk to small babies sleeping in shelters or homes without cribs. The Louisiana Department of Health is asking for help in providing babies with a safe place to sleep.
The UE senior nursing class is assisting the Vanderburgh County Health Department Fetal Infant Mortality Review Committee in collecting funds to purchase portable cribs to be distributed to those in need. Please help the nursing students provide a safe sleeping environment to these babies in need.
Our slogan is "Give $5 to save lives."
Donations can be made to this Go Fund Me link. Also nursing students will be in the lobby of Ridgway University Center from 8:00 a.m.-2:00 p.m. to collect monetary donations.
Fall GAP class openings
There are openings in these fall GAP classes: Real World. Real Results. Projects: Greenbelt Connectivity, Putting Data to Work for Businesses, and Changemaker - Reducing Food Waste.
For more information, go here or e-mail el113@evansville.edu

Introduction to the Office of Grants and Sponsored Programs
The Office of Grants and Sponsored Programs (OGSP) would like to wish UE a great start to the fall semester!
At OGSP, we oversee federal and state funding opportunities, and assist faculty members and staff in the process of applying for external funding in support of scholarly and creative activities.
These activities include: basic research, applied research, fellowships, curriculum development, community outreach, international exchange, sabbatical support, and faculty-guided student research.
Starting with this article, OGSP plans to begin posting information to Acenotes regarding upcoming grant opportunities and deadlines.
These are the featured opportunities for this posting:
The Kresge Foundation
Deadline: rolling
MacArthur Foundation
Deadline: varies by program
National Institutes of Health
Deadline: varies by program
We encourage faculty members and staff to contact us with any questions regarding these grants or any other opportunities. Our office is in Room 205 in Olmsted Administration Hall, and you can reach Johnna-Denning Smith, director of OGSP and IRB administrator and chair, at ext. 2551 or jd184@evansville.edu.
Fall health screenings
Sign-ups are now available for Fall Health Screenings. Screenings will be held in the basement of Neu Chapel on Sept. 6, 7, and 8, from 7:00-11:00 a.m. To schedule your screening go to AceLink>Home>Wellness Screenings. Please do not sign up under the Employee Health Clinic.
Each employee is allowed to schedule two time slots in order to schedule their spouse.
Each person is eligible to earn up to $350 in HRA credits by screening.
A 12-hour fasting period is highly encouraged. Water and black coffee are permitted during that time.
Fall cheerleading tryouts
Cheerleading tryouts for the 2016-17 basketball season will be held on September 18, at 10:00 a.m. in Carson Center. All males and females with cheerleading experience are welcome. Tryout waivers and more information can be found at gopurpleaces.com. Contact Brent Couch at brent.couch2@gmail.com or 812-746-3466 with any questions. Come show your Aces spirit - go Aces!
Attention: juniors and seniors
As a student of the University of Evansville, you have the opportunity to participate in the Student-Alumni Mentoring Program. Our goal is to directly connect current juniors and seniors with alumni, parents, and friends of UE, in order to establish a variety of professional support.
If you are interested in connecting with a mentor, and would like to know more about the program, please go here for further information and registration instructions. Registration deadline is Friday, August 26!
Academic planners available in the UE Bookstore
Just a reminder to all sophomores, juniors, and seniors that the UE Bookstore has academic planners available for sale at $4.95. The calendar in the planners run from August 2016 to June 2017. We have a limited supply.
Library tours
The Library will conduct tours for new students on:
Friday, August 26 at noon and 4:00 p.m.
Saturday, August 27 at noon and 4:00 p.m.
Sunday, August 28 at 4:00 p.m. and 8:00 p.m.
Monday, August 29 at 2:00 p.m. and 8:00 p.m.
Tuesday, August 30 at 4:00 p.m. and 8:00 p.m.
Students will learn about the library's services while touring the facility. Tours meet in the library's atrium and reservations are not required.
For more information, please contact Meg Atwater-Singer at ma35@evansville.edu or ext. 2487.
Discounted parking permits for UE license plate holders
Students, faculty, administrators, and staff who sport the UE State of Indiana license plate in 2016 (new and renewal plates) will receive a $25 discount off the UE parking permit fee for 2016-17. The registration process for the plates is now handled through the state.
If you want to purchase or renew a UE plate, go here.
If you already have your 2016 UE plate, bring your State of Indiana vehicle registration to the Office of Safety and Security when you purchase your parking permit for the new academic year.
If you have not registered your vehicle yet, you will need to pay the full parking permit fee and then bring your registration to the Office of Safety and Security to get a credit for $25.
If you have any questions, contact alumni@evansville.edu.
2016 faculty scholarship display
The Libraries are hosting a faculty scholarship display from January 16 - 29. Faculty are encouraged to contribute scholarship to the display, such as articles, books, book chapters, essays, creative works, etc. Works produced or published from August 2015 until July 2016 are eligible for inclusion in the display. Please send items to the attention of Meg Atwater-Singer by September 20. You can contact her at ext. 2487 or ma35@evansville.edu.
The Libraries will host a reception honoring faculty in the future, although the date and time haven't been finalized.
Becker publishes article in Journal of Undergraduate Neuroscience Education
Lora Becker, associate professor of psychology and director of neuroscience and the neuromarketing research center, has had an article published in the Journal of Undergraduate Neuroscience Education. The article is a summary of what has been accomplished in the honors society for neuroscience. To read the article, go here.
David Unger presents paper at international symposium on mechanics
On August 23, David Unger, professor of mechanical and civil engineering, presented a technical paper at the XXIV International Congress of Theoretical and Applied Mechanics in Montreal, Canada. This symposium is the premier conference in his field and is held only once every four years in a different country around the world. His talk was on stress concentrations due to the presence of a slot cut in a structural plate.
Kyle Matsel consults with Miami Dolphins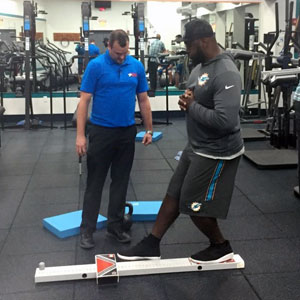 Kyle Matsel, assistant professor of physical therapy, recently consulted with the Miami Dolphins during NFL pre-season training camp.
Matsel and Gray Cook, Functional Movement Systems co-founder, spent three days at the Dolphin's training facility working with the majority of the Dolphins' first string players.
Players were evaluated using the Selective Functional Movement Assessment and components of the Y Balance Test in order to determine the most appropriate treatment path to reduce pain and enhance performance. The goal was to assist the strength and conditioning staff with building exercise routines including the corrective strategies that each player needs to maintain their durability throughout the rigorous NFL season.
Women's Soccer set for home opener
After a thoroughly impressive display last Sunday at Miami (Ohio), the University of Evansville Women's Soccer team will be looking to build off that success tonight as the Purple Aces are slated to host Cincinnati at 7:00 p.m. at Arad McCutchan Stadium.
UE will continue the season two days from now with a trip to Austin Peay.
The Aces (1-1) impressed in every facet of the game in the showdown with the RedHawks, directing a startling 11 of 15 shots on frame in route to a 2-0 victory over the 2015 Mid-American Conference runner-up.
Bronwyn Boswell earned most of the glory from the match, scoring twice to earn the Missouri Valley's Offensive Player of the Week award, but she was far from the only offensive standout. Sara Osinski, Molly Lear and Montana Portenier were among the many involved in generating the chances, and all three are likely to be important if UE is able to repeat the performance.
Whitney Biggs starred in goal in the contest, putting together a clean sheet with five stops.
The match will actually mark the second of the fall for UE at Arad McCutchan Stadium, but the first since a 2-1 exhibition victory over Ohio Valley favorite Murray State earlier this month. Both Osinski and Colleen Dierkes scored in the encounter.
UE opened the regular season last Friday with a 2-0 loss to Xavier in Cincinnati.
Cincinnati will be coming into the weekend on the heels of a pair of victories over Dayton and Northern Kentucky in front of huge crowds. The Bearcats picked up a 2-1 double-overtime victory last Friday before upending Northern Kentucky 1-0 in front over 4,700 fans at Nippert Stadium earlier this week. Julie Gavorski netted the winning goal in both contests.
Meanwhile, Austin Peay will also enter the weekend with a 2-0 record after picking up wins over a UAB and Alabama State by a combined 6-2 score line.
Kickoff tonight is slated for 7:00 p.m., and the match will be broadcast live on ESPN3. Sunday's showdown in Clarksville will be presented on the OVC Digital Network.
Mislav Brzoja signs 3-year professional contract
Mislav Brzoja became the third member of the 2015-16 University of Evansville Men's Basketball team to advance to the professional level as he is set to continue his career this fall in Croatia.
Brzoja signed a 3-year contract with Zadar, which is one of the top teams in his native country. Zadar plays in the Adriatic League (ABA), which is one of the best basketball leagues in Europe.
"I am really happy and satisfied with this opportunity," Brzoja said. "The team is really young and the coaching staff is new. My teammates are awesome and our competition in practice is really good."
Zadar has a long and storied history that was highlighted by five Yugoslavian Championships from 1965-75. They won the Croatian National Championship in 2005 and 08 along with the Croatian National Cup on six occasions between 1998 and 2007.
"It is a different type of basketball and I can say that I have a really good time and fit in very well," Brzoja explained.
His preseason preparations are already underway while tournaments and early games get started next weekend. While his professional career is well on its way, he took time to reflect on his time at UE.
"I have to say that I miss UE and all of the people that make that community as good as it is," Brzoja added. "I would like to wish Coach Simmons, the coaches and especially my teammates the best of luck next season. I will be following. Go Aces!"
Men's Soccer looking forward to tonight's season opener
After closing out the 2015 season with a 4-0 victory, the University of Evansville men's soccer team will be looking to build on that positivity as they begin the second season under the direction of head coach Marshall Ray, beginning this weekend with matches at Xavier and Northern Kentucky.
"I think we've all been anxiously awaiting this weekend since the final game of last season," Ray said. "We have a good group back together, and we've been working hard since January to get to this point. I'm looking forward to getting started."
Last season, the Aces posted a 3-13 record.
"I think the personality of the group is starting to mirror that of myself and players like Ian McGrath and our other leaders," Ray said. "I think they've gotten more comfortable in those leadership roles. We're figuring out how to compete for 90 minutes and 120 minutes in training."
On-the-field chemistry has certainly been a point of emphasis this preseason for UE, and the growth that it has led to defensively is something that has Ray excited. In the lone preseason contest of the fall, the Aces defense shut out IUPUI. Bolstered by the return of veterans Ryan Koenig, Trevor Baum, and Chris Shuck, as well as newcomers like Eric McDougal and Simon Waever, Ray believes he has an imposing back line.
"There's no question that we've been focusing on defense for a majority of our preseason," Ray said. "We have to do a much better job of protecting the goal this season. Having Trevor back will be nice because I think we struggled a bit after he got hurt last year. He and Chris have developed a good relationship back there. Ryan's done well too, and Eric has had an unbelievable preseason. Simon brings us a little bit of versatility. He can play back there or up front as a winger. We have a lot of options and a lot of competition. I think those guys are really playing well together, and it may take us a few games to figure out who our best four will be."
In net, all three goalkeepers on the roster have seen significant playing time this preseason. Both Matthew Keller and Greg Niven return to the team after splitting minutes last season, and freshman Frederik Reimer has joined the group after an impressive youth career with Danish giant Aalborg BK.
"Matt's had a really good preseason in goal," Ray revealed. "Frederik has been pushing him, and Matt's been pushing Frederik. It's great. Matt has another year under his belt, and Frederik has a good pedigree but hasn't played in real matches for a while. I think it's going to be a game-time decision for us, and I definitely feel more comfortable about that position this year."
Ian McGrath, the lone goal-scorer in last week's IUPUI friendly, headlines the midfield group. A junior out of New Lenox, Illinois, he looks to further solidify himself as one of the team's top options after picking up an All-MVC honorable mention last season. He'll be joined in the midfield by fellow returners Cameron Cool and MVC All-Freshman honoree Zac Blaydes as well as a number of newcomers, including Ireland U19 international Jesse Stafford Lacey.
"Cameron was probably the highlight of the first few days of preseason," Ray said. "He's played really well for us, and Zac has continued to be steady and hard-working. As for Ian, we could play him at centerback, we could play him at center forward. I think we could put him in any position, including goal, and he'd help us. It's a nice problem to have, and he'll probably find his role in the midfield somewhere."
Meanwhile, at the front of the attack, the Aces will be looking to replace the goal-scoring prowess of Mark Anthony Gonzalez, who parlayed an impeccable UE career into a regular role for the USL's Swope Park Rangers. Jared Robinson, one of just two seniors on the team, highlights the forward options for Ray.
"I think Jared has had a great preseason for us," Ray said. "He enjoys the technical side of things, but he likes to mix it up as well. He can do both, and I think he's starting to realize that. I think that the versatility of this team can allow us to do a few different things depending on the teams that we're going to be playing against. We have a lot of guys who can fit into different roles, and it will depend on them solidifying those spots over the next couple of weeks."
The Aces will kick off the season with an extended road swing, with the team playing away from Arad McCutchan Stadium each of the first two weekends, starting with Xavier tonight. The Musketeers are coming off a 12-6-1 campaign a year ago and were picked fourth in the Big East this season.
On Sunday, UE will be looking to repeat the heroics of last year's 4-0 decision over the Norse, who ended 8-7-4 overall. Both XU and NKU posted 1-1 records this preseason, with the Musketeers beating Rio Grande and falling to Maryland, and the Norse falling to Rio Grande before thumping Kentucky a week ago.
Aces Tennis to hold walk-on tryouts
Aces Women's Tennis head coach Jayson Wiseman has announced that the team will be holding walk-on tryouts for the 2016-17 season on Wednesday, September 7, and Thursday, September 8, at the Carson Center tennis courts, the tryouts will be at 6:00 p.m. on both days.
Any female student who wishes to participate in the tryouts should contact Wiseman via e-mail prior to September 5 to complete the necessary paperwork.
Coach Wiseman can be reached at jw540@evansville.edu.
Contribute to AceNotes
To have content considered for inclusion in AceNotes, please submit a Marketing Request Form. Deadline for submission to AceNotes is 10:00 a.m. on the requested date of publication. Only articles concerning UE related/sponsored activities will be accepted. Articles submitted to AceNotes may be edited for length and clarity. Submitter contact information is at the end of each article.