| | |
| --- | --- |
| AceNotes Today | Thursday, August 25, 2016 |
Peters-Margedant House is now on campus
The Peters-Margedant House in now in its new home on the campus of the University of Evansville. The house was moved to UE from its original location of 506 East Indiana Street this morning,
The house will be secured in its final location behind the Koch Center for Engineering and Science at UE.
Please "like" the Peters-Margedant House Preservation Project on Facebook here for the most up-to-date information.

University Alcohol Policy – Effective August 2016
In May of 2016, the UE Board of Trustees approved a modification to the UE alcohol policy. The new alcohol policy allows for the consumption of beer and wine under in compliance with certain guidelines. The new policy is grounded in General Provisions and Guiding Principles including compliance with State Law, acceptable behavior, and education. It also includes the Responsible Good Neighbor Exemption. The alcohol policy will be implemented in stages beginning in August 2016 with a full implementation planned for the Spring 2017 semester. Alcohol is limited to beer and wine, and may only be distributed and consumed in accordance with the Acceptable Use Guidelines outlined in the policy (see www.evansville.edu/alcoholpolicy/ and click on Policy Details.) All members of the UE community are expected to familiarize themselves with these policies. Alcohol is not permitted on campus outside of these Acceptable Use Guidelines regardless of one's age.
Acceptable Use Guidelines
The alcohol policy includes "acceptable use guidelines" that all members of the university community are expected to follow. Alcohol outside of these guidelines is not permitted on campus. The guidelines are specific to University Approved Events and Programs, Tailgating at Varsity events, University house, and approved Greek social events. To review the policy and the Acceptable Use Guidelines, see www.evansville.edu/alcoholpolicy/.
Phase One – Fall 2016
University Approved Events: For the fall 2016 semester, beer and wine may be served by a third party vendor at approved university events, see www.evansville.edu/alcoholpolicy/universityevents.cfm. Information regarding the application and request for approval will be distributed to University departments in the coming week. Please contact Kari Hughes, coordinator of special events and guest services, (812-488-5608), with any immediate questions regarding the application and approval process.
Tailgating Events: Beer and wine may also be consumed at Tailgating events for Varsity competitions in accordance with the Acceptable Use Guidelines. (see www.evansville.edu/alcoholpolicy/varsityevents.cfm.)
Phase Two – Spring 2017
University Housing: Students who are 21 and over and live in University Villages or Approved University Housing may apply for "21+ Status" if they wish to consume alcohol within their residence. Alcohol is not permitted in the residence halls or in Village Units where the residents have not received "21+ Status." Information regarding the "21+ Status" application process will be provided to Village residents during the fall 2016 semester. See www.evansville.edu/alcoholpolicy/21status.cfm
Approved Greek Social Events: Processes for serving alcohol to guests of legal age at approved social events will be implemented for the spring 2017 semester. (see www.evansville.edu/alcoholpolicy/greekevents.cfm)
Newman Center cookout planned for today
Everyone is invited to come to the Newman Center today from 5:00-7:00 p.m. for a fun cookout! The Newman Center is located on Lincoln Avenue right in front of campus. (Look for the purple banner). Food, fun conversations, and meaningful connections will be provided. Looking forward to seeing you there. For more information, contact Olivia Voegerl at ov4@evansville.edu or Fran Prexl at fp21@evansville.edu.
Sunday Mass
All are welcome to Join the Newman Catholic Campus Ministry at Mass on Sunday, August 28, at 1:00 p.m. in Neu Chapel. Hope to see you there! For more information, contact Olivia Voegerl at ov4@evansville.edu or Fran Prexl at fp21@evansville.edu.
Create your own native backyard garden!
A training day for people interested in transforming their backyard into an environment that will support native plants and animals is being offered September 10 from 9:00 a.m.-noon at Wesselman Nature Center. The University of Evansville is acting as a partner with Wesselman Nature Society and Southwest Indiana Native Plant and Wildflower Society. Come learn how to transform your outdoor space into a vibrant and viable habitat, learn about the Mayor's Monarch Pledge, and receive a native plant starter kit. UE professor of biology Cris Hochwender will be among the speakers; he will discuss food resources needed for wildlife. Visit the Wesselman Nature Society's events page to learn more about registering for Habitat Hoopla.
Louisiana disaster relief
Southern Louisiana suffered disastrous flooding last week. Thousands of people have been displaced, living in shelters and with families and friends. Many families have had to leave behind all of their belongings including cribs. There is a terrible risk to small babies sleeping in shelters or homes without cribs. The Louisiana Department of Health is asking for help in providing babies with a safe place to sleep.
The UE senior nursing class is assisting the Vanderburgh County Health Department Fetal Infant Mortality Review Committee in collecting funds to purchase portable cribs to be distributed to those in need. Please help the nursing students provide a safe sleeping environment to these babies in need.
Our slogan is "Give $5 to save lives."
Donations can be made to this Go Fund Me link. Also nursing students will be in the lobby of Ridgway University Center from 8:00 a.m.-2:00 p.m. to collect monetary donations.
Fall GAP class openings
There are openings in these fall GAP classes: Real World. Real Results. Projects: Greenbelt Connectivity, Putting Data to Work for Businesses, and Changemaker - Reducing Food Waste.
For more information, go here or e-mail el113@evansville.edu

Introduction to the Office of Grants and Sponsored Programs
The Office of Grants and Sponsored Programs (OGSP) would like to wish UE a great start to the fall semester!
At OGSP, we oversee federal and state funding opportunities, and assist faculty members and staff in the process of applying for external funding in support of scholarly and creative activities.
These activities include: basic research, applied research, fellowships, curriculum development, community outreach, international exchange, sabbatical support, and faculty-guided student research.
Starting with this article, OGSP plans to begin posting information to Acenotes regarding upcoming grant opportunities and deadlines.
These are the featured opportunities for this posting:
The Kresge Foundation
Deadline: rolling
MacArthur Foundation
Deadline: varies by program
National Institutes of Health
Deadline: varies by program
We encourage faculty members and staff to contact us with any questions regarding these grants or any other opportunities. Our office is in Room 205 in Olmsted Administration Hall, and you can reach Johnna-Denning Smith, director of OGSP and IRB administrator and chair, at ext. 2551 or jd184@evansville.edu.
Fall health screenings
Sign-ups are now available for Fall Health Screenings. Screenings will be held in the basement of Neu Chapel on Sept. 6, 7, and 8, from 7:00-11:00 a.m. To schedule your screening go to AceLink>Home>Wellness Screenings. Please do not sign up under the Employee Health Clinic.
Each employee is allowed to schedule two time slots in order to schedule their spouse.
Each person is eligible to earn up to $350 in HRA credits by screening.
A 12-hour fasting period is highly encouraged. Water and black coffee are permitted during that time.
Student employment orientation
Students planning to work on campus this semester who have not worked on campus before must attend one of the following student employment orientation sessions:
Today- Wednesday, August 24 - at 8:00 a.m. or 11:00 a.m. in Room 126, Hyde Hall
Thursday, August 25 at 8:00 a.m. or 11:00 a.m. in Room 126, Hyde Hall
Sessions will be approximately 45 minutes long. Please bring your complete employment documentation with you (I-9), W-4, WH-4) along with your original employment verification documents, which are typically your driver's license and social security card.
The Student Employment Positions Listing and the Student Employment Application are available in WebAdvisor on the Student's Tab under Student Employment.

Fall cheerleading tryouts
Cheerleading tryouts for the 2016-17 basketball season will be held on September 18, at 10:00 a.m. in Carson Center. All males and females with cheerleading experience are welcome. Tryout waivers and more information can be found at gopurpleaces.com. Contact Brent Couch at brent.couch2@gmail.com or 812-746-3466 with any questions. Come show your Aces spirit - go Aces!
Attention: juniors and seniors
As a student of the University of Evansville, you have the opportunity to participate in the Student-Alumni Mentoring Program. Our goal is to directly connect current juniors and seniors with alumni, parents, and friends of UE, in order to establish a variety of professional support.
If you are interested in connecting with a mentor, and would like to know more about the program, please go here for further information and registration instructions. Registration deadline is Friday, August 26!
Academic planners available in the UE Bookstore
Just a reminder to all sophomores, juniors, and seniors that the UE Bookstore has academic planners available for sale at $4.95. The calendar in the planners run from August 2016 to June 2017. We have a limited supply.
Library tours
The Library will conduct tours for new students on:
Friday, August 26 at noon and 4:00 p.m.
Saturday, August 27 at noon and 4:00 p.m.
Sunday, August 28 at 4:00 p.m. and 8:00 p.m.
Monday, August 29 at 2:00 p.m. and 8:00 p.m.
Tuesday, August 30 at 4:00 p.m. and 8:00 p.m.
Students will learn about the library's services while touring the facility. Tours meet in the library's atrium and reservations are not required.
For more information, please contact Meg Atwater-Singer at ma35@evansville.edu or ext. 2487.
2016-17 President's Club for graduating seniors
Giving back to UE often begins with a senior gift. As an introduction to the President's Club, seniors can become a member of this premier leadership giving society with a gift of $100 (normal qualifications for PC membership is an annual donation of $1,000 or more). If you are interested in joining the President's Club as a graduating senior, please contact Jennifer Jacobs at jj130@evansville.edu or ext. 2021.
You're invited to join the President's Club
Members of the President's Club share a special connection and help to continue a rich tradition of annual support for the University of Evansville. This giving ensures that current and future UE students will benefit from quality education, facilities, and programs. You also can be a part of this amazing group of donors with an annual gift of $1,000 or more. It's not too late to set up a payroll deduction! If you are interested in joining the President's Club, please contact Jennifer Jacobs at jj130@evansville.edu or ext. 2021.
UE Libraries acquires access to 140,000 eBooks
The library has acquired access to a database with over 140,000 unlimited-usage eBooks on the Ebscohost platform. The eBooks are multidisciplinary in nature and offer many titles published by university presses. Titles can be read online or downloaded to computers and devices for offline reading.
You can access this database here.
Jones publishes book on the biology of agency
Derek Jones's book, The Biological Foundations of Action, was published by Routledge as part of their series on the history and philosophy of biology. The book is an attempt to reconceive agency as a uniquely biological capacity shared by a broad range of living systems. Jones is assistant professor of philosophy and director of the Cognitive Science Program.
Kyle Matsel consults with Miami Dolphins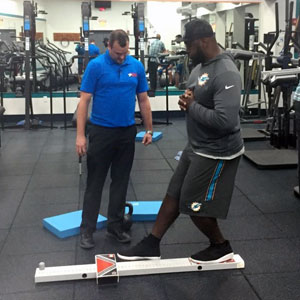 Kyle Matsel, assistant professor of physical therapy, recently consulted with the Miami Dolphins during NFL pre-season training camp.
Matsel and Gray Cook, Functional Movement Systems co-founder, spent three days at the Dolphin's training facility working with the majority of the Dolphins' first string players.
Players were evaluated using the Selective Functional Movement Assessment and components of the Y Balance Test in order to determine the most appropriate treatment path to reduce pain and enhance performance. The goal was to assist the strength and conditioning staff with building exercise routines including the corrective strategies that each player needs to maintain their durability throughout the rigorous NFL season.
Katie Darby Mullins has short stories and poems forthcoming
Katie Darby Mullins, assistant professor of creative writing, has three stories coming out in the next few months. How to Become a Tiger will appear in The Rumpus, and Possede in The MacGuffin. The Head will be reprinted in Nebo. She also has five poems coming out at the San Diego Reader, spread out through September and October.
Volleyball ready to open season at IU Invitational
The 2016 season officially gets under way this weekend as the Purple Aces travel to the Indiana Invitational where they will face Marshall, Indiana and Northern Kentucky. Evansville faces off against Marshall to open the season on Friday before taking on the Hoosiers and Norse on Saturday.
Action begins on Friday at 4:00 p.m. (CT) versus the Thundering Herd before the Aces face the Hoosiers on Saturday at 11:00 a.m. (CT). The tournament wraps up at 4:00 p.m. (CT) against the Norse.
A young 2016 squad features two starters from a season ago - sophomores Mildrelis Rodriguez and Rocio Fortuny. The Aces also return six other letterwinners that will be competing with four newcomers for starting positions and playing time.
Mildrelis Rodriguez is the top returning offensive player for UE as she accumulated a total of 217 kills in last year's freshman campaign. That translated to 2.01 per set. She also did a nice job on defense, registering 349 digs. That put her second on the team with 3.23 per set and tops among all returners. Her average saw her finish in 14th in the MVC.
Sophomore Rocio Fortuny finished her first season at Evansville as the top blocker on the squad. Seeing time in 110 sets, she posted a total of 100 blocks, including 11 solo blocks. Those totals saw her finish tenth in the MIssouri Valley Conference. She was the top freshman blocker in the league. Fortuny also notched a total of 134 kills in 2015.
Another sophomore was the Purple Aces' most accurate offensive weapon last season. Elizabeth Giller hit .220 in 2015. She finished with 92 kills in 236 attempts with 40 errors. Defensively, Giller recorded 59 blocks as a freshman.
Jelena Merseli is the most experienced returning setter for UE. In her first season with the squad, Merseli was limited to 81 sets, but made the most of her time. She notched 337 assists, good for an average of 4.16 per set.
The Thundering Herd is coming off of a 16-14 season last year and performed extremely well in the early part of the season, winnings its first four matches and eight out of the first nine. They went 7-9 in Conference USA before dropping their opening match in the C-USA Tournament.
Indiana posted a 16-16 record in 2015 while going 6-14 in the Big Ten. The Hoosiers won ten of their first 12 matches out of the gate, including wins over Virginia Tech, Bowling Green, and Northern Arizona in the Indiana Invitational last September.
Last season, the Norse were 14-16 while going an even 8-8 in the Ohio Valley Conference. In a meeting at the Carson Center on September 12 of last year, NKU earned a 3-0 decision in a hard-fought match that saw them take the final set by a tally of 27-25.

Adam Wing inks deal with Kitchener-Waterloo Titans
After being a starter for more than three of his four seasons with the University of Evansville Men's Basketball team, Adam Wing will take his career to the next level as he signed a deal with the Kitchener-Waterloo Titans of the National Basketball League of Canada (NBLC).
"As a kid, the ultimate dream is to say you have played professional basketball," Wing said. "It has always been a dream of mine and there will be a day where I can tell my kids and grandkids that I played professional basketball and was healthy enough to do so."
The Titans enter their first year of play in the NBLC and are one of 10 teams in the league. Wing will be on the training camp roster when it begins in early December, and is competing for a roster spot on the squad going into the regular season.
"My goal was always to come to Evansville and make it to the NCAA Tournament, growing up that was always my goal," Wing continued. "My other goal was to continue playing basketball as long as I can. Coming from Morehead, Kentucky, there are not many people that get the opportunity to play at the professional sports, so it means a lot to make my hometown proud."
Kitchener-Waterloo is located in the Canadian province of Ontario. The metropolitan area is just over an hour west of Toronto.
NBLC play commences in late December with the playoffs wrapping up in mid-June.

Aces Tennis to hold walk-on tryouts
Aces Women's Tennis head coach Jayson Wiseman has announced that the team will be holding walk-on tryouts for the 2016-17 season on Wednesday, September 7, and Thursday, September 8, at the Carson Center tennis courts, the tryouts will be at 6:00 p.m. on both days.
Any female student who wishes to participate in the tryouts should contact Wiseman via e-mail prior to September 5 to complete the necessary paperwork.
Coach Wiseman can be reached at jw540@evansville.edu.
Contribute to AceNotes
To have content considered for inclusion in AceNotes, please submit a Marketing Request Form. Deadline for submission to AceNotes is 10:00 a.m. on the requested date of publication. Only articles concerning UE related/sponsored activities will be accepted. Articles submitted to AceNotes may be edited for length and clarity. Submitter contact information is at the end of each article.