| | |
| --- | --- |
| AceNotes Today | Tuesday, August 23, 2016 |
University Alcohol Policy – Effective August 2016
In May of 2016, the UE Board of Trustees approved a modification to the UE alcohol policy. The new alcohol policy allows for the consumption of beer and wine under in compliance with certain guidelines. The new policy is grounded in General Provisions and Guiding Principles including compliance with State Law, acceptable behavior, and education. It also includes the Responsible Good Neighbor Exemption. The alcohol policy will be implemented in stages beginning in August 2016 with a full implementation planned for the Spring 2017 semester. Alcohol is limited to beer and wine, and may only be distributed and consumed in accordance with the Acceptable Use Guidelines outlined in the policy (see www.evansville.edu/alcoholpolicy/ and click on Policy Details.) All members of the UE community are expected to familiarize themselves with these policies. Alcohol is not permitted on campus outside of these Acceptable Use Guidelines regardless of one's age.
Acceptable Use Guidelines
The alcohol policy includes "acceptable use guidelines" that all members of the university community are expected to follow. Alcohol outside of these guidelines is not permitted on campus. The guidelines are specific to University Approved Events and Programs, Tailgating at Varsity events, University house, and approved Greek social events. To review the policy and the Acceptable Use Guidelines, see www.evansville.edu/alcoholpolicy/.
Phase One – Fall 2016
University Approved Events: For the fall 2016 semester, beer and wine may be served by a third party vendor at approved university events, see www.evansville.edu/alcoholpolicy/universityevents.cfm. Information regarding the application and request for approval will be distributed to University departments in the coming week. Please contact Kari Hughes, coordinator of special events and guest services, (812-488-5608), with any immediate questions regarding the application and approval process.
Tailgating Events: Beer and wine may also be consumed at Tailgating events for Varsity competitions in accordance with the Acceptable Use Guidelines. (see www.evansville.edu/alcoholpolicy/varsityevents.cfm.)
Phase Two – Spring 2017
University Housing: Students who are 21 and over and live in University Villages or Approved University Housing may apply for "21+ Status" if they wish to consume alcohol within their residence. Alcohol is not permitted in the residence halls or in Village Units where the residents have not received "21+ Status." Information regarding the "21+ Status" application process will be provided to Village residents during the fall 2016 semester. See www.evansville.edu/alcoholpolicy/21status.cfm
Approved Greek Social Events: Processes for serving alcohol to guests of legal age at approved social events will be implemented for the spring 2017 semester. (see www.evansville.edu/alcoholpolicy/greekevents.cfm)
Newman Catholic Campus Ministry Open House
All are welcome! Join us at the Newman Center for our Open House today -Wednesday, August 24 - from 5:00-7:00 p.m. Visit the Newman Center and experience a homelike environment at our house located across from Koch Center for Engineering and Science on Lincoln Avenue. (Look for the purple sign.) At the Newman Center you can meet wonderful people and have interesting conversations. You can also learn about different ways to get involved in our beautiful ministry. Finger food will be provided. For more information, contact Olivia Voegerl at ov4@evansville.edu or Fran Prexl at fp21@evansville.edu. Looking forward to having you at our home!
Newman Center cookout planned for today
Everyone is invited to come to the Newman Center today from 5:00-7:00 p.m. for a fun cookout! The Newman Center is located on Lincoln Avenue right in front of campus. (Look for the purple banner). Food, fun conversations, and meaningful connections will be provided. Looking forward to seeing you there. For more information, contact Olivia Voegerl at ov4@evansville.edu or Fran Prexl at fp21@evansville.edu.
Sunday Mass
All are welcome to Join the Newman Catholic Campus Ministry at Mass on Sunday, August 28, at 1:00 p.m. in Neu Chapel. Hope to see you there! For more information, contact Olivia Voegerl at ov4@evansville.edu or Fran Prexl at fp21@evansville.edu.
Library tours
The Library will conduct tours for new students on:
Friday, August 26 at noon and 4:00 p.m.
Saturday, August 27 at noon and 4:00 p.m.
Sunday, August 28 at 4:00 p.m. and 8:00 p.m.
Monday, August 29 at 2:00 p.m. and 8:00 p.m.
Tuesday, August 30 at 4:00 p.m. and 8:00 p.m.
Students will learn about the library's services while touring the facility. Tours meet in the library's atrium and reservations are not required.
For more information, please contact Meg Atwater-Singer at ma35@evansville.edu or ext. 2487.
2016-17 President's Club for graduating seniors
Giving back to UE often begins with a senior gift. As an introduction to the President's Club, seniors can become a member of this premier leadership giving society with a gift of $100 (normal qualifications for PC membership is an annual donation of $1,000 or more). If you are interested in joining the President's Club as a graduating senior, please contact Jennifer Jacobs at jj130@evansville.edu or ext. 2021.
You're invited to join the President's Club
Members of the President's Club share a special connection and help to continue a rich tradition of annual support for the University of Evansville. This giving ensures that current and future UE students will benefit from quality education, facilities, and programs. You also can be a part of this amazing group of donors with an annual gift of $1,000 or more. It's not too late to set up a payroll deduction! If you are interested in joining the President's Club, please contact Jennifer Jacobs at jj130@evansville.edu or ext. 2021.
UE Jazz Ensemble auditions
UE Jazz Ensemble auditions will take place on Wednesday, August 24, from 7:00-9:30 p.m. in Room 144 in the Krannert Hall of Fine Arts. The audition sign-up sheet is located on the door of professor of music Timothy Zifer's office, which is also in Room 144.
Audition excerpts can be found here.
Come swing with us!

UE Wind Ensemble auditions
Do you play a woodwind, brass, or percussion instrument? Auditions for 2016-17 UE Wind Ensemble will be in Room 103 in the Krannert Hall of Fine Arts on:
Wednesday, August 24, from 7:30-9:30 p.m.
Thursday, August 25, from 3:00-9:00 p.m.
A sign-up sheet is available on the UE Bands bulletin board in the Krannert Hall of Fine Arts.
Excerpts are available here.
The audition will consist of prepared excerpts, scales, and sight-reading.
If you have questions, contact Kenneth Steinsultz, associate professor of music and director of bands, at ks306@evansville.edu.

Choir auditions
Do you love to sing? Be a part of UE's choral program! Auditions for University of Evansville's esteemed choir program will be held Monday, August 22, Tuesday, August 23, and Wednesday, August 24. Come to Room 104B in the Krannert Hall of fine Arts to sign up for an audition time. The audition takes about 10 minutes and you do not need to prepare any music in advance. Contact Dennis Malfatti, director of choral activities, for more information at dm155@evansville.edu.
Jones publishes book on the biology of agency
Derek Jones's book, The Biological Foundations of Action, was published by Routledge as part of their series on the history and philosophy of biology. The book is an attempt to reconceive agency as a uniquely biological capacity shared by a broad range of living systems. Jones is assistant professor of philosophy and director of the Cognitive Science Program.
Kyle Matsel consults with Miami Dolphins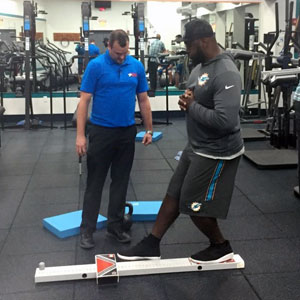 Kyle Matsel, assistant professor of physical therapy, recently consulted with the Miami Dolphins during NFL pre-season training camp.
Matsel and Gray Cook, Functional Movement Systems co-founder, spent three days at the Dolphin's training facility working with the majority of the Dolphins' first string players.
Players were evaluated using the Selective Functional Movement Assessment and components of the Y Balance Test in order to determine the most appropriate treatment path to reduce pain and enhance performance. The goal was to assist the strength and conditioning staff with building exercise routines including the corrective strategies that each player needs to maintain their durability throughout the rigorous NFL season.
Katie Darby Mullins has short stories and poems forthcoming
Katie Darby Mullins, assistant professor of creative writing, has three stories coming out in the next few months. How to Become a Tiger will appear in The Rumpus, and Possede in The MacGuffin. The Head will be reprinted in Nebo. She also has five poems coming out at the San Diego Reader, spread out through September and October.
Knoester presents at conference in Beijing
Associate professor of education Matthew Knoester will be presenting a paper on a panel entitled "Global Struggles for Critical Democratic Education" at the XVI World Congress of Comparative Education Societies in Beijing, China, on August 26.
Biology professor gives keynote address
Katie Aldred '09, assistant professor of biology, recently attended the Gordon Research Seminar and Conference on DNA Topoisomerases in Biology and Medicine at Sunday River in Newry, Maine. She was invited to give the keynote address at the seminar. She also sat on a career panel.
Aldred's keynote address focused on her path to becoming a member of the faculty at UE and the UExplore-funded summer research on quinolone interactions with E. coli gyrase that she conducted this summer with biology students Hannah Carter and Baylee Wildman. The panel focused on various career paths that can be taken that maintain a focus on topoisomerase research and where the future of the topoisomerase field lies.
The Gordon Research Conferences and Seminars provide an international forum for the presentation and discussion of frontier research in the biological, chemical, and physical sciences, and their related technologies, with a focus on presentation and discussion of pre-publication research.
Yazdanparast and Becker present global scholar study at conference
Atefeh Yazdanparast, assistant professor of marketing, and Lora Becker, associate professor of psychology and neuroscience director, presented their global scholar study at the 2016 Global Marketing Conference at Hong Kong on July 21-24.
Their paper Emotions and cosmetic surgery motivations across cultures: A Neuromarketing investigation was presented in the Neuromarketing Science and Business Association/Global Research and Business Social Platform for Marketing and Management.
The conference boasted a representation of 51 countries.
UE student has article published in Life Sciences
An article by UE student Choudhury (Spike) Yusuf, a biology and neuroscience major with a minor in ethics, and David Pollock '78 has been published in Life Sciences. The article is titled Ovarian hormones modulate endothelin A and B receptor expression.
This work was done during Yusuf's 2015 summer research experience in Pollock's lab. Pollock is a professor in the Division of Nephrology in the Department of Medicine, University of Alabama at Birmingham.
Pollock, who earned a Bachelor' of Science in biology at UE, is a world-renowned scientist whose research program addresses questions related to mechanisms of endothelin control of renal hemodynamics and excretory function.
Young Kim publishes article
A research article by Young Kim, associate professor of political science, was recently published in the Journal of Peace Studies. The title of his article is "Causes of Gender Inequality in the Muslim World."
Aces Tennis to hold walk-on tryouts
Aces Women's Tennis head coach Jayson Wiseman has announced that the team will be holding walk-on tryouts for the 2016-17 season on Wednesday, September 7, and Thursday, September 8, at the Carson Center tennis courts, the tryouts will be at 6:00 p.m. on both days.
Any female student who wishes to participate in the tryouts should contact Wiseman via e-mail prior to September 5 to complete the necessary paperwork.
Coach Wiseman can be reached at jw540@evansville.edu.
Contribute to AceNotes
To have content considered for inclusion in AceNotes, please submit a Marketing Request Form. Deadline for submission to AceNotes is 10:00 a.m. on the requested date of publication. Only articles concerning UE related/sponsored activities will be accepted. Articles submitted to AceNotes may be edited for length and clarity. Submitter contact information is at the end of each article.