| | |
| --- | --- |
| AceNotes Today | Friday, August 19, 2016 |
Prologue scheduled prior to Academic Convocation in Neu Chapel
Again this year, new students will gather in Neu Chapel on Tuesday morning for Prologue, which will serve as an introduction to the University's Academic Convocation. In a brief 13-minute session, students will be offered an introduction to their first University ceremony.
Instead of simply wandering over to Carson Center as individuals, the Class of 2020 will be led by Mark Valenzuela, associate professor of civil engineering, and escorted by the campus community in a bagpipe processional, signaling the importance of community, integration, and transitions.
During Prologue, the entering class will rehearse both University hymns in preparation for the Academic Convocation. They will be introduced to the meaning of pledging one's honor in an academic culture and in the presence of their faculty, and new students will learn more about the rich tradition of excellence at UE.
The campus community is invited to attend Prologue, (reserved seating in the Neu Chapel Gallery, upstairs in the loft), which will begin promptly at 8:20 a.m. The procession will commence at 8:33 a.m., leaving from Neu Chapel, passing by the newly planted Bur Oak tree, which was planted last spring to celebrate the HLC process, then moving past Olmsted Hall and through Memorial Plaza, in front of Ridgway University Center and finally arriving at Carson Center. The campus community is also invited to stand near the processional route, wave, clap, and welcome new students as they process toward the beginning of their college career.
University of Evansville 2016 Academic Convocation, Tuesday, August 23
President Thomas A. Kazee will preside over the 2016 Academic Convocation this Tuesday, August 25, at 8:50 a.m., in Carson Center. The Convocation will celebrate the University's 159th opening and the 2016-17 academic year.
Valenzuela will address incoming students during the Convocation.
The Academic Convocation is an annual fall tradition at UE and welcomes new students to campus, awards honor to high achieving faculty, and brings the entire campus community together to celebrate the start of a new academic year.
The importance of welcoming domestic and international students to our campus is woven into the fabric of our institution in many ways.
First, moving from Moores Hill, the University was received by the city of Evansville and embraced by a community that understood the value of welcoming the stranger.
Second, we are a United Methodist-related institution, and that church affiliation reminds us to extend a warm hand of fellowship to the other.
Third, in an age where technology necessarily permeates our day-to-day operations and the online degree is touted as good enough, the University of Evansville holds sacred the human connection and believes it is our social responsibility to foster distinctive, personal attention in our rituals and ceremonies.
On Tuesday, new students will be invited to stand during Convocation, shoulder-to-shoulder, while reciting the University Honor Code, representing what the University values: integrity, community, and a public hospitality that invites all students to stand together on the eve of the first day of classes.
The communal reciting of the Honor Code transcends differences and unites an entire freshman class as they stand in front of their faculty and the University president promising to be responsible citizens of the University.
Moreover, those few seconds of intentional silence, just before Michael Austin, executive vice president for academic affairs, leads students in their Honor Code recitation, speak to the profound importance of pledging one's honor to a global community of your peers. This ritualized scene is a dramatic shift from the geopolitical shambles we view each night on cable news and should cause our students and the entire campus community to take seriously our call to live as responsible citizens in the world.
For those unable to attend, the event can be watched live here.
UE professor Mark Valenzuela receives Eykamp Prize
University of Evansville associate professor of civil engineering Mark Valenzuela has been awarded the University's Eykamp Prize. This is the first year for the award, which was presented during UE's Fall Conference on Tuesday, August 16.
The Eykamp Prize was established by Richard and Rita Eykamp to recognize extraordinary contributions made by UE faculty to the University. The Eykamps are long-time supporters of UE with a strong connection to the institution. Rita Eykamp is a graduate of UE and a life trustee of the University..
Valenzuela earned his bachelor of engineering degree in civil and environmental engineering from Vanderbilt University, and his doctorate from Cornell University. He joined UE's faculty in 1999.
During his time at the University, he has been dedicated to serving UE and its students.
Under his leadership, UE entered its first regional concrete canoe competition in 2001. By 2005, the team was competing at the national level. UE has hosted the regional competition twice on campus and is distinguished as the smallest university to ever host the national competition.
Well-respected and much loved by his students, Valenzuela serves not only as an advisor in academic matters but also offers them guidance in career planning and personal development.
The Alumni Association recognized him with the Outstanding Teacher Award in 2003 and 2013. He is the only member of the faculty to receive this honor twice.
Recently Valenzuela led the campus-wide effort to gain reaccreditation from the Higher Learning Commission. This major commitment of time and energy was recognized when UE received an important confirmation from the commission that the University operates in an arena of excellence with a commitment to continuous improvement.
When presenting the prize, Richard Eykamp noted that, in addition to his impressive academic accomplishments, "Valenzuela is a role model who lives by a code of respect and service to others. He is a man of curiosity, personal discovery, and the highest ethical values. The University is honored by his accomplishments, his leadership, and his character."

University of Evansville announces Berger Awards for 2016
University of Evansville professors Ralph Larmann and Mari Plikuhn were honored recently with the Sadelle and Sydney Berger Awards for Service and Scholarly Activity. The two were presented with the awards by Charlie Berger during UE's Fall Conference.
Larmann, professor of art, was given the Berger Award for scholarly activity. He is very involved with the publication of educational texts and is the co-writer of Gateways to Art, the best-selling art appreciation text in the United States. It has been adopted at approximately 400 universities and is required reading for many programs.
The London Times called the book's third edition "one of the best books of 2015." The London Times also featured it in a full-page review.
Larmann is also an accomplished artist. His work is often displayed in exhibitions at such prestigious galleries as the Swope Art Museum. His work "A Neighborhood of Citizens United" was accepted for exhibition in the Swope's 69th Annual Wabash Valley Juried Exhibition and received a Nancy and Fred Nation Award of Recognition. In 2014 he exhibited as part of the ENW Exhibition that celebrated the opening of the renovated Evansville Museum.
Plikuhn, associate professor of sociology, was given the Berger Award for service. During her time at UE, she has worked tirelessly to serve the University and her department. She is grand marshall for UE's commencement ceremonies, and co-chair of the Ceremonies Committee. She is also a member of the University's Faculty Senate's curriculum and athletic committees.
In addition, Plikuhn serves as faculty advisor for the Society of Social Research and the Pi Gamma Mu Honor Society for the Social Sciences. She is a department representative for UE's Open House academic fairs and academic sessions. Plikuhn serves as an advisor for the Major Discovery Program and is part of the Student Success Team.
In 2012, Plikuhn was named Outstanding Teacher of the Year by the UE Alumni Association. One of those nominating her for the honor noted that she "is willing to help students in any way possible."
New SAT exam
In March 2016, the College Board began administering the new SAT, or the SAT-R, in place of the old SAT (SAT-1). In this switch of tests, the SAT again became a 2-part exam (CR and M), with a top score of 1600, and has departed from the 3-section 2400 scale. These scores were delivered to students AND colleges in May 2016, leaving no time for colleges to be ready for student's immediate questions surrounding "what does this score mean and how does it compare?"
In light of this timing, the higher education world is now starting to deliver more specific answers to students after being able to work with the 15 page concordance chart provided by College Board (SAT).
While still being called SAT, the new SAT is very different from the old SAT. Student's scores are trending higher, leading students to believe they've improved, while the concordance charts may indicate similar performance. It is for this reason that the UE Office of Admission will utilize three different exams to evaluate student applications for the Fall 2017 cycle and beyond. From these three exams, we will concord the scores into one testing value for the purpose of attempting a common data point and administration of scholarships. As the three exams - ACT, SAT-R (new), and SAT-1 (old) - are very different, concordances are not a simple evaluation. In short, these are three different exams.
What does this mean for me or my program? First, we will only superscore within exams and not mix exams. Next, if you have a direct entry program, you will need to develop direct entry requirements for all three exams (ACT, SAT-R, and SAT-1).
While questions may exist, the questions are definitely industry wide and not isolated to the University of Evansville. Feel free to check out our test policy page on the website, which is meant to offer guidance to students in the current moment. Another tool you may like to check out is the College Board website, which provides multiple points of information including concordance tables.
While test scores can offer value and demonstrate a common evaluation point, the University of Evansville student is much more than a test score. We will continue to work with students holistically and not just based on their composite test score. If you have any questions, please reach out to Shane Davidson at sd10@evansville.edu.
UEAAA Welcome Reception on Saturday, August 20
Please welcome all University of Evansville African American alumni (UEAAA) who will be on campus on Saturday, August 20, for the annual UEAAA Welcome Reception! It will be in the Bernhardt Atrium in the Schroeder School of Business Building from noon-2:00 p.m.
A free lunch will be provided for the expected 70 people in attendance. Those attending will include students, family members, alumni, faculty, and staff.
A new mentoring program will be introduced for incoming African American freshmen to support them on their UE journey.
Ladies in Pink a capella auditions
Ladies in Pink, UE's all-female a capella group, is hosting auditions on September 3 at 6:00 p.m. in Room 142 in the Krannert Hall of Fine Arts. All UE female undergraduate students are invited to audition. Please prepare a one-minute cut of a pop song that shows your vocal range. And of course, come show us your beatboxing skills as well!
Welcome Week University Worship this Sunday, Neu Chapel, at 11:00 a.m.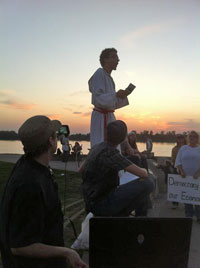 God may be calling you! Welcome Week University Worship kicks off the academic year in Neu Chapel this Sunday at 11:00 a.m. The campus community is invited to attend as we celebrate the beginning of a new year and welcome students to UE. Join us for a time of worship in the midst of Christian community as we try to make sense of "Gathered Together in One Place." All are welcome! As always, Donut Bank donut balls and coffee are available before and after the service.
Fall health screenings
HRA screenings will be held September 6, 7, and 8 in the basement of Neu Chapel. Sign up for your screening through AceLink. Each employee can reserve two appointment slots to include their spouse. A 12-hour fast is encouraged for your screening. Water and black coffee are permitted during your fast. Please contact Ashley Chipps with any questions at 812-306-8885.
Everyone welcome to attend first Mass of the semester
All are welcome to join UE's Newman Catholic Campus Ministry this Sunday at 1:00 p.m. in Neu Chapel for the first Mass of the semester. Get a great start on the new school year!
For more information, or if you want to get involved with this beautiful community, please contact Fran Prexl at fp21@evansville.edu or Olivia Voegerl at ov4@evansville.edu.
The entire campus community, especially incoming freshmen, is invited to attend. Look forward to seeing you there!
New faculty members
Manahari Adhikari (assistant professor of first year seminar)
Adhikari earned a B Eds degree (English and economics) and a MA degree (British literature) from Tribhuvan University, Nepal, and a MA degree (American literature) from the University of Northern Iowa. Adhikari earned a PhD from Northern Illinois University.
Severine Bates (assistant professor of French)
Bates attended the Université Valéry-Montpellier III (Montpellier, FR), and earned a MA and PhD in French from the University of Minnesota. Bates comes to us from Gustavus Adolphus College.
Katherine Chandler (visiting assistant professor of engineering and physics)
Chandler received a BS degree in nuclear engineering sciences from the University of Florida (Gainesville), and her MS degree and PhD in electrical and computer engineering from Cornell University.
Chun-Ming (Jimmy) Chen (assistant professor of music/director of orchestral activities)
Chen earned a BM in music (saxophone performance) from Tunghai University, Taiwan, an MM in orchestral conducting from the Boston Conservatory and Ithaca College, and a DMA in orchestral conducting from the University of Iowa.
Sharon Gieselmann (associate professor of education/department chair)
Gieselmann earned a BS degree in political Science from the University of Southern Indiana, a ME from the University of Louisville and PhD in educational leadership and organizational development from the University of Louisville and Western Kentucky University.
Sean Harper (assistant professor physician assistant science)
Harper earned a BS in health sciences and MS in physician assistant studies at Butler University. He comes to us from Novapex, Witham Convenient Care/Occupational Medicine.
Scott Jones (assistant professor of physical therapy)
After retiring from the USAF, Jones received a BS degree in allied health science from Creighton University, and a DPT degree from Creighton University School of Pharmacy and Health Professions.
Roslyn Lampkins (visiting assistant professor of chemistry)
Lampkins earned a BS degree in chemistry from Western Kentucky University and a PhD in organic chemistry from the University of Florida. Lampkins formerly taught online for the University of Phoenix and is a former high school chemistry teacher.
Kevin Murphy (visiting assistant professor of history)
Murphy earned a BS degree in history education from Siena College. He earned a MA degree and PhD in history from Binghampton University (SUNY), where he was also an adjunct professor.
Kyle Matsel (assistant professor of physical therapy)
Formerly a UE adjunct professor, Matsel received a BS degree in exercise science from the University of Southern Indiana, a DPT degree from UE and completed a sports physical therapy residence at ProRehab/UE.
Jaley Montgomery (visiting assistant professor/music therapy)
Montgomery earned a BM degree in music therapy from UE and a MM degree in music therapy from Colorado State University.
Tuan Nguyen (assistant professor of mathematics)
Nguyen earned a BS degree in mathematics/computer science from the University of Arizona and a MS degree and PhD in statistics from Rutgers University. Nguyen comes to us from the University of Southern California where he was a math instructor.
Yolanda Obaze (assistant professor of supply chain management)
Obaze earned a BA degree with a public administration concentration from Ahmadu Bello University, Zaria, Kanduna State, Nigeria, MA degrees in business administration (strategic management and marketing concentrations) from the University of North Texas. Obaze is also a PhD candidate at the University of North Texas.
Theresa Price (assistant professor of nursing)
Formerly a UE adjunct, Price received a BSN degree and MSN degree from the University of Southern Indiana. She comes to us from Deaconess Hospital.
Robert Shelby (assistant professor of sociology)
Shelby earned a BA degree in youth ministry and biblical studies and a MA degree in communication and culture from Trinity International University. He earned his MA degree in sociology from Western Illinois University and his ABD in applied sociology at the University of Louisville.
James Sullivan (assistant professor of music)
Sulli9van earned his BS degree in mathematics and BM degree in double bass performance from Indiana University. Sullivan also earned MM and DMA degrees in double bass performance and literature. He is currently ABD in music theory at the Eastman School of Music.
Bharat Ranganathan (visiting assistant professor of religion)
Ranganathan earned a BA degree in religion and political science from Case Western Reserve University, a MTS degree in religion, ethics and politics from Harvard Divinity School and a PhD in religious studies from Indiana University.
Pengcheng Xiao (assistant professor of mathematics)
Xiao earned a BD in information security from China University of Mining and Technology, Xuzhou, Jiangsu, China, a MS degree in mathematical science from the University of Texas-Pan American, and a PhD in applied mathematics from the University of Texas at Arlington.

Choir auditions
Do you love to sing? Be a part of UE's choral program! Auditions for University of Evansville's esteemed choir program will be held Monday, August 22, Tuesday, August 23, and Wednesday, August 24. Come to Room 104B in the Krannert Hall of fine Arts to sign up for an audition time. The audition takes about 10 minutes and you do not need to prepare any music in advance. Contact Dennis Malfatti, director of choral activities, for more information at dm155@evansville.edu.
Intramural registration open
Registration is now open for the intramural flag football and sand volleyball season! You can register here. The season starts on Monday, August 29.
Parking permits now on sale
The 2016-17 parking permits are now available for purchase in the Office of Safety and Security. Current permits have expired. The new permits will be sold between 8:00 a.m.–4:00 p.m., Monday through Friday. The price remains $50 for the academic year. Employees will once more be able to use payroll deduction to pay for their permits.
UE Libraries acquires access to 140,000 eBooks
The library has acquired access to a database with over 140,000 unlimited-usage eBooks on the Ebscohost platform. The eBooks are multidisciplinary in nature and offer many titles published by university presses. Titles can be read online or downloaded to computers and devices for offline reading.
You can access this database here.
Welcome new employee Jamie Purcell to Office of Development and Alumni Relations
The Office of Development and Alumni Relations is pleased to welcome Jamie Purcell to the University as the new corporate and foundation relations officer. Jamie formerly served as the director of the Office of National Fellowships at Florida State University.
She holds a bachelor of arts degree from Western Kentucky University, a master of science from Florida State University, and a master of business administration from the University of Southern Indiana.
Jamie is responsible for coordinating University relationships with corporations and foundations to secure both restricted and unrestricted gifts. Her office is located in the Igleheart Building. Please join us in giving Jamie a warm UE welcome!
2016 faculty scholarship display
The Libraries are hosting a faculty scholarship display from January 16 - 29. Faculty are encouraged to contribute scholarship to the display, such as articles, books, book chapters, essays, creative works, etc. Works produced or published from August 2015 until July 2016 are eligible for inclusion in the display. Please send items to the attention of Meg Atwater-Singer by September 20. You can contact her at ext. 2487 or ma35@evansville.edu.
The Libraries will host a reception honoring faculty in the future, although the date and time haven't been finalized.
University chaplain invited to serve with Religions for Peace USA
University chaplain Tamara Gieselman has been invited by Religions for Peace USA to serve as a member of the Our Muslim Neighbor Institute, which will focus on Islamophobia in America. The Institute will convene for the inaugural gathering this fall at Sewanee: The University of the South.
Religions for Peace USA is the largest and most broadly-based representative multi-religious forum in the United States, with participants from more than 50 religious communities, representing each of the major faith traditions. The organization identifies shared commitments among religious communities in the US, enhances mutual understanding among these communities, and facilitates collaboration to address issues of common concern. RFPUSA's mission is to inspire and advance common actions for peace through multi-religious cooperation among our nation's religious communities.

Yazdanparast and Becker present global scholar study at conference
Atefeh Yazdanparast, assistant professor of marketing, and Lora Becker, associate professor of psychology and neuroscience director, presented their global scholar study at the 2016 Global Marketing Conference at Hong Kong on July 21-24.
Their paper Emotions and cosmetic surgery motivations across cultures: A Neuromarketing investigation was presented in the Neuromarketing Science and Business Association/Global Research and Business Social Platform for Marketing and Management.
The conference boasted a representation of 51 countries.
UE student has article published in Life Sciences
An article by UE student Choudhury (Spike) Yusuf, a biology and neuroscience major with a minor in ethics, and David Pollock '78 has been published in Life Sciences. The article is titled Ovarian hormones modulate endothelin A and B receptor expression.
This work was done during Yusuf's 2015 summer research experience in Pollock's lab. Pollock is a professor in the Division of Nephrology in the Department of Medicine, University of Alabama at Birmingham.
Pollock, who earned a Bachelor' of Science in biology at UE, is a world-renowned scientist whose research program addresses questions related to mechanisms of endothelin control of renal hemodynamics and excretory function.
Dailey wins NFA Piccolo competition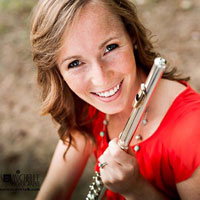 Consortium professor of flute Cara Dailey won first prize in the biennial Piccolo Artist Competition at the 2016 National Flute Association Convention in San Diego, California. As a competitor, Dailey performed two recitals at the convention - first as one of six semifinalists, and then as one of three finalists. Each recital consisted of different repertoire, including works by Antonio Vivaldi and Robert Beaser, as well as Stephen Hough's Paradise, a new work commissioned for the 2016 Piccolo Artist Competition.
The National Flute Association is the largest flute organization in the world, with 5,000 members from more than 50 countries.
Dailey has been a member of UE's music faculty since 2013 and is also principal flutist with the Evansville Philharmonic Orchestra.
Beavers among authors receiving 2017 Donald E. Osterbrock Book Prize for Historical Astronomy
The prize committee of the Historical Astronomy Division of the American Astronomical Society has awarded the 2017 Donald E. Osterbrock Book Prize for Historical Astronomy to the editor and all authors of individual entries in the Biographical Encyclopedia of Astronomers. Anthony Beavers, UE professor of philosophy and director of the Cognitive Science Modeling Lab,was one of the authors who received the prize. Beavers was the author of two short contributions, Anaximander of Melitus and Heraclitus of Ephesus.
This marks the second book award given to compilations that include works by Beavers. The other was Alan Turing: His Work and Impact, edited by S. Barry Cooper and Jan van Leeuwin, which won the 2013 R. R. Hawkins Award from the Association of American Publishers for Best Text in the Arts and Sciences. It also received the 2013 AAP PROSE Awards for Best Text in the Physical Sciences & Mathematics. Beavers' contribution to this latter volume is the prefatory article. Alan Turing: Mathematical Mechanist, that introduces Turing's 1947 Address to the London Mathematical Society.
Inside UE Volleyball with Clark, Goldstein, and Schreiber
Preparations are well under way for the University of Evansville Volleyball team as they are working toward next week's Indiana Invitational.
August 26 will mark the opener as the Aces take on Marshall before playing Indiana and Northern Kentucky on August 27.
Leading up to the opener, we take an inside look at the student-athletes on the team as they work toward the season and set their goals.
Making the adjustment
Pickerington, Ohio, native Deja Clark is set to be an offensive force to the Purple Aces in her first collegiate season as an outside hitter.
"The main adjustment for me is the speed of the game, the college game is much faster," Clark said. "I am also working on learning a new system, but it works for me. I am very excited about the season."
Since beginning her work with head coach Manolo Concepcion, Clark said that her game has seen great improvement. She has also been working with teammate Olivia Goldstein to learn her role and improve her skills.
Moving forward, Clark is excited to get the season under way. Already an offensive force, Clark is working each day to improve her all-around game.
"Obviously our team goal is to be conference champs and improve as a team, but individually, I want to improve my blocking and defense," Clark added.
Year two
As a freshman last year, Indianapolis native Olivia Goldstein served as a defensive specialist for the Aces. She saw action in 56 sets and looks to see her playing time expand even more as a sophomore.
"In the spring, I was really working on the technical side of my game and trying to improve my technique," Goldstein said. "I was able to get good experience as a defensive specialist last year, but am very excited to be in my natural position as a libero."
Not only does Goldstein have high expectations for herself, she is also ready to serve as a leader for a team that is comprised of nine freshmen and sophomores.
"We are going to be much more versatile this year, we are very young but are ready to come out and learn every day," she said. "What we lack in experience, we make up for in athleticism and team chemistry."
Long road back
In 2014, then-freshman Cathy Schreiber burst onto the scene with 157 kills while playing in all 106 sets. Primed to do even more as a sophomore, Schreiber suffered a torn labrum in the spring of 2015. She was on pace to possibly return for the 2015 campaign, but ended up having to endure surgery last August.
A long road saw a recovery process that took a full year. Instead of letting that challenge bring her down, Schreiber turned it into a positive.
"It was definitely a challenge, when I first came back there was the fear of getting injured again," she said. "But now that I have been back, I feel so much better than I did before the injury."
Schreiber first made her way back this spring, doing some defensive work to get back in the swing of things. Now she feels that she is at full strength.
"It took a full year for me to get back to 100 percent, but I feel great," Schreiber said. "I am excited to be back and compete for a starting position. It will also be great to be back working with the team and developing consistency."
UE Night at Victory Field in Indy set for August 23
One of most popular alumni events for the University of Evansville in central Indiana is set for Tuesday evening as UE Night takes place at Victory Field in downtown Indianapolis.
For just $25, you receive entry into a pre-game social at Victory Field that includes a dinner buffet along with your game ticket as the Indianapolis Indians take on the Columbus Clippers. Children age two and under are admitted free.
To register, click here. The registration deadline is Sunday, August 21.
The social begins at 5:30 p.m. (ET) at the Corona Light Beach Area at Victory Field. The baseball game will begin at 7:05 p.m.
UE president Tom Kazee along with his wife Sharon will be in attendance as well as Aces head baseball coach Wes Carroll. Other UE administrators and coaches will also be at the event including Mark Spencer, director of athletics, Lance Wilkerson, senior associate athletic director, and Mat Mundell, head softball coach.
A portion of the registration fee will go to support the Aces Aspire Fund, which directly enhances student-athletes and the 14 Division I sports programs at UE.
For more information, contact alumni@evansville.edu or call 812-488-2586.

Contribute to AceNotes
To have content considered for inclusion in AceNotes, please submit a Marketing Request Form. Deadline for submission to AceNotes is 10:00 a.m. on the requested date of publication. Only articles concerning UE related/sponsored activities will be accepted. Articles submitted to AceNotes may be edited for length and clarity. Submitter contact information is at the end of each article.