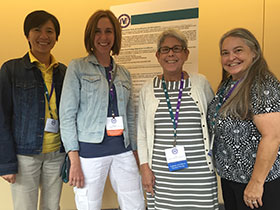 UE Physical Therapy professors Tink Martin and Ling-Yin Liang, along with adjunct faculty and neurologic and pediatric clinic specialists Maghan Bretz and Dawn Welborn-Mabrey, recently attended the IV STEP conference at Ohio State University.
STEP conferences are held every 10 years and are supported by the Academy of Neurologic Physical Therapy and the Academy of Pediatric Physical Therapy.
The theme of this year's conference was Prevention/Prediction/Plasticity/and Participation.
The conference brought together an elite group of scholars and included presentations by UE PT alums Jennifer Moore and Jill Campbell Steward. Moore's presentation was titled "The Future Is Now: Innovation of Physical Therapy through Knowledge Translation." Stewart's presentation was titled "Individualizing Rehabilitation after Stroke: Role of Genetic Variation."