| | |
| --- | --- |
| AceNotes Today | Thursday, June 16, 2016 |
Retirement reception for Debbie Driggs
Debbie Driggs, prospect specialist in the Office of Admission, is retiring after 20 years of service! The campus community is invited to attend a retirement reception for Debbie today from 2:30-4:00 p.m. in the lobby of the Office of Admission. Please stop by to congratulate Debbie on her retirement.
Rethink Diversity Through Mindshifting Dialogue
Please join the Rethink Diversity Through Mindshifting Dialogue discussion today from noon-1:00 p.m., in Room 272, Schroeder School of Business Building. The topic will be "Just Ask Me: What we know and don't know about gender and sexual orientation." Feel free to bring your lunch!
Please RSVP at lw161@evansville.edu.
This event is sponsored by the Office of Diversity Initiatives.
UE Garden farmers market
This summer's first UE Garden farmers market will take place Friday, June 17, in Ridgway University Center. Produce will be ready for sale at 9:00 a.m. and will include choi, kale, beets (red and Chioggia), beans (yellow and green), zucchini, onions, and collards.
Ohio River Sweep is set for June 18
The annual Ohio River Sweep will be held on Saturday, June 18, from 8:00-11:00 a.m. If you would like to help out at the Evansville location, meet at the Four Freedoms Monument that morning. Wear old, comfortable clothes and shoes or boots that you won't mind getting dirty. Close-toed shoes are also recommended. Trash bags and a limited number of gloves will be provided. If you have work gloves, please bring your own.
For more information, check out the ORSANCO website or UE's Environmental Facebook page.
Summer rental return
Just a reminder that if you rented a book for Summer Session I you can return it to the UE Bookstore upon the completion of your class. If you're off-campus and can't make it to the Bookstore you'll be able to return the book when you come back for fall classes. But it must be returned no later than the first day of fall classes. If you have questions, please call the Bookstore.
Summer II Online: SOC 230- Social Problems
There is still time to register for SOC 230 - Social Problems in the Modern World - Online for Summer Session II. In our increasingly connected society, we need to be equipped to find solutions for a wide range of social problems, and understanding the social conditions and experiences of diverse groups makes us better prepared global citizens. SOC 230 provides an overview of social problems, focusing on major social, economic, political, and environmental issues confronting the modern world, both globally and in the US.
For more information, contact Mari Plikuhn, assistant professor of sociology, at mp168@evansville.edu.
SOC 230 satisfies General Education Outcome 9 and Overlay B.

COMM 380 offered online in Summer II
COMM 380, Intercultural Communication, will be taught online in Summer II, June 20 - July 22. The course fulfills core Outcome 9 and Overlay A (Diversity: International). If you have any questions about the course format contact Dean Thomlison, UE emeritus professor, at dt4@evansville.edu.
UE faculty test National Hockey League prospects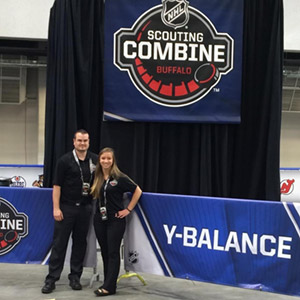 University of Evansville faculty and Sports Residency Program instructors Kyle Matsel and Jenna Gourlay administered the Y Balance Test to professional hockey prospects at the 2016 NHL Combine in Buffalo, NY. The Y Balance Test was developed and extensively researched by Phil Plisky, assistant professor of physical therapy and Sports Residency Program director. The Y Balance Test is used test a person's motor control, as well as to demonstrate functional symmetry. It is used by professional, collegiate, and high school sports teams, as well as military, industry, and researchers worldwide.
Dennis Malfatti and choral students perform at Carnegie Hall
On June 5, Dennis Malfatti, associate professor of music and director of choral activities, conducted a concert at the historic Carnegie Hall in New York City, along with students from UE's choral program.
The concert featured The New England Symphonic Ensemble (an east-coast based professional orchestra), and a chorus of over 120 voices in a program of choral-orchestral works by Mozart and Haydn. The chorus was made up of singers from several different choirs from Indiana, Ohio, Pennsylvania, and Virginia. Thirty students from the UE choral program made up the core of the 120 voices. The 30 singers from UE, representing the UE University Choir, the UE Mixed Choir, and the UE Women's Chorus, began rehearsing in March for this rare opportunity. All the participating choirs, each of which learned the music for the program with their own directors, met in New York City two days prior to the concert for two combined rehearsals as well as a rehearsal with the orchestra all led by Malfatti.
Carnegie Hall is the most famous concert hall in the United States and one of the most famous halls in the world. Nearly every major classical music artist of repute from the last 100 plus years has performed there. This recent performance was the second time Malfatti and students from the UE choral program have been invited to perform on the storied stage of Carnegie Hall, having performed a similar concert in 2011.

Aces Softball notches one of top ten turnarounds in NCAA
With the NCAA softball season officially completed, the University of Evansville has officially finished with the 9th-best turnaround in the country.
The Purple Aces more than doubled their 2015 win total, improving their tally by 14 wins to finish with 24 in 2016. It tied for the #9 jump out of the 295 NCAA softball programs.
"I couldn't be more proud of the effort and fight we saw out of our team this year," Aces head coach Mat Mundell said. "We have a determined group who have worked extremely hard to help build this program. I am excited to see where they can take it."
Picked tenth in the preseason Missouri Valley Conference poll, Evansville came together as a team to post 12 league wins, its highest tally in nine years. It also tied Bradley for fifth place in the league. The turning point of the season came in the fourth inning of game two against Wichita State. UE was 2-8 in MVC play at that point, had lost the first game of the series to the Shockers, was trailing the game 4-0 and had not won an MVC series in three years.
One swing changed the course of the season. With the bases loaded, Morgan Lambert hit a grand slam before Hayli Scott notched the game-winning hit in a 5-4 win. A day later, the Aces won the series with a 3-2 triumph, dealing the eventual MVC champs one of only two conference series losses in 2016.
That was the first of four MVC series wins in a row as the Aces won finished the season winning five of their final six conference series. Coach Mundell and assistants Ashley Balazs and Aubrey Watson garnered MVC Coaching Staff of the Year honors for their work with a young UE team.
Pacing the squad in her first season was MVC Freshman of the Year Morgan Florey. Finishing third in the MVC with a 1.95 ERA, Florey went 16-11. She was also the top power hitter on the team, leading UE with 8 home runs and 26 RBI. She joined Chandra Parr on the All-MVC First Team. For Parr, it marked her second appearance on the list. She batted .306 and knocked in 23 runs in 2016.
Susan Norris also garnered postseason accolades, earning a spot on the All-Defensive Team as she registered a .977 fielding percentage.

Jyawook earns MVC Scholar-Athlete designation
University of Evansville's Josh Jyawook added yet another plaudit to his exceptional senior season on Tuesday as the outfielder was selected to the Missouri Valley Conference Scholar-Athlete Team.
Jyawook, a preseason All-MVC selection, largely lived up to his billing, hitting .352 in conference play and .305 overall on the way to earning a spot on the All-MVC First Team. The Hoffman Estates, Illinois, native turned it up another notch in the conference tournament, posting a .563 average over four games, and he went on to cap his impressive collegiate career with a three-run homer in his final career at-bat for the Purple Aces.
Jyawook also excelled in the classroom, graduating last month with a degree in special education and a 3.42 cumulative grade-point-average. He is the second UE baseball player to take home an academic honor this season, joining Jonathan Ramon, who was named to the CoSIDA Academic All-District squad.
This marks the twentieth consecutive season that the Aces have seen at least one player earn MVC Scholar-Athlete honors.

UE Men's Basketball sees one of top attendance jumps in NCAA
A great season that saw the University of Evansville Men's Basketball team post a 25-9 record also saw the program see a large jump in its average home attendance.
The Purple Aces averaged 5,147 fans at its 16 regular-season home games in 2015-16, a jump of 923 fans from the previous year. That jump was the 26th-best in the NCAA for last season.
"We gained a great deal of positive momentum from our CIT run in 2015 and saw that carry over into last season," UE head coach Marty Simmons said. "Our fans really enjoyed interacting with our players and were able to make a personal connection with them."
"Our players do a great job of connecting to our fans on and off the court and the fans do an awesome job of showing their support," Simmons continued. "That support carried us this season and each year prior. Our fans do a great job of supporting and carrying us throughout the season."
In 16 home games, UE went 13-3 while averaging 5,147 fans per game. That marked the highest average total since the Ford Center opened in 2011. Over the course of its nine Missouri Valley Conference games, the number was even higher as an average of 6,022 fans per game made their way through the turnstiles.
Included in that number was an arena record of 10,034 fans at the January 31 game against Wichita State.
The University of Evansville Athletic Ticket Office is currently taking deposits for NEW season ticket holders for the 2016-17 Men's Basketball season. We are excited to continue to offer our family section (50% off your purchase of at least one adult and one youth season ticket in certain sections), and our young adult section ($50 per seat for new fans age 18-29 in certain sections). Men's Basketball season ticket renewals are slated to go out the week of June 13. For more information or to put down your deposit, please call 812-488-ACES or visit the Carson Center Ticket Office.
UE Softball to hold summer camps
Fresh off of a strong rebound season, the University of Evansville Softball team will host its summer camps in July.
The first will be a Softball Skills Clinic on July 12. It is for grades 9-12 and features three potential focuses including hitting, pitching and catching. The hitting session will cover proper hitting and bunting techniques. The pitching session will teach the fundamentals and drills used at the collegiate level. All pitchers are required to bring their own catcher (catcher must also complete the release and waiver of liability form). The catching session will cover blocking and framing techniques and throwing situations.
On July 19, the program will be hosting the Aces Elite Showcase, which is also for grades 9-12. The first portion of the Elite Showcase will be a college level practice focusing on the fundamentals of hitting, fielding, pitching, and catching. The second portion will be an instructional scrimmage covering all aspects of the game.
Availability for both camps is limited. To sign up or ask any questions, please contact assistant coach Aubrey Watson at aw358@evansville.edu or at 812-488-2919.

Contribute to AceNotes
To have content considered for inclusion in AceNotes, please submit a Marketing Request Form. Deadline for submission to AceNotes is 10:00 a.m. on the requested date of publication. Only articles concerning UE related/sponsored activities will be accepted. Articles submitted to AceNotes may be edited for length and clarity. Submitter contact information is at the end of each article.