| | |
| --- | --- |
| AceNotes Today | Thursday, June 2, 2016 |
Retirement reception for Julia Zuber planned for Friday, June 3
Julia Zuber, student loans clerk in the Office of Student Accounts, is retiring after 22 years of service! The campus community is invited to attend a retirement reception for Julia on Friday, June 3. The event is planned from 2:00-4:00 p.m. in the lobby of Olmsted Administration Hall. Please stop by to congratulate Julia on her retirement.
June health screenings
Employee annual health screenings are June 7, 8, and 9 in the Employee Health Center. Schedule up to two appointments when you sign in to AceLink>Areas>Employee Health Clinics> Wellness Screenings. There is a recommendation for a 12-hour fast because triglycerides are included with the blood fat/cholesterol testing. However, please arrive with no less than an 8-hour fast. Hydration is important when fasting. Water and black coffee are allowed prior to testing.
Join the UE Dragon Boat team
It's not too late to join the UE Dragon Boat team! Stop by the Fitness Center desk today from noon-6:00 p.m. and find out more race day information. Our first time trial will at 9:00 a.m. this Saturday, June 4, at Deaconess Sports Park, located at 6800 North Green River Road in Evansville. Contact la87@evansville.edu for more information.
Federal student tax scam alert
One of the newest tax scams making the rounds is directed at college and university students and involves what's called a federal student tax.
Here is how it works. A call is made directly to a student. The caller has some piece of information that links the student to the call, something like the name of the college or university they attend, or a more personal item, all of which is used to make the call seem more real.
The caller then tells the student they owe a federal student tax, which is something that does not exist, but the caller is very well equipped to make the student believe it does. While the student is trying to understand what the caller is talking about, the caller demands money and wants it wired through untraceable methods. And then, if confronted by the student, the caller makes threats to report the student to the police, the IRS, or whatever agency or person they think will make the student bolt into action and send a payment or provide personal information, both of which should never be done.
So, what to do? Be aware of the federal student tax scam, talk to your kids or grandkids, and understand the best course of action when you or your student gets one of these calls is to just hang up. But that does not always end the process. We are warning students that a caller who has been rebuked may have someone else call again, with an even graver message. However, with the knowledge that the federal student tax does not exist and that the IRS does not make these types of calls (the IRS will send a letter first if anything is owed), students, parents, and grandparents can be more empowered to discuss and handle these situations.
If you or a student you know receives one of these calls, make sure it is reported to the IRS. And, tell your friends; they may be the next targets for this tax scam.
Vanderburgh County Tox-Away Day to be held Saturday, June 4
The 2016 Tox Away Day is Saturday, June 4, from 9:00 a.m.-1:00 p.m. at the Civic Center parking lot located at Ninth and Walnut in Evansville. This program is for Vanderburgh County households only. For more information call 812-436-7800. Help dispose of hazardous materials properly, so they don't end up entering local streams and rivers.
Items accepted include motor oil and filters, oil based paint, automotive batteries and fluids, solvents and thinners, antifreeze, household batteries, pesticides and herbicides, mercury thermometers, household chemicals, fluorescent bulbs, and pharmaceuticals. For a complete list, and for items not accepted, see the Vanderburgh County website, or UE's environmental management Facebook page.

Thursday afternoon golf outings
The employees of the University of Evansville are again invited to play golf with other UE employees on Thursday afternoons during the summer months. The UE golf outings will be on Thursdays at 3:00 p.m. at Fendrich golf course. You can reserve your tee time by contacting Debbie Kassenbrock in the Center for Academic Advising at dk26@evansville.edu by 3:00 p.m. on the Wednesday prior to the outing.
Summer work study jobs available!
Are you interested in earning some extra cash this summer?
There are available summer jobs available through work-study offered by the Office of Financial Aid for UE students. Applications can be found here or in the Office of Financial Aid, Room 116, Olmsted Administration Hall.
Questions regarding job availability should be directed to Catherine Carver at cc204@evansville.edu.
Please renew or consider payroll deductions for fiscal year 2016
The Office of Development is concluding another great fiscal year. Its accomplishments in 2015-16 would not have happened without your help. When employees give, it sends a clear message that we are a community that truly believes in our students and our university. Please consider supporting UE this fiscal year.
The Office of Development encourages you to complete the payroll deduction form by June 24 for a first deduction of July 1. Payroll deduction forms will be dispersed this week.
Contact Jennifer Jacobs at ext. 2021 or jj130@evansville.edu for more information or if you have any questions.
Grant obtained for participation in NASA University student launch initiative
David Unger, professor of mechanical and civil engineering, has received a $5,000 grant from the Indiana Space Grant Consortium to support a UE student team that will design, build, launch, and recover a high powered rocket at a competition sponsored by the Marshall Space Flight Center in Huntsville, Alabama. This competition, which takes place in April 2017, requires the rocket to reach an altitude of one mile while conducting two scientific experiments on board.
Ralph Larmann has painting accepted into national competitive juried exhibition
Ralph Larmann, professor of art, had the painting Suspension Valley accepted into Subliminal: Hidden Messages, a national competitive juried exhibition that is being hosted by the Arts Council of Southeast Missouri in Cape Girardeau, Missouri. Only 35 works were accepted for exhibition by St. Louis juror Ali Cavanaugh. An opening reception and awards ceremony is scheduled for June 3, from 5:00-9:00 p.m. at the gallery, located at 32 North Main Street, in Cape Girardeau. The exhibition will continue at that space until June 30 then move to the Arts Council's new location for the remainder of the show's duration. More information about the exhibition, hours, and the new gallery space is available at artscouncil@capearts.org.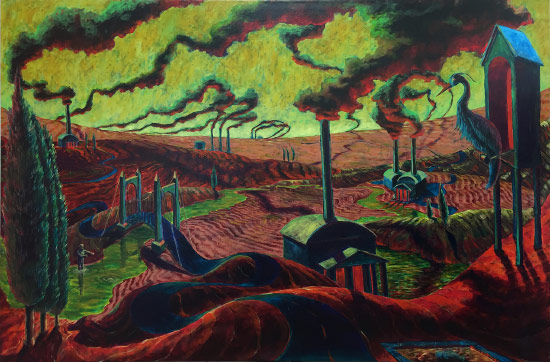 Lora Becker has two appearances in print this week!
Lora Becker, associate professor of psychology and director of the neuroscience program, has two appearances in print this week in rather different sources!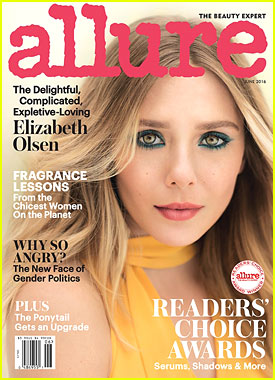 The first is titled "Neurobehavioral toxicity of carbon nanotubes in mice: Focus on brain-derived neurotrophic factor messenger RNA and protein" and is co-authored by Babak Gholamine, Isaac Karimi, Amir Salimi, Parisa Mazdaran, and Becker. It appeared in Toxicology and Industrial Health on May 26. This is part of her ongoing collaboration with Isaac Karimi in Iran.
The second is an article titled "Why so Angry? The new faces of gender politics" that will appear in the June newsstand version of the national fashion magazine Allure. In this article, Becker explains how micro-expressions are expressed by the nervous system and how they can be used to understand reactionary human feelings. This is a result of a collaboration with Noldus.
Gieselman invited to preach in historic pulpit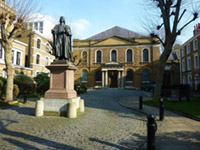 Tamara Gieselman, university chaplain, has been invited to preach at the Mother Church of World Methodism, Wesley's Chapel in London, England, on Sunday, June 5. Superintendent minister Rev. Leslie Griffiths has extended the historic pulpit to Gieselman who will be preaching, "Prophetic Eyes," Isaiah 65: 17 – 25.
Gieselman is currently in residence during the summer session at Harlaxton College teaching living world religions along with colleague and political scientist Robert Dion. Gieselman's husband and UE alumnus Rev. Mitchell Gieselman '78 has been invited to preside over the sacramental table on June 5.
John Wesley and Methodism
John Wesley, the founder of Methodism, built Wesley's Chapel in 1778. The Chapel was his London base and replaced his previous London Chapel, The Foundery, which stood about 200 yards away. The architect George Dance the Younger, who was then the surveyor to the City of London, designed it. Wesley described his chapel as "perfectly neat but not fine." It is one of London's undiscovered architectural jewels and a fine example of Georgian architecture. It was the first Methodist Church to be built specifically for the celebration of Holy Communion as well as for preaching services.
In 1891 the Chapel was transformed to commemorate the centenary of Wesley's death. Marble pillars were donated from Methodist churches around the world to replace the original pillars made from wooden ships' masts donated by George III. New pews were also added, and the stained glass was installed around this period.
In 1972 the Chapel was found to be structurally unsafe and was temporarily closed. Between 1972 and 1978 nearly £1 million was raised to save the Chapel from demolition and restore it to its former glory. On November 1, 1978, exactly 200 years after Wesley opened the Chapel, the restored building was re-opened in the presence of Queen Elizabeth II and the Duke of Edinburgh.
Wesley was an Anglican clergyman born in his father's parish at Epworth, England. After an education in Charterhouse School and Christ Church College Oxford, he entered a period of self-questioning and spiritual searching. This took him to Georgia in America. Shortly after returning to England, Wesley experienced a conversion at Aldersgate Street (London) in 1738. His heartwarming experience is commonly agreed to mark the formal beginning of his evangelistic ministry.
Birth Announcement - Isabella Louise Riffert
Liz Riffert, assistant director for alumni and parent relations for career development, and her husband Charles are pleased to announce the arrival of Isabella Louise Riffert, born May 20 at 10:34. She weighed six pounds and 14 ounces and was 20 inches long. She joins her proud big brother Jimmy.
Global Scholars for the 2016-17 academic year
The Institute for Global Enterprise is pleased to announce the Global Scholars for the 2016-17 academic year. Congratulations to Jeffrey Braun, department chair and professor of physics; George Iber, professor of education; Richard Maass, assistant professor of political science; Valerie Milholland, adjunct professor of art; and Gail Vignola, academic director of the Writing Center. Each Global Scholar will receive a stipend and travel allowance.
Visit this website to read a brief description of each project.
As Global Scholars, the recipients of this award will engage in scholarship, curriculum development, and activities related to preparing our students and community for global leadership, citizenry, and success. The Global Scholars program is supported by the John H. Schroeder Global Scholar Endowed Fund and the Lilly Endowment.
Department of Art wishes Carol Arney well in retirement
Carol Arney, Department of Art administrative assistant, will be retiring on June 10. After 26 years at the University, she will be immensely missed. The Department of Art faculty members, both present and past, celebrated her retirement with dinner at Biaggi's and presented her with gifts in appreciation of her devotion to art. The department wishes that all the years ahead bring her great joy and relaxation!
Men's basketball Shooting Skills Camp set for this weekend June 3-4
This weekend, June 3-4, the University of Evansville Men's Basketball program will host a Shooting Skills Camp. It will be held at the Fifth Third Bank Basketball Practice Facility on the UE campus.
The camp is for kids entering grades 1-12 and runs from 9:00 a.m. until 4:00 p.m. on both days.
The Shooting Skills Camp will focus on fundamentals and technique of becoming a better shooter. Campers will receive a t-shirt, basketball, and lunch.
Registration on Friday begins at 8:00 a.m. For more information, please contact Kavon Lacey at 812-488-2757 or at kl82@evansville.edu.

Contribute to AceNotes
To have content considered for inclusion in AceNotes, please submit a Marketing Request Form. Deadline for submission to AceNotes is 10:00 a.m. on the requested date of publication. Only articles concerning UE related/sponsored activities will be accepted. Articles submitted to AceNotes may be edited for length and clarity. Submitter contact information is at the end of each article.