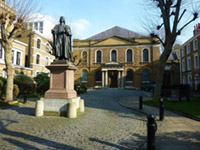 Tamara Gieselman, university chaplain, has been invited to preach at the Mother Church of World Methodism, Wesley's Chapel in London, England, on Sunday, June 5. Superintendent minister Rev. Leslie Griffiths has extended the historic pulpit to Gieselman who will be preaching, "Prophetic Eyes," Isaiah 65: 17 – 25.
Gieselman is currently in residence during the summer session at Harlaxton College teaching living world religions along with colleague and political scientist Robert Dion. Gieselman's husband and UE alumnus Rev. Mitchell Gieselman '78 has been invited to preside over the sacramental table on June 5.
John Wesley and Methodism
John Wesley, the founder of Methodism, built Wesley's Chapel in 1778. The Chapel was his London base and replaced his previous London Chapel, The Foundery, which stood about 200 yards away. The architect George Dance the Younger, who was then the surveyor to the City of London, designed it. Wesley described his chapel as "perfectly neat but not fine." It is one of London's undiscovered architectural jewels and a fine example of Georgian architecture. It was the first Methodist Church to be built specifically for the celebration of Holy Communion as well as for preaching services.
In 1891 the Chapel was transformed to commemorate the centenary of Wesley's death. Marble pillars were donated from Methodist churches around the world to replace the original pillars made from wooden ships' masts donated by George III. New pews were also added, and the stained glass was installed around this period.
In 1972 the Chapel was found to be structurally unsafe and was temporarily closed. Between 1972 and 1978 nearly £1 million was raised to save the Chapel from demolition and restore it to its former glory. On November 1, 1978, exactly 200 years after Wesley opened the Chapel, the restored building was re-opened in the presence of Queen Elizabeth II and the Duke of Edinburgh.
Wesley was an Anglican clergyman born in his father's parish at Epworth, England. After an education in Charterhouse School and Christ Church College Oxford, he entered a period of self-questioning and spiritual searching. This took him to Georgia in America. Shortly after returning to England, Wesley experienced a conversion at Aldersgate Street (London) in 1738. His heartwarming experience is commonly agreed to mark the formal beginning of his evangelistic ministry.