| | |
| --- | --- |
| AceNotes Today | Tuesday, April 26, 2016 |
This Week in Music: Gumberts Recital
The Department of Music will conclude its concert offerings for the academic year in Wheeler Concert Hall this evening, April 26, at 7:30 p.m., with the thirty-eighth annual Gumberts Award Recital. Each year, the Gumberts Award Recital features the best performers among the senior class as selected by the department faculty. This year, the performers are Ian Murrell (baritone voice), Laura Silvestain (trumpet), and Payton Judd (soprano voice). The three seniors will perform a wide range of works from the classic to the modern era, including selections by Joseph Haydn, W. A. Mozart, Claude Debussy, Richard Strauss, Ralph Vaughan Williams, and Maurice Ravel. A panel of judges from outside the department will evaluate their performances and select this year's award recipient. The concert is free and open to the public.
ESPN3 informational session today at 5:00 p.m.
Are you interested in learning more about UE's new ESPN3 initiative? Do you want to be a part of the crew next fall? Stop by Room 113 in Carson Center today at 5:00 p.m. for a quick informational session on everything involved with ESPN3. No prior experience is necessary, and positions both in-front of and behind camera are available. For more information, please contact Tom Benson in the athletics department via e-mail at tb39@evansville.edu. ESPN3's first event in the fall begins August 26, so don't miss out.
Reception for Anna Jessen and Calvin Wertman today
Please join us today for a reception for Anna Jessen and Calvin Wertman in the Student Life Lobby on the second floor of Ridgway University Center between 12:30 and 2:30 p.m. Refreshments will be provided.
Anna and Calvin will be leaving the University after numerous years of service as residential coordinators in the Office of Residence Life. Anna started work here in 2006 and served as a residential coordinator in Hughes Hall. Calvin started work here in 2009 and served as a residential coordinator in Hale Hall.
Pancake Study Break is tonight!
Enjoy pancakes with some of your favorite Aces at today's Pancake Study Break, from 10:00 p.m.-midnight in the dining hall in Ridgway University Center. There will also be door prizes, music, and fun! This event is free of charge to UE students. A UE ID is required.
Festival of Faiths to include meditation, cuisine, worship, and #MyJIHAD
Get your yoga on! Learn Buddhist chanting! Experience Islamic prayers, learn more about the Christian tradition! The Evansville community is invited to experience the Festival of Faiths in three phases this weekend, April 30-May 1 in Eykamp Hall, Ridgway University Center; and Neu Chapel.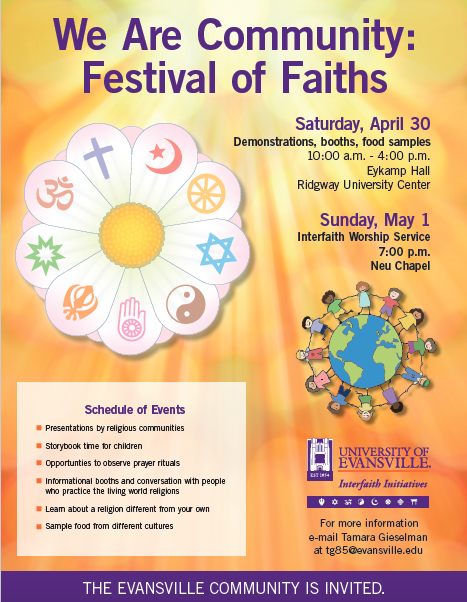 Phase I: Saturday, April 30, 10:00 a.m.-4:00 p.m. Eykamp Hall and the second floor of Ridgway University Center will host informational booths, cuisine samplings, prayer and worship demonstrations, adult and kids' yoga, story-time and craft-time for kids, and much more! Detailed schedule of events can be found by clicking the Facebook page link below.
Phase II: Sunday, May 1 at 5:00-6:15 p.m. in Eykamp Hall, Ridgway University Center - Join Omar Atia and David Hayden for a 1:1 straightforward discussion about Islam, Jihad, and their relationship with terrorism. University chaplain Tamara Gieselman will serve as moderator. Omar Atia serves as imam at the Islamic Center of Evansville and David Hayden is a retired English teacher from Memorial High School in Evansville, Indiana.
Phase III: Sunday, May 1, 7:00 p.m., in Neu Chapel - Join the Evansville interfaith community for an inclusive service of prayers and reflections as we bring the Festival of Faiths to a close and approach the National Day of Prayer. The service will last about one hour. All are welcome.
For more information, check out our Facebook event pages.
Participants in Ride for World Health to speak today
Participants in the Ride for World Health 2016 cross-country bicycling journey to raise awareness of global health issues will be speaking today from 3:00-4:00 p.m. in Room 334 in Graves Hall. Please check out their website here and join them for their presentation!
Welcome reception for Harlaxton faculty
The Harlaxton Society is sponsoring a reception for Harlaxton faculty and administrators visiting the University of Evansville Spring Commencement. Everyone is invited on Friday, May 6, from 2:00-4:00 p.m. in Dunigan Lounge in the Schroeder School of Business Building. Please join us in welcoming Amber Pouliot, Edward Bujak, Jerry Seaman, and Patricia Vilches.
Obsolete electronics recycling event on April 27
There will be an obsolete electronics recycling event on April 27 from 10:00 a.m.-1:00 p.m. on the drive that loops around Hale Hall.
Students and employees (faculty, administrators, and staff) can bring the following personal, obsolete electronic equipment to be recycled at no cost:
• LCD displays, LCD TVs and LCD monitors, computers, printers, fax machines, laptops, cell phones, PDAs, cables, circuit boards, connectors, electrical equipment, audio video equipment, DVD players, stereos, radios, calculators, speakers, and VCRs. Small quantities of batteries will be accepted.
The following items will not be accepted:
• CRT TVs and CRT computer monitors
• Fluorescent light bulbs (including compact bulbs), refrigerators, freezers, microwaves, stoves, vacuum cleaners, dehumidifiers, leaking batteries and any other items.
• Electronics owned by the University.
Note – the cost of processing CRT TVs and CRT computer monitors has increased significantly, and the University is no longer able to cover these items. However, these items may be brought to C&I Electronics, located at 1700 North Lafayette Avenue in Evansville, on Monday–Friday, from 9:30 a.m.–4:30 p.m. The cost will be 35 cents per pound.
For more information or questions contact Jan Schrader at js652@evansville.edu or ext. 2697.
Free paper shredding on Wednesday, April 27
Free off-site paper shredding by Piranha Mobile Shredding will return to campus once again on Wednesday, April 27 (Reading Study Day) from 10:00 a.m.-1:00 p.m. All UE students, faculty, staff, and alumni can take advantage of this free service by bringing paper to the Piranha truck in Koch Center for Engineering and Science parking lot. Paper will be shredded off-site.
So, if mounds of paper are taking over your office, home, or room, this is the time to gather those old files, receipts, cancelled checks, tax forms, etc. No need to take out the staples or paper clips. Avoid identity theft by having confidential information permanently destroyed.
Please - no telephone books, magazines, or newspapers. Also, please note that there is a 100 pound paper limit per visit (number of visits is not limited).
Last call for official transcripts
Any current student needing their official transcript must submit an order no later than 5:00 p.m. on Wednesday, April 27. Orders placed after this time will not be processed until Tuesday, May 10. No exceptions!
You can place your order through: www.getmytranscript.com.
If you have any questions, please contact the Office of the Registrar.
Donna Schmitt receives Staff Employee of the Year award
Donna Schmitt, administrative associate for the Center for Career Development, was presented with the Employee of the Year Award by President Kazee at the Staff Recognition Dinner on Wednesday, April 21. Donna exemplifies servant leadership and consistently maintains a student-focused attitude. She is an exceptional representative of the Center for Career Development, Student Life, and UE overall.
Congratulations, Donna. And thank you for your service to UE.
Other staff employees recognized at the annual dinner were:
5-Year Service Award
Ricky Bethe – Facilities Maintenance
David Van Landingham – Administrative Services
Anne Dale – Administrative Services
10-Year Service Award
Levi Grant – Facilities Maintenance
Kenneth McGinnis – Facilities Maintenance
Carleen Barnes – Student Accounts
Lisa Cresci – Facilities Maintenance
Rosanne Thomas – Office of Development
15-Year Service Award
Susan Walter – University Libraries
Francis Enzler – Academic Advising
Julie Yunker – Employee Medical Clinic & Student Health Center
20-Year Service Award
Doug Cook – Safety & Security
Deborah Riggs – Safety & Security
25-Year Service Award
Carol Arney – Department of Art
Lynda Schneider – Residence Life
Retirement recognition was presented to Chris Lechner (University Libraries) March 2016; Carol Arney (Department of Art) June 2016; and Julia Zuber (Student Accounts) June 2016.

High school students visit UE
Fifteen high school students from North, Central, and Harrison visited UE on April 19. Heidi Strobel, associate professor of art history, helped them prepare for their upcoming AP art history exam. James MacLeod, professor of history, and Alan Kaiser, professor of archaeology, spoke to the students about their recent publications, Evansville in World War II and Archaeology, Sexism, and Scandal: The Long-Suppressed Story of One Woman's Discoveries and the Man Who Stole Credit for Them.
Stone breakers
As part of a belated celebration of Earth Day, the flagstone path leading to the Peters-Margedant House was dug up on Sunday, April 24, and stored in preparation for the house's move to campus.
Associate professor of art history Heidi Strobel, chair of the creative writing department Paul Bone, community activist Jim Renne, architect Adam Green, Signature High School student and Browning-Miller intern Bridget Gismondi, members of UE's Society of Archaeology and the History of Art, as well as members of the Sigma Phi Epsilon fraternity participated in this earth-moving event.
Architect William Wesley Peters, who attended Evansville College in the late 1920s, designed the Peters-Margedant House in 1934 for a family member. He did this while on hiatus from his work as architect Frank Lloyd Wright's chief apprentice. The Peters-Margedant House, a very early example of Usonian architecture, is currently located at 1506 East Indiana Avenue.
Fitness Center finals week hours
Wednesday, April 27 - Friday, April 29: 8:00 a.m.-7:00 p.m.
Saturday, April 30 - Sunday, May 1: 11:30 a.m.-5:30 p.m.
Monday, May 2 - Friday, May 6: 8:00 a.m.-7:00 p.m.
Saturday, May 7 - Sunday, May 8: Closed
Open Swim: 11:00 a.m.-1:00 p.m. (Pending guard availability)
Housing extended stay requests
UE Housing facilities will close at noon on Thursday, May 5; however, all students are asked to depart from housing within 24 hours of their last exam. Those students needing to stay past the posted closing date, including graduating seniors, should submit an extended stay request. The extended stay requests will be accepted up until 5:00 p.m. on Reading and Study Day, Wednesday, April 27.
UE ASCE Student Chapter receives national recognition
University of Evansville's ASCE Student Chapter has been selected by the Committee on Student Members to receive the Certificate of Commendation for its outstanding activities as recorded in the 2015 Chapter Annual Report. This is a distinction earned by only the top 5% of all student organizations. ASCE has more than 350 student chapters from all across the world.
Our ASCE student chapter participated in a variety of activities, from community service projects and professional meetings to social events. Stuart Watson (president), Alejandro Mojica Cadario (vice president), Jaclyn Altstadt (secretary), and Hannah Kirk (historian) served as chapter officers in 2015. Immanuel Selvaraj and James Allen, associate professors of civil engineering, serve as the faculty advisors.

Senior Joy Grace Chen wins prestigious writing award
Please join the creative writing faculty in congratulating senior Joy Grace Chen on winning the Norton Writer's Prize, a national competition that is awarded annually for an outstanding essay written by an undergraduate. Chen's essay Fermentation took first place, and the judges admired her "use of form, tone, attention to sensory language, dialogue, and pacing." One judge wrote, "Each vignette adds to the author's ability to finally see the truth of her parents' world—and her own truth—for what they are." This is an incredibly competitive award, which comes with a cash prize, publication, and serious bragging rights. Way to go, Joy Grace!
Rick Voyvodic in top ten at MVC Championship
Senior Rick Voyvodic is tied for tenth place as the University of Evansville Men's Golf team wrapped up the opening day of the Missouri Valley Conference Championship at Prairie Dunes Country Club.
Monday's action featured two rounds of play as the Purple Aces ranks in a tie for sixth place on the leaderboard. Today, the squads will play the final round.
Voyvodic opened the day with a 75 before recording a 2-over 72 in the second trip around the course. His score of 147 ranks in a tie for tenth place. Pacing the individuals is Southern Illinois's Peyton Wilhoit. He carded a 2-under 68 in the first round before his score of 73 set him on top with a 141. He leads Illinois State's Trent Wallace by two strokes and Grant Bennett of Wichita State by three.
Second on the UE squad was Tyler Gray. Following a 76 to begin play, Gray posted a 2-over 72 to finish the day with a 148. He is tied for twenty-fourth place. Three behind him in a tie for twenty-third is Will Knights. His round of 74 and 77 gave him a 151 for the day.
Wil Pahud is in 36th place. He started the opening round with a 75 before notching an 80. Joseph Addante completed the lineup for the Aces with rounds of 79 and 82 on his way to a 161.
Evansville is tied for sixth place with Drake as each has a score of 601. The Aces are within striking distance of the top five as Bradley finished the day with a 599. SIU leads the way on the team side with a 582. The Salukis are five ahead of Wichita State and seven strokes ahead of a third-place tie between Illinois State and Missouri State.
Today's final round of play will begin at 8:30 a.m.
Florey picks up fourth Newcomer of the Week Award
For the fourth time this season and second week in a row, University of Evansville freshman pitcher Morgan Florey has been named the Missouri Valley Conference Newcomer of the Week.
Florey had another strong week in the circle as she picked up four victories while notching an ERA of 1.70 over 24 2/3 innings of work. She struck out 20 batters while walking just six. In what has been the best game of her young career at UE so far, Florey opened up Tuesday's doubleheader at SIU with a complete game 1-hitter as the Purple Aces earned a 1-0 win. In game two against the Salukis, Florey went right back to work, entering the game in the third with the contest tied at 2-2. She threw the final 4.2 innings, giving up just three hits and striking out seven before the offense pushed the winning run across in the 6th.
The Peoria, Illinois, native threw another complete game in the second game of Saturday's doubleheader at Indiana State, going five innings while giving up two runs. On Sunday, she came in and threw four innings of relief once again as UE scored twice in the seventh to clinch the series. Her four wins this week brought her season win total to 15. At the plate, she hit .267 with a home run, four RBIs and a pair of runs scored.
This weekend, Florey and the Purple Aces will be back in action as they are set to host Missouri State in a 3-game set at Cooper Stadium on Saturday and Sunday.

Today's softball game against SIU rescheduled
Today'sscheduled softball game featuring the University of Evansville and Southern Illinois has been rescheduled due to the inclement weather that has been forecasted for the Evansville area.
The game will now take place on Wednesday, May 4 with a 5:00 p.m. start at Cooper Stadium. Prior to the game, the student-athletes will be recognized for their record community service work this season.
With the postponement, the Purple Aces next action will now be on Saturday and Sunday for a 3-game set against Missouri State. Saturday's action begins with a noon doubleheader with Sunday's final game also slated for noon..
Contribute to AceNotes
To have content considered for inclusion in AceNotes, please submit a Marketing Request Form. Deadline for submission to AceNotes is 10:00 a.m. on the requested date of publication. Only articles concerning UE related/sponsored activities will be accepted. Articles submitted to AceNotes may be edited for length and clarity. Submitter contact information is at the end of each article.