| | |
| --- | --- |
| AceNotes Today | Friday, April 15, 2016 |
Photographer on campus
Office of Marketing and Communication will have a photographer on campus for a photo shoot Wednesday, April 13, through Friday, April 15. UE students and faculty have always been very cooperative and accommodating during previous shoots. As a result, many great photos have been taken for UE publications. Kim McDonald will try to notify faculty in advance if photos will be taken in a particular class; however, weather often can force the shoot inside, and it is possible that last minute requests will be made. If faculty members know that they will be giving a test or do not wish to have their class photographed any of these days, please inform Kim McDonald at ext. 2683 and the classroom will be avoided.
Catholic Mass on Sunday!
All are welcome to join us for our weekly Sunday Mass at 1:00 p.m. in Neu Chapel. Fr. Godfrey Mullen, OSB, from St. Benedict Cathedral will be here to celebrate with us, and our seminarians will be here as well. We hope to see you there!
Please call or text Kristel at 812-760-8610 for more information!

UE Muslim prayer room to be dedicated Friday, April 15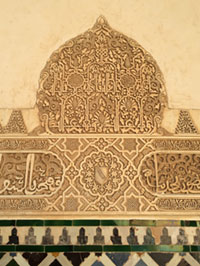 The UE campus community is invited to the dedication ceremony for the newly renovated Muslim prayer room in the lower level of Neu Chapel, on Friday, April 15 at 4:00 p.m. Students, President Kazee, Imam Omar Atia, University Chaplain Tammy Gieselman, and other interfaith partners will lead the dedication. Refreshments will follow the event. The public is invited to attend what is sure to be a wonderful celebration! For more information, e-mail tg85@evansville.edu.
Documentary Where to Invade Next to be shown on campus on April 20
There will be a screening of the new documentary Where to Invade Next at 7:00 p.m., on Wednesday, April 20 in Room 126, Hyde Hall. This event, which is presented by the UE Library and the UE College Democrats, is free and open to public. Invite your friends, neighbors, and coworkers to attend!
This documentary by filmmaker Michael Moore is a satirical and comedic exploration of contemporary social issues in the United States. The film shows Moore going to other countries to "invade" and "steal" their ideas for creatively solving issues such as health care, education, work, and equality.
Questions? E-mail lm184@evansville.edu or go here to find out more.
The annual Bike Race is planned for this Saturday!
Come on out to watch the 53rd annual Bike Race this Saturday, April 16!
• The women's race is set for 9:30 a.m.
• The men's race is set for 12:30 p.m.
There will be free food and drinks!
Reminder -the Fitness Center will be closed all day Saturday, due to the Bike Race.
Final #readingseries of the semester - April 15
Please join the folks in Creative Writing this Friday, April 15, at 4:00 p.m. at The Slice for the spring semester's final #readingseries. This student reading will feature flash fiction from Amy Hopperton and nonfiction from Kelly Danahy and Emily Hughes. The reading will start promptly at 4:00 p.m., so if you're looking to enjoy some delicious pizza while you're there, please arrive early as The Slice can be charmingly slow. Hope to see you all there!
NSLS Spring 2016 induction ceremony
The NSLS Spring 2016 induction ceremony is planned for Monday, April 18, 6:30-7:30 p.m., in Eykamp Hall, Room 252, Ridgway University Center. This is a celebration for those members who have completed the steps of the program. A reception will follow the ceremony.
Summer housing
Are you staying in Evansville over the summer? If so, Residence Life is offering summer housing in Powell Residence Hall. You can find more information about summer housing online here.
Stop by the Office of Residence Life to pick up your summer housing application. Applications are due April 22
Venturing Crew executive board applications
Apply to be part of Venturing Crew's executive board! Elected positions include president, vice president of administration, vice president of outings, vice president of activities, treasurer, and quartermaster. Applications can be found here.
This is a great way to be more involved with the Crew, increase leadership skills, and meet interesting people! Please submit applications or questions to Alex Schmitt at as564@evansville.edu.
All applications are due by 5:00 p.m. on Tuesday, April 19! An informal interview process will be conducted between the date of application and April 21. Please consider becoming a part of the Venturing Crew executive team!
Give Back Night for the Kids!
College Mentors for Kids is an organization on campus that pairs college students with the most to give with young children who need it the most. We meet every Wednesday with 40 students in grades 1-5 at Joshua Academy, providing them with a role model and education on college, diversity, and community service. These students come from very low-income households and are in need of the assistance and friendship they receive through our nationally recognized program. College Mentors For Kids runs purely on donations.
Help us keep the UE chapter thriving by using this voucher at Azzip Pizza on Green River Road on Wednesday, April 20. Get some grub and help the kids. They will greatly appreciate it.
Housing extended stay requests
UE Housing facilities will close at noon on Thursday, May 5; however, all students are asked to depart from housing within 24 hours of their last exam. Those students needing to stay past the posted closing date, including graduating seniors, should submit an extended stay request. The extended stay requests will be accepted up until 5:00 p.m. on Reading and Study Day, Wednesday, April 27.
Procedure for summer travel expenses and membership dues
Traveling this summer on UE business with a return date after May 31? Paying membership dues for next fiscal year prior to May 31? If you pay for any of these expense before May 31, you will need to contact Lori Harriss (lh177@evansville.edu) in the Office of Accounting and Audit.
If you use WebAdvisor to create a web voucher, you will need to ask for the prepaid account number to be added to your choices.
If you use your Pcard prior to May 31 to pay for next year's travel or membership dues, you will need to email the following information:
Vendor name
Date of purchase on Pcard
Dollar amount charged to Pcard
Description and purpose of purchase
Account number charged for purchase
These expenses will be charged to your 2016-17 budget funds.
Important mail notice for students living in UE housing
The last day for mail delivery and pick-up by UE mail services for all students living in UE housing will be Wednesday, May 4. Students are asked to review the Office of Residence Life website's On-Campus Services - Mail Services link prior to departure from UE campus. Also, students are strongly encouraged to contact financial institutions directly regarding mailing address changes. Please note that UE is not responsible for fines or penalties due to delayed mail delivery.
Those anticipating packages shipped via couriers (FedEx, UPS, DHL, USPS, etc.) that may arrive after their departure, should contact UE mail services to make arrangements to pick-up these items prior to leaving UE. Please note UE mail services will not be able to forward items.
Please contact UE mail services with questions or concerns via e-mail at mailservices@evansville.edu or phone 812-488-2197.
Department of English selects Grabill and Klinger writing award winners
At its annual literary conference Chutney, the Department of English presented the 2016 Virginia Lowell Grabill and George Klinger Writing Awards.
The third-place Grabill Award went to Sydney Blessinger for her paper, "A Dynamic Eve: Milton's Female Perception in Paradise Lost."
The second-place Grabill Award went to Alex Gallo for her paper, "The Role of Nature in King Lear."
The first-place Grabill Award went to Danielle Gillespie for her paper, "The Mabinogion in Modern Literary Fantasy."
The George Klinger Award for an outstanding academic research paper went to Peter Orkiszewski for his essay, "A Feminist Account of Caryll Churchill's Vinegar Tom."
Crescent Magazine, LinC win state awards
Crescent Magazine was named the Indiana Collegiate Press Association's News Magazine of the Year at the organization's annual conference April 9 at IUPUI. The Crescent beat such schools as Notre Dame, Indiana, and Ball State to earn its first-ever News Magazine of the Year award.
Individual staff members, including seniors Toby Kuhnke, Marisa Patwa, Keziah Colleton, Troy Burger, Ryan Murphy, Lelia Dant, and Annie Taylor, also won awards in various categories.
The LinC won the organization's Yearbook of the Year award in the Division II category for the sixteenth consecutive year for its 2015 edition, Let's Face It.
Individual staff members, including senior Mackenzie Bruce and juniors MaKayla Seifert, Kayla Seifert, Brittany McFadden, and Taylor Williams, also won awards in various categories.
Eligible students may pick up their copy of the 2015 LinC until May 6 in Student Publications, Ridgway University Center, second floor.
Winner chosen for Student Art Exhibit's 2016 People's Choice Award
The Annual Student Art Exhibition is over and the votes have been tabulated! The Department of Art is pleased to announce that the winner of the 2016 People's Choice Award is Madison Daniels. Madison's winning piece was titled "The Puppet of Rolling Emotions" and is a mixed media sculpture. Madison is a sophomore from Newburgh, Indiana, majoring in pre-art therapy.

Please join the Department of Art faculty, staff, and students in congratulating Madison on her award.
Thank you to everyone who visited the Melvin Peterson Gallery during the exhibition and cast a vote for their favorite piece of artwork
PT students, alumni, and sports residents help high school athletes prevent injuries
UE PT students and sports residents recently performed injury prevention screenings at a local high school. The screenings benefit athletes at risk of injury and assist them in implementing a program to correct movement dysfunctions and decrease risk of injury. The team was led by UE PT professors Kyle Kiesel and Bethany Huebner; UE/ProRehab sports residents Sam Callahan and Danielle Honnette, and UE alumni Kyle Matsel, Franny Matsel, Kim Moors, and Paul Gorman; and first year DPT students Jessika Volz, Ben Johnson, and A.J. Herrmann.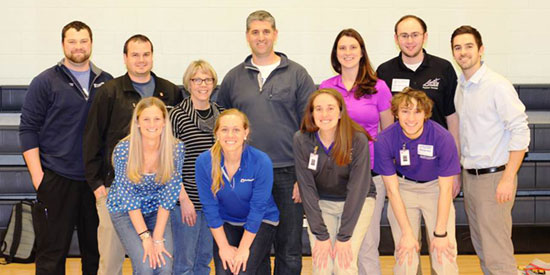 Knoester presents two papers at American Educational Research Association
Assistant professor of Education Matthew Knoester presented two papers on April 11 in Washington, D.C. at the annual meeting of the American Educational Research Association (AERA). The first paper was entitled "Astronomical Inquiries" and was part of a panel entitled "Interdisciplinary School-wide Learning: Practitioner Inquiries into the Impacts of Multiage Themes on Student Learning and School Culture." The second paper took the form of a poster and was entitled "Standardized Testing and School Segregation: Like Tinder for Fire?" It contributed to a session entitled "The Complexity and Multiple Spaces of Social Justice in Action."
Sympathy to Don Jones and Family
Condolences to Don Jones, vice president of marketing and communications, and family after the passing of his father, Donald "Ray" Jones. Services will be held at Alexander Funeral Home in Newburgh. The visitation will be held on Monday, April 18, from 4:00-8:00 p.m., and the funeral service will be at 11:00 a.m. on Tuesday, April 19.
Gifts can be made to Autism Speaks at www.autism-society.org/ or the VFW at www.vfw.org or flowers may be sent from Zeidler's in Newburgh at www.zeidlers.com/.

Pep and Vim Wrap Up
Good morning and happy PURPLE Friday!
As Philanthropy Week comes to a close, we wanted to thank everyone on campus who participated in some capacity to make this week one to remember.
The energy on campus yesterday was outstanding! With your assistance, we blew our goal of 500 gifts away! There were so many gifts we are still counting.
UE's Pep and Vim Annual Day of Giving is over, but please do not let your connection to campus end there. Please attend a lecture, a theatre production, a sporting event. Volunteer your time as a mentor to a current student. Assist with campus events like the UE Pancake Study Break on Tuesday, April 26, from 10:00 p.m. to midnight.
Once again, thank you for your support of our beloved University of Evansville.
Evansville, All Hail To Thee, True and Loyal We Will Be,
We Will Fight, Fight, Fight With All Our Might,
Cheering With Pep And Vim For White And Purple!
And With Every Victory, Our Hearts With Praise Will Fill.
And We'll Back You With A Rah! Rah! Rah! All Hail To Our Evansville!
Don Apple earns Heart of UE Award
One of the most active supporters to the University of Evansville and the Department of Athletics has been recognized for his efforts as Don Apple was given one of the most prestigious awards handed out annually at UE.
The Heart of UE Award is given to honor an individual who embodies the spirit of the University of Evansville through philanthropy, volunteerism, and scholarship. Acting as the centermost livelihood of the University, this award celebrates an individual that believes in and exemplifies the vision and core purpose of the University of Evansville.
"Don Apple's love for his alma mater and amazing dedication to volunteering and philanthropy has and continues to support and enhance countless number of Aces students. UE Athletics is in debt to his dedication," said Lance Wilkerson, UE's senior associate athletic director.
A more than deserving candidate, Apple has been an incredible ambassador for his alma mater and community. The president of the Purple Aces Club has served three different terms that have spanned over two decades. His efforts in that position have helped to raise hundreds of thousands of dollars for UE student-athlete scholarships.
His support has spanned over all of the Purple Aces programs. From helping at cross country to spotting at the women's golf tournament to passing out information at the Ford Center before basketball games, his contributions have been endless.
UE Volleyball announces new signees
University of Evansville head volleyball coach Manolo Concepcion has announced the signing of five student-athletes to play for the Purple Aces next season. Included in the class are: Deja Clark, Erlicia Griffith, Taylor Jones, Elane Shumway, and Rachel Hin Ching Tam.
Clark and Shumway come to Evansville from Pickerington, Ohio, where they each played for Mintonette Sports and for the same high school (Pickerington North). Clark, a 6'0'' outside hitter/opposite was the 2016 Ohio Capital Conference Co-Player of the Year and was also 1st Team All-District and All-Conference as a hitter. Shumway is a 6'3'' middle who is known for her defensive capabilities in the net.
"The inclusion of Deja in our program adds athleticism, speed, and offensive presence. She has a reach of over 10 feet and is built to play in a fast-pace offense," Concepcion said. "We look forward to her immediate impact in our scoring capabilities."
"Elane has the wingspan of a 6-5 athlete with the ability to improve our blocking. I have seen her progress offensively throughout this club season, especially in transition; something we were looking for at her position," Concepcion added. "The fact that Deja and Elane have played together for so long will allow their combination to sync right away."
Griffith, a 6-3 right side, is a native of Wharton, Texas. She is transferring from NJCAA Nationally Ranked San Jacinto College (#18), where she was a 2nd Team All-District player and was one of the main reasons that her team finished seventh in the nation in block assists.
"Erlicia will enhance our defense on the right side of the net as well as add charismatic leadership skills to our young team," Concepcion explained. "She fits perfectly with our team culture and comes from a junior college powerhouse that has had a winning tradition for a long time."
Originally from Hong Kong, China, Rachel Tam is the current captain for the Youth and Junior Hong Kong National Team as a 5'9'' outside hitter, as well as for St. Catharine's School for Girls. She played Division 2A in China where her team won the championship of the Kowloon and Hong Kong Island District Schools. She has also represented her country with the Beach Volleyball National Team.
"Rachel is an engaging, hard-working kid with great international experience," Concepcion said. "Her smart game and out of system problem solving skills were two aspects that caught our attention. She is an emotionally intelligent student of the game that will impact our program in the long run."
Taylor Jones is a native of Winamac, Indiana. where she was a 4-year letterwinner as a 5-7 Setter. She led her team to a sectional title and was a 3-time Midwest Conference First Team player and also served as a team captain for three seasons. She is the current captain for Epic United Volleyball Club (17-Elite ROX).
"Taylor is a fast-pace setter with the ability to run the system that we want to establish in the future or our program," Concepcion said. "She compensates her height with her explosiveness, quick hands, and set precision/location. It will be great to have more depth in that position for years to come."
Contribute to AceNotes
To have content considered for inclusion in AceNotes, please submit a Marketing Request Form. Deadline for submission to AceNotes is 10:00 a.m. on the requested date of publication. Only articles concerning UE related/sponsored activities will be accepted. Articles submitted to AceNotes may be edited for length and clarity. Submitter contact information is at the end of each article.