| | |
| --- | --- |
| AceNotes Today | Thursday, April 14, 2016 |
Pep and Vim Day of Giving update
Thank you to all of you who have already given a gift today! We are approaching 200 gifts in our quest of 500 gifts today.
If you haven't given today, please considering participating and have your gift count toward our goal. You can donate here or call the Office of Development at ext. 2021, and we will personally pick up your gift at your office.
Remember - if we reach our goal of 500 gifts, the Alumni Board will give an additional $10,000! All gifts count, big or small.
#UEPepandVim

Photographer on campus
Office of Marketing and Communication will have a photographer on campus for a photo shoot Wednesday, April 13, through Friday, April 15. UE students and faculty have always been very cooperative and accommodating during previous shoots. As a result, many great photos have been taken for UE publications. Kim McDonald will try to notify faculty in advance if photos will be taken in a particular class; however, weather often can force the shoot inside, and it is possible that last minute requests will be made. If faculty members know that they will be giving a test or do not wish to have their class photographed any of these days, please inform Kim McDonald at ext. 2683 and the classroom will be avoided.
Benefit open enrollment meetings
During the period of April 11 through April 22, benefit-eligible employees may enroll or make changes in the University's health, voluntary term life, dental, and ACES flexible spending account benefit plans. It is the only chance for benefit-eligible employees to enroll or make changes until the next open enrollment period unless you have a qualifying change in status. You may also consider enrolling in the University's group life and long term disability insurance plans, if you haven't done so already, subject to evidence of insurability.
Please review the documents in the open enrollment section beginning with the open enrollment memo, for important announcements, reminders, and changes which will occur June 1 to the University's benefits.
Beginning this year, we will be moving to an online enrollment process, eliminating all paper enrollment forms for health, life, dental, and long term disability insurance, as well as the ACES flexible spending account. This will ensure the accuracy of your enrollment elections and maintain records electronically regarding your current and future participation.
Enrollment/changes to your TIAA retirement plan salary deferral will continue to be processed on paper forms available in the Office of Human Resources. Therefore, you do not need to re-enroll in the TIAA retirement plan.
In order for UE to move to this new system, ALL benefit eligible employees (including those who do not want to make any changes to their current coverage) must enter their elections by April 22.
Please review the open enrollment memo and on-line benefit enrollment documents on the HR Area of AceLink, which should answer many of the questions you might have about this new system.
To learn more about these benefit changes, see a demo of on-line benefit enrollment, or to speak with a plan representative, employees are encouraged to attend one of the following open enrollment meetings in Eykamp Hall, Room 251, Ridgway University Center:

• Thursday, April 14 from 8:00 a.m. to 9:00 a.m.
• Thursday, April 14 from 9:30 a.m. to 10:30 a.m.
• Thursday, April 14 from 11:00 a.m. to Noon
• Thursday, April 14 from 1:30 p.m. to 2:30 p.m.
Please contact the Office of Human Resources at ext. 2943 with any questions.
Life as a Syrian in America: Humanizing the conflict with local Syrians
Our final Scholars for Syria event of the semester aspires to humanize the conflict and refugee crisis with the voices of UE's Syrians. Join us today at 6:00 p.m. in Room 162, Schroeder School of Business Building for a lecture by Yasser Alhenawi, a Syrian professor of finance at UE, and an open discussion with a few of Evansville's Syrian students.
Directly following the session will be a reception in Dunigan Lounge in the Schroeder School of Business Building. Scholars for Syria welcomes all to attend the reception for a celebration of the semester!
Alhenawi is the founding director of the Institute for Banking and Finance. He earned both his PhD and his Master of Science degree in financial economics from the University of New Orleans. He earned his master's degree in business administration and his bachelor's degree in engineering from Damascus University.
He has been the recipient of several academic awards including the Doctoral Crescent City Scholarship from the University of New Orleans and Toussaint Hocevar Outstanding Doctoral Student Award from the Business School at University of New Orleans. Alhenawi was the recipient of the 2013 Dean's Teaching Award from the Schroeder School of Business, and received a Summer Research Grant from UE in 2014.
Alhenawi has been teaching undergraduate and graduate courses in finance since 2005. He has also been active in academic research and professional consulting activities. His current research interests are mergers and acquisitions, asset pricing models, and personal finance. He has presented his research in major finance conferences and his papers have been published in distinguished finance journals like the Quarterly Review of Economics and Finance, the Journal of Investing, the Review of Financial Services, and the Review of Financial Economies.

UE Muslim prayer room to be dedicated Friday, April 15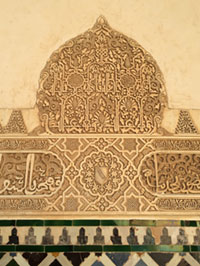 The UE campus community is invited to the dedication ceremony for the newly renovated Muslim prayer room in the lower level of Neu Chapel, on Friday, April 15 at 4:00 p.m. Students, President Kazee, Imam Omar Atia, University Chaplain Tammy Gieselman, and other interfaith partners will lead the dedication. Refreshments will follow the event. The public is invited to attend what is sure to be a wonderful celebration! For more information, e-mail tg85@evansville.edu.
Documentary Where to Invade Next to be shown on campus on April 20
There will be a screening of the new documentary Where to Invade Next at 7:00 p.m., on Wednesday, April 20 in Room 126, Hyde Hall. This event, which is presented by the UE Library and the UE College Democrats, is free and open to public. Invite your friends, neighbors, and coworkers to attend!
This documentary by filmmaker Michael Moore is a satirical and comedic exploration of contemporary social issues in the United States. The film shows Moore going to other countries to "invade" and "steal" their ideas for creatively solving issues such as health care, education, work, and equality.
Questions? E-mail lm184@evansville.edu or go here to find out more.
The annual Bike Race is planned for this Saturday!
Come on out to watch the 53rd annual Bike Race this Saturday, April 16!
• The women's race is set for 9:30 a.m.
• The men's race is set for 12:30 p.m.
There will be free food and drinks!
Reminder -the Fitness Center will be closed all day Saturday, due to the Bike Race.
Final #readingseries of the semester - April 15
Please join the folks in Creative Writing this Friday, April 15, at 4:00 p.m. at The Slice for the spring semester's final #readingseries. This student reading will feature flash fiction from Amy Hopperton and nonfiction from Kelly Danahy and Emily Hughes. The reading will start promptly at 4:00 p.m., so if you're looking to enjoy some delicious pizza while you're there, please arrive early as The Slice can be charmingly slow. Hope to see you all there!
Obsolete electronics recycling event on April 27
There will be an obsolete electronics recycling event on April 27 from 10:00 a.m.-1:00 p.m. on the drive that loops around Hale Hall.
Students and employees (faculty, administrators, and staff) can bring the following personal, obsolete electronic equipment to be recycled at no cost:
• LCD displays, LCD TVs and LCD monitors, computers, printers, fax machines, laptops, cell phones, PDAs, cables, circuit boards, connectors, electrical equipment, audio video equipment, DVD players, stereos, radios, calculators, speakers, and VCRs. Small quantities of batteries will be accepted.
The following items will not be accepted:
• CRT TVs and CRT computer monitors
• Fluorescent light bulbs (including compact bulbs), refrigerators, freezers, microwaves, stoves, vacuum cleaners, dehumidifiers, leaking batteries and any other items.
• Electronics owned by the University.
Note – the cost of processing CRT TVs and CRT computer monitors has increased significantly, and the University is no longer able to cover these items. However, these items may be brought to C&I Electronics, located at 1700 North Lafayette Avenue in Evansville, on Monday–Friday, from 9:30 a.m.–4:30 p.m. The cost will be 35 cents per pound.
For more information or questions contact Jan Schrader at js652@evansville.edu or ext. 2697.
NSLS Spring 2016 induction ceremony
The NSLS Spring 2016 induction ceremony is planned for Monday, April 18, 6:30-7:30 p.m., in Eykamp Hall, Room 252, Ridgway University Center. This is a celebration for those members who have completed the steps of the program. A reception will follow the ceremony.
Venturing Crew executive board applications
Apply to be part of Venturing Crew's executive board! Elected positions include president, vice president of administration, vice president of outings, vice president of activities, treasurer, and quartermaster. Applications can be found here.
This is a great way to be more involved with the Crew, increase leadership skills, and meet interesting people! Please submit applications or questions to Alex Schmitt at as564@evansville.edu.
All applications are due by 5:00 p.m. on Tuesday, April 19! An informal interview process will be conducted between the date of application and April 21. Please consider becoming a part of the Venturing Crew executive team!
Ellen Ott Marshall to speak at Trinity UM Church
Ellen Ott Marshall will be speaking at Trinity United Methodist Church in Evansville, at 2:00 p.m. on Sunday, April 24, A reception will follow in Trinity's Craig Hall. Marshall grew up in Evansville, and is the daughter of Phil and Karen Ott, who taught at UE several years ago. They will be attending her lecture.
During her talk, Marshall will discuss the topic of her book, Christians in the Public Square: Faith that Transforms Politics. This book describes how faith can transform politics when Christian believers refuse to engage in typical political argument.
Marshall is an associate professor of Christian ethics and conflict transformation at Candler School of Theology, Emory University. She is particularly interested in issues of violence and peace building, theologies of conflict transformation and nonviolence, and the dynamic relationship among faith, history, and ethics.
Opportunity to pray the Rosary!
Looking for simple new ways to come closer to your faith? Join Newman Club members Nathan Kabat and Nicolette Fonseca for 20 minutes every Friday at 11:00 a.m. in Neu Chapel as they lead us in the Rosary! We hope to see you there..Please e-mail Nicolette (nf39@evansville.edu) or Nathan (nk78@evansville.edu) for more information!
Department of English selects Grabill and Klinger writing award winners
At its annual literary conference Chutney, the Department of English presented the 2016 Virginia Lowell Grabill and George Klinger Writing Awards.
The third-place Grabill Award went to Sydney Blessinger for her paper, "A Dynamic Eve: Milton's Female Perception in Paradise Lost."
The second-place Grabill Award went to Alex Gallo for her paper, "The Role of Nature in King Lear."
The first-place Grabill Award went to Danielle Gillespie for her paper, "The Mabinogion in Modern Literary Fantasy."
The George Klinger Award for an outstanding academic research paper went to Peter Orkiszewski for his essay, "A Feminist Account of Caryll Churchill's Vinegar Tom."
Crescent Magazine, LinC win state awards
Crescent Magazine was named the Indiana Collegiate Press Association's News Magazine of the Year at the organization's annual conference April 9 at IUPUI. The Crescent beat such schools as Notre Dame, Indiana, and Ball State to earn its first-ever News Magazine of the Year award.
Individual staff members, including seniors Toby Kuhnke, Marisa Patwa, Keziah Colleton, Troy Burger, Ryan Murphy, Lelia Dant, and Annie Taylor, also won awards in various categories.
The LinC won the organization's Yearbook of the Year award in the Division II category for the sixteenth consecutive year for its 2015 edition, Let's Face It.
Individual staff members, including senior Mackenzie Bruce and juniors MaKayla Seifert, Kayla Seifert, Brittany McFadden, and Taylor Williams, also won awards in various categories.
Eligible students may pick up their copy of the 2015 LinC until May 6 in Student Publications, Ridgway University Center, second floor.
Winner chosen for Student Art Exhibit's 2016 People's Choice Award
The Annual Student Art Exhibition is over and the votes have been tabulated! The Department of Art is pleased to announce that the winner of the 2016 People's Choice Award is Madison Daniels. Madison's winning piece was titled "The Puppet of Rolling Emotions" and is a mixed media sculpture. Madison is a sophomore from Newburgh, Indiana, majoring in pre-art therapy.

Please join the Department of Art faculty, staff, and students in congratulating Madison on her award.
Thank you to everyone who visited the Melvin Peterson Gallery during the exhibition and cast a vote for their favorite piece of artwork
PT students, alumni, and sports residents help high school athletes prevent injuries
UE PT students and sports residents recently performed injury prevention screenings at a local high school. The screenings benefit athletes at risk of injury and assist them in implementing a program to correct movement dysfunctions and decrease risk of injury. The team was led by UE PT professors Kyle Kiesel and Bethany Huebner; UE/ProRehab sports residents Sam Callahan and Danielle Honnette, and UE alumni Kyle Matsel, Franny Matsel, Kim Moors, and Paul Gorman; and first year DPT students Jessika Volz, Ben Johnson, and A.J. Herrmann.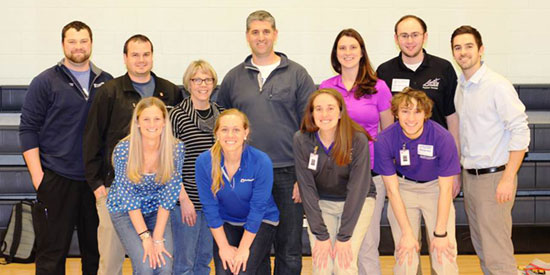 Knoester presents two papers at American Educational Research Association
Assistant professor of Education Matthew Knoester presented two papers on April 11 in Washington, D.C. at the annual meeting of the American Educational Research Association (AERA). The first paper was entitled "Astronomical Inquiries" and was part of a panel entitled "Interdisciplinary School-wide Learning: Practitioner Inquiries into the Impacts of Multiage Themes on Student Learning and School Culture." The second paper took the form of a poster and was entitled "Standardized Testing and School Segregation: Like Tinder for Fire?" It contributed to a session entitled "The Complexity and Multiple Spaces of Social Justice in Action."
UE senior serves on Habitat for Humanity project in Guatemala
Tessa McLinden, a senior political science, international studies, and Spanish major at UE, traveled to Guatemala in February on a Global Village Project as the family services intern at Habitat for Humanity of Evansville. While there, she helped translate between work crews and families, began a build on a home, and constructed smokeless stoves for local families.
Research published in American Mathematical Monthly
Clark Kimberling, professor of mathematics at UE, and Kenneth Stolarsky, professor emeritus of mathematics at the University of Illinois, have an article in the American Mathematical Monthly. Entitled "Slow Beatty Sequences, Devious Convergence, and Partitional Divergence," the article introduces the term "devious convergence" for any sequence (x_n) that converges to a number L so slowly that for every huge number B, there is some L' other than L such that x_n = L' for more than B numbers n. The article then introduces the term "partitional divergence." Examples of limiting behavior for both types are drawn from Beatty sequences. By courtesy of the Mathematical Association of America, the article can be downloaded to viewers of AceNotes.
University of Evansville athletics recognized by the NCAA
More than 1,000 Division I sports teams are being recognized for outstanding performance in the classroom, and two University of Evansville programs are near the top of that list. Both the Purple Aces Women's Cross Country and Women's Golf teams have earned recognition.
Based on their most recent multiyear Academic Progress Rate, these teams have earned NCAA Public Recognition Awards for posting scores in the top 10 percent of their sport. The APR is an annual scorecard of academic achievement calculated for all Division I sports teams nationally.
This marks the seventh year in a row that both UE programs have been recognized, making for an amazing accomplishment.
The 1,071 teams publicly recognized for high achievement include 649 women's teams and 422 men's or mixed squads. This year, schools combined the indoor and outdoor track and field teams into one team score, which slightly reduced the overall number of teams earning Public Recognition Awards.
The scores required to be in the top 10 ranged from 983 to a perfect 1,000, depending on the sport. Earning a perfect APR score were 944 teams.
"We want to ensure college athletes are getting the most out of their experience, and academics are a top priority in this effort," said NCAA president Mark Emmert. "The teams honored today earned recognition by making a commitment to success in the classroom as well as in competition. We celebrate their achievement and dedication to preparing themselves for life after college."
The APR measures eligibility, graduation and retention for each term and provides a clear picture of the academic performance for each team in every sport.
The most recent APRs are multiyear rates based on scores from the 2011-12, 2012-13, 2013-14 and 2014-15 academic years.

Jaiveon Eaves signs with UE Men's Basketball
University of Evansville head men's basketball coach Marty Simmons has announced the signing of guard Jaiveon Eaves to a National Letter of Intent to play for the Purple Aces next season.
"We are excited to add such a quality person and player to our program," Simmons said. "Jaiveon has explosive offensive skills. He is a versatile guard who can score in many different ways."
Eaves is a 6-foot-2 guard who played his high school career at Madisonville-North Hopkins in Kentucky. As a senior, he led his squad to a 22-8 mark while averaging 19.4 points and 4.9 rebounds per game. He also dished out four assists per contest.
A solid scorer throughout his high school career, Eaves posted double figures in three of his four seasons. As a junior, he notched 18.7 PPG and finished with 13.0 as a sophomore.
The 4-time All-District and All-Region player finished his high school career with 1,688 points, fourth in school history. His career-high came as a junior versus Caldwell Country where he scored 41 points. Eaves was an Honorable Mention All-State player at Madisonville-North Hopkins.
"Jaiveon has the athleticism and strength to get to the basket. He will be a great addition to the players that we have returning," Simmons added.

Contribute to AceNotes
To have content considered for inclusion in AceNotes, please submit a Marketing Request Form. Deadline for submission to AceNotes is 10:00 a.m. on the requested date of publication. Only articles concerning UE related/sponsored activities will be accepted. Articles submitted to AceNotes may be edited for length and clarity. Submitter contact information is at the end of each article.