| | |
| --- | --- |
| AceNotes Today | Wednesday, April 13, 2016 |
Deadline for removal of vehicles for Bike Race extended
Due to events on campus, the deadline to move all vehicles from Lot H has been extended to 7:00 p.m. tonight. (The original deadline was 5:00 p.m.) All vehicles remaining in the lot after 7:00 p.m. tonight may be towed. The removal of vehicles is necessary so that the lot can be prepared for the bike race, which will be on Saturday, April 16. Vehicles must be moved by Wednesday evening so the lot can be restriped and time trials can be held on Thursday, April 14. The lot will be reopened for parking by Sunday morning at the latest. Vehicles must be moved to legal parking places for the permit category held by the driver. The use of Lot O by the Armory, and Lot Q by the General Services Building is recommended.
Photographer on campus
Office of Marketing and Communication will have a photographer on campus for a photo shoot Wednesday, April 13, through Friday, April 15. UE students and faculty have always been very cooperative and accommodating during previous shoots. As a result, many great photos have been taken for UE publications. Kim McDonald will try to notify faculty in advance if photos will be taken in a particular class; however, weather often can force the shoot inside, and it is possible that last minute requests will be made. If faculty members know that they will be giving a test or do not wish to have their class photographed any of these days, please inform Kim McDonald at ext. 2683 and the classroom will be avoided.
Lunch today at Koch Center
Help support scholarships for our students by coming to the OSA Salad Scholarship Fundraiser, today - Wednesday, April 13 - from 11:00 a.m.-1:00 p.m. in the south lobby of Koch Center for Engineering and Science. Members of OSA will be selling salads, a drink, and dessert for only $5! All proceeds go toward scholarships. So come on over, enjoy great food, and know that the proceeds go for a great cause. We will see you there!
French Club to host guest speakers today
The French Club will host guest speakers Hubert Mussat and Katy Groves-Mussat from The Farmer and the Frenchman today at 7:00 p.m. in Room 173, Schroeder School of Business Building, They will discuss their French roots as well as their new winery and event venue in Henderson, Kentucky. Please join us to hear about their beautiful facility and their plans to host events for area Francophiles.
Benefit open enrollment meetings
During the period of April 11 through April 22, benefit-eligible employees may enroll or make changes in the University's health, voluntary term life, dental, and ACES flexible spending account benefit plans. It is the only chance for benefit-eligible employees to enroll or make changes until the next open enrollment period unless you have a qualifying change in status. You may also consider enrolling in the University's group life and long term disability insurance plans, if you haven't done so already, subject to evidence of insurability.
Please review the documents in the open enrollment section beginning with the open enrollment memo, for important announcements, reminders, and changes which will occur June 1 to the University's benefits.
Beginning this year, we will be moving to an online enrollment process, eliminating all paper enrollment forms for health, life, dental, and long term disability insurance, as well as the ACES flexible spending account. This will ensure the accuracy of your enrollment elections and maintain records electronically regarding your current and future participation.
Enrollment/changes to your TIAA retirement plan salary deferral will continue to be processed on paper forms available in the Office of Human Resources. Therefore, you do not need to re-enroll in the TIAA retirement plan.
In order for UE to move to this new system, ALL benefit eligible employees (including those who do not want to make any changes to their current coverage) must enter their elections by April 22.
Please review the open enrollment memo and on-line benefit enrollment documents on the HR Area of AceLink, which should answer many of the questions you might have about this new system.
To learn more about these benefit changes, see a demo of on-line benefit enrollment, or to speak with a plan representative, employees are encouraged to attend one of the following open enrollment meetings in Eykamp Hall, Room 251, Ridgway University Center:

• Thursday, April 14 from 8:00 a.m. to 9:00 a.m.
• Thursday, April 14 from 9:30 a.m. to 10:30 a.m.
• Thursday, April 14 from 11:00 a.m. to Noon
• Thursday, April 14 from 1:30 p.m. to 2:30 p.m.
Please contact the Office of Human Resources at ext. 2943 with any questions.
Writing Center Boot Camp - APA and CMS Style
Writing Center Boot Camp - APA and CMS Style is planned for at 5:00 p.m. today at the Writing Center. This workshop will cover how to format and cite papers according to the APA and CMS style manuals, including the cover page and reference page, internal citations, running heads, footnotes, and endnotes. Join us in the Writing Center on Wednesday for this useful session!
Wednesday Night Mass
Don't forget to join the Newman Club every Wednesday evening as we participate in the 5:30 p.m. Wednesday Mass at St. Benedict Cathedral. We will meet each Wednesday at 5:00 p.m. at the Newman Center before making our way to the cathedral.
We hope to see you there! Please call/text Kristel at 812-760-8610 for more information!

Coffee time with the seminarians today!
Come to Jazzman's today from 4:00-5:00 p.m., and meet the Newman Club's seminarians. Ambrose and Tam, our international seminarians, are currently studying at St. Meinrad Archabbey in St. Meinrad, Indiana, and they would love to meet you. Please feel free to come by, say hi, and ask them anything you want!
Please call/text Kristel at 812-760-8610 for more information!

Newman Club cookout with the seminarians!
The Newman Club would like to invite everyone to join us today at 6:00 p.m. as we host a cookout for our seminarians! Come help us thank Tam and Ambrose for all that they have done for us this semester while we enjoy food, music, magic, and more! We hope to see you there!!
Please call/text Kristel at 812-760-8610 for more information!

I-House: Costa Rica
Hello everyone! This week's I-House presentation will be on Costa Rica! Mariela León Thomas is so excited to tell you all about her country. Her major is physical therapy, and she does aerial dance in silk. She loves how culturally diverse UE is. Be sure to stop by today at 7:00 p.m. upstairs in Ridgway University Center!
Honors Program project presentations continue on April 11-14
The Honors Program invites you to attend the Honors Program project presentations on April 11-14. The Honors project is an opportunity for students to explore an area about which they are passionate. The Honors project may consist of a research project, thesis, or creative work. Students may use the Honors project to launch areas of interest for graduate study or to expand résumés for employment.
We hope you will join us to hear the fascinating work that this year's Honors students have completed. Special thanks are extended to all faculty, advisors, and others who have supported the Honors students in their educational achievements.
Please see below a schedule of the presentations, which will take place in Room 101, Koch Center for Engineering and Science.
Today from 3:00–4:00 p.m.
Nicolette Juncker, public health/pre-physical therapy - "Nutrigenetics and its Effect on the American Population"
Michaela Kent, exercise science/pre-physical therapy - "Differences in Body Image of Females Participating in Lean, Non-lean, or No Sports"
Cynthia Medina, exercise science/pre-physical therapy - "Benefits of Strength and Balance Training in Elderly Individuals: A Literature Review"
Today from 4:00–5:00 p.m.
Elizabeth Claire Kunz, archaeology/mathematics - "Roman Cyst Tombs and the Ancient Road at Jezreel"
Emily Stewart, archaeology/history - "More than Pottery Shards: Understanding Evidence for Modern Conflict in Jezreel"
Tim Smith, archaeology/art history - "Archaeology or Treasure Hunting?"
Thursday, April 14 from 3:00–4:00 p.m.
Eugene Hoffman, mechanical engineering - "Thermosiphon Research Project"
Cameron Roberts, electrical engineering - "GPS Guided Drone"
Lilia Mast, computer science - "PANDA: Patterns of Arbitrary Nature Difference Applier"
Thursday, April 14 from 4:00–5:00 p.m.
Korey Brock, mathematics - "The Effectiveness of Neuromarketing with Traditional Marketing Techniques"
Cameron Wickes, biology - "Identification of novel caspofungin resistance genes in the pathogenic fungus, Candida glabrata, by next generation sequencing of induced mutants"
Kaitlin Koenig, global business - "Women in Business"
Final #readingseries of the semester - April 15
Please join the folks in Creative Writing this Friday, April 15, at 4:00 p.m. at The Slice for the spring semester's final #readingseries. This student reading will feature flash fiction from Amy Hopperton and nonfiction from Kelly Danahy and Emily Hughes. The reading will start promptly at 4:00 p.m., so if you're looking to enjoy some delicious pizza while you're there, please arrive early as The Slice can be charmingly slow. Hope to see you all there!
Campus Community invited to Pep and Vim celebration
Students, faculty members, employees, and alumni are invited to Ri Ra Irish Pub next Thursday, April 14, from 5:00-7:00 p.m. to celebrate Pep and Vim and the wrap of UE's annual day of giving. Light appetizers will be served. Door prizes and good company! Questions? E-mail alumni@evansville.edu or call ext. 2586.
Life as a Syrian in America: Humanizing the conflict with local Syrians
Our final Scholars for Syria event of the semester aspires to humanize the conflict and refugee crisis with the voices of UE's Syrians. Join us today at 6:00 p.m. in Room 162, Schroeder School of Business Building for a lecture by Yasser Alhenawi, a Syrian professor of finance at UE, and an open discussion with a few of Evansville's Syrian students.
Directly following the session will be a reception in Dunigan Lounge in the Schroeder School of Business Building. Scholars for Syria welcomes all to attend the reception for a celebration of the semester!
Alhenawi is the founding director of the Institute for Banking and Finance. He earned both his PhD and his Master of Science degree in financial economics from the University of New Orleans. He earned his master's degree in business administration and his bachelor's degree in engineering from Damascus University.
He has been the recipient of several academic awards including the Doctoral Crescent City Scholarship from the University of New Orleans and Toussaint Hocevar Outstanding Doctoral Student Award from the Business School at University of New Orleans. Alhenawi was the recipient of the 2013 Dean's Teaching Award from the Schroeder School of Business, and received a Summer Research Grant from UE in 2014.
Alhenawi has been teaching undergraduate and graduate courses in finance since 2005. He has also been active in academic research and professional consulting activities. His current research interests are mergers and acquisitions, asset pricing models, and personal finance. He has presented his research in major finance conferences and his papers have been published in distinguished finance journals like the Quarterly Review of Economics and Finance, the Journal of Investing, the Review of Financial Services, and the Review of Financial Economies.

2016-2017 letterhead and envelope orders due April 19
The Office of Publications has distributed letterhead and envelope ordering information. If your department uses letterhead or envelopes during the fiscal year, this is the time to order it. We are able to get a substantial price break on boxes of envelopes (500 quantity) and reams of letterhead (500 quantity) due to the size of the order. Smaller orders placed later in the year will be more expensive.
If you did not receive the ordering information from the Office of Publications, please e-mail publications@evansville.edu or call ext. 2561.
Orders are due April 19.

Give Back Night for the Kids!
College Mentors for Kids is an organization on campus that pairs college students with the most to give with young children who need it the most. We meet every Wednesday with 40 students in grades 1-5 at Joshua Academy, providing them with a role model and education on college, diversity, and community service. These students come from very low-income households and are in need of the assistance and friendship they receive through our nationally recognized program. College Mentors For Kids runs purely on donations.
Help us keep the UE chapter thriving by using this voucher at Azzip Pizza on Green River Road on Wednesday, April 20. Get some grub and help the kids. They will greatly appreciate it.
Seeking two camp residence directors
This summer the Office of International Admission is hosting 16 high school students from China on July 16 through August 6. We are looking for two students, preferably one male and one female, who will be available to live in the residence halls, go on weekend trips, and actively participate with these students. These are paid position that requires overnight stays on and off campus. The ideal candidate likes to work with students from different cultures. Daytime involvement might be necessary, but most of the responsibilities will be in the afternoon to night. Anyone interested should contact Kiersten Saltwick, international admission counselor, for more details at ks454@evansville.edu or 812-488-2434. Inquiries should be received by April 30.
#GoodDeedsDay: Participate by visiting Philanthropy Week Table
Celebrate campus philanthropy with Good Deeds Day. Visit the Philanthropy Week table in Ridgway University Center between 10:00 a.m.–2:00 p.m. Pick up a Flat Ace and draw a random good deed to complete during the day. Share a photo of you and Flat Ace completing your good deed on Instagram and Twitter using #DoGood4UE #GoodDeedsDay
Opportunity to pray the Rosary!
Looking for simple new ways to come closer to your faith? Join Newman Club members Nathan Kabat and Nicolette Fonseca for 20 minutes every Friday at 11:00 a.m. in Neu Chapel as they lead us in the Rosary! We hope to see you there..Please e-mail Nicolette (nf39@evansville.edu) or Nathan (nk78@evansville.edu) for more information!
Housing extended stay requests
UE Housing facilities will close at noon on Thursday, May 5; however, all students are asked to depart from housing within 24 hours of their last exam. Those students needing to stay past the posted closing date, including graduating seniors, should submit an extended stay request. The extended stay requests will be accepted up until 5:00 p.m. on Reading and Study Day, Wednesday, April 27.
Winner chosen for Student Art Exhibit's 2016 People's Choice Award
The Annual Student Art Exhibition is over and the votes have been tabulated! The Department of Art is pleased to announce that the winner of the 2016 People's Choice Award is Madison Daniels. Madison's winning piece was titled "The Puppet of Rolling Emotions" and is a mixed media sculpture. Madison is a sophomore from Newburgh, Indiana, majoring in pre-art therapy.

Please join the Department of Art faculty, staff, and students in congratulating Madison on her award.
Thank you to everyone who visited the Melvin Peterson Gallery during the exhibition and cast a vote for their favorite piece of artwork
PT students, alumni, and sports residents help high school athletes prevent injuries
UE PT students and sports residents recently performed injury prevention screenings at a local high school. The screenings benefit athletes at risk of injury and assist them in implementing a program to correct movement dysfunctions and decrease risk of injury. The team was led by UE PT professors Kyle Kiesel and Bethany Huebner; UE/ProRehab sports residents Sam Callahan and Danielle Honnette, and UE alumni Kyle Matsel, Franny Matsel, Kim Moors, and Paul Gorman; and first year DPT students Jessika Volz, Ben Johnson, and A.J. Herrmann.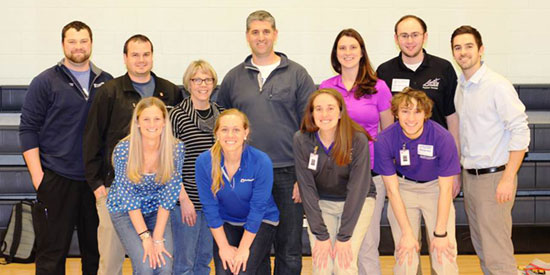 Knoester presents two papers at American Educational Research Association
Assistant professor of Education Matthew Knoester presented two papers on April 11 in Washington, D.C. at the annual meeting of the American Educational Research Association (AERA). The first paper was entitled "Astronomical Inquiries" and was part of a panel entitled "Interdisciplinary School-wide Learning: Practitioner Inquiries into the Impacts of Multiage Themes on Student Learning and School Culture." The second paper took the form of a poster and was entitled "Standardized Testing and School Segregation: Like Tinder for Fire?" It contributed to a session entitled "The Complexity and Multiple Spaces of Social Justice in Action."
UE senior serves on Habitat for Humanity project in Guatemala
Tessa McLinden, a senior political science, international studies, and Spanish major at UE, traveled to Guatemala in February on a Global Village Project as the family services intern at Habitat for Humanity of Evansville. While there, she helped translate between work crews and families, began a build on a home, and constructed smokeless stoves for local families.
Allinger and Synek lead Aces past Murray State
University of Evansville head coach Wes Carroll has frequently expressed the importance of freshmen not pitching like freshmen this season, and for the third game in a row, that was certainly the case as Austin Allinger delivered in impressive fashion, leading the Purple Aces to a 2-1 victory over Murray State at Johnny Reagan Field.
Allinger, who moved to 4-2 on the mound this season, was locked into a pitching duel for much of the contest, and aside from giving up a run in the third, he was unflappable. The right-hander out of West Chester, Ohio, tossed a career-best eight innings on the night while setting a career high with seven strikeouts. He allowed just four hits.
"As a freshman pitching at the Division I level, for him to come out here and pitch the kind of game he did is going to be big for his confidence," Carroll said. "He took command of the game, and he had a good mix of pitches going too. You can tell with these freshmen that they're no longer freshmen. They're making big leaps and bounds, and it's huge for our program to be able to develop such quality arms early in their career."
Allinger's counterpart, Brad Boegel, was nearly as good in his time on the mound. A former weekend starter for the Racers' last season, the senior struck out nine in six innings of work.
While Allinger may have been getting things done for UE on the mound, he received plenty of help from his battery mate in Boomer Synek. The senior catcher was excellent defensively, picking off a runner and catching another stealing, but his biggest moment of the game came in the top of the ninth with a two-out solo home run over the right field fence.
"I feel like I'm building more confidence with each inning," Allinger said. "I knew that we'd eventually get the run we needed. I wasn't worried about it, so I was just focused on trying to hang up goose eggs on the scoreboard each inning."
A two-out rally from the Racers in the bottom of the third put the hosts ahead as a Cody Gilbert walk and back-to-back singles from Adam Bauer and Tyler Lawrence scratched across the game's opening score.
From there, the Aces line-up was held relatively quiet as Boegel started to find his groove, but that would prove only temporary as Trey Hair hit a triple off the top of the right field fence to lead off the seventh inning, and Synek followed up with a sacrifice fly to bring things even.
Following Synek's ninth-inning blast, Brent Jurceka stepped to the mound for UE, and he was overpowering, striking out the first two hitters before a single up the middle by MSU's Caleb Hicks put the tying run on first base. The threat wouldn't be there long though, as Jurceka turned and picked him off to bring the game to an end and pick up his fourth save of the season.
UE will be back in action this weekend as they return to Charles H. Braun Stadium for a three-game set with Missouri Valley foe Bradley.

UE men take seventh at Big Blue Invitational
Sophomore Tyler Gray was the low shooter of the day for the University of Evansville Men's Golf team as they took seventh place in the Big Blue Invitational at Hermitage Golf Club.
Gray recorded a 74 in the final round to come home in a tie for twenty-second place overall. His final score was a 149. Rick Voyvodic was the top finisher for the Purple Aces. After carding a 73 on Monday, he came back with a 75 in round two. He tied for seventeenth with his final score of 148.
Tying for thirty-first was Wil Pahud. He notched a 77 in the final round to finish the tournament with a 151. Following him was Will Knights. The senior tied for thirty-eighth on the charts with his score of 153. His rounds finished at 75 and 78. Austin Carmack had a great improvement in round two, improving by 15 strokes. He recorded an 81 after his opening-round total of 96.
Individuals Noah Reese and Jon Pick finished in a tie for seventy-third. Reese posted rounds of 81 and 83 while Pick had two rounds of 82.
Belmont hung on to take the team championship. The Bruins defeated Murray State by one shot, finishing with a 580 to MSU's 581. Ashton Van Horne was the medalist. After blazing the course with a 67 on Monday, he finished with a 71 on Tuesday to score a 138. He defeated the Racers' Jared Gosser by four strokes.
Evansville completes the season on April 25-26 at the Missouri Valley Conference Championship at Prairie Dunes Country Club in Hutchinson, Kansas.

Contribute to AceNotes
To have content considered for inclusion in AceNotes, please submit a Marketing Request Form. Deadline for submission to AceNotes is 10:00 a.m. on the requested date of publication. Only articles concerning UE related/sponsored activities will be accepted. Articles submitted to AceNotes may be edited for length and clarity. Submitter contact information is at the end of each article.