| | |
| --- | --- |
| AceNotes Today | Thursday, April 7, 2016 |
Honors Program Project presentations today
The Honors Program invites you to attend the Honors Program Project Presentations on April 4-7 and April 11-14. The Honors project is an opportunity for students to explore an area about which they are passionate. The Honors project may consist of a research project, thesis, or creative work. Students may use the Honors project to launch areas of interest for graduate study or to expand résumés for employment.
We hope you will join us to hear the fascinating work that this year's Honors students have completed. Special thanks are extended to all faculty, advisors, and others who have supported the Honors students in their educational achievements.
Below is a schedule of the presentations for April 4-7. Presentations will be held in Room 101 in Koch Center for Engineering and Science unless otherwise noted.
Today from 1:30 – 1:45 p.m.
Wheeler Concert Hall, Krannert Hall of Fine Arts
•Alexandra Billhartz, Vocal Performance - "An Afternoon in Music: A Love Story Through American Art Song"
Today from 4:00–5:00 p.m.
•Justin P. Slattery, Creative Writing / English Literature / Philosophy - "On the Moral Implications and Restrictions Surrounding Affective Computing"
•Rachel Wyatt, Creative Writing - "Kaleidoscope" (Note: content involves domestic and sexual abuse)
•Sara Cook, Literature / Psychology - "Stream of Consciousness in the Psychological Novel: An Analysis of Mrs. Dalloway and To the Lighthouse"

Campus Community invited to Pep and Vim celebration
Students, faculty members, employees, and alumni are invited to Ri Ra Irish Pub next Thursday, April 14, from 5:00-7:00 p.m. to celebrate Pep and Vim and the wrap of UE's annual day of giving. Light appetizers will be served. Door prizes and good company! Questions? E-mail alumni@evansville.edu or call ext. 2586.
This Weekend in Music: The Annual Jazz Invitational Concert
The UE jazz program will host the 2016 UE Jazz Band Invitational Concert in Wheeler Concert Hall this Sunday, April 10, at 4:00 p.m. Led by professor of trumpet and jazz studies Timothy Zifer, UE Jazz Ensembles I & II will be joined by bands from USI, Vincennes University, and several area high schools. The concert will feature classic jazz tunes, as well as more recent jazz and popular numbers. Each band will perform separately, with UE Jazz Ensemble II opening the program and UE Jazz Ensemble I closing the concert. The concert is free and open to the public.
Sigma Alpha Iota Cold Stone Creamery fundraiser
Sigma Alpha Iota, the women's music fraternity, is having a Give Back Night at Cold Stone Creamery today. Stop by either the east side or west side location between noon and 9:00 p.m.,mention Sigma Alpha Iota, and present this flyer, and Sigma Alpha Iota will receive 25% of the designated purchases. Enjoy some ice cream and support Sigma Alpha Iota!
Women 4 Women: Lessons for Launching Your Career
Women 4 Women: Lessons for Launching Your Career, a women's leadership and professional development seminar, will be held on Tuesday, April 12, from 4:00-5:30 p.m. in Room 162, Schroeder School of Business Building. Organized by the 2016 Athena nominee finalists, these local leaders will discuss personal development, career identification, resume building and interviewing, developing a personal brand, and volunteering and networking. Also, students who attend the free seminar may sign up to shadow a businesswoman and past Athena finalist in their fields of interest. Seminar registration is available through this website.
Please contact Emily Fiedler at ef31@evansville.edu with questions.
Staff Recognition Dinner
Each staff employee and their guest are invited to attend the Staff Appreciation Dinner at the Log Inn on Wednesday, April 20. The social hour (cash bar and appetizers) begins at 6:00 p.m. and the dinner will begin at 7:00 p.m. Please join President Kazee in the presentation of staff service awards and for the presentation of the Staff Employee of the Year Award.
Invitations have been sent to staff employees via UE campus mail. Please RSVP to the Office of Human Resources no later than Wednesday, April 13.

ESPN3 Open House this weekend
Attention students: Are you interested in being a part of UE's new ESPN3 initiative, Purple Aces Productions? There will be an ESPN3 Open House during the broadcasts of baseball and softball games this weekend. UE's new ESPN3 group – composed mainly of students as well as some freelance professionals – will produce the baseball game on Friday night (6:00 p.m.), the softball doubleheader on Saturday (noon) and Sunday's baseball game (1:00 p.m.). All students are welcome to swing by the production trailer located on the walk-way between the baseball and softball stadiums to see what is involved in an ESPN3 broadcast, and to see if they would be interested in being a part of the group next school year.
Next year Purple Aces Productions will produce UE athletic events in men's and women's soccer, volleyball, men's and women's basketball, baseball, and softball for ESPN3. Positions will be open for students both in front of camera as announcers and behind the scenes in terms of camera operators and production staff.
For more information, contact Tom Benson in the athletics department via e-mail at tb39@evansville.edu or by phone at ext. 3200.

Attention May 2016 graduates
If you will be a May 2016 graduate and have earned a military honorable discharge or a general discharge under honorable conditions, are on active duty, or in active drilling status, please notify Cherie Leonhardt in the Office of Veterans Affairs at cl29@evansville.edu or call 812-488-2141, ASAP. The Office of Veterans Affairs and UE VETS has a special graduation gift for you!
Opportunity to pray the Rosary!
Looking for simple new ways to come closer to your faith? Join Newman Club members Nathan Kabat and Nicolette Fonseca for 20 minutes every Friday at 11:00 a.m. in Neu Chapel as they lead us in the Rosary! We hope to see you there..Please e-mail Nicolette (nf39@evansville.edu) or Nathan (nk78@evansville.edu) for more information!
Tomorrow is last day to drop a spring class
Do you still need to drop a class for this spring? Tomorrow - Friday, April 8 - is the last day to drop with a W, No exceptions! Many advisors and instructors will be busy with the first SOAR on Friday afternoon, so don't wait until then to get signatures. Drop slips are available in the Office of the Registrar. You must have both the signature of the instructor and your advisor on the drop slip. Please note, if you are dropping below 12 credit hours you must also obtain stamps from the Office of Financial Aid and Student Accounts. If you have any questions contact the Office of the Registrar.
Extra UE crews for sale!
College Mentors for Kids has five extra UE crewnecks ready for sell! There are two smalls, one medium, one large, and one extra-large, with each crew costing $20. The design of the crewnecks is shown in the photo with this article. To purchase a crewneck, please e-mail Taylor Wornica at tw151@evansville.edu with your name and the size you are requesting.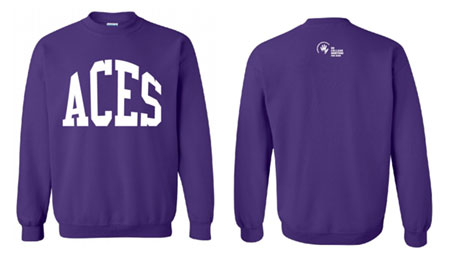 College Mentors for Kids is national, non-profit organization designed to connect college students with the most to give to kids who need it the most. Every crew purchased puts us one step closer towards our fundraising goal, allowing us to continue to serve underprivileged children in the Evansville area.
UE Cheer Team tryouts
The Univeristy of Evansville Cheer team will be holding spring tryouts for the 2016-17 season on Saturday, April 23 from 9:30 a.m.-12:30 p.m. Tryouts will be held in the small gym of Carson Center. Please contact bc165@evansville.edu for further information or with any questions!
I-House coordinator applications available
International House (I-House) is a program that offers weekly presentations and educational events to the UE community. If you would like to enhance your leadership skills, help organize student presenters, get to know international students, and learn more about the world, this 8-month paid position may be for you! Applications are available in the Office of Cultural Engagement and International Services until Friday, April 8.
Please contact Megan Sicard at ms331@evansville.edu with any questions.

ARSAF deadline extended to Friday, April 8
The UE Alumni Association sponsors the Alumni Research and Scholarly Activity Fellowships that provide $15,000 annually for faculty projects. Applications for fiscal year 2016-2017 can be made online here.
The deadline to submit is 5:00 p.m. on Friday, April 8. Questions? Contact alumni@evansville.edu or ext. 2586.
Library after-hours: Friday and Saturday nights
The Libraries are pleased to offer additional late night hours for students. Every Friday and Saturday night, the first floor will remain open from 6:00-10:00 p.m. Limited library services will be available. Enter the library from the new door facing Ridgway University Center via card swipe after 5:50 p.m. to use the space.
After-hours are also offered Mondays-Fridays from midnight-4:00 a.m. Interruptions to this service will be posted on the UE app.
Contact Meg Atwater-Singer (ma35@evansville.edu or ext. 2487) with any questions.
Textbook adoptions are due
This is a reminder to all faculty and departments that textbook adoptions for the summer sessions and Fall 2016 are due in the UE Bookstore. If you have any questions, please contact the textbook department in the Bookstore at ext. 2679. Thanks for your assistance in this matter.
Attention rising sophomores – Hartig Memorial Scholarship applications available
Family, friends and loved ones of the late Marvin E. Hartig, UE professor emeritus, are pleased to announce the application process for the Dr. Marvin E. Hartig Memorial Scholarship.
This scholarship is dedicated in loving memory of Hartig, who was dean of Evansville College's Evening College in 1967, administrator for the Center for Advanced Study, director of the Evansville chapter of the American Institute of Banking (AIB), and the international student advisor. In 1974, he was appointed dean of Academic Services. He retired in 1984 after serving his alma mater for 35 years and passed away in 2007.
Applicants must be sophomores in 2016-17 and must show demonstrated financial need on the 2016-17 Free Application for Federal Student Aid (FAFSA). Preference will be given to a student working while being enrolled as a full-time student.
International students are also encouraged to apply and should include in their essay any particular factors impacting their financial need and how the scholarship money will benefit them since international students do not file the FAFSA.
Applicants must submit a completed application and a typed statement (not to exceed one page), describing themselves, their scholastic and career goals, why they need this scholarship, and how the scholarship proceeds might be used. Applications are available from the Office of Financial Aid located in Room 116, Olmsted Administration Hall, or by e-mailing Trisha Hawkes at th187@evansville.edu.
Completed applications and essays should be returned to the Office of Financial Aid by June 1. Decisions will be announced by August 1.
Beavers Appointed to NSF Panel for the National Robotics Initiative
Anthony F. Beavers, professor of philosophy and director of the Cognitive Modeling Lab, was recently appointed to be a panelist for the National Science Foundation (NSF) program, the National Robotics Initiative (NRI), to evaluate proposals that address co-robotics issues at the interface with the social, behavioral, and economic sciences. The panel will meet at the NSF Headquarters in Arlington, Virginia, on Monday, May 23. Beavers has been a three time reviewer for the National Endowment for the Humanities. This marks his first consultancy with the NSF.
Baines gives paper at Notre Dame conference
Robert Baines, assistant professor of English, gave a paper at the recent annual national American Conference for Irish Studies at Notre Dame University. The national ACIS conference is America's largest Irish studies conference. Baines's paper was titled "'Let us be tolerant of antipathies': Opposing opposition in Finnegans Wake I.6."
Heidi Strobel participates in American Society for Eighteenth Century Studies
Heidi Strobel, associate professor of art history, participated in the American Society for Eighteenth Century Studies last week in Pittsburgh, Pennsylvania. While there, she presented a paper entitled "'A mere copier of nature can never produce anything great': Mary Linwood, Sir Joshua Reynolds, and the art of making copies."
Successful UEVETS Spare Change for Warriors Bowling Tournament was fun for all!
UEVETS would like to thank the campus community for supporting its second annual Spare Change for Warriors Bowling Tournament at River City Recreation. The event benefited the VFW 1114 Chaplain's Relief Fund, UEVETS, and the charity of choice of the winning team. The event raised $1,290. Teams from AOII, SAE, FIJI, Department of History, UEVETS, and Sodexo played for the highest average of three games to win $430 for their charity of choice. UEVETS squeaked out a win averaging slightly over the Department of History. UEVETS will donate their team winnings to the VFW 1114 Chaplain's Relief Fund, as well, totaling $860 for the charity! A special thanks to our event sponsors: Office of Veterans Affairs, Department of History, Department of Foreign Languages, Office of Academic Advising, School of Business, Office of Diversity Initiatives, Black Student Union, Sodexo, WUEV, FIJI, SAE, Shine On Express Carwash, Ziemer, Stayman, Weitzel & Shoulders, LLP Attorneys at Law, VFW 1114, and American Legion Post 44.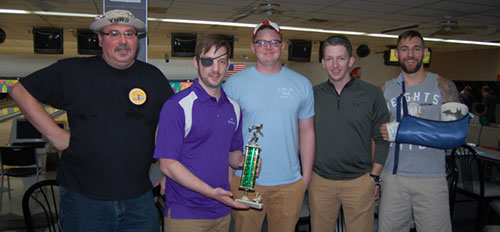 UE set to celebrate 1976 and 2006 baseball teams this weekend
The University of Evansville baseball team will be celebrating its history this weekend as head coach Wes Carroll is looking forward to welcoming players from as far back as the 1970s as well as honoring the 1976 and 2006 Purple Aces, which are celebrating their 40th and 10th anniversaries, respectively.
"We're very excited to have our alumni back on campus," Carroll said. "It's going to be a great way for us to open up Valley play. We'll have alumni ranging all the way back to four decades ago, and I'm looking forward having them on hand to see the way that we've progressed and the direction of this baseball program."
The relationship between UE baseball and its alumni is evident in the make-up of the coaching staff, beginning with 2001 graduate Wes Carroll and continuing with assistants Cody Fick ('11) and Jake Mahon ('14). The full-time coaching staff is one of just seven nationally that consists entirely of graduates of the institution in which they're employed.
"We've tried to build a family atmosphere with this program," Carroll said. "That's a culture that I've tried to create here after my experiences with [former UE head coach] Jim Brownlee, and he means a lot to me just like other coaches have to some of the other players that will be here this weekend. I think this is a special place with a unique student-athlete experience, and I'm excited to have everyone back this weekend."
The weekend will start with Friday night's MVC opener against Wichita State, and it will continue into Saturday as more than 100 former players and family members will participate in a luncheon prior to a special pregame ceremony on the field that will pay tribute to the 1976 and 2006 teams. All baseball alumni in attendance will be honored in between innings later in the contest.
Friday's game is slated to begin at 6:00 p.m., and Saturday's luncheon will begin at noon and feature a tour of the baseball program's renovated locker room. First pitch will follow at 2:00 p.m., and Sunday's series finale with Wichita State is scheduled for a 1:00 p.m. start.
Contribute to AceNotes
To have content considered for inclusion in AceNotes, please submit a Marketing Request Form. Deadline for submission to AceNotes is 10:00 a.m. on the requested date of publication. Only articles concerning UE related/sponsored activities will be accepted. Articles submitted to AceNotes may be edited for length and clarity. Submitter contact information is at the end of each article.