| | |
| --- | --- |
| AceNotes Today | Tuesday, April 5, 2016 |
This Week in Music: The Eykamp String Quartet
The Department of Music continues its concert season today in Wheeler Concert Hall at 7:30 p.m. with a performance by the department's resident string ensemble, the Eykamp String Quartet. Quartet members include violinist and Evansville Philharmonic Orchestra concertmaster Robert Anemone, violinist and EPO associate concertmaster Alicia Choi, EPO principal violist Rose Wollman, and EPO principal cellist Kirsten Jermé. The program will include works by Mozart, Maurice Ravel, and Beethoven. The Eykamp String Quartet is made possible by the special underwriting of Rita, Richard, and Dorothy Eykamp, friends of the University of Evansville, and the Evansville Philharmonic Orchestra.
Honors Program Project Presentations
The Honors Program invites you to attend the Honors Program Project Presentations on April 4-7 and April 11-14. The Honors project is an opportunity for students to explore an area about which they are passionate. The Honors project may consist of a research project, thesis, or creative work. Students may use the Honors project to launch areas of interest for graduate study or to expand résumés for employment.
We hope you will join us to hear the fascinating work that this year's Honors students have completed. Special thanks are extended to all faculty, advisors, and others who have supported the Honors students in their educational achievements.
Below is a schedule of the presentations for April 4-7. Presentations will be held in Room 101 in Koch Center for Engineering and Science unless otherwise noted.
Today from 3:00–4:00 p.m.
Kaylynn Carver, Spanish / International Studies - "Regionalism in Yucatan"
Joseph Estes, Political Science / International Studies - "Nation-Building in Mozambique, 1992-1994"
Sara Gensler, Communications - "Narrative Storytelling in Digital Photojournalism"
Today from 4:00–4:45 p.m.
Kaylin Saur, Exercise and Sport Science - "Overwrought, Underwhelmed"
Hannah Cava, Theatre – Stage Management - "Stage Managing Big Fish"
Wednesday, April 6 from 2:30–2:45 p.m.
Wheeler Concert Hall, Krannert Hall of Fine Arts
Elizabeth Long, Art History - "Schönberg, Kandinsky, and Expressionism"
Wednesday, April 6 - 3:00–4:00 p.m.
Michelle Lecklider, Biochemistry - "Optimization of the synthesis of a novel Serine-Derived Cyano Scaffold"
Dahlia Matouba, Biochemistry - "The role of phytoestrogens on the tissue-specific and sex-specific activity of 11β-HSD-1"
Alex Schmitt, Physics / Spanish - "Improving NASA Sounding Rocket Science Experiments by Accounting for Stray Capacitance in Resistors at High Frequency"
Wednesday, April 6 - 4:00–5:00 p.m.
Aryeh Lax, Fine Art - "Telling the Bees"
Araly Flores, Psychology / Sociology - "How Do You Love Yourself?"
Christopher Costello, Psychology - "Backwards Conditioning and Decreased Aversion to Shock in Rats"
Thursday, April 7 - 1:30 – 1:45 p.m.
Wheeler Concert Hall, Krannert Hall of Fine Arts
Alexandra Billhartz, Vocal Performance - "An Afternoon in Music: A Love Story Through American Art Song"
Thursday, April 7 - 4:00–5:00 p.m.
Justin P. Slattery, Creative Writing / English Literature / Philosophy - "On the Moral Implications and Restrictions Surrounding Affective Computing"
Rachel Wyatt, Creative Writing - "Kaleidoscope" (Note: content involves domestic and sexual abuse)
Sara Cook, Literature / Psychology - "Stream of Consciousness in the Psychological Novel: An Analysis of Mrs. Dalloway and To the Lighthouse"
I-House: India
Today's I-House presentation will be on India! Arjun and Ajay will be presenting. Arjun's major is sports management and he loves playing soccer, reading, and doing anything outdoors. Ajay is a communication and political science double major. Arjun loves how diverse the community at UE is, and Ajay loves Ridgway University Center food. Be sure to stop by today at 7:00 p.m. upstairs in Ridgway University Center!
ESPN3 Open House this weekend
Attention students: Are you interested in being a part of UE's new ESPN3 initiative, Purple Aces Productions? There will be an ESPN3 Open House during the broadcasts of baseball and softball games this weekend. UE's new ESPN3 group – composed mainly of students as well as some freelance professionals – will produce the baseball game on Friday night (6:00 p.m.), the softball doubleheader on Saturday (noon) and Sunday's baseball game (1:00 p.m.). All students are welcome to swing by the production trailer located on the walk-way between the baseball and softball stadiums to see what is involved in an ESPN3 broadcast, and to see if they would be interested in being a part of the group next school year.
Next year Purple Aces Productions will produce UE athletic events in men's and women's soccer, volleyball, men's and women's basketball, baseball, and softball for ESPN3. Positions will be open for students both in front of camera as announcers and behind the scenes in terms of camera operators and production staff.
For more information, contact Tom Benson in the athletics department via e-mail at tb39@evansville.edu or by phone at ext. 3200.

Writing Center Boot Camp: MLA Style
Writing Center Boot Camp: MLA Style is set for today at 5:00 p.m. in the Writing Center. Everything you need to know about formatting your paper in MLA style - including in-text citations and the Works Cited page - will be presented at this 30-minute workshop.
Color Run in honor of Bailey George
This Saturday, April 9, the first Crazy Viking Color Dash will take place at North Posey High School. This run is being put on in honor of Bailey George, a UE cross country runner who passed away in January after a battle with melanoma. Two-thirds of the proceeds will benefit Bailey, while one-third of the proceeds will be donated to the American Cancer Society. Registration ends on April 6, so make sure to register soon if you want to participate! For more information and registration please go here.
Wednesday night Mass
Don't forget to join the Newman Club every Wednesday evening as we participate in the 5:30 p.m. Wednesday Mass at St. Benedict Cathedral. The weekly 5:30 p.m. Mass will be taking the place of our regular 9:30 p.m. Wednesday night Masses. We will meet each Wednesday at 5:00 p.m. at the Newman Center before making our way to the cathedral.
We hope to see you there! Please call/text Kristel at 812-760-8610 for more information!

Dropping a spring class
Are you still thinking about dropping a class for this spring? This Friday April 8, is the last day to drop with a W, No exceptions! Many advisors and instructors will be busy with the first SOAR on Friday afternoon, so don't wait until then to get signatures. Drop slips are available in the Office of the Registrar. You must have both the signature of the instructor and your advisor on the drop slip. Please note, if you are dropping below 12 credit hours, you must also obtain stamps from the Office of Financial Aid and Student Accounts. If you have any questions contact the Office of the Registrar.
Venturing Crew Kentucky Action Park trip: sign-up deadline today!
Join Venturing Crew on Sunday, April 10, for a trip to Kentucky Action Park! The group will leave at 8:00 a.m. and will return around 5:00 p.m.
It will be an exciting day of cave tours, an alpine slide, go-carts, putt-putt golf, and more. Lunch will be included. To reserve your spot, bring $25 to Calvin Wertman in Residence Life until 4:00 p.m. today.
If enough people are interested, horseback riding may be available for a reduced rate of $14/one hour (full price $18/one hour). Please tell Calvin if you would like to go horseback riding during the trip, but do not pay the additional $14 at that time.
We hope you will join us for the final off-campus event of the semester!

Extra UE crews for sale!
College Mentors for Kids has five extra UE crewnecks ready for sell! There are two smalls, one medium, one large, and one extra-large, with each crew costing $20. The design of the crewnecks is shown in the photo with this article. To purchase a crewneck, please e-mail Taylor Wornica at tw151@evansville.edu with your name and the size you are requesting.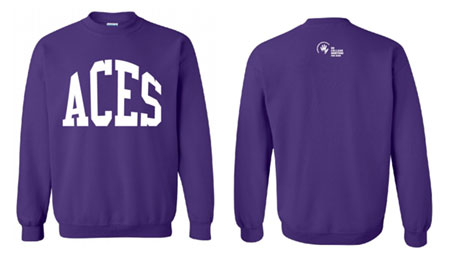 College Mentors for Kids is national, non-profit organization designed to connect college students with the most to give to kids who need it the most. Every crew purchased puts us one step closer towards our fundraising goal, allowing us to continue to serve underprivileged children in the Evansville area.
Become a columnist
Crescent Magazine is seeking interested students to fill columnist positions for the 2016–17 school year. Columns include diversity, faith and religion, sex and relationships, politics, and sports. These positions offer academic credit. For more information, e-mail tm2@evansville.edu. The magazine is also hiring reporters/writers. The application to apply is available at the Crescent's Facebook page.
Housing cancellation deadline
Students who have signed up for housing for 2016-17 have until 5:00 p.m., April 5 to cancel their housing contracts. After the deadline, student housing contracts will only be canceled for the following reasons:
Attending Harlaxton College or studying abroad during the semester
Residing locally with parents or legal guardians (Students/parents/guardians must complete a verification form from the Office of Residence Life)
Participating in any of the following that are outside the Evansville area: a full-time internship, a required clinical, an approved co-op, or student teaching
Transferring, withdrawing or graduating
Housing contracts will not be cancelled after April 5 because a student has found an off-campus property or has entered into another housing agreement or lease with a private landlord. Students who are not approved to cancel their contract are still financially responsible for their housing contract.

Seeking camp residence director
The College of Engineering and Computer Science is seeking an overnight residence director for its 2016 OPTIONS summer camps. The high school girls' camp will be June 12-17, and the middle school girls' camp will be June 19-22. Expected enrollment is 24 for high school and 20 for middle school. This is a paid position that requires overnight stays with the campers on the UE campus and some meal preparation. College counselors will be available to assist the residence director. The ideal candidate will be a mature female interested in promoting the STEM fields to young women and girls in the Tri-State area and available primarily from the hours of 4:00 p.m. to 8:00 a.m. daily. Daytime involvement with the campers may be necessary, but should be minimal. Anyone interested in the position should contact Kimberly Higgins, OPTIONS coordinator, for more details at kh209@evansville.edu or 812-488-2651. Inquiries should be received by April 15.
I-House coordinator applications available
International House (I-House) is a program that offers weekly presentations and educational events to the UE community. If you would like to enhance your leadership skills, help organize student presenters, get to know international students, and learn more about the world, this 8-month paid position may be for you! Applications are available in the Office of Cultural Engagement and International Services until Friday, April 8.
Please contact Megan Sicard at ms331@evansville.edu with any questions.

ARSAF deadline extended to Friday, April 8
The UE Alumni Association sponsors the Alumni Research and Scholarly Activity Fellowships that provide $15,000 annually for faculty projects. Applications for fiscal year 2016-2017 can be made online here.
The deadline to submit is 5:00 p.m. on Friday, April 8. Questions? Contact alumni@evansville.edu or ext. 2586.
Coffee time with the seminarians!
Come to Jazzman's every Wednesday from 4:30-5:00 p.m., and meet the Newman Club's seminarians! Ambrose and Tam, our international seminarians, are currently studying at St. Meinrad Archabbey in St. Meinrad, Indiana, and they would love to meet you! Please feel free to come by, say hi, and ask them anything you want!
Please call/text Kristel at 812-760-8610 for more information!

Scam alert – copiers and printers

Individuals on campus are again randomly receiving scam calls from individuals requesting departmental printer and/or copier information (model or serial numbers, cartridge numbers, etc.). Keep in mind, UE current printer/copier vendors already have access to UE equipment and supply information and will never call departments requesting it. In some cases, scammers are calling and asking for individuals by name, saying that they need copier/printer information for repair purposes. A scammer's intent is to obtain information and to bill the University. Please do not give them any information. Simply tell the caller that you are not authorized to provide information and refer them to the Office of Administrative Services. Usually this quickly ends the conversation.
If you receive a scam call, please report it to Kim Winsett, Office of Administrative Services, at ext. 2940.
Heidi Strobel participates in American Society for Eighteenth Century Studies
Heidi Strobel, associate professor of art history, participated in the American Society for Eighteenth Century Studies last week in Pittsburgh, Pennsylvania. While there, she presented a paper entitled "'A mere copier of nature can never produce anything great': Mary Linwood, Sir Joshua Reynolds, and the art of making copies."
David Green publishes article
David Green, senior lecturer in British studies at Harlaxton College, has published an article in the Journal of the Church Monuments Society (2015) entitled 'The tomb of Edward the Black Prince (1330-76): Contexts and incongruities'. This explores the exequies and funerary monument of the Black Prince. It explains the choice of materials for the effigy and its unusual location (at Canterbury Cathedral, not the Plantagenet mausoleum at Westminster Abbey). The memorial reflects a range of socio-political and religious trends evident in the later years of the fourteenth century.
Egidijus Mockevicius helps West win All-Star Game
All-time University of Evansville rebounding leader Egidijus Mockevicius represented the Purple Aces on Friday at the College All-Star game at the Final Four in Houston.
The senior helped lead the West team to an 89-85 win over the East. Mockevicius saw 24 minutes of action and took full advantage of his time in the game. He knocked down five of his six shots in front of 19,270 fans at the event.
Despite having four fouls, Mockevicius was able to give his squad strong minutes, hauling in six rebounds while blocking a shot. He also did something in that game that he did not do in his career at UE – hit a 3-pointer!
His triple came at an opportune time for the West as the team was trailing the East by a 25-20 margin midway through the first half. Trey Freeman of Old Dominion found him open from outside, and he knocked down the triple to cut their deficit to two points. From that point on, his squad never trailed by more than a possession before taking the 89-85 win.
Mockevicius finished the season as the national leader in rebounds and double-doubles. His tally of 14.0 per game finishes the season a full rebound ahead of Hofstra's Rokas Gustys. His final tally of 27 double-doubles finished tied for the national lead with Pascal Siakam of New Mexico State.
Morgan Florey earns second Newcomer of the Week award
For the second time in her freshman campaign, University of Evansville pitcher Morgan Florey has been named the Missouri Valley Conference Newcomer of the Week.
"Morgan did a great job this week both at the plate and in the circle," head coach Mat Mundell said. "She is gaining more confidence at the plate, which is giving our offense a boost."
Florey got the job done at the plate and in the circle as the Purple Aces went 2-2 this week. Pitching a total of 20 innings, she accumulated a 3.15 ERA. She picked up her sixth win of the season against UT Martin as she went three 2/3 innings. She grabbed another win in the series opener at Bradley, going the full six innings, giving up just two runs and striking out seven.
She also pitched 10 1/3 innings in the final two games at BU. At the plate, she was 4-9, finishing the week batting .444. Against UT Martin, Florey went 1-2 with a 2-run home run, the first of her career. She was stellar at the plate against Bradley, opening the series going 3-4 with two RBI, two walks, and two doubles. The second game of the DH saw her go 0-1, but she got on base via three walks and scored a run. She drew two walks once again in the series finale on Sunday.
Florey and the Purple Aces are at home for their next five contests. On Wednesday, UE takes on Austin Peay in a 3:00 p.m. doubleheader before welcoming Wichita State to Cooper Stadium on Saturday (noon DH) and Sunday (noon single game).
Contribute to AceNotes
To have content considered for inclusion in AceNotes, please submit a Marketing Request Form. Deadline for submission to AceNotes is 10:00 a.m. on the requested date of publication. Only articles concerning UE related/sponsored activities will be accepted. Articles submitted to AceNotes may be edited for length and clarity. Submitter contact information is at the end of each article.