| | |
| --- | --- |
| AceNotes Today | Thursday, March 31, 2016 |
50th anniversary of Neu Chapel celebration this weekend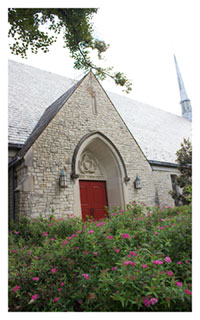 The campus community is invited to celebrate the 50th anniversary of the dedication of Neu Chapel (March 1966) this Sunday, April 3 at 11:00 a.m. in Neu Chapel. Neu Chapel was completed in December 1965, the inaugural service was held on January 6, 1966, and later that spring on March 15, 1966, Methodist bishop Richard C. Raines dedicated Neu Chapel. We're celebrating 50 years of history and an exciting future, unafraid, and invite you to participate in the ceremony.
The 11:00 a.m. service will include the inaugural R. Wayne Perkins Lecture Series: Theology, Ministry, and Interfaith Initiatives and the rededication of Neu Chapel
The R. Wayne Perkins Lecture Series: Theology, Ministry, and Interfaith Initiatives, sponsored by the Office of Religious Life, will bring together theology scholars and church leaders to explore questions about theology in the public square, interfaith initiatives, and ministry in the 21st century.
The lectures will explore theological questions about being human, the function of theology and the responsibility of the theologian in the public square, and the church's role in forming the next generation of theologians.
The lectures are intended to promote responsible theological acumen, compassionate social values, and peace with justice. The series has been developed to generate greater attention to theological practice, interfaith engagement, and ministry as vocation among our students, alumni, clergy, and the larger community.
Other weekend activities have been scheduled to commemorate the Neu Chapel anniversary:

Ministry and Clergy Reunion - Saturday, April 2, 10:00 a.m., in Eykamp Hall, Ridgway University Center.
Alumni who are serving in a ministry setting are invited to attend the reunion weekend.
Panel Discussion: "Ministry in the 21st Century" begins at 2:00 p.m., in Eykamp Hall, Ridgway University Center. The public is invited to the panel discussion.

Love at UE: Marriage Vows Renewal Ceremony and Celebration
Saturday, April 2 at 4:00 p.m. in Neu Chapel
Marriage Vows Renewal Ceremony and Celebration for UE alumni and guests will begin at 4:00 p.m. in Neu Chapel. A reception will follow for all couples and their guests in the Ridgway University Center.

The public is invited to the Saturday, 2:00 p.m. panel discussion and University Worship on Sunday at 11:00 a.m. Pre-registration required for other events. For more information contact: Sylvia DeVault '85, director for alumni and parent relations, at sy5@evansville.edu, or university chaplain Tammy Gieselman '95, at tg85@evansville.edu.
Innovation and Re-Investment Fund proposal deadline is today
Please be reminded that the due date for the next round of proposals to the Innovation and Re-Investment Fund is today, Friday, April 1.
Application material can be found in AceLink by clicking "Areas" and then "Programs Task Force."
Also, those proposals awarded in the first and second round are available to view. You will find the awarded proposals in the same "Programs Task Force" area on AceLink.
Should you have questions about the next round submissions, please contact Programs Task Force chair Shane Davidson, at sd10@evansville.edu or ext. 2477.
A Human Story, Voices of Hope from Refugees
Join Scholars for Syria in hosting Road to Mafraq today at 6:00 p.m., in Room 162, Schroeder School of Business Building.
Ellen Small Billard founded Road to Mafraq in 2013. She is a global development professional and Evansville native focused on the Middle East. Road to Mafraq is an organization working to increase access to education for Syrian and Iraqi refugees, with a focus on empowerment of grassroots, locally-run organizations in Jordan.
In addition to her work with Road to Mafraq, Billard has consulted for NGOs throughout Southeast Asia, serving under-resourced and disenfranchised communities, including orphans, refugees, and victims of human trafficking. She also spent five years working to reform public benefits programs in the state of Connecticut.
Billard earned a Master of Social Work from the University of Connecticut with a focus in public policy and International Social Work and a BA in English Literature from the University of Southern Indiana. She has lived, worked, and traveled in over 35 countries.
"Road to Mafraq identifies, empowers, and equips local grassroots organizations serving those affected by political and sectarian conflict in the Middle East," said Billard. "We believe the programs on the ground in the region are the experts in how to best serve those in need. They have the language and cultural knowledge that allows them to develop strong personal relationships with the people impacted by crisis."
Many of these programs could have a tremendous impact," she added, "if only they had more financial and technical support to achieve their full potential. That's why we walk alongside them to help strengthen their programs and expand their reach."
UE Choir Orange Leaf Fundraiser set for today
The UE Department of Music is hosting a fundraiser at Orange Leaf today. Stop by between noon-9:00 p.m., mention the UE Choir, and present this flyer, and the UE Choir will receive 10% of all designated purchases. Support the UE Choir and its trip to Carnegie Hall by enjoying some frozen yogurt!
Venturing Crew Kentucky Action Park trip
Join Venturing Crew on Sunday, April 10, for a trip to Kentucky Action Park! It will be an exciting day filled with cave tours, an alpine slide, go carts rides, putt-putt golf, and more. Lunch will be included. To reserve your spot, bring $25 to the sign-up table in Ridgway University Center from 11:00 a.m.-1:00 p.m. and 5:00-7:00 p.m. today, or from 11:00 a.m.-1:00 p.m. tomorrow.
You can also go horseback riding during this trip for an additional $14. You do not pay that extra $14 when you sign up. Just let them know at the sign-up table that you would like to go horseback riding during the trip.
We hope you will join us for the final off-campus event of the semester!
This Week in Music: Music Therapy Open House set for today
The Department of Music will celebrate the 40th anniversary of the Music Therapy Program by hosting an Open House in Krannert Hall of Fine Arts today from 4:00-6:00 p.m. The community is welcome to come and visit with faculty members and to browse displays of the program's history and its ongoing activities. Guests may also observe (or join in) as music therapy students demonstrate various music therapy interventions. Stationed in classrooms and rehearsal spaces, students will also be demonstrating drumming, singing, movement, and improvisation processes used in the discipline. Light refreshments will also be served.
For questions, contact professor of music Mary Ellen Wylie at 812-488-2875.
FREE bowling!
UEVETS, the University's student veterans organization, has room for six more teams (up to five people per team) for its annual Spare Change for Warriors Bowling Tournament. There is no charge for bowling, so gather your friends and join us. The event will be held at River City Recreation on Weinbach Avenue just south of Washington Avenue on April 2 at 1:00 p.m. The first six teams to respond will get the spots! Contact Joel Kaiser at jk283@evansville.edu or call 210-792-6504 by Friday, April 1.
Delta Sigma Pi Business Leaders of the Year
The students of Delta Sigma Pi Business Fraternity invite the UE community to the Business Leaders of the Year awards ceremony on Friday, April 1, at noon in Eykamp Hall, Room 252, Ridgway University Center. This year's winners are John C. Schroeder H'00, Business Leader of the Year; Tri-State Orthopaedics, Business of the Year; and Kendra Lankford '12, Young Business Leader of the Year.
Tickets to the event are $40 each and can be purchased online during registration. Faculty and staff may do a department charge during registration.
Register online here.
Contact Alli Frazier at af174@evansville.edu with questions.
Lunch and Learn with Alan Vandagriff '14
Students and faculty are invited to the Math and Science Career Colloquium Lunch and Learn with 2014 alumnus Alan Vandagriff on Tuesday, April 5, from 12:15 - 1:15 p.m. in Eykamp Hall, Room 254, Ridgway University Center.
Alan will discuss his career as an actuarial analyst and will have tips for students regarding job/internship searches. Complimentary boxed lunches will be provided for those who RSVP to alumni@evansville.edu by Monday, April 4.
Alan is currently an actuarial analyst with Milliman in Chicago, Illinois, and completed internships with ING and Walgreens. He looks forward to sharing his experience with current students and seeing faculty members during his visit to campus.

Milkshakes for Miracles
Phi Mu would like to invite you to attend its new philanthropy event, Milkshakes for Miracles, a 1950s themed sock-hop dance tonight from 7:00-10:00 p.m., in Carson Center's small gym. Milkshakes, rootbeer floats, and popcorn will be served. Tickets are $5 and includes cost of admission, a milkshake or rootbeer float, and popcorn. If you don't feel like dancing the night away, you can order a milkshake to go for $2. All proceeds go toward Children Miracle Network Hospitals.
School of Education accreditation interview sessions
On April 4, as part of the Council for Accreditation of Educator Preparation's (CAEP) site visit to review the School of Education's educator preparation programs, there will be two vital interview sessions for the campus community. Both interview sessions will be held from 3:00-3:45 p.m.
1) Session M in Room 302 in Graves Hall, will provide an open forum for UE students and graduates.
2) Session N in Room 306 in Graves Hall, will provide an open forum for University faculty and staff.
All are encouraged to attend and provide input to the site visit team. The School of Education appreciates your willingness to assist with this important process by coming to one of these meetings.

Art exhibit in Krannert Gallery to feature area artists
An art exhibit titled "Portraits by Six" will be on display in Krannert Gallery from April 4-May 6, with a reception on April 8 at 6:00 p.m. The exhibit and the reception are free and open to the public. This exhibit will feature six emerging area artists: Ryan McKain, Jennifer Niswonger, Joshua Gipson, Sarah Wolfe, Tanna Carmen Small, and Jean Ann Kizer.
Textbook adoptions are due
This is a reminder to all faculty and departments that textbook adoptions for the summer sessions and Fall 2016 are due in the UE Bookstore. If you have any questions, please contact the textbook department in the Bookstore at ext. 2679. Thanks for your assistance in this matter.
Opportunity to pray the Rosary!
Looking for simple new ways to come closer to your faith? Join Newman Club members Nathan Kabat and Nicolette Fonseca for 20 minutes every Friday at 11:00 a.m. in Neu Chapel as they lead us in the Rosary! We hope to see you there! Please e-mail Nicolette (nf39@evansville.edu) or Nathan (nk78@evansville.edu) for more information!
Coffee time with the seminarians!
Come to Jazzman's every Wednesday from 4:30-5:00 p.m., and meet the Newman Club's seminarians! Ambrose and Tam, our international seminarians, are currently studying at St. Meinrad Archabbey in St. Meinrad, Indiana, and they would love to meet you! Please feel free to come by, say hi, and ask them anything you want!
Please call/text Kristel at 812-760-8610 for more information!

NSLS induction materials due
All materials (orientation and LTD attendance), three speaker broadcasts, and three SNT forms must be submitted online by 5:00 p.m. on April 4, in order for you to be officially inducted into NSLS. Those interested in checking their membership status should please e-mail Jennifer Allen at ja225@ueliveevansville.onmicrosoft.com.
UE alumni couples to renew wedding vows in Neu Chapel
As part of the 50th anniversary of Neu Chapel, 48 alumni couples, ranging from two to 51 years of marriage, will renew their vows in the Chapel this Saturday at 4:00 p.m. Chaplain Gieselman and professor emeritus Wayne Perkins will serve as officiants.
Organist presents recital at Oberlin
Helen Skuggedal Reed, adjunct instructor of organ and harpsichord, presented a recital, "Keyboard Arrangements of Polyphonic Music, ca. 1550-1650,"on March 23 at the fifth annual meeting of the Historical Keyboard Society of North America. Reed has served as board member and treasurer of this organization since 2012. She played the remarkable Brombaugh mean-tone organ in Fairchild Chapel on the campus of Oberlin College and Conservatory, Oberlin, Ohio.
Edwards receives Academy Fellow award
Dale Edwards, professor and chair of biology, recently received the Academy Fellow Award during the 131st Annual Meeting of the Indiana Academy of Science held in Indianapolis. The Fellow is the Academy's most prestigious honor awarded to those who exemplify the highest standards of professional performance demonstrated through service to the Academy and to the advancement of science in Indiana, service to education in science, and achievements in scientific research consistent with the ideals and mission of the Indiana Academy of Science.
Mathematics article published
Clark Kimberling, professor of mathematics, and László Szalay, a professor at the University of West Hungary, have a research article in the current issue of The Fibonacci Quarterly. Entitled, "t-sion of Two Polynomial Sequences and Factorization Properties," the work derives explicit formulas for generalized fusion and fission polynomials. An abstract is downloadable from www.fq.math.ca/54-1.html.
Aces participate in National STUDENT-Athlete Day at NCAA
Four University of Evansville student-athletes made the trip to the NCAA Headquarters in Indianapolis on Tuesday to participate in the NCAA's eighth annual National STUDENT-Athlete Day.
Evansville's contingent consisted of Jelena Merseli (Volleyball), Matthew Keller (Men's Soccer), Jimmy Ward (Baseball), and Erin Sinnott (Women's Basketball). They joined other student-athletes representing institutions in Indiana for several activities throughout the day. They worked alongside Indianapolis youth to participate in a service activity making care packages for cancer survivors, notes of encouragement, and posters for display at the cancer center. They were also able to tour the Hall of Champions and spend a full day at the NCAA.
"It was an unbelievable experience and an even better memory getting to work with the children and being able to walk through the Hall of Champions," Ward said. "Learning so much about the NCAA and meeting alumni who work there was an awesome opportunity I will never forget."
Activities also included professional development and leadership sessions with NCAA staff. UE alumni Binh Nguyen and Joni Williamson, who both work at the NCAA, also spent time with the Purple Aces student-athletes discussing their career path and recalling memories of their time at UE.
"We appreciate the opportunity the NCAA provides annually for our student-athletes to celebrate National Student-Athlete Day and visit the NCAA national office," said UE senior associate athletic director Sarah Solinsky.
National STUDENT-Athlete Day is generally recognized April 6 nationwide, but can be celebrated throughout the months of March and April at NCAA colleges and universities. The day recognizes the accomplishments of student-athletes who excel in the classroom, or on the playing fields and who give back to their community through service projects. Annually, the NCAA celebrates college athletes from Indiana schools at the national office with a day of service and development.
National STUDENT-Athlete Day was created by the National Consortium for Academics and Sports (NCAS) and the Northeastern University Center for the Study of Sport in Society, with partnership from the NCAA and the National Federation of State High School Associations. NCAA involvement began in 1994.
Contribute to AceNotes
To have content considered for inclusion in AceNotes, please submit a Marketing Request Form. Deadline for submission to AceNotes is 10:00 a.m. on the requested date of publication. Only articles concerning UE related/sponsored activities will be accepted. Articles submitted to AceNotes may be edited for length and clarity. Submitter contact information is at the end of each article.