| | |
| --- | --- |
| AceNotes Today | Thursday, March 17, 2016 |
Innovation and Re-Investment Fund proposal deadline is today
Please be reminded that the due date for the next round of proposals to the Innovation and Re-Investment Fund is today, Friday, April 1.
Application material can be found in AceLink by clicking "Areas" and then "Programs Task Force."
Also, those proposals awarded in the first and second round are available to view. You will find the awarded proposals in the same "Programs Task Force" area on AceLink.
Should you have questions about the next round submissions, please contact Programs Task Force chair Shane Davidson, at sd10@evansville.edu or ext. 2477.
Promotion and Tenure Committee open meeting with candidates
The Promotion and Tenure Committee will hold an open meeting today, March 17, at 4:00 p.m. in the Vectren Board Room in the Schroeder School of Business Building. Committee members will answer questions about the promotion/tenure process and offer suggestions to those applying in the 2016-17 academic year. Candidates, their chairs, and all interested faculty are invited to attend.
Walayet Khan presents global finance research today
Walayet A. Khan, research director for the Institute for Global Enterprise and professor of finance, will give the first presentation in the 2016 Business Research Colloquium series today at 4.00 p.m. in Room 172, Schroeder School of Business Building. The title of his presentation is "Causality of Inflation and Economic Growth: Empirical Evidence from SARRAC Countries." The event is open to public.
Khan also recently presented a couple of other global papers titled "The Effect of US Stock Market Uncertainty on Emerging Equity Market Returns" and the "Co-movements among Stock Indices, Industrial Production and Inflation of Latin American Emerging Markets" in the 2015 Annual Meeting of the Financial Management Association.
Scholars for Syria Lecture on discrimination and counterterrorism
Join Scholars for Syria today for a lecture on discrimination and counterterrorism given by Richard Maass, assistant professor of political science. The lecture begins at 6:00 p.m. in Room 162, Schroeder School of Business Building.
"The November 2015 terrorist attacks in Paris sparked rhetoric by US political figures targeting Muslims and Syrian refugees," says Maass, "yet such broad-based discrimination is counterproductive when it comes to countering the threat of terrorism. This talk explores why such discriminatory thinking is easy for people to fall into and how it hurts overall counterterrorism efforts, drawing on examples from several countries' historical experiences."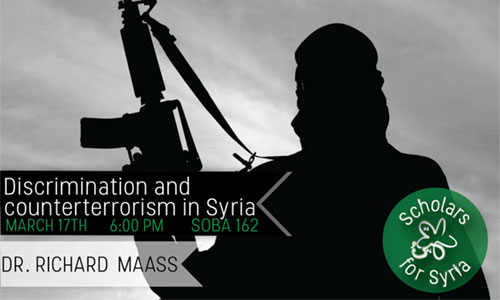 Maass earned his PhD from the University of Notre Dame and taught international relations at both Notre Dame and Cornell University before joining the UE faculty in 2014. He has published research in international security, diplomatic history, terrorism and political violence, and historical methods, and he is currently writing a book on annexation and US territorial expansion.
This Weekend in Music: senior recitals and a jazz concert
This Saturday, the Department of Music will present three student recitals in Wheeler Concert Hall. At 1:00 p.m., soprano Alexandra Billhartz, a student of assistant professor Eric McCluskey, will present her senior recital. Pianist Elizabeth Long, a student of professor Anne Fiedler, will follow with her senior recital at 2:30 p.m., and baritone Ian Murrell, another student of McCluskey, will conclude the afternoon's offerings with his senior recital at 4:00 p.m. All three students will present the recitals in partial fulfillment of their respective degree requirements. The recitals are free and open to the public.
On Sunday at 4:00 p.m., the Jazz Guest Artist Series will continue in Wheeler Concert Hall with "A Women's History Month Celebration in Jazz." A group of exemplary instrumentalists under the direction of pianist Monika Herzig will gather to celebrate the contributions of women to the history of jazz with music by Marian McPartland, Carla Bley, and many more.
In addition to pianist Monika Herzig, the group will include Jess Henry, trumpet; Amanda Gardier, saxophone; Hannah Marks, bass; and Hannah Johnson, drums. This event is co-sponsored by the Evansville Jazz Society and the University of Evansville Department of Music.
Admission to the concert is $15 for adults, $10 for Evansville Jazz Society members and $5 for students with ID. Tickets can be obtained in advance by contacting the UE Department of Music at 812-488-2754, or they may be purchased at the door.
For more information, contact emeritus professor Edwin Lacy at el2@evansville.edu or 812-488-2227.

#readingseries today!
Please join the fun folks from the Department of Creative Writing today for the second #readingseries event of the spring term. This event will feature readers Brittney Kaleri, Toby Kuhnke, and Erin Willer, and they are sure to be great. We'll be in the back room of The Slice at 4:00 p.m. Hope to see you there!
GAP info session and free pizza!
Join us to learn about the GAP Program and have lunch while you're there. All majors are encouraged to attend!
The GAP info session is planned for:
Tuesday, March 22
12:15 - 1:00 p.m.
Room 250, Schroeder School of Business Building
Real World, Real Results! www.evansville.edu/gap

Relay for Life
Relay for Life takes place starting at 7:00 p.m. on April 1, and ending at 7:00 a.m. on April 2.
Zumba, 3-on-3 basketball, free popcorn, and more will be offered! Relay for Life supports a really great cause, and we would like to have as many people as possible participate!
To register go to: relayforlife.org.
Questions? Contact: lw147@evansville.edu
Chemistry Day: calling all 4th and 5th graders!
The University of Evansville Chemistry Club is inviting all 4th and 5th graders to participate in Chemistry Day on April 2, in Koch Center for Engineering and Science from 10:00 a.m.-2:00 p.m.! During the event, young scientists will be exposed to a variety of interesting demonstrations and will also have fun with hands-on experiments.
The cost to participate in Chemistry Day is $25. This includes a pizza lunch, demonstrations, and hands-on science experiments and activities. To find out more about the event, and to download the application form, go here. Applications must be turned in by March 25.
Feel free to contact Ethan Lehmann (el104@evansville.edu) with any questions.
We hope that your child will join us for an exciting and educational day!
UE for She to present Vagina Monologues today and tomorrow
UE for She will present The Vagina Monologues today and tomorrow at 7:00 p.m. in Wheeler Concert Hall. The Vagina Monologues is an episodic play about women performed by women. Tickets are $5 and can be bought during lunch and dinner hours in Ridgway University Center or at the door.
Recyclemania: Evie visit and more
We loved having Evie, the Keep Evansville Beautiful mascot, visit our campus last month! Seventy-two people signed pledges to recycle, and Evie made a lot of new friends! Many thanks to Amanda Green from KEB and to Evie's owners Steve and Susan Harp for sharing their amazing, litter retrieving lab with UE. You can see pictures from Evie's visit on the UE Facebook page or the UE Environmental Management Facebook page.
Recyclemania continues until April 2, so please recycle all you can! You can check out results on the Recyclemania webpage.
As a reminder, please keep food items out of the recycle bins – contamination can cause the entire bag to be thrown in the trash.
Thank you for recycling, and please email js652@evansville.edu or call ext. 2697 if you have any questions or suggestions to improve UE's Recycling program, or notice recycling bins that need to be emptied.

For more information, check out AceLink/Areas/Recycling, visit acelink.evansville.edu/Areas/Recycling/
Central Receiving reminder - Good Friday
Since UE campus will be closed Good Friday, March 25, please note the following adjustments and plan accordingly. These adjustments will help to ensure there is sufficient time to complete deliveries before campus closes for Easter Break.
• UE Central Receiving will close at 4:30 p.m. on Thursday, March 24, and re-open at 7:30 a.m. on Monday morning, March 28.
• Offices that plan to be unstaffed earlier than Friday, March 25, are asked to notify Central Receiving in advance to avoid unnecessary delivery stops.
For delivery questions, contact Central Receiving at ext. 2181.
UE Mail Services reminder - Good Friday
Since UE campus will be closed Good Friday, March 25, pease note the following adjustments and plan accordingly. These adjustments will help to ensure there is sufficient time to complete deliveries before Easter Break.
• UE Mail Services will close at 5:00 p.m. on Thursday, March 24, and re-open at 7:30 a.m. on Monday morning, March 28.
• Offices that plan to be unstaffed earlier than Friday, March 25, are asked to notify Mail Services in advance to avoid unnecessary morning delivery stops.
For mail questions, contact Mail Services at ext. 2197.
Master of Public Health to begin at UE in the fall
The School of Public Health will offer a Master of Public Health degree beginning Fall 2016. UE's Master of Public Health in health policy is a great opportunity for those who want to study public health issues and learn about health policy. Students may enroll on either a full-time or part-time basis, with a full-time student taking two years to complete the program. More information can be found here.
Please contact Payal Patel-Dovlatabadi at pp42@evansville.edu with any questions or additional information.
International Club Louisville trip and cookout sign-ups
The International Club is planning its yearly trip! This year they will be going to Louisville, Kentucky, and staying overnight. The group will visit local attractions and explore downtown Louisville. You can sign up to go on the trip from 11:00 a.m.-1:00 p.m. on March 17, 18, 21, and 22 in the Ridgway University Center lobby.
The trip will cost $55, with $30 of that amount due at the time of sign-up, and $25 due on March 22, the last day to sign up. There is limited seating, so be sure to sign up before the spots are gone! Hope to see you there!
The group has also planned a cookout at Wesselman Woods in Evansville on Friday, March 18, from 5:00-8:00 p.m. You can sign up to participate in this event from 11:00 a.m.-1:00 p.m. on March 17 and 18 in the Ridgway University Center lobby. Volunteer drivers are needed for this event.

GAP Program now accepting applications/nominations for Fall Semester
Put your skills to work on a real-world project.
Get valuable experience and build your résumé.
Learn to work with people from different majors.
Develop professional confidence.
Get the coaching and guidance to succeed.
Participate in the GAP Program!
GAP is open to all majors. Students are invited to apply directly to the program. Faculty or administrators are encouraged to nominate students by completing a brief nomination form online.
To learn more about the GAP Program and fall projects, visit the website.
Free HIV testing
The Health Center will have free HIV testing on March 18 from 9:00 a.m.-noon. Please call 812-488-2033 to make your confidential appointment.
BIOL 100 online
Are you interested in taking a non-major biology course with a lab over the summer to fulfill one of your scientific literacy, general education requirements? Then take BIOL 100 D01 – Fundamentals of Biology online during Summer I (May 16 to June 17). Please contact Dale Edwards (de3@evansville.edu) for more details.
Maass wins Best Post of 2016 award
An article by UE political science professor Richard Maass - titled "Want to help the Islamic State recruit? Treat all Muslims as potential terrorists" - has won the Best Post of 2016 award from the International Studies Association's Online Media Caucus. The article was written during the aftermath of the Paris attacks and was originally published at the Monkey Cage blog at the Washington Post on November 30, 2015.
The article can be read here.
The full list of winners can be seen here.
New members inducted into Phi Sigma Iota
The Epsilon Beta chapter of Phi Sigma Iota, the international foreign language honor society, held its annual initiation ceremony on Sunday afternoon, February 28, in the Ridgway University Center. Six students representing four languages were inducted into membership.
New members include Amanda Alexander, Megan King, Clarissa Eckert, Stephanie Marcotte, Haley Grubbs, and Jennifer Riedford.
PSI president Hannah Mitchell and vice president Alex Schmitt conducted the ceremony along with members Jamelyn Wheeler, Holly Sanders, Lauren Littlepage, Sara Gensler, Tessa McLinden, and Kaylynn Carver.
Shengwei Fei, director of transportation, logistics and supply chain at Owens Corning Composites in Hangzhou, China, served as guest speaker for the event.
A dessert reception for members, initiates, faculty, and friends followed the ceremony.
Phi Sigma Iota members are elected from among outstanding advanced undergraduate students and faculty in foreign languages. Chapters are distributed throughout the US and the world. Election to Phi Sigma Iota is considered the highest academic honor in the field of foreign languages and literatures. The UE Epsilon Beta chapter has initiated 174 members since it was installed here in April 2000.
Heidi Strobel publishes second book
Heidi. A. Strobel, associate professor of art history, has published her second book, Materializing Gender in Eighteenth-Century Europe. Strobel co-edited the volume with art historian Jennifer Germann of Ithaca College. The volume, which contains Strobel's essay on artists Mary Linwood and Thomas Gainsborough, is part of the Histories of Material Culture and Collecting series published by Ashgate (now Taylor and Francis).
Tony Holt and Family
Condolences are extended to Tony Holt, campus maintenance supervisor, on the death of his wife, Shannon French Holt. She passed away on Friday, March 11, at her home.
A celebration of Shannon's life will be held on Thursday, March 17, from 4:00-8:00 p.m., at Olivet Evangelical Presbyterian Church, located at 5600 Oak Hill Road, in Evansville.
In lieu of flowers, donations can be made to the One Cancer Day Fund. You can donate online here.
Rick Voyvodic named MVC Men's Golfer of the Week
A week after winning the first event of his career at the University of Evansville, Rick Voyvodic was named the Missouri Valley Conference Men's Golfer of the Week.
Voyvodic picked up the first win of his collegiate career in the Bulldog Florida Invitational. A dominating performance saw Voyvodic take top honors by five strokes in the tournament. He shot a 74 in Wednesday's opening round before firing off a 1-under 71 to finish with a 145. His efforts helped the Purple Aces take second place in the event.
His honor comes just a week after the duo of Tyler Gray and Will Knights garnered conference honors of their own. The duo were named Co-Golfers of the Week on March 9 after tying for seventh place in the Don Benbow Invitational.
This weekend, the Aces make the trip to Sevierville, Tennessee, for the Tennessee Tech Invitational. They will play at Sevierville Golf Club on Monday and Tuesday.

Aces drop 11-10 slugfest at SIUE
A school-record-tying six home runs would not be enough on Wednesday evening as the University of Evansville baseball team fell 11-10 to host SIUE at Simmons Baseball Complex.
"Having six games in six days really took its toll on our pitching staff, and it showed tonight," UE head coach Wes Carroll said. "After taking the lead, we weren't able to put zeroes on the board when it came down to the last three innings."
Things could not have started off better for the Aces (8-9) as Shain Showers and Eric McKibban picked up back-to-back hits to open the game and push across the opening tally. A single from Trey Hair and a Jonathan Ramon sacrifice fly plated another before Josh Jyawook became the first UE player to homer on the night with a one-run blast later in the frame.
After SIUE reclaimed a pair of scores in the bottom of the second, it would be Hair's turn to leave the park, plating a pair in the third to put the Aces up 6-2. However, the four-run advantage wouldn't last as the Cougars (1-12) put up three runs in the bottom half of the frame.
Boomer Synek, Ramon, McKibban, and Jyawook would each homer in the fifth, seventh, eighth, and ninth innings, respectively, but the Cougars mounted an impressive response each time, scoring six runs down the stretch to hold on for the win.
Jyawook, who finished 4-for-5 at the plate with a pair of solo homers, led the Aces on the day, and he's the second UE player this season to homer twice in one game. McKibban, who is now riding a 17-game on-base streak, ended 3-for-5 with three scores, and Ramon's homer, which was his second in as many days, was his only hit of the game.
For the Cougars, seven different players logged hits on the day, led by three-hit showings from both Dustin Woodcock and Alec Skender.
On the mound, Alex Gould was pegged with the loss, his first decision of the season, and SIUE's Brandon Tatum picked up the win as he moved to 1-0 on the year. Zach Malach earned his first save after allowing a run in the top of the ninth.
UE will return to action on Friday when USI pays a visit to Braun Stadium. First pitch is slated for 6:00 p.m.
Kayla Katterhenry named MVC Scholar-Athlete of the Week
With a win and second place finish in last week's trip to Jacksonville, Florida, University of Evansville junior Kayla Katterhenry was named the Missouri Valley Conference Scholar-Athlete of the Week on Tuesday.
Sporting a 3.705 GPA as a management major, Kayla Katterhenry had a stellar week as the Purple Aces played in Florida. Katterhenry picked up the seventh victory of her career and fourth of the school year, taking top honors at the Don Benbow Invitational at Jacksonville Beach Golf Club.
Despite rough and windy conditions, Katterhenry recorded scores of 74 and 76 to post a 150 and force a playoff. That playoff took just one hole as she was able to pick up the victory over Christine Cates of Butler. She also helped the women take second in the event as a team.
The team stayed in Jacksonville to play in the Bulldog Florida Invitational, and Katterhenry had another great outing. Still dealing with windy conditions, Katterhenry posted rounds of 75 and 76 to finish with a 151. That gave her a second place finish, just one away from taking another victory.
To qualify for Missouri Valley Conference Scholar-Athlete of the Week laurels, student-athletes must carry a cumulative grade-point average of 3.20, complete at least one academic year at a Valley institution, and must be at least a sophomore in academic standing.
Redshirt freshmen and first-year junior college transfers are not eligible. In addition to the academic qualifications, student-athletes will be evaluated on their athletic performance for a one-week period.

Contribute to AceNotes
To have content considered for inclusion in AceNotes, please submit a Marketing Request Form. Deadline for submission to AceNotes is 10:00 a.m. on the requested date of publication. Only articles concerning UE related/sponsored activities will be accepted. Articles submitted to AceNotes may be edited for length and clarity. Submitter contact information is at the end of each article.