| | |
| --- | --- |
| AceNotes Today | Wednesday, March 16, 2016 |
Innovation and Re-Investment Fund proposal deadline is today
Please be reminded that the due date for the next round of proposals to the Innovation and Re-Investment Fund is today, Friday, April 1.
Application material can be found in AceLink by clicking "Areas" and then "Programs Task Force."
Also, those proposals awarded in the first and second round are available to view. You will find the awarded proposals in the same "Programs Task Force" area on AceLink.
Should you have questions about the next round submissions, please contact Programs Task Force chair Shane Davidson, at sd10@evansville.edu or ext. 2477.
Corrinna M. Schroeder reading at today's Creative Writing Coffee Hour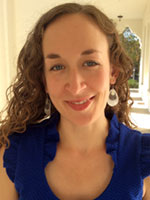 UE graduate Corinna McClanahan Schroeder will be speaking at the Creative Writing Coffee Hour today in the Melvin Peterson Gallery at 4:00 p.m.
Schroeder is the author of the poetry collection Inked, winner of the 2014 X. J. Kennedy Poetry Prize.
Her poetry appears in such journals as Shenandoah, The Gettysburg Review, Tampa Review, Poet Lore, and Blackbird. The recipient of an AWP Intro Journals Award in poetry, she holds an MFA from the University of Mississippi and is currently a PhD candidate at the University of Southern California, where she holds a Wallis Annenberg Endowed Fellowship.
I-House: Kazakhstan
I-House Kazakhstan is this week! Akbota Medeubayeva will be presenting, and she has a lot in store for you all! Her major is foreign languages and she LOVES hockey! Her favorite part about UE is that she gets to learn something new every day. So be sure to come to I-House tonight at 7:00 p.m., upstairs in Ridgway Univeresity Center!
Writing Center Boot Camp: Science Writing
Writing Center Boot Camp: Science Writing is planned for 5:00 p.m., today in the Writing Center. This workshop will address the stylistic differences between general academic and scientific writing. Specifically, we will talk about word and phrasing choice, the passive voice, verbosity, and writing and justifying your hypothesis—strategies for improving your scientific prose. Join us today for this useful session.
Charles Schwab information session for all majors
Representatives from Charles Schwab will be on campus today, including alumnus Ricky Alexander. They will host an information session in Room 162 (Harkness Hall), Schroeder School of Business Building at 4:00 p.m. All majors are invited to attend to learn more about Charles Schwab and their employment opportunities. Please contact Emily Fiedler at ef31@evansville.edu with any questions.
May we pray for you?
"When people talk, listen completely" - Ernest Hemingway
The UE Newman Catholic Campus Ministry Team would like to listen to you, be it your thoughts, questions, prayer requests, or whatever else that may be on your mind. Please stop by Jazzman's Cafe and look for a Ministry Team member in bright blue and let us listen to you. We will be present:
Monday 11:00 a.m.-noon
Tuesday 8:00-9:00 a.m.
Wednesday 4:00-4:30 p.m.
Thursday 4:00-5:00 p.m.
Friday 8:00-9:00 a.m.
We look forward to spending this time with you!

UE's first ever High School Changemaker Challenge planned for March 17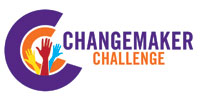 Thirteen high schools from Vanderburgh and Warrick Counties will compete in the Changemaker Challenge social innovation contest on Thursday, March 17 from 9:00 a.m.–2:00 p.m. in Eykamp Hall, Room 251, Ridgway University Center. Come watch as these teams present their ideas for making the world a better place and compete for UE scholarships!
Thanks to Toyota Motor Manufacturing, Indiana for sponsoring this event. The event is free and open to the public. For more details, visit www.evansville.edu/cc-hs.
Questions? Contact Erin Lewis at el131@evansville.edu.
#readingseries today!
Please join the fun folks from the Department of Creative Writing today for the second #readingseries event of the spring term. This event will feature readers Brittney Kaleri, Toby Kuhnke, and Erin Willer, and they are sure to be great. We'll be in the back room of The Slice at 4:00 p.m. Hope to see you there!
GAP info session and free pizza!
Join us to learn about the GAP Program and have lunch while you're there. All majors are encouraged to attend!
The GAP info session is planned for:
Tuesday, March 22
12:15 - 1:00 p.m.
Room 250, Schroeder School of Business Building
Real World, Real Results! www.evansville.edu/gap

Exciting Lunch with the Aces set for April 15
A new and exciting format will be in place for the annual Lunch with the Aces event, which is set for Friday, April 15.
For the first time, the event will be held on campus and will feature a full program. The event will be in the Maikranz Gym in Carson Center from 11:00 a.m.-1:00 p.m. Colt Ryan will be the keynote speaker for the program. Ryan, one of the top players in Purple Aces Men's Basketball history, graduated in 2013 as the leading scorer in University of Evansville history.
Attendees will be able to eat lunch at any point from 11:00 a.m.-1:00 p.m., with the program beginning at 12:30 p.m. This allows people who are on a strict lunch period to come and go as they need.
The cost of the lunch is $25 for those who register before April 11. Tickets will also be available at the door for $30.
Marx Barbecue is catering the event and will serve a whole roasted pig. UE student-athletes will be sitting at each table while coaches of the Aces programs will be serving food and drinks.
Corporate tables may be purchased for $350 and contain several great benefits, including a full table of eight seats, tables in the front of the room, logo in the program and on the video screen as well as mentions by the emcee.
Another great part of the day is that those who attend can purchase baseball tickets for the 6:00 p.m. game versus Bradley that night for just $3. Tickets normally cost $7 for home baseball games.
For more information, please contact Amy Davidson at 812-488-2338 or ad204@evansville.edu.
Those who would like to attend can register here: www.uealumnionline.com/PACLunch
or by filling out the registration form and sending it to Amy Davidson in Carson Center.
Walayet Khan presents global finance research today
Walayet A. Khan, research director for the Institute for Global Enterprise and professor of finance, will give the first presentation in the 2016 Business Research Colloquium series today at 4.00 p.m. in Room 172, Schroeder School of Business Building. The title of his presentation is "Causality of Inflation and Economic Growth: Empirical Evidence from SARRAC Countries." The event is open to public.
Khan also recently presented a couple of other global papers titled "The Effect of US Stock Market Uncertainty on Emerging Equity Market Returns" and the "Co-movements among Stock Indices, Industrial Production and Inflation of Latin American Emerging Markets" in the 2015 Annual Meeting of the Financial Management Association.
Relay for Life
Relay for Life takes place starting at 7:00 p.m. on April 1, and ending at 7:00 a.m. on April 2.
Zumba, 3-on-3 basketball, free popcorn, and more will be offered! Relay for Life supports a really great cause, and we would like to have as many people as possible participate!
To register go to: relayforlife.org.
Questions? Contact: lw147@evansville.edu
Family Weekend 2016 is set for September 23-25!
The Office of Alumni and Parent Relations has started working on event planning for Family Weekend 2016. If your student organization or department would like to have an event for families or parents during this weekend, please complete the Family Weekend 2016 Event Participation Form by March 29, by clicking here.
Like past years' successful events, we would like to have a lot of student and department participation! If you would like to volunteer your assistance or if you have ideas, please contact us at alumni@evansville.edu or call 812-488-2586.
Newman Club St. Meinrad Service Day
All are welcome to join the Newman Club on Saturday, March 19, from 9:00 a.m. to 3:00 p.m. as we travel to St. Meinrad, Indiana, for a day of volunteering. We will meet at the Newman Center at 8:00 a.m. before traveling to the town of St. Meinrad to help stain a wooden bridge and help build new landscaping nearby.
We would love for you to join us on this day of service! To reserve your spot, please contact Nicolette Fonseca at nf39@evansville.edu for more information.

Promotion and Tenure Committee open meeting with candidates
The Promotion and Tenure Committee will hold an open meeting on Thursday, March 17, at 4:00 p.m. in the Vectren Board Room in the Schroeder School of Business Building. Committee members will answer questions about the promotion/tenure process and offer suggestions to those applying in the 2016-17 academic year. Candidates, their chairs, and all interested faculty are invited to attend.

Chemistry Day: calling all 4th and 5th graders!
The University of Evansville Chemistry Club is inviting all 4th and 5th graders to participate in Chemistry Day on April 2, in Koch Center for Engineering and Science from 10:00 a.m.-2:00 p.m.! During the event, young scientists will be exposed to a variety of interesting demonstrations and will also have fun with hands-on experiments.
The cost to participate in Chemistry Day is $25. This includes a pizza lunch, demonstrations, and hands-on science experiments and activities. To find out more about the event, and to download the application form, go here. Applications must be turned in by March 25.
Feel free to contact Ethan Lehmann (el104@evansville.edu) with any questions.
We hope that your child will join us for an exciting and educational day!
UE for She to present Vagina Monologues today and tomorrow
UE for She will present The Vagina Monologues today and tomorrow at 7:00 p.m. in Wheeler Concert Hall. The Vagina Monologues is an episodic play about women performed by women. Tickets are $5 and can be bought during lunch and dinner hours in Ridgway University Center or at the door.
Scholars for Syria Lecture on discrimination and counterterrorism
Join Scholars for Syria today for a lecture on discrimination and counterterrorism given by Richard Maass, assistant professor of political science. The lecture begins at 6:00 p.m. in Room 162, Schroeder School of Business Building.
"The November 2015 terrorist attacks in Paris sparked rhetoric by US political figures targeting Muslims and Syrian refugees," says Maass, "yet such broad-based discrimination is counterproductive when it comes to countering the threat of terrorism. This talk explores why such discriminatory thinking is easy for people to fall into and how it hurts overall counterterrorism efforts, drawing on examples from several countries' historical experiences."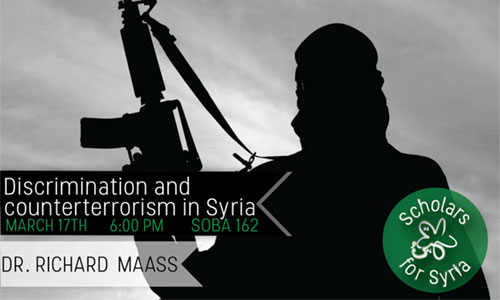 Maass earned his PhD from the University of Notre Dame and taught international relations at both Notre Dame and Cornell University before joining the UE faculty in 2014. He has published research in international security, diplomatic history, terrorism and political violence, and historical methods, and he is currently writing a book on annexation and US territorial expansion.
Financial preparedness class for new parents
The University of Evansville and St. Mary's Hospital for Women & Children are offering a class on financial preparedness for new and expectant parents on Thursday, April 7, from 6:30-8:30 p.m. The class will be in the St. Mary's Gift Conference Room.
While the class is free, registration is required. To register, go to stmarys.org and click the "Class or Event" tab, or call Terry Cooper at 812-485-6016.
This class is for those having their first child and for those who are welcoming another baby to the family.
Topics to be addressed in the class include household financial planning, taxes and insurance, and resources available for those needing assistance.
Recyclemania: Evie visit and more
We loved having Evie, the Keep Evansville Beautiful mascot, visit our campus last month! Seventy-two people signed pledges to recycle, and Evie made a lot of new friends! Many thanks to Amanda Green from KEB and to Evie's owners Steve and Susan Harp for sharing their amazing, litter retrieving lab with UE. You can see pictures from Evie's visit on the UE Facebook page or the UE Environmental Management Facebook page.
Recyclemania continues until April 2, so please recycle all you can! You can check out results on the Recyclemania webpage.
As a reminder, please keep food items out of the recycle bins – contamination can cause the entire bag to be thrown in the trash.
Thank you for recycling, and please email js652@evansville.edu or call ext. 2697 if you have any questions or suggestions to improve UE's Recycling program, or notice recycling bins that need to be emptied.

For more information, check out AceLink/Areas/Recycling, visit acelink.evansville.edu/Areas/Recycling/
Master of Public Health to begin at UE in the fall
The School of Public Health will offer a Master of Public Health degree beginning Fall 2016. UE's Master of Public Health in health policy is a great opportunity for those who want to study public health issues and learn about health policy. Students may enroll on either a full-time or part-time basis, with a full-time student taking two years to complete the program. More information can be found here.
Please contact Payal Patel-Dovlatabadi at pp42@evansville.edu with any questions or additional information.
International Club Louisville trip and cookout sign-ups
The International Club is planning its yearly trip! This year they will be going to Louisville, Kentucky, and staying overnight. The group will visit local attractions and explore downtown Louisville. You can sign up to go on the trip from 11:00 a.m.-1:00 p.m. on March 17, 18, 21, and 22 in the Ridgway University Center lobby.
The trip will cost $55, with $30 of that amount due at the time of sign-up, and $25 due on March 22, the last day to sign up. There is limited seating, so be sure to sign up before the spots are gone! Hope to see you there!
The group has also planned a cookout at Wesselman Woods in Evansville on Friday, March 18, from 5:00-8:00 p.m. You can sign up to participate in this event from 11:00 a.m.-1:00 p.m. on March 17 and 18 in the Ridgway University Center lobby. Volunteer drivers are needed for this event.

Nominations now being accepted for the Outstanding Senior Service Awards
Do you know a senior deserving of the highest award given by UE? Ten finalists will be honored at a luncheon in May and one male and one female will be given this award at Commencement. Selection is based on academic achievement, demonstrated leadership, and future contribution to society.
The Guthrie May and Mabel Dillingham Nenneker Outstanding Senior Service Awards nominations will be accepted March 15-April 6. The nomination application is available here.
Please print it out and share copies with students whom you would like to nominate so they can complete the requirements and submit their applications. Copies are also available in the Office of the Dean of Students.
Applications must be submitted to the Office of the Dean of Students by April 6.
Questions can be referred to Karen Martin at km306@evansville.edu or 812-488-2500.
GAP Program now accepting applications/nominations for Fall Semester
Put your skills to work on a real-world project.
Get valuable experience and build your résumé.
Learn to work with people from different majors.
Develop professional confidence.
Get the coaching and guidance to succeed.
Participate in the GAP Program!
GAP is open to all majors. Students are invited to apply directly to the program. Faculty or administrators are encouraged to nominate students by completing a brief nomination form online.
To learn more about the GAP Program and fall projects, visit the website.
The Happy Class
Welcome on a journey to experience all that happiness is ... A commitment to make small changes will produce some amazing results!
Join the Center for Adult Education on the University of Evansville's campus and experience this unique opportunity provided by Happy Matters, Inc. This professional and personal development class will meet one night a week for eight weeks.
Space is limited! Deadline to register is April 6.
The best is yet to come.... in you, in us, in the world.
For more information and to download the registration form, visit the Happy Class Website.
Free HIV testing
The Health Center will have free HIV testing on March 18 from 9:00 a.m.-noon. Please call 812-488-2033 to make your confidential appointment.
Free METS bus service on March 17
METS is promoting the use of public transportation by offering free METS bus service for all passengers on Thursday, March 17, from 5:45 a.m. to 4:00 p.m. The free service is on the same day as Vanderburgh Homeless Connect, making it easier for people without transportation who need services to attend the event at Old National Events Plaza.
Summer Staff Information Session tonight
Residence Life has begun its search for students to work as summer staff this year. Residence Life summer staff aid in the oversight of campus residents and assist with summer campus and conferences on campus. Summer staff will receive pay as well as free summer housing for the duration of the summer. For more information, please attend a short informational session tonight - Wednesday, March 16 - at 9:30 p.m. in Room 162, Schroeder School of Business Building. Don't forget to pick up your application in the Residence Life office. If you cannot attend the information session and have other questions please contact Justin Coffey at jc534@evansville.edu.
Nominations due tomorrow for Dean of Students Leadership Awards
Nominations for consideration of the Howard S. Rosenblatt Dean of Students Leadership Awards are due tomorrow, Wednesday, March 30.
These awards will be presented at the 21st Annual Leadership Awards Reception scheduled for April 21 at 7:00 p.m. Awards are presented in the following categories:
Student Organization Advisor of the Year
Student Organization of the Year
Student Leader of the Year
More than 80 percent of UE students participate in at least one student organization or program. These organizations are successful because of the commitment of the student leaders and the advisors who give freely of their time and support. The recipients of these awards are selected based on their commitment to the University of Evansville as well as the development and success of their efforts within their chosen student organization.
The deadline for nominations is March 30. Please click here to download a nomination form or stop by Room 230 in Ridgway University Center to pick up a nomination form from the Office of the Dean of Students.
If you have any questions, please contact the vice president for student affairs/dean of students at ext. 2500 or by e-mail at km306@evansville.edu.
Thank you in advance for celebrating our student leaders' achievements.
Attention rising juniors and seniors - Margery Florence Kahn Scholarship Applications available
Attention rising juniors and seniors – applications for the Margery Florence Kahn Scholarship are now available for 2016-17
It was the desire of the donor, Margery Florence Kahn, that her scholarship be awarded to "dedicated and conscientious students who exhibit a true passion for their chosen fields of study, and who, in the opinion of the members of the University of Evansville faculty, are likely to bring the same enthusiasm into the performance of their jobs or the practice of the professions which they will pursue following graduation."
All University of Evansville full-time undergraduate students who will be juniors or seniors in 2016-17 may apply for this scholarship. An essay of about 300 words must accompany the application, along with two to five faculty recommendation letters.
Applications are available from the Office of Financial Aid located in Room 116, Olmsted Administration Hall. Completed applications and recommendation letters should be returned to the Office of Financial Aid by April 1.
You may also request application materials by e-mailing financialaid@evansville.edu.
Questions may be directed to the Office of Financial Aid via e-mail or by phone at 812-488-2364.

Now Accepting Global Scholar applications for 2016-17
The Global Scholars program is designed to offer support for faculty engaged in scholarship or curriculum development that helps prepare our students, and community (public, private, and civic sector partners) for global leadership, citizenry, and success. It is expected that the Global Scholars' activities will have a positive impact on the global mindset of some of our constituencies, including students, faculty, and the greater Evansville community.
The Global Scholars program is supported and administered by the Institute for Global Enterprise and is made possible in part by the John H. Schroeder Global Scholar Endowed Fund.
Current funding will support two awards. Awards include a stipend of $2,000 and a professional development budget of up to $3,000. Appropriate uses of funding include airfare, accommodations, ground transportation, research materials, and conference fees.
The deadline for full consideration is May 1. Click here for more details.
Need financial aid for summer courses?
If you are seeking financial aid to help pay for summer courses at UE, please complete a summer financial aid application, which you can find here. The form is also available in the Office of Financial Aid.
We will help you examine your options for aid, which in most cases during the summer term is limited to: direct loans, PLUS loans, private student loans, federal Pell grants, tuition remission (employees and dependents), and student employment.
Refer to the summer form to determine the types of aid for which you may be eligible based on your anticipated enrollment status.
New members inducted into Phi Sigma Iota
The Epsilon Beta chapter of Phi Sigma Iota, the international foreign language honor society, held its annual initiation ceremony on Sunday afternoon, February 28, in the Ridgway University Center. Six students representing four languages were inducted into membership.
New members include Amanda Alexander, Megan King, Clarissa Eckert, Stephanie Marcotte, Haley Grubbs, and Jennifer Riedford.
PSI president Hannah Mitchell and vice president Alex Schmitt conducted the ceremony along with members Jamelyn Wheeler, Holly Sanders, Lauren Littlepage, Sara Gensler, Tessa McLinden, and Kaylynn Carver.
Shengwei Fei, director of transportation, logistics and supply chain at Owens Corning Composites in Hangzhou, China, served as guest speaker for the event.
A dessert reception for members, initiates, faculty, and friends followed the ceremony.
Phi Sigma Iota members are elected from among outstanding advanced undergraduate students and faculty in foreign languages. Chapters are distributed throughout the US and the world. Election to Phi Sigma Iota is considered the highest academic honor in the field of foreign languages and literatures. The UE Epsilon Beta chapter has initiated 174 members since it was installed here in April 2000.
Heidi Strobel publishes second book
Heidi. A. Strobel, associate professor of art history, has published her second book, Materializing Gender in Eighteenth-Century Europe. Strobel co-edited the volume with art historian Jennifer Germann of Ithaca College. The volume, which contains Strobel's essay on artists Mary Linwood and Thomas Gainsborough, is part of the Histories of Material Culture and Collecting series published by Ashgate (now Taylor and Francis).
Tiffany Griffith selected to judge NEA applications
Tiffany Griffith, assistant professor of First-Year Seminars, has been asked to serve as an expert reader for this year's NEA translation fellowships. Through fellowships to published translators, the Arts Endowment supports projects for the translation of specific works of prose, poetry, or drama from other languages into English. Griffith's translations have appeared in international journals and have been solicited for inclusion in textbooks.
Tony Holt and Family
Condolences are extended to Tony Holt, campus maintenance supervisor, on the death of his wife, Shannon French Holt. She passed away on Friday, March 11, at her home.
A celebration of Shannon's life will be held on Thursday, March 17, from 4:00-8:00 p.m., at Olivet Evangelical Presbyterian Church, located at 5600 Oak Hill Road, in Evansville.
In lieu of flowers, donations can be made to the One Cancer Day Fund. You can donate online here.
Kayla Katterhenry named MVC Scholar-Athlete of the Week
With a win and second place finish in last week's trip to Jacksonville, Florida, University of Evansville junior Kayla Katterhenry was named the Missouri Valley Conference Scholar-Athlete of the Week on Tuesday.
Sporting a 3.705 GPA as a management major, Kayla Katterhenry had a stellar week as the Purple Aces played in Florida. Katterhenry picked up the seventh victory of her career and fourth of the school year, taking top honors at the Don Benbow Invitational at Jacksonville Beach Golf Club.
Despite rough and windy conditions, Katterhenry recorded scores of 74 and 76 to post a 150 and force a playoff. That playoff took just one hole as she was able to pick up the victory over Christine Cates of Butler. She also helped the women take second in the event as a team.
The team stayed in Jacksonville to play in the Bulldog Florida Invitational, and Katterhenry had another great outing. Still dealing with windy conditions, Katterhenry posted rounds of 75 and 76 to finish with a 151. That gave her a second place finish, just one away from taking another victory.
To qualify for Missouri Valley Conference Scholar-Athlete of the Week laurels, student-athletes must carry a cumulative grade-point average of 3.20, complete at least one academic year at a Valley institution, and must be at least a sophomore in academic standing.
Redshirt freshmen and first-year junior college transfers are not eligible. In addition to the academic qualifications, student-athletes will be evaluated on their athletic performance for a one-week period.

Midweek DH at Murray State moved to Thursday
With Missouri Valley Conference play set to begin on Saturday, the University of Evansville softball team will have one last tune-up on Thursday as they head to Murray State for a doubleheader.
Originally set for Wednesday, the doubleheader has been pushed back a day in order to improve playing conditions. Game one will begin at 4:00 p.m. on Thursday with the second starting at roughly 6:00 p.m.
Evansville played in the Indiana Classic over the weekend in Bloomington, falling just short in the finale against the Hoosiers. IU posted two runs in the first inning, but the Aces pitching staff held them scoreless for the duration of the contest. A solo shot by Chandra Parr brought the Aces within one, but IU held on for the 2-1 win.
In Evansville's three games in the Indiana Classic, Parr batted .429 for the Purple Aces. She drew a walk in the weekend opener against Indiana before starting Sunday with a 1-for-3 performance against Ohio University. Her best game of the weekend came in the finale versus the Hoosiers where she posted two of the Aces' four hits, going 2/3 with a solo home run in a 2-1 loss.
One of the top pitchers in the Missouri Valley Conference kept it rolling over the weekend, throwing eight 2/3 scoreless innings. Morgan Florey pitched in both games on Sunday for the Aces, including two 2/3 innings against the Bobcats. She struck out five batters and gave up two hits. In six innings against Indiana University, she held the Hoosiers off the board while striking out six more batters in her time in the circle.
Murray State comes into the matchup with an 8-10 mark, splitting games over the weekend against Ball State and Jacksonville. Jessica Twaddle is the top offensive threat for the Racers, batting .411 and slugging .625 for MSU. She also reached base a team-best 48.4 percent of the time. She also paces the Racers with 9 RBIs and 7 doubles.
In the circle, the 1-2 punch of Mason Robinson and Haven Campbell had recorded ERAs of 2.12 and 2.30, respectively.
This weekend, the Purple Aces will play at home for the first time this season, opening conference play on Saturday with a noon doubleheader against Drake.

Contribute to AceNotes
To have content considered for inclusion in AceNotes, please submit a Marketing Request Form. Deadline for submission to AceNotes is 10:00 a.m. on the requested date of publication. Only articles concerning UE related/sponsored activities will be accepted. Articles submitted to AceNotes may be edited for length and clarity. Submitter contact information is at the end of each article.