| | |
| --- | --- |
| AceNotes Today | Thursday, March 3, 2016 |
Reminder about vote on Faculty Senate motion
Faculty members were sent an e-mail yesterday from the Office of the President describing the process for voting to ratify or nullify a Faculty Senate motion passed last month. The e-mail indicates how to cast a vote. The deadline for voting is tomorrow (Friday, March 4) at 5:00 p.m.
Tuition remission and tuition exchange information sessions for employees
Want to know more about tuition remission and tuition exchange benefits for UE employees? Come to an information session where you will learn about the two programs and receive information about applying to UE. There is a session today at 2:30 p.m., in Eykamp Hall, Room 253, Ridgway University Center.
May we pray for you?
"When people talk, listen completely" - Ernest Hemingway
The UE Newman Catholic Campus Ministry Team would like to listen to you, be it your thoughts, questions, prayer requests, or whatever else that may be on your mind. Please stop by Jazzman's Cafe and look for a Ministry Team member in bright blue and let us listen to you. We will be present:
Monday 11:00 a.m.-noon
Tuesday 8:00-9:00 a.m.
Wednesday 4:00-4:30 p.m.
Thursday 4:00-5:00 p.m.
Friday 8:00-9:00 a.m.
We look forward to spending this time with you!

Coffee time with the seminarians!
Come to Jazzman's every Wednesday from 4:30-5:00 p.m., and meet the Newman Club's seminarians! Ambrose and Tam, our international seminarians, are currently studying at St. Meinrad Archabbey in St. Meinrad, Indiana, and they would love to meet you! Please feel free to come by, say hi, and ask them anything you want!
Please call/text Kristel at 812-760-8610 for more information!

Opportunity to pray the Rosary!
Looking for simple new ways to come closer to your faith this Lenten season? Join Newman Club members Nathan Kabat and Nicolette Fonseca for 20 minutes every Friday at 11:00 a.m. in Neu Chapel as they lead us in the Rosary! We hope to see you there! Please e-mail Nicolette (nf39@evansville.edu) or Nathan (nk78@evansville.edu) for more information!
TIAA-CREF counseling appointments
The TIAA-CREF representative will be on the UE campus on Tuesday, March 22, for individual counseling sessions. To schedule an appointment, call TIAA-CREF at 1-800-732-8353 or 317-706-6200. The sessions are held in the Clifford Rare Books Room of the University Libraries (room 158).
If you have any questions, call Carol McCraney at 812-488-2943.
Staff Appreciation Dinner
Each staff employee and their guest are invited to attend the Staff Appreciation Dinner at the Log Inn on Wednesday, April 20. The social hour (cash bar and appetizers) begins at 6:00 p.m., and the dinner will begin at 7:00 p.m. Please join President Kazee in the presentation of staff service awards and for the presentation of the Staff Employee of the Year Award.
Invitations will be sent to staff employees via UE campus mail during the first week of April. Please contact Human Resources at ext. 2943 if you have any questions.

Aces MVC Game Watch planned in Evansville today
The Department of Athletics and Office of Alumni and Parent Relations invites Aces alumni and fans to a watch party today at 6:00 p.m., as the Men's Basketball team plays game two's winner (No. 7 Missouri State or No.10 Drake) in the second round of the Missouri Valley Conference Tournament. The watch party will be at Chido Mexican Bar and Grill, located at 701 NW Riverside Drive in Evansville. No RSVP is required. It will be dutch treat with a full menu available.
AT-shirt for Uganda
Ever wonder what to do with the T-shirts that just sit in your drawer and never get worn? From March 21-23, you can donate them to AT Club's AT-shirt for Uganda. All of the donated T-shirts will be given to children and adults in Uganda. You can donate your T-shirts on March 23, from 11:00 a.m.-1:00 p.m., and 4:00-6:00 p.m., at a table in Ridgway University Center.
For every three T-shirts you donate, you get a chance to make a guess at how many T-shirts will be donated. The winner of that competition will get a $20 gift card!
If you have any questions, please e-mail Megan Morris (mm636@evansville.edu) or Hannah Bernhardt (hb92@evansville.edu).
Spare Change for Warriors Bowling Tournament
UEVETS, the University student veterans organization, is inviting UE organizations to participate in its annual Spare Change for Warriors Bowling Tournament, a fundraiser for local veterans in need. The event will be April 2, at 1:00 p.m., at River City Recreation, located in Evansville on Weinbach Avenue, just south of Washington Avenue.
For $100, an organization can sponsor a lane, have its name above the lane on a sign, and guarantee a lane for five bowlers in the competition. Please note that it is possible for organizations and individuals to donate without putting forth a team.
Money raised will go to the UEVETS charity - the VFW's Chaplain's Relief Fund - and to UEVETS. In addition, the winning team (five bowlers) will be able to donate a portion of the total money raised to a charity of their choosing! There will also be door prizes provided by local businesses.
There are a limited number of lanes so act fast! To register, contact Joel Kaiser at jk283@evansville.edu by March 21.

We hope to see you and your organization on April 2 at River City Recreation!
UE Housekeeping plans job fair today
The University's housekeeping service, WFF, will have a job fair today until noon, in Eykamp Hall, Room 253, Ridgway University Center. Light refreshments will be served. This event is open to UE students and to the public. Anyone interested in a job with WFF is welcome to attend! WFF offers part-time work and flexible hours that are ideal for a college student's busy schedule.
For more information, please call 812-488-2045.
Financial preparedness class for new parents
The University of Evansville and St. Mary's Hospital for Women & Children are offering a class on financial preparedness for new and expectant parents on Thursday, April 7, from 6:30-8:30 p.m. The class will be in the St. Mary's Gift Conference Room.
While the class is free, registration is required. To register, go to stmarys.org and click the "Class or Event" tab, or call Terry Cooper at 812-485-6016.
This class is for those having their first child and for those who are welcoming another baby to the family.
Topics to be addressed in the class include household financial planning, taxes and insurance, and resources available for those needing assistance.
Calvin Wertman receives March 2016 Employee Excellence Award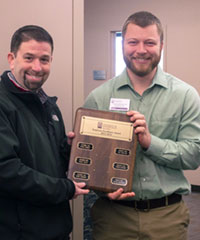 Calvin Wertman, residential coordinator and student life specialist, has received the March 2016 Employee Excellence Award. Since coming to UE in 2009, he has dedicated countless hours to the students and staff that he works with, as well as many others that he lives and interacts with on a daily basis. When Calvin leaves the office each day, he doesn't leave his work behind. Instead, he spends his evenings helping students deal with the challenges of daily life. Calvin is known as someone who serves others in his daily interactions by being a role model to students, a support system for other staff members, and a resource of amazing wisdom and leadership for those he oversees.
No Sunday Mass this weekend
There will be no Sunday Mass at Neu Chapel on March 6 or March 13, due to Spring Break. We hope everyone will join us for our next Sunday Mass on March 20 at 1:00 p.m. as we celebrate Palm Sunday. And we hope that everyone has a safe and wonderful Spring Break!
Please call/text Kristel at 812-760-8610 for more information!

Family Weekend 2016 is set for September 23-25!
The Office of Alumni and Parent Relations has started working on event planning for Family Weekend 2016 (September 23-25.) If your student organization or department would like to have an event for families or parents during this weekend, please complete the "Family Weekend 2016 Event Participation Form" by March 29, by clicking here.
Like past years' successful events, we would like to have a lot of student and department participation! If you would like to volunteer assistance, or if you have ideas, please contact us at alumni@evansville.edu or call 812-488-2586.
Fitness Center Spring Break hours
The Fitness Center will close at 7:00 p.m., Friday, March 4. There will be no open swim that evening.
The Fitness Center Spring Break hours are:
Open Friday, March 4, from 6:30 a.m.-7:00 p.m.
Closed Saturday and Sunday, March 5 and March 6
Open Monday through Friday, March 7-11, from 8:30 a.m.-6:00 p.m.
Closed Saturday and Sunday, March 12 and March 1
Open swim will depend on guard availability.
Overnight hosts needed for March 20
Are you interested in hosting a prospective student? The Office of Admission is looking for current students to help host prospective students on Sunday, March 20, starting at 5:00 p.m. Dinner will be provided. The student staying overnight will be doing their campus visit the following day. If you are interested in being a host, please e-mail Catie Taylor at ct37@evansville.edu with your name, roommate's name, hall, room number, and cell number.
UE students attend first joint collegiate black student summit in New York
Members of UE's Black Student Union (BSU) will attend the first Collegiate Black Student Summit from March 4-6. The summit is a national forum where solutions to problems facing the black campus community are discussed and developed. The members of BSU will be inspired and empowered to critically think about their role as agents of change for the University of Evansville. Over 100 students will be in attendance from the University of Rochester (the host university), Harvard University, University of Pennsylvania, University of Connecticut, Ithaca College, Cornell, SUNY Albany, SUNY Buffalo, Syracuse University, and Columbia.
UE faculty, alumni, and sports residents work to prevent injuries in MLB
University of Evansville and ProRehab sports physical therapy residents had the opportunity to participate in the preseason screening of the Milwaukee Brewers Major League Baseball team in Arizona. The team was led by Phil Plisky and Bethany Heubner, assistant professors of physical therapy, and included UE alumni and residents Kyle Matsel '11, Frances Matsel '10, Paul Gorman '99, and Allison Weaver '15, as well as current sports residents Sam Callahan and Danielle Honnette.
This is the third year the UE/ProRehab residents have participated in the injury prevention system utilized by the Brewers, who have become the least injured team in Major League Baseball since implementing the program. The screening involves specific tests and an injury risk algorithm developed and researched by Plisky and Kyle Kiesel, professor of physical therapy and department chair. This injury prevention model is used by a wide variety of high school, college, and professional sports teams as well as the US Military.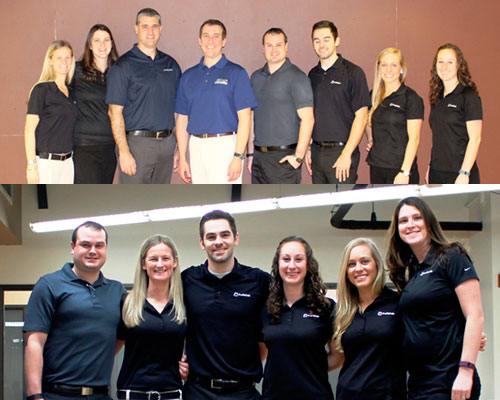 Novel by UE alumnus Jack DuArte is number one in bestseller lists
UE alumnus Jack DuArte's new novel, Kidnap the Pope, is now No. 1 in the bestseller lists and categorized as a Hot Release by Amazon. Kidnap the Pope is DuArte's sixth novel.
The plot of Kidnap the Pope involves Adolf Hitler's attempts to avenge the overthrow of his close friend Il Duce, Benito Mussolini. It follows the world's actions leading up to the events that fixed this remarkable story in the classic annals of WWII.
DuArte is a historical fiction writer and lives in Lexington, Kentucky, with this wife, Susan. His previous novels are The Resistance, Singapore, Spitfire, Malta, and The White Mouse.
Reviews of his work can be found on Amazon, Kindle, and Goodreads.
Maass reviews economic interdependence and war
Professor of political science Richard Maass just had an invited book review published as part of a roundtable on the International Security Studies Forum of H-Diplo, the online community for diplomatic history and international affairs. The roundtable focuses on Dale Copeland's recent book "Economic Interdependence and War," which argues that leaders often base their decisions for war and peace on current and future economic trends.
You can read Maass's review, along with those of the other roundtable participants, here.

Purple Aces Investment Analysts Team will participate in CFA competition
The Purple Aces Investment Analysts Team will participate in the CFA Institute Research Challenge on Thursday, March 3, in Nashville, Tennessee. Team members are Ned Bentsen, Ben Philips, Stephanie Comstock, and Joshua Herrera. Their faculty mentor is Walayet A. Khan, research director for the Institute of Global Enterprise and professor of finance.
The CFA Institute Research Challenge is an annual global competition that provides university students with hands-on mentoring and intensive training in financial analysis promoting best practices in equity research among the next generation of analysts. The CFA institute offers the CFA certification, the most valuable and globally recognized certification in finance.
This is the first time that a team from UE has participated in this prestigious competition.
Brown and Brzoja garnered MVC specialty awards
Jaylon Brown and Mislav Brzoja picked up two more Missouri Valley Conference awards on Wednesday as Brown notched a spot on the Most Improved Team and Brzoja was named to the All-Bench squad.
Brown saw great improvement this season as he has made the start in all 31 games this season and continues to rank as the No. 2 shooter in the league, hitting 52% of his attempts.
His career-best came on three occasions this year as he has notched 19 points. He has averaged 10.5 points per game.
Yesterday, Brzoja becomes the third University of Evansville player to earn Sixth Man of the Year honors, joining Curt Begle (1999) and Ned Cox (2012). He came off the bench to play in all 31 games, seeing an average of 24.1 minutes per game.
One of the top 3-point shooters in the MVC, Brzoja connected on 40.3% of his attempts. His top game of the year came in the exciting win at Southern Illinois as he scored a career-high 25 points. That game saw him drain nine of his 12 attempts, including four of his five triples. Those efforts saw UE overcome a late deficit to pick up an important overtime victory.
Both of the honorees and their teammates are working to prepare for Arch Madness as they open up on Friday at 6:00 p.m. against either Drake or Missouri State.

Contribute to AceNotes
To have content considered for inclusion in AceNotes, please submit a Marketing Request Form. Deadline for submission to AceNotes is 10:00 a.m. on the requested date of publication. Only articles concerning UE related/sponsored activities will be accepted. Articles submitted to AceNotes may be edited for length and clarity. Submitter contact information is at the end of each article.