| | |
| --- | --- |
| AceNotes Today | Wednesday, March 2, 2016 |
Welcome HLC Peer Review Team
The University of Evansville is currenlty hosting a five-person review team representing its regional accrediting agency, the Higher Learning Commission (HLC).
As you see them around campus, please give them a great UE welcome.
If you would like more information about the HLC process and about what to expect from their visit over the next few days, visit www.evansville.edu/hlc and check out the information available there.
Coffee time with the seminarians!
Come to Jazzman's every Wednesday from 4:30-5:00 p.m., and meet the Newman Club's seminarians! Ambrose and Tam, our international seminarians, are currently studying at St. Meinrad Archabbey in St. Meinrad, Indiana, and they would love to meet you! Please feel free to come by, say hi, and ask them anything you want!
Please call/text Kristel at 812-760-8610 for more information!

Wednesday night Mass
Don't forget to join the Newman Club every Wednesday evening as we participate in the 5:30 p.m. Wednesday Mass at St. Benedict Cathedral. The weekly 5:30 p.m. Mass will be taking the place of our regular 9:30 p.m. Wednesday night Masses. We will meet each Wednesday at 5:00 p.m. at the Newman Center before making our way to the cathedral.
We hope to see you there! Please call/text Kristel at 812-760-8610 for more information!

NSLS Speaker 2 rebroadcast today
The NSLS Speaker 2 rebroadcast is today from 7:00-8:00 p.m. in Eykamp Hall, Room 252, Ridgway University Center. Those unable to attend should please e-mail Jennifer Allen at ja225@ueliveevansville.onmicrosoft.com to get an e-mail invitation for the link. Remember all members must attend three speaker broadcasts as part of the requirements to be officially inducted in April.
Writing Center Boot Camp: Academic Writing for International Students - Part 2
Writing Center Boot Camp: Academic Writing for International Students - Part 2 is planned for today at 5:00 p.m., in the Writing Center. This workshop will address academic writing conventions and tools such as summary, paraphrasing, in-text and reference citation, note-taking, and creating annotated bibliographies. We will also answer grammar questions as requested by students. Join us today for this useful session.
Come to Chipotle tonight!
Do you love Chipotle? Do you want to support refugee children? Come to Chipotle today from 5:00-9:00 p.m., to show your support for refugee children in the Middle East and to have a great time! Present this flyer at the time of purchase, and 50% of your sales will go directly to support Road to Mafraq, a non-profit organization that works to increase access to education for children affected by conflict in the Middle East. All proceeds from this event will go toward building a science corner in a refugee camp in Jordan.
Science Alliance for Syria has organized this fundraiser for Road to Mafraq. Science Alliance for Syria is the joint project of UE science clubs including Society of Physics Students (SPS), Biological Sciences Club (BiSci), Environmental Concerns Organization (ECO), and Chemistry Club.
May we pray for you?
"When people talk, listen completely" - Ernest Hemingway
The UE Newman Catholic Campus Ministry Team would like to listen to you, be it your thoughts, questions, prayer requests, or whatever else that may be on your mind. Please stop by Jazzman's Cafe and look for a Ministry Team member in bright blue and let us listen to you. We will be present:
Monday 11:00 a.m.-noon
Tuesday 8:00-9:00 a.m.
Wednesday 4:00-4:30 p.m.
Thursday 4:00-5:00 p.m.
Friday 8:00-9:00 a.m.
We look forward to spending this time with you!

Opportunity to pray the Rosary!
Looking for simple new ways to come closer to your faith this Lenten season? Join Newman Club members Nathan Kabat and Nicolette Fonseca for 20 minutes every Friday at 11:00 a.m. in Neu Chapel as they lead us in the Rosary! We hope to see you there! Please e-mail Nicolette (nf39@evansville.edu) or Nathan (nk78@evansville.edu) for more information!
TIAA-CREF counseling appointments
The TIAA-CREF representative will be on the UE campus on Tuesday, March 22, for individual counseling sessions. To schedule an appointment, call TIAA-CREF at 1-800-732-8353 or 317-706-6200. The sessions are held in the Clifford Rare Books Room of the University Libraries (room 158).
If you have any questions, call Carol McCraney at 812-488-2943.
Tuition remission and tuition exchange information sessions for employees
Want to know more about tuition remission and tuition exchange benefits for UE employees? Come to an information session where you will learn about the two programs and receive information about applying to UE. There is a session today at 2:30 p.m., in Eykamp Hall, Room 253, Ridgway University Center.
Staff Appreciation Dinner
Each staff employee and their guest are invited to attend the Staff Appreciation Dinner at the Log Inn on Wednesday, April 20. The social hour (cash bar and appetizers) begins at 6:00 p.m., and the dinner will begin at 7:00 p.m. Please join President Kazee in the presentation of staff service awards and for the presentation of the Staff Employee of the Year Award.
Invitations will be sent to staff employees via UE campus mail during the first week of April. Please contact Human Resources at ext. 2943 if you have any questions.

Aces MVC Game Watch planned in Evansville today
The Department of Athletics and Office of Alumni and Parent Relations invites Aces alumni and fans to a watch party today at 6:00 p.m., as the Men's Basketball team plays game two's winner (No. 7 Missouri State or No.10 Drake) in the second round of the Missouri Valley Conference Tournament. The watch party will be at Chido Mexican Bar and Grill, located at 701 NW Riverside Drive in Evansville. No RSVP is required. It will be dutch treat with a full menu available.
Spare Change for Warriors Bowling Tournament
UEVETS, the University student veterans organization, is inviting UE organizations to participate in its annual Spare Change for Warriors Bowling Tournament, a fundraiser for local veterans in need. The event will be April 2, at 1:00 p.m., at River City Recreation, located in Evansville on Weinbach Avenue, just south of Washington Avenue.
For $100, an organization can sponsor a lane, have its name above the lane on a sign, and guarantee a lane for five bowlers in the competition. Please note that it is possible for organizations and individuals to donate without putting forth a team.
Money raised will go to the UEVETS charity - the VFW's Chaplain's Relief Fund - and to UEVETS. In addition, the winning team (five bowlers) will be able to donate a portion of the total money raised to a charity of their choosing! There will also be door prizes provided by local businesses.
There are a limited number of lanes so act fast! To register, contact Joel Kaiser at jk283@evansville.edu by March 21.

We hope to see you and your organization on April 2 at River City Recreation!
Lecture on the psychology of xenophobia set for March 3
Join Scholars for Syria for "Wired for hate? The cognitive psychology of xenophobia," an engaging lecture by Derek Jones, assistant professor of philosophy, on Thursday, March 3, 6:00 p.m. in Room 162, Schroeder School of Business Building.
"Xenophobia is depressingly common, yet few among us would admit to being xenophobes," explained Jones. "The recent public refusal of many U.S. leaders to accept Syrian refugees is only the latest resurgence of a human tendency to marginalize or oppress foreign peoples out of fear. Historically, this behavior is rationalized through appeals to public safety, but such appeals consistently lack statistical support."
Jones added that "xenophobia is irrational, and history always judges it so. Why, then, is it so common, and so difficult to detect in oneself? Why are we so resistant to the suggestion that we might be part of the problem? Are xenophobes crazy, or somehow intellectually inferior to the enlightened folk who will attend this talk? I attempt to answer these questions from the perspective of cognitive science. I argue that xenophobic attitudes do not result from defective psychology but rather from the proper functioning of unconscious cognitive mechanisms operating in unusual environmental conditions. I identify these mechanisms and suggest ways to override them. In short, we are all potential xenophobes. The good news is that we may not have to be."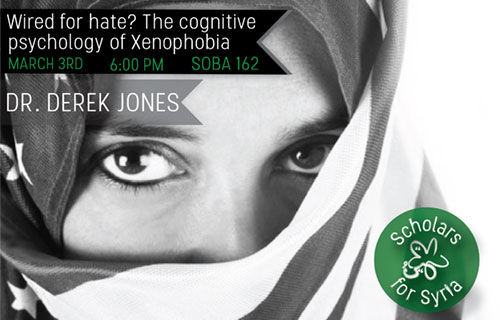 Jones received an MA in philosophy from the University of Houston in 2008 and a PhD in philosophy from Indiana University in 2013. He teaches courses in philosophy and cognitive science at UE and directs the Cognitive Science program. He has published and presented work on such topics as scientific explanation, self-knowledge, skilled behavior, and free will. His work is organized around the project of understanding cognition and action as essentially embodied, biological processes. His forthcoming book, The Biological Foundations of Agency, is slated for publication in June 2016.

UE Housekeeping plans job fair today
The University's housekeeping service, WFF, will have a job fair today until noon, in Eykamp Hall, Room 253, Ridgway University Center. Light refreshments will be served. This event is open to UE students and to the public. Anyone interested in a job with WFF is welcome to attend! WFF offers part-time work and flexible hours that are ideal for a college student's busy schedule.
For more information, please call 812-488-2045.
Panel discussion on transgender issues set for March 2
The ACLU of Indiana will host "Let's Talk About the T," a panel discussion on transgender rights at UE on Wednesday, March 2, in Room 170 (Smythe Lecture Hall), Schroeder School of Business Building. The event will be from noon-1:00 p.m., with check-in beginning at 11:30 a.m. This event is free and open to the public.
The topic of the discussion will be such questions as what is factual, and what is myth in the debate about transgender rights? What does it mean to be transgender in our society? What is the history of discrimination against the transgender community? Why must laws extend protections in housing, employment, and public accommodations to people who are transgender?
Panelists include:
Moderator: Brad Byrd, anchor/news editor ABC 25/CW
Kelley Coures, executive director, Department of Metropolitan Development
Jane Henegar, executive director, ACLU of Indiana
Grover Jeide, transgender activist
Kit Malone, Freedom Indiana transgender educator
No Sunday Mass this weekend
There will be no Sunday Mass at Neu Chapel on March 6 or March 13, due to Spring Break. We hope everyone will join us for our next Sunday Mass on March 20 at 1:00 p.m. as we celebrate Palm Sunday. And we hope that everyone has a safe and wonderful Spring Break!
Please call/text Kristel at 812-760-8610 for more information!

Family Weekend 2016 is set for September 23-25!
The Office of Alumni and Parent Relations has started working on event planning for Family Weekend 2016 (September 23-25.) If your student organization or department would like to have an event for families or parents during this weekend, please complete the "Family Weekend 2016 Event Participation Form" by March 29, by clicking here.
Like past years' successful events, we would like to have a lot of student and department participation! If you would like to volunteer assistance, or if you have ideas, please contact us at alumni@evansville.edu or call 812-488-2586.
Fitness Center Spring Break hours
The Fitness Center will close at 7:00 p.m., Friday, March 4. There will be no open swim that evening.
The Fitness Center Spring Break hours are:
Open Friday, March 4, from 6:30 a.m.-7:00 p.m.
Closed Saturday and Sunday, March 5 and March 6
Open Monday through Friday, March 7-11, from 8:30 a.m.-6:00 p.m.
Closed Saturday and Sunday, March 12 and March 1
Open swim will depend on guard availability.
Overnight hosts needed for March 20
Are you interested in hosting a prospective student? The Office of Admission is looking for current students to help host prospective students on Sunday, March 20, starting at 5:00 p.m. Dinner will be provided. The student staying overnight will be doing their campus visit the following day. If you are interested in being a host, please e-mail Catie Taylor at ct37@evansville.edu with your name, roommate's name, hall, room number, and cell number.
Child models needed for life drawing class
The Department of Art is looking for child models for its life drawing class. The children should be in elementary school (kindergarten through fifth grade.) The class meets on Tuesday and Thursday evenings from 6:00 p.m. to 7:45 p.m. in Room 213, Krannert Hall of Fine Arts. You child will earn $10 an hour and the parents of each child will receive the drawings from the session. You are encouraged to bring a portable DVD player, iPad, or book to help you child stay occupied while they sit.
The dates models are needed are:
Tuesday, March 15
Thursday, March 17
Tuesday, March 22
For more information – or to register your child - please contact the art department at 812-488-2043 or ca5@evansville.
Seniors invited to submit speech for Spring Commencement
All graduating seniors in good standing are eligible to be considered for the Senior Keynote Address to be given at spring commencement. Please consider submitting a 1000-1500 word speech to the selection committee by March 20. More information can be found here.
UE faculty, alumni, and sports residents work to prevent injuries in MLB
University of Evansville and ProRehab sports physical therapy residents had the opportunity to participate in the preseason screening of the Milwaukee Brewers Major League Baseball team in Arizona. The team was led by Phil Plisky and Bethany Heubner, assistant professors of physical therapy, and included UE alumni and residents Kyle Matsel '11, Frances Matsel '10, Paul Gorman '99, and Allison Weaver '15, as well as current sports residents Sam Callahan and Danielle Honnette.
This is the third year the UE/ProRehab residents have participated in the injury prevention system utilized by the Brewers, who have become the least injured team in Major League Baseball since implementing the program. The screening involves specific tests and an injury risk algorithm developed and researched by Plisky and Kyle Kiesel, professor of physical therapy and department chair. This injury prevention model is used by a wide variety of high school, college, and professional sports teams as well as the US Military.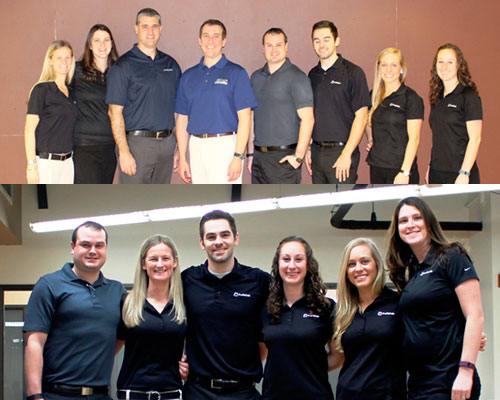 Novel by UE alumnus Jack DuArte is number one in bestseller lists
UE alumnus Jack DuArte's new novel, Kidnap the Pope, is now No. 1 in the bestseller lists and categorized as a Hot Release by Amazon. Kidnap the Pope is DuArte's sixth novel.
The plot of Kidnap the Pope involves Adolf Hitler's attempts to avenge the overthrow of his close friend Il Duce, Benito Mussolini. It follows the world's actions leading up to the events that fixed this remarkable story in the classic annals of WWII.
DuArte is a historical fiction writer and lives in Lexington, Kentucky, with this wife, Susan. His previous novels are The Resistance, Singapore, Spitfire, Malta, and The White Mouse.
Reviews of his work can be found on Amazon, Kindle, and Goodreads.
Maass reviews economic interdependence and war
Professor of political science Richard Maass just had an invited book review published as part of a roundtable on the International Security Studies Forum of H-Diplo, the online community for diplomatic history and international affairs. The roundtable focuses on Dale Copeland's recent book "Economic Interdependence and War," which argues that leaders often base their decisions for war and peace on current and future economic trends.
You can read Maass's review, along with those of the other roundtable participants, here.

Purple Aces Investment Analysts Team will participate in CFA competition
The Purple Aces Investment Analysts Team will participate in the CFA Institute Research Challenge on Thursday, March 3, in Nashville, Tennessee. Team members are Ned Bentsen, Ben Philips, Stephanie Comstock, and Joshua Herrera. Their faculty mentor is Walayet A. Khan, research director for the Institute of Global Enterprise and professor of finance.
The CFA Institute Research Challenge is an annual global competition that provides university students with hands-on mentoring and intensive training in financial analysis promoting best practices in equity research among the next generation of analysts. The CFA institute offers the CFA certification, the most valuable and globally recognized certification in finance.
This is the first time that a team from UE has participated in this prestigious competition.
PT faculty and students present at National Physical Therapy Meeting
UE DPT students and faculty recently presented research posters at the American Physical Therapy Association Combined Sections Meeting. The national conference held in Anaheim, California, from February 17-20. It was attended by more than 11,000 physical therapist professionals, UE presentations included:
"The Effect of Ballet Balance Training on Center of Mass Control During Sit to Stand in an Elderly Patient With Balance Impairment: A Case Study" was presented by DPT students Sara Johnson and Amy Gordon with faculty investigators Tzurei Chen, assistant professor of physical therapy, and Janet Szczepanski, assistant professor of physical therapy.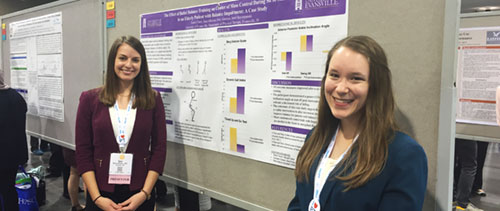 "Does the Coordination of Muscle Function between the Agonist and Antagonist Muscles of the Lower Extremity Play a Significant Role when Measuring Muscle Force Steadiness" was presented by DPT student Elizabeth Peterson.

Pregame party set for Friday at 3:30 p.m.
In what has become a yearly tradition, the University of Evansville Department of Athletics and the Office of Alumni and Parent Relations have combined to host a Pregame Party in St. Louis as the Purple Aces Men's Basketball team travels to Arch Madness this week.
Evansville enters the tournament as the No. 2 seed and will play the winner of Thursday's Missouri State/Drake game on Friday at 6:00 p.m. The pregame party will be held in the lobby of Lumiere Place, in downtown St. Louis. Lumiere Place is the team's hotel.
The event is free and will feature appetizers and a cash bar. Door prizes will be given out with the grand prize being four floor seats to an Aces home game next season. Benny's Flooring is once again the sponsor of the event.
Running from 3:30 p.m. until 5:30 p.m. on Friday, the party will give fans the unique opportunity to send the team off as they depart for the game.
Those who wish to attend are asked to register here. Parking at the hotel costs $10 and has easy access to Metro Link, which will take you right up to the game. For more information, contact the Office of Alumni and Parent Relations at 812-488-2586.

Contribute to AceNotes
To have content considered for inclusion in AceNotes, please submit a Marketing Request Form. Deadline for submission to AceNotes is 10:00 a.m. on the requested date of publication. Only articles concerning UE related/sponsored activities will be accepted. Articles submitted to AceNotes may be edited for length and clarity. Submitter contact information is at the end of each article.