| | |
| --- | --- |
| AceNotes Today | Tuesday, March 1, 2016 |
Welcome HLC Peer Review Team
The University of Evansville is currenlty hosting a five-person review team representing its regional accrediting agency, the Higher Learning Commission (HLC).
As you see them around campus, please give them a great UE welcome.
If you would like more information about the HLC process and about what to expect from their visit over the next few days, visit www.evansville.edu/hlc and check out the information available there.
HLC Visit Events
Tuesday, March 1
HLC Visit Events
The Higher Learning Commission (HLC) Peer Review Team is currently conducting a three-day, on-campus. They will be here conducting interviews and holding open sessions until March 2. Please be sure to welcome the visitors as you see them around campus.
Information about the HLC accreditation process, including an overview, the criteria for accreditation and the results of student opinion survey are located under Areas/HLC Accreditation on AceLink. You can also visit www.evansville.edu/hlc.
Open Sessions Today
All administrators and students are invited, and highly encouraged, to attend open sessions with members of the HLC Peer Review Team. The HLC Steering Committee has developed a set of sample questions peer review team members may ask, which is intended to be a helpful guide in preparing for the session. (www.evansville.edu/hlc/prepared.cfm)
Students: 3:00 – 3:50 p.m., Eykamp Hall, Room 252, Ridgway University Center (with Dr. Daniel Domin and Dr. Murphy Waggoner)
Administrators: 4:00 – 4:50 p.m., Eykamp Hall, Room 252, Ridgway University Center (with Dr. Katy Marre, Dr. Colleen Sexton, and Dr. Murphy Waggoner)
For information about each peer review member, including the ones who will be leading your Open Session, please visit www.evansville.edu/hlc.
A full schedule of all interviews and open sessions is available at www.evansville.edu/hlc.


Commencement Central is today
Commencement Central for Spring 2016 graduates is planned today from 11:00 a.m.-2:00 p.m., outside the UE Bookstore. Spring graduates who have not attended yet need to do to finalize their graduation plans. It only takes a few minutes to make sure everything is in order. Don't forget to attend!
UE Choir Department Give Back Night is today!
The UE Choir Department is hosting Give Back Night at Chick-fil-a today. Stop by Chick-fil-a between 6:00 a.m. and 9:00 p.m., and mention the UE Choir Department and help support the choirs and their trip to Carnegie Hall!
This Week in Music: University Symphony Orchestra Concert
The Department of Music continues the First Tuesday Concert Series in Neu Chapel tonight, March 1 at 7:30 p.m. with the University Symphony Orchestra's Spring Concert.
Visiting assistant professor and director of orchestral activities Jessica Morel will lead the ensemble in a program of works by Russian composers. Consortium instructor of horn Emily Britton will join the orchestra for a performance of Reinhold Glière's Concerto for Horn and Orchestra in B-flat Major, Op. 91. The concert will conclude with a performance of Alexander Borodin's Symphony No. 2 in B Minor.
The concert is free and open to the public.
Residence Hall selection meetings today
Students wishing to reside in one of the residence halls for 2016-17 should plan to attend one of the information sessions about the residence hall selection process. Meetings will be at 5:00 p.m. and 9:00 p.m. in Eykamp Hall, Room 252, Ridgway University Center, today.
More information about the housing selection process can be found online here.
Spare Change for Warriors Bowling Tournament
UEVETS, the University student veterans organization, is inviting UE organizations to participate in its annual Spare Change for Warriors Bowling Tournament, a fundraiser for local veterans in need. The event will be April 2, at 1:00 p.m., at River City Recreation, located in Evansville on Weinbach Avenue, just south of Washington Avenue.
For $100, an organization can sponsor a lane, have its name above the lane on a sign, and guarantee a lane for five bowlers in the competition. Please note that it is possible for organizations and individuals to donate without putting forth a team.
Money raised will go to the UEVETS charity - the VFW's Chaplain's Relief Fund - and to UEVETS. In addition, the winning team (five bowlers) will be able to donate a portion of the total money raised to a charity of their choosing! There will also be door prizes provided by local businesses.
There are a limited number of lanes so act fast! To register, contact Joel Kaiser at jk283@evansville.edu by March 21.

We hope to see you and your organization on April 2 at River City Recreation!
NSLS Speaker 2 rebroadcast today
The NSLS Speaker 2 rebroadcast is today from 7:00-8:00 p.m. in Eykamp Hall, Room 252, Ridgway University Center. Those unable to attend should please e-mail Jennifer Allen at ja225@ueliveevansville.onmicrosoft.com to get an e-mail invitation for the link. Remember all members must attend three speaker broadcasts as part of the requirements to be officially inducted in April.
Lecture on the psychology of xenophobia set for March 3
Join Scholars for Syria for "Wired for hate? The cognitive psychology of xenophobia," an engaging lecture by Derek Jones, assistant professor of philosophy, on Thursday, March 3, 6:00 p.m. in Room 162, Schroeder School of Business Building.
"Xenophobia is depressingly common, yet few among us would admit to being xenophobes," explained Jones. "The recent public refusal of many U.S. leaders to accept Syrian refugees is only the latest resurgence of a human tendency to marginalize or oppress foreign peoples out of fear. Historically, this behavior is rationalized through appeals to public safety, but such appeals consistently lack statistical support."
Jones added that "xenophobia is irrational, and history always judges it so. Why, then, is it so common, and so difficult to detect in oneself? Why are we so resistant to the suggestion that we might be part of the problem? Are xenophobes crazy, or somehow intellectually inferior to the enlightened folk who will attend this talk? I attempt to answer these questions from the perspective of cognitive science. I argue that xenophobic attitudes do not result from defective psychology but rather from the proper functioning of unconscious cognitive mechanisms operating in unusual environmental conditions. I identify these mechanisms and suggest ways to override them. In short, we are all potential xenophobes. The good news is that we may not have to be."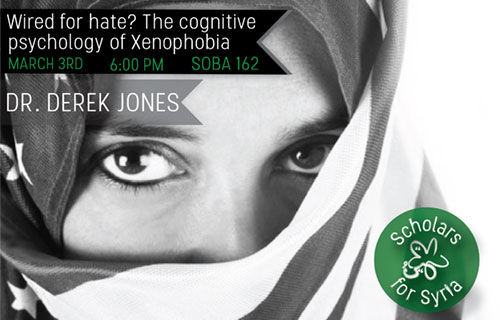 Jones received an MA in philosophy from the University of Houston in 2008 and a PhD in philosophy from Indiana University in 2013. He teaches courses in philosophy and cognitive science at UE and directs the Cognitive Science program. He has published and presented work on such topics as scientific explanation, self-knowledge, skilled behavior, and free will. His work is organized around the project of understanding cognition and action as essentially embodied, biological processes. His forthcoming book, The Biological Foundations of Agency, is slated for publication in June 2016.

Writing Center Boot Camp: Academic Writing for International Students - Part 2
Writing Center Boot Camp: Academic Writing for International Students - Part 2 is planned for today at 5:00 p.m., in the Writing Center. This workshop will address academic writing conventions and tools such as summary, paraphrasing, in-text and reference citation, note-taking, and creating annotated bibliographies. We will also answer grammar questions as requested by students. Join us today for this useful session.
Come to Chipotle tonight!
Do you love Chipotle? Do you want to support refugee children? Come to Chipotle today from 5:00-9:00 p.m., to show your support for refugee children in the Middle East and to have a great time! Present this flyer at the time of purchase, and 50% of your sales will go directly to support Road to Mafraq, a non-profit organization that works to increase access to education for children affected by conflict in the Middle East. All proceeds from this event will go toward building a science corner in a refugee camp in Jordan.
Science Alliance for Syria has organized this fundraiser for Road to Mafraq. Science Alliance for Syria is the joint project of UE science clubs including Society of Physics Students (SPS), Biological Sciences Club (BiSci), Environmental Concerns Organization (ECO), and Chemistry Club.
Panel discussion on transgender issues set for March 2
The ACLU of Indiana will host "Let's Talk About the T," a panel discussion on transgender rights at UE on Wednesday, March 2, in Room 170 (Smythe Lecture Hall), Schroeder School of Business Building. The event will be from noon-1:00 p.m., with check-in beginning at 11:30 a.m. This event is free and open to the public.
The topic of the discussion will be such questions as what is factual, and what is myth in the debate about transgender rights? What does it mean to be transgender in our society? What is the history of discrimination against the transgender community? Why must laws extend protections in housing, employment, and public accommodations to people who are transgender?
Panelists include:
Moderator: Brad Byrd, anchor/news editor ABC 25/CW
Kelley Coures, executive director, Department of Metropolitan Development
Jane Henegar, executive director, ACLU of Indiana
Grover Jeide, transgender activist
Kit Malone, Freedom Indiana transgender educator
Angela Reisetter to Speak at March Andiron Lecture
UE assistant professor of physics Angela Reisetter will be the speaker for the Andiron Lecture on March 2. All the lectures in the series are at 4:00 p.m. in Eykamp Hall, Room 252 in Ridgway University Center, preceded by a social hour with beverages at 3:45 p.m. These lectures are free and open to the public.
Reisetter's topic will be "The Hunt for Dark Matter."
Most of the matter in the universe is mysterious. It is not made up of atoms or of any particle we know. We can see its gravitational effects on stars and galaxies through telescopes, but it is streaming through us at all times, so detecting it in a lab here should be possible. This lecture will describe the international race to discover the characteristics of dark matter, to see it in a lab here on earth. Small signals have shown up in various experiments, but they are not convincing enough to be discoveries. The discovery of dark matter may be just around the corner, or we may never find it. Reisetter will focus on her experiment, SuperCDMS, and our role in the hunt for dark matter.
Reisetter has searched for dark matter for 14 years, beginning in graduate school at the University of Minnesota, where she earned her PhD in 2005. She is a particle astrophysicist and uses computer simulations to study particle backgrounds for underground science in general and for dark matter searches in particular. She also authors the Steeped in Science blog and loves talking to curious folks about astronomy and science.
For further information, call Annette Parks at 812-488-1070 or the William L. Ridgway College of Arts and Sciences at 812-488-2589
Family Weekend 2016 is set for September 23-25!
The Office of Alumni and Parent Relations has started working on event planning for Family Weekend 2016 (September 23-25.) If your student organization or department would like to have an event for families or parents during this weekend, please complete the "Family Weekend 2016 Event Participation Form" by March 29, by clicking here.
Like past years' successful events, we would like to have a lot of student and department participation! If you would like to volunteer assistance, or if you have ideas, please contact us at alumni@evansville.edu or call 812-488-2586.
Overnight hosts needed for March 20
Are you interested in hosting a prospective student? The Office of Admission is looking for current students to help host prospective students on Sunday, March 20, starting at 5:00 p.m. Dinner will be provided. The student staying overnight will be doing their campus visit the following day. If you are interested in being a host, please e-mail Catie Taylor at ct37@evansville.edu with your name, roommate's name, hall, room number, and cell number.
Seniors invited to submit speech for Spring Commencement
All graduating seniors in good standing are eligible to be considered for the Senior Keynote Address to be given at spring commencement. Please consider submitting a 1000-1500 word speech to the selection committee by March 20. More information can be found here.
Maass reviews economic interdependence and war
Professor of political science Richard Maass just had an invited book review published as part of a roundtable on the International Security Studies Forum of H-Diplo, the online community for diplomatic history and international affairs. The roundtable focuses on Dale Copeland's recent book "Economic Interdependence and War," which argues that leaders often base their decisions for war and peace on current and future economic trends.
You can read Maass's review, along with those of the other roundtable participants, here.

Purple Aces Investment Analysts Team will participate in CFA competition
The Purple Aces Investment Analysts Team will participate in the CFA Institute Research Challenge on Thursday, March 3, in Nashville, Tennessee. Team members are Ned Bentsen, Ben Philips, Stephanie Comstock, and Joshua Herrera. Their faculty mentor is Walayet A. Khan, research director for the Institute of Global Enterprise and professor of finance.
The CFA Institute Research Challenge is an annual global competition that provides university students with hands-on mentoring and intensive training in financial analysis promoting best practices in equity research among the next generation of analysts. The CFA institute offers the CFA certification, the most valuable and globally recognized certification in finance.
This is the first time that a team from UE has participated in this prestigious competition.
PT faculty and students present at National Physical Therapy Meeting
UE DPT students and faculty recently presented research posters at the American Physical Therapy Association Combined Sections Meeting. The national conference held in Anaheim, California, from February 17-20. It was attended by more than 11,000 physical therapist professionals, UE presentations included:
"The Effect of Ballet Balance Training on Center of Mass Control During Sit to Stand in an Elderly Patient With Balance Impairment: A Case Study" was presented by DPT students Sara Johnson and Amy Gordon with faculty investigators Tzurei Chen, assistant professor of physical therapy, and Janet Szczepanski, assistant professor of physical therapy.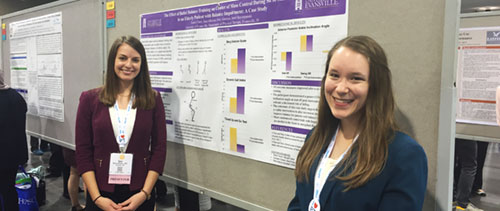 "Does the Coordination of Muscle Function between the Agonist and Antagonist Muscles of the Lower Extremity Play a Significant Role when Measuring Muscle Force Steadiness" was presented by DPT student Elizabeth Peterson.

Cirino publishes new book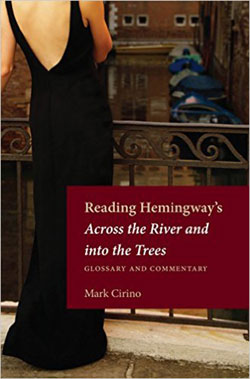 Associate professor of English and Melvin M. Peterson Endowed Chair in Literature Mark Cirino has published a new book, Reading Hemingway's Across the River and into the Trees, as part of Kent State University Press's "Reading Hemingway" series.
This book is a line-by-line annotation and commentary on Hemingway's 1950 novel, the first scholarly book ever devoted to Hemingway's inscrutable and maligned novel.
Cirino was a Global Scholar in 2012-13, which allowed him to travel to Venice to research the novel. Several recent UE graduates contributed to the preparation of Cirino's book as part of ENGL 399, Independent Study in Literature: Jenelle Clausen, Rachel Cochran, Nick Holder, Kevin Kay, Amanda Oaks, Natalie Updike, Samantha Urban, and Susan Vandagriff.
Balentine and Mockevicius named to All-MVC First Team
The regular season is done, and now it is time to prepare for the trip to St. Louis for Arch Madness for the No. 2 seed Purple Aces. It is a good beginning to the week for the University of Evansville as seniors D.J. Balentine and Egidijus Mockevicius have earned a spot on the All-Missouri Valley Conference First Team.
For Balentine, it marks the third year in a row that he has been on the squad. It is the second in a row for Mockevicius, who was also named to the All-Defensive Team for the third time in his career.
All-time program scoring leader Balentine garnered a spot on the team as he once again led the league in scoring, posting an average of 20.7 points per game. In the February 6 game against Missouri State, he set the program scoring mark, passing Colt Ryan's career total of 2,279 in his career.
Balentine goes into Arch Madness with 2,409 career points and will finish his career fourth in the MVC behind Hersey Hawkins, Oscar Robertson, and Larry Bird. Posting 20 points for the third year in a row, Balentine joins Doug McDermott and Tyler Haws as the only three players in the NCAA over the last five years to average that mark for three consecutive years.
He has scored in double figures in 30 out of 31 games this season while scoring at least 16 in each of the last seven outings. His season mark of 32 points came in an important road win at Murray State in December. Balentine's most clutch performance came in the road win at Southern Illinois as his 3-pointer at the buzzer sent the game to overtime, eventually leading to an Aces win.
Mockevicius finished the regular-season as the nation's leader in rebounding with 14.0 per game and double-doubles with 26. He enters Arch Madness riding a streak of nine double-doubles in a row, including a 14-point, 16-rebound effort in the regular season finale versus UNI.
He is the only player in the NCAA to record four games with 20 rebounds or more. Three of those outings have come in league play, including 20 in a hard-fought road win at Illinois State.
The top shooter in the MVC has connected on 65.7% of his attempts this season, knocking down 184 of his 280 attempts. One of the main attributes that has made him into an even bigger force has been his ability to stay out of foul trouble this year. That has resulted in him playing an average of 32.3 minutes per game, ranking ninth in the MVC.

Contribute to AceNotes
To have content considered for inclusion in AceNotes, please submit a Marketing Request Form. Deadline for submission to AceNotes is 10:00 a.m. on the requested date of publication. Only articles concerning UE related/sponsored activities will be accepted. Articles submitted to AceNotes may be edited for length and clarity. Submitter contact information is at the end of each article.