| | |
| --- | --- |
| AceNotes Today | Wednesday, February 24, 2016 |
HLC Visit: Next week!
The University of Evansville will host a visit February 29 - March 2, 2016, with a five-person review team representing its regional accrediting agency, the Higher Learning Commission (HLC).
Before the Visit
Prior to visiting UE, the peer review team will spend several weeks carefully reviewing UE's Assurance Argument, verifying assertions made in the argument by examining supporting documents provided in an Electronic Resource Room, and identifying people and groups with whom they want to meet while on campus. In addition to the materials provided by UE, the peer review team will also read any comments submitted to the HLC through the Third-Party Comment process and results of a survey the HLC administers to UE students six weeks prior to the campus visit.
During the Visit
While on campus, the peer review team will likely spend time visiting various programs and departments, observing classrooms or co-curricular activities, and meeting with individuals and groups (including open forums with faculty, staff, and students). The HLC Steering Committee has developed a set of sample questions that peer review team members may ask, which is intended to be a helpful guide in preparing for the campus visit.
After the Visit
Several weeks after the campus visit, the peer review team will prepare a draft report, which will be sent to UE to review and correct any errors of fact. The team will then prepare a final report of its findings and recommendations for UE's accreditation status. UE will receive a copy of this report and have an opportunity to provide a formal written response to the HLC. This response will become part of the official record of the evaluation. The HLC will review the final report and UE's response and notify UE in writing when the review process is completed and final action by the HLC has been determined.

Wednesday night Mass
Don't forget to join the Newman Club today as we participate in the 5:30 p.m. Wednesday Mass at St. Benedict Cathedral. The weekly 5:30 p.m. Mass will be taking the place of our regular 9:30 p.m. Wednesday night Masses. We will meet each Wednesday at 5:00 p.m. at the Newman Center before making our way to the cathedral.
We hope to see you there! Please call/text Kristel at 812-760-8610 for more information!

I-House: Serbia
It's time for I-House again! Today's presentation will be on Serbia! Tamara is super excited to get to tell you all about her country. Her major is psychology, and she loves to travel and listen to music. Her favorite part about UE is the campus community! To listen to Tamara talk about her country, come to I-House tonight at 7:00 p.m., upstairs in Ridgway University Center!
Black Student Union presents: Kinks, Coils, and Curls
Please come to Eykamp Hall, Room 251, Ridgway University Center, today at 7:00 p.m. BSU will play clips from the film "Good Hair" directed by Chris Rock. Following the film, we will have a few community leaders and students discuss some of the questions and stereotypes that surround black hair.
Writing Center Boot Camp: Academic Writing for International Students
How do you know when to use "a," "an," or "the"? What about run-on sentences? Do prepositions make you crazy? Are your sentences choppy? This workshop will provide a basic primer on English grammar conventions for those who are unfamiliar with them (and a tune-up for those who are a little rusty). We will cover the basics of sentence structure, spelling and capitalization, punctuation, and smooth writing style. We will present some strategies for helping you overcome the above obstacles, and for creating effective academic papers. Join us today at 5:00 p.m. in the Writing Center for this useful session.
May we pray for you?
"When people talk, listen completely" - Ernest Hemingway
The UE Newman Catholic Campus Ministry Team would like to listen to you, be it your thoughts, questions, prayer requests, or whatever else that may be on your mind. Please stop by Jazzman's Cafe and look for a Ministry Team member in bright blue and let us listen to you. We will be present:
Monday 11:00 a.m.-noon
Tuesday 8:00-9:00 a.m.
Wednesday 4:00-4:30 p.m.
Thursday 4:00-5:00 p.m.
Friday 8:00-9:00 a.m.
We look forward to spending this time with you!

Steve Yates speaking at Wahnita DeLong Reading today
You are invited to join us today at 4:00 p.m. in the Melvin Peterson Gallery to hear Steve Yates speak at the Creative Writing Wahnita DeLong Reading Coffee Hour.
Yates has been granted three Literary Arts fellowships from the Mississippi Arts Commission - two for his fiction and one for his creative nonfiction. He is the recipient of an individual artist's grant from the Arkansas Arts Council for his fiction as well.
In 2010 Moon City Press published his novel, Morkan's Quarry. Portions of Morkan's Quarry first appeared in Missouri Review, Ontario Review, and South Carolina Review. A novella-length excerpt was a finalist for the Pirate's Alley Faulkner Society William Faulkner/Wisdom Award for the Best Novella. Moon City Press published the sequel, The Teeth of the Souls, in March 2015. Two excerpts from it appeared in Missouri Review, one in Elder Mountain: A Journal of Ozarks Studies, and a novella-length excerpt appeared in Kansas Quarterly/Arkansas Review.
Residence Hall selection meetings today
Students wishing to reside in one of the residence halls for 2016-17 should plan to attend one of the information sessions about the residence hall selection process. Meetings will be at 5:00 p.m. and 9:00 p.m. in Eykamp Hall, Room 252, Ridgway University Center, today.
More information about the housing selection process can be found online here.
Muslim students invited to prayer room meeting today
All Muslim students are invited to a prayer room meeting with University chaplain Tammy Gieselman today at 5:00 p.m., Grabill Lounge, Neu Chapel. (Grabill Lounge is located on the lower level of Neu Chapel). Please plan to attend this important, visionary gathering, and bring your UE ID for sign-up purposes. For more information: tg85@evansville.edu.
Farewell reception for Alicia Harris
A farewell reception is planned for Alicia Harris, former grants manager for the University. The reception will be held this Thursday, February 25, in Room 204, Olmsted Administration Hall, 12:30-2:00 pm. Hope you can join us!
Panel discussion on transgender issues set for March 2
The ACLU of Indiana will host "Let's Talk About the T," a panel discussion on transgender rights at UE on Wednesday, March 2, in Room 170 (Smythe Lecture Hall), Schroeder School of Business Building. The event will be from noon-1:00 p.m., with check-in beginning at 11:30 a.m. This event is free and open to the public.
The topic of the discussion will be such questions as what is factual, and what is myth in the debate about transgender rights? What does it mean to be transgender in our society? What is the history of discrimination against the transgender community? Why must laws extend protections in housing, employment, and public accommodations to people who are transgender?
Panelists include:
Moderator: Brad Byrd, anchor/news editor ABC 25/CW
Kelley Coures, executive director, Department of Metropolitan Development
Jane Henegar, executive director, ACLU of Indiana
Grover Jeide, transgender activist
Kit Malone, Freedom Indiana transgender educator
NSLS Leadership Training Day
Leadership Training Day for new members is on Sunday, February 28, from 1:00-4:00 p.m. in Room 162, Schroeder School of Business Building. Everyone is encouraged to bring their own drink. Snacks will be provided. Those unable to attend should please e-mail Jennifer Allen at ja225@ueliveevansville.onmicrosoft.com to set up a time to go through the training video. Remember all members must attend LTD as part of their requirements to be officially inducted in April.
UE Health and Fitness Fair
The 2016 Health and Fitness Fair will be held in the Student Fitness Center on Thursday, February 25, from 11:00 a.m. - 2:00 p.m. The event is free for all students, faculty, and staff. Over 25 vendors will be present with prizes and giveaways.
Financial preparedness class for new parents
The University of Evansville and St. Mary's Hospital for Women & Children are offering a class on financial preparedness for new and expectant parents on Thursday, April 7, from 6:30-8:30 p.m. The class will be in the St. Mary's Gift Conference Room.
While the class is free, registration is required. To register, go to stmarys.org and click the "Class or Event" tab, or call Terry Cooper at 812-485-6016.
This class is for those having their first child and for those who are welcoming another baby to the family.
Topics to be addressed in the class include household financial planning, taxes and insurance, and resources available for those needing assistance.
Global Economic and Financial Prospects: Have We Turned the Corner Yet?
Farrukh Iqbal will be speaking to UE students from Washington DC, at 4:00 p.m. in Room 100, Koch Center for Engineering and Science, on February 25. The title of his presentation will be: Global Economic and Financial Prospects: Have We Turned the Corner Yet?"
Iqbal recently retired from the World Bank after serving there for 33 years. Most recently he worked as country director in the Middle East Region. He joined the World Bank after earning a PhD in economics from Yale University in 1981. Iqbal earned a BS degree in economics from Harvard University. He is author of several books and has published numerous articles in scholarly journals.
For questions, please contact Walayet A. Khan, research director of the Institute of Global Enterprise and professor of finance. The event is free and open to public.

Spring graduate reminder to attend Commencement Central
This is a reminder to all spring 2016 graduates that they should attend Commencement Central to finalize graduation plans.
Please plan to attend either:
Monday, February 29 from 4:00-6:00 p.m. upstairs in Ridgway University Center
Tuesday, March 1 from 11:00 a.m.-2:00 p.m. outside the UE Bookstore
It only takes a few minutes to make sure everything is in order. You'll meet with representatives from the Office of the Registrar, the Office of Alumni and Parent Relations, and the Center for Career Development. You will also be able to purchase your cap and gown and order graduation announcements. Mark your calendars accordingly!
Fix it: Healthcare at the Tipping Point
The Department of Philosophy and Religion, the UE College Democrats, Tri-State Jobs with Justice, and the Southwest Indiana Chapter of Hoosiers for a Common Sense Health Plan are co-sponsoring a showing of the documentary, "Fix It: Healthcare at the Tipping Point", followed by an open discussion. The documentary will be shown on Thursday, February 25, at 7:00 p.m., in Room 162, Schroeder School of Business Building. The event is free and open to the public.
Despite the passage of the Affordable Care Act, the skyrocketing costs of health care to both individuals and businesses continue to rise at a significantly higher rate than the cost of living as well as growth in the GDP. That places a debilitating strain on the economy, not to mention the nation's health. Can this level of increasing costs be sustained, while still moving toward universal coverage? What can be done about it? This documentary will discuss these questions.
For any questions, contact UE professor emeritus Dick Connolly at 812-479-1298 or at dc25@evansville.edu.

Do you know what to recycle at UE?
At UE, you can bring the following to recycle collection areas around campus:
Aluminum: empty cans
Paper products including: empty cereal boxes, office paper, magazines, newspaper
Plastic: empty containers with the number 1-7 in the recycling logo
Books
Cardboard
Look for the nearest recycle pick-up location, and help keep recyclables out of the landfill! For more information, check out:
Last chance to order Aces crewneck sweatshirt!
The deadline to order an Aces crewneck sweatshirt has been extended to Wednesday, February 24. If you would like to order one, please e-mail Taylor Wornica (tw151@evansville.edu) with your name and size. All proceeds will benefit the University of Evansville chapter of College Mentors for Kids, which is a national, non-profit organization that connects college students with the most to give to kids who need it the most. Your support is greatly appreciated!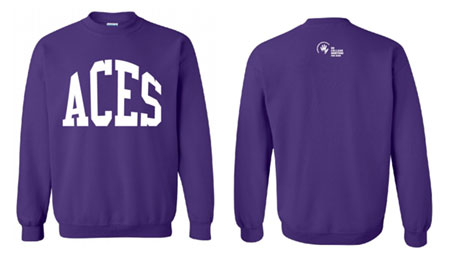 Work-study still available!
There are jobs available through federal work-study offered by the Office of Financial Aid for UE students. Eligibility is based on federal need as shown through the FAFSA. You can go here to find the application. Applications may also be obtained at the Office of Financial Aid in Room 116, Olmsted Administration Hall. Questions regarding eligibility and job availability should be directed to Catherine Carver at cc204@evansville.edu.
Beavers tops rankings at Academia.edu
Anthony F. Beavers, professor of philosophy and director of cognitive science, recently appeared in the Top 1% of Researchers based on monthly page views posted by the paper archive Academia.edu. Most of his research posted there concerns issues connected to the history and philosophy of information systems, machine ethics, computational philosophy, and cognitive computer modeling. His work has been viewed by researchers on six continents, the foremost being North America and India.
Mockevicius sets program rebounding mark as Aces win 23rd
There is a new leader in career rebounds for the University of Evansville as Egidijus Mockevicius grabbed the 1,198th of his career in the second half as the Purple Aces Men's Basketball team defeated Bradley by a final of 67-55 on Tuesday night at Carver Arena.
Mockevicius finished with 20 points and 17 rebounds as he hit seven of his 10 shots in the win for UE (23-7, 12-5 MVC). D.J. Balentine was Evansville's leading scorer with 22 points. Bradley (5-25, 3-14 MVC) was led by a 14-point effort from Callum Barker.
"It was a tough start. We did not get as many good looks, and the ones we got did not fall," head coach Marty Simmons said. "We needed to get off to a good start in the second half, and we challenged our guys to be efficient at the start of the second half. I thought we did a pretty good job of that. We've had some good spots and some not so good spots tonight, but we're playing better. We have to make free throws better, but overall, we're better."
It was a tough start for the Purple Aces as the Braves scored the first four points of the game as UE missed its first four shots. A 1-of-7 beginning to the day saw the Aces fall into a 10-3 hole. Blake Simmons found Mockevicius underneath the basket for a layup that got UE back within a pair at 10-8, but the Braves were able to open up a 6-point gap at 17-11 midway through the half.
Evansville muscled its way back, utilizing a 9-0 run as they took their first lead of the night at 20-19 with 5:19 remaining. The rally was capped off with a Simmons's layup that put the Aces up 24-19. Bradley got back within a pair at 27-25 before UE scored the final bucket of the period to head to the locker room up 29-25.
In the first possession of the second half, Balentine hit a pullback jumper before Jaylon Brown scored on a runout to put UE up 33-25 in the opening minute of the second half. Brown hit a floater at the buzzer to give UE a 10-point edge before an and-one by Callum Barker cut the gap to seven.
Bradley got within five at 41-36, but the Aces fought right back with a 7-0 run. Balentine was the key to it as he hit an and-one, followed by a triple to put UE up by 12 at 48-36. In that stretch, Mockevicius hauled in his thirteenth rebound of the night, setting the all-time program mark with 1,198.
While Mockevicius took care of the glass, the offense found its groove, going up by 19 at 63-44 with 5:19 left. From there, it was all Evansville as the Aces completed the night with the 67-55 win.
The Aces finished the night shooting 48% while Bradley finished at 43%. The Braves completed the game with a 34-30 edge in rebounding.
CBS Sports Network will be back in town on Saturday as the Aces will play host to UNI on Senior Day. Balentine, Mockevicius, and Adam Wing will be honored prior to the game. The first 5,000 fans will receive a commemorative Senior Day print courtesy of ARC Construction Company. Game time is set for 1:00 p.m.

Purple Aces Tennis fundraiser
The Purple Aces Tennis 2016 Spring Fundraiser is set for March 5 at 6:00 p.m., at the Tri-State Athletic Club, located at 555 Tennis Lane, in Evansville. Join the Aces Women's Tennis team for an evening of fun, food, prizes, a silent auction, and – of course – tennis! To sign up, contact Don Martin at 812-479-3111.
Contribute to AceNotes
To have content considered for inclusion in AceNotes, please submit a Marketing Request Form. Deadline for submission to AceNotes is 10:00 a.m. on the requested date of publication. Only articles concerning UE related/sponsored activities will be accepted. Articles submitted to AceNotes may be edited for length and clarity. Submitter contact information is at the end of each article.