| | |
| --- | --- |
| AceNotes Today | Tuesday, February 23, 2016 |
Are you prepared for the HLC visit?
The University of Evansville will host a visit February 29 - March 2, with a team representing its regional accrediting agency, the Higher Learning Commission (HLC).
While on campus, the peer review team will likely spend time visiting various programs and departments, observing classrooms or co-curricular activities, and meeting with individuals and groups (including open forums with faculty, staff, and students). The HLC Steering Committee has developed a set of sample questions peer review team members may ask, which is intended to be a helpful guide in preparing for the campus visit. Click here The University of Evansville will host a visit February 29 - March 2, with a team representing its regional accrediting agency, the Higher Learning Commission (HLC).
While on campus, the peer review team will likely spend time visiting various programs and departments, observing classrooms or co-curricular activities, and meeting with individuals and groups (including open forums with faculty, staff, and students). The HLC Steering Committee has developed a set of sample questions peer review team members may ask, which is intended to be a helpful guide in preparing for the campus visit. Click here to access the list of questions.
This Week in Music: A combined ensembles concert
Two of the Department of Music's premier ensembles will offer a joint concert in Neu Chapel tonight at 7:30 p.m. The University Choir, under the direction of associate professor and director of choral activities Dennis Malfatti will open the concert with performances of works ranging from the late Renaissance to the modern era.
The University Wind Ensemble will perform the second half of the concert under the direction of associate professor and director of bands Kenneth Steinsultz and professor of trumpet and jazz studies Timothy Zifer. Pianists Kristin Jones and Jaime Teichmer will provide accompaniment for the University Choir. Assistant professor of music education and saxophone Shawn Teichmer will join the University Wind Ensemble in a performance of John Williams's Escapades, a work drawn from his Oscar-nominated score for the film Catch Me If You Can. The concert is free and open to the public.
The concert will also act as a send off event. Both ensembles will be leaving campus on Wednesday for conference appearances. The University Choir will be traveling to Chicago, where the ensemble will perform at the American Choral Directors Association Conference. The Wind Ensemble will be traveling to Ames, Iowa, where the ensemble will perform at the College Band Directors National Association Conference. Congratulations to both ensembles and their conductors!

Student Publications information meeting today
Come learn about the positions available with Crescent Magazine and the LinC for the 2016-17 school year. An information session is planned for today at 6:00 p.m. in Eykamp Hall, Room 253, Ridgway University Center. There are many positions to choose from, including various columnist positions, reporters/writers, social media assistants, event planner, and photographers.
Program on eating disorder
UE Counseling Services is sponsoring a program to recognize National Eating Disorders Awareness Week. Emily Ryan will share her journey of an eating disorder today from 6:00-7:00 p.m. in Eykamp Hall, Rooms 254-255, Ridgway University Center
Eating disorders have the highest mortality rate of any mental disorder and 30 million Americans will suffer from an eating disorder at some point in their life. National Eating Disorders Awareness Week (#NEDAwareness Week) is February 21-27. The goal of this week is to put the spotlight on the seriousness of eating disorders and to improve public understanding of their causes, triggers, and treatments. By increasing awareness and access to resources, we can encourage early detection and intervention, which can improve the likelihood of full recovery for millions.
This year, the National Eating Disorders Association (NEDA) is focusing on the importance of early intervention and encouraging the public to complete the free online eating disorders screening here. Taking three minutes to complete the screening will help determine if it is time to seek professional help.
NSLS Speaker 2 Broadcast
The Speaker 2 Broadcast is today from 6:00-7:00 p.m. in Eykamp Hall, Room 252, Ridgway University Center. Remember all members must attend three speaker broadcasts as part of their requirements to be officially inducted in April.
Career Day today!
Attend Career Day today for access to over 100 employers. The event is from 11:00 a.m.– 2:00 p.m., Carson Center, Meeks Family Court. See registered employers in JobLink (evansville-csm.symplicity.com).
Thanks to our sponsors:
Aflac
Becker Professional Education
Ciholas
Deaconess Hospital
Fifth Third Bank
MasterBrand Cabinets, Inc.
U.S. Navy

Muslim students invited to prayer room meeting today
All Muslim students are invited to a prayer room meeting with University chaplain Tammy Gieselman today at 5:00 p.m., Grabill Lounge, Neu Chapel. (Grabill Lounge is located on the lower level of Neu Chapel). Please plan to attend this important, visionary gathering, and bring your UE ID for sign-up purposes. For more information: tg85@evansville.edu.
Black Student Union presents: Kinks, Coils, and Curls
Please come to Eykamp Hall, Room 251, Ridgway University Center, today at 7:00 p.m. BSU will play clips from the film "Good Hair" directed by Chris Rock. Following the film, we will have a few community leaders and students discuss some of the questions and stereotypes that surround black hair.
Wednesday night Mass
Don't forget to join the Newman Club today as we participate in the 5:30 p.m. Wednesday Mass at St. Benedict Cathedral. The weekly 5:30 p.m. Mass will be taking the place of our regular 9:30 p.m. Wednesday night Masses. We will meet each Wednesday at 5:00 p.m. at the Newman Center before making our way to the cathedral.
We hope to see you there! Please call/text Kristel at 812-760-8610 for more information!

I-House: Serbia
It's time for I-House again! Today's presentation will be on Serbia! Tamara is super excited to get to tell you all about her country. Her major is psychology, and she loves to travel and listen to music. Her favorite part about UE is the campus community! To listen to Tamara talk about her country, come to I-House tonight at 7:00 p.m., upstairs in Ridgway University Center!
Farewell reception for Alicia Harris
A farewell reception is planned for Alicia Harris, former grants manager for the University. The reception will be held this Thursday, February 25, in Room 204, Olmsted Administration Hall, 12:30-2:00 pm. Hope you can join us!
Writing Center Boot Camp: Academic Writing for International Students
How do you know when to use "a," "an," or "the"? What about run-on sentences? Do prepositions make you crazy? Are your sentences choppy? This workshop will provide a basic primer on English grammar conventions for those who are unfamiliar with them (and a tune-up for those who are a little rusty). We will cover the basics of sentence structure, spelling and capitalization, punctuation, and smooth writing style. We will present some strategies for helping you overcome the above obstacles, and for creating effective academic papers. Join us today at 5:00 p.m. in the Writing Center for this useful session.
UE Health and Fitness Fair
The 2016 Health and Fitness Fair will be held in the Student Fitness Center on Thursday, February 25, from 11:00 a.m. - 2:00 p.m. The event is free for all students, faculty, and staff. Over 25 vendors will be present with prizes and giveaways.
Fix it: Healthcare at the Tipping Point
The Department of Philosophy and Religion, the UE College Democrats, Tri-State Jobs with Justice, and the Southwest Indiana Chapter of Hoosiers for a Common Sense Health Plan are co-sponsoring a showing of the documentary, "Fix It: Healthcare at the Tipping Point", followed by an open discussion. The documentary will be shown on Thursday, February 25, at 7:00 p.m., in Room 162, Schroeder School of Business Building. The event is free and open to the public.
Despite the passage of the Affordable Care Act, the skyrocketing costs of health care to both individuals and businesses continue to rise at a significantly higher rate than the cost of living as well as growth in the GDP. That places a debilitating strain on the economy, not to mention the nation's health. Can this level of increasing costs be sustained, while still moving toward universal coverage? What can be done about it? This documentary will discuss these questions.
For any questions, contact UE professor emeritus Dick Connolly at 812-479-1298 or at dc25@evansville.edu.

The Beauty of Engineering! to be held on March 5
Join the Tri-State Women in STEM for The Beauty of Engineering!, sponsored by twiSTEM and the University of Evansville College of Engineering and Computer Science. The event is on March 5, beginning at 8:00 a.m. with doors opening at 7:30 a.m. The event will be in the Koch Center for Engineering and Science.
The event will introduce girls in grades 4 through 8 to engineering and computer science. It features a rotation through educational activity stations staffed by professional women and college students in the fields of engineering and computing.

The cost is $7 per participant and is nonrefundable except in the event of cancellation or full to capacity. Enrollment is limited to the first 200 girls and registration is open until February 29. Individuals and organizations are welcome.
For more information and registration forms, please leave a message at 812-867-2085 or e-mail twiSTEM.evv@gmail.com.
Steve Yates speaking at Wahnita DeLong Reading today
You are invited to join us today at 4:00 p.m. in the Melvin Peterson Gallery to hear Steve Yates speak at the Creative Writing Wahnita DeLong Reading Coffee Hour.
Yates has been granted three Literary Arts fellowships from the Mississippi Arts Commission - two for his fiction and one for his creative nonfiction. He is the recipient of an individual artist's grant from the Arkansas Arts Council for his fiction as well.
In 2010 Moon City Press published his novel, Morkan's Quarry. Portions of Morkan's Quarry first appeared in Missouri Review, Ontario Review, and South Carolina Review. A novella-length excerpt was a finalist for the Pirate's Alley Faulkner Society William Faulkner/Wisdom Award for the Best Novella. Moon City Press published the sequel, The Teeth of the Souls, in March 2015. Two excerpts from it appeared in Missouri Review, one in Elder Mountain: A Journal of Ozarks Studies, and a novella-length excerpt appeared in Kansas Quarterly/Arkansas Review.
Celebrating 40 Days of Peace
Please join us in the last week of celebrating 40 days of peace!
Today's action is to apologize to one person whom you have offended.
Today's quote is "Peace is the respect for the rights of others." - Benito Juarez
Do you know what to recycle at UE?
At UE, you can bring the following to recycle collection areas around campus:
Aluminum: empty cans
Paper products including: empty cereal boxes, office paper, magazines, newspaper
Plastic: empty containers with the number 1-7 in the recycling logo
Books
Cardboard
Look for the nearest recycle pick-up location, and help keep recyclables out of the landfill! For more information, check out:
Last chance to order Aces crewneck sweatshirt!
The deadline to order an Aces crewneck sweatshirt has been extended to Wednesday, February 24. If you would like to order one, please e-mail Taylor Wornica (tw151@evansville.edu) with your name and size. All proceeds will benefit the University of Evansville chapter of College Mentors for Kids, which is a national, non-profit organization that connects college students with the most to give to kids who need it the most. Your support is greatly appreciated!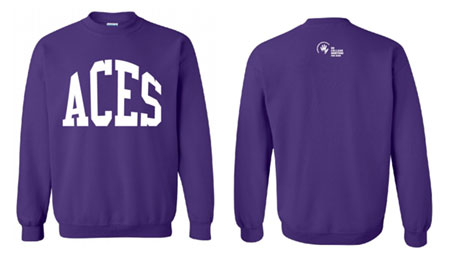 Library After Hours
The Libraries are pleased to offer a late night study space for students. The first floor will be open from midnight-4:00 a.m., Mondays-Fridays. Limited library services will be available. Enter the library from the new door facing Ridgway University Center via card swipe after 11:50 p.m. to use the space.
Access to the books, group study rooms, and the upper floors will not be open.
Contact Meg Atwater-Singer (ma35@evansville.edu or ext. 2487) with any questions.
Work-study still available!
There are jobs available through federal work-study offered by the Office of Financial Aid for UE students. Eligibility is based on federal need as shown through the FAFSA. You can go here to find the application. Applications may also be obtained at the Office of Financial Aid in Room 116, Olmsted Administration Hall. Questions regarding eligibility and job availability should be directed to Catherine Carver at cc204@evansville.edu.
GWS student presenters
Abbi Hanson and Elena Barnett presented their research at the second Biennial Midwest Undergraduate Conference -- New Directions in Gender Studies 2016. They presented on the panels "Women in the Work Place" and "Women and Empowerment." Hanson and Barnett joined students from Notre Dame, Loyala Chicago, IU Bloomington, and 12 other universities at the conference hosted by the University of Notre Dame's Gender Studies Program.
Beavers tops rankings at Academia.edu
Anthony F. Beavers, professor of philosophy and director of cognitive science, recently appeared in the Top 1% of Researchers based on monthly page views posted by the paper archive Academia.edu. Most of his research posted there concerns issues connected to the history and philosophy of information systems, machine ethics, computational philosophy, and cognitive computer modeling. His work has been viewed by researchers on six continents, the foremost being North America and India.
Bradley up next for UE men's basketball
The final week of regular-season play in the Missouri Valley Conference begins today as the University of Evansville Men's Basketball team heads to Peoria, Illinois, to take on Bradley.
Set for an 8:00 p.m. tip, the Missouri Valley Conference TV Network will carry the game, and it will be available to fans in the Evansville area on Fox Sports Midwest.
Evansville won its twenty-second game of the season Saturday as the program celebrated Jim Byers Day in style, defeating Southern Illinois by a final of 83-71. D.J. Balentine notched 27 points as he drained 10 of his 16 attempts to lead all scorers; he also notched six assists. Egidijus Mockevicius added to his national-leading double-double total with 11 points and 12 rebounds, he now has 24 on the season.
The Aces have led wire-to-wire in each of the last two games in earning a pair of huge wins that have the Aces tied for second in the conference with just two regular-season games remaining.
Blake Simmons is on one of the top streaks of his career, averaging 10.3 points over his last three games. One of the main factors in the recent streak has been his accuracy as he has connected on 12 out of his last 20 attempts, including five triples in the last three outings. Simmons ranks third on the team with 89 assists on the season.
Bradley moved to 5-24 and 3-13 in league play with a 73-70 home win over Drake on Saturday, as the Braves moved to 2-2 in their last four home games. Antoine Pittman was the top scorer for the Braves in the win, posting 20 points on 7-of-10 shooting; he has averaged 8.1 PPG thus far. The top scorer for Bradley is Dwayne Lautier-Ogunleye, who has notched 9.3 points per contest; he registered 16 points and five assists in the win over Drake. Behind him is Donte Thomas, who has notched 9.1 tallies per contest.

Morgan Florey earns two MVC awards
The honors continued to roll in for Purple Aces freshman pitcher Morgan Florey. After earning Co-MVP honors at this weekend's Tiger Classic, Florey brought home a pair of Missouri Valley Conference awards.
For the first time in her career, Florey was named the MVC Pitcher of the Week and also garnered Newcomer of the Week honors with her stellar performances in Nashville.
"Morgan had a great weekend in the circle for us," Aces head coach Mat Mundell said. "She came into the game a few times in some tough spots and was able to get the outs we needed. She continues to improve. She was also clutch in her first at bat of the season."
Florey pitched 13 2/3 innings over the weekend where she struck out 23 batters and gave up just one unearned run. She walked just three batters. Florey also picked up three wins over the weekend. In the win over East Tennessee State, she fanned a career-high nine batters in four innings of work. She followed that up on Saturday going five 2/3 innings where she struck out eight.
In the win over Northern Kentucky to cap off the weekend, Florey pitched the final four innings as she earned her third win of the season and fourth of the year. Making her effort even more impressive in the win over NKU is that she drove in the winning run in the top of the eighth inning. In her first at-bat of the season, Florey singled to center field to help the Aces win their eighth game of the year.
This weekend, action continues for the Aces as they head to Chattanooga, Tennesse, for their third weekend of action. It begins on Friday.

Purple Aces Tennis fundraiser
The Purple Aces Tennis 2016 Spring Fundraiser is set for March 5 at 6:00 p.m., at the Tri-State Athletic Club, located at 555 Tennis Lane, in Evansville. Join the Aces Women's Tennis team for an evening of fun, food, prizes, a silent auction, and – of course – tennis! To sign up, contact Don Martin at 812-479-3111.
Contribute to AceNotes
To have content considered for inclusion in AceNotes, please submit a Marketing Request Form. Deadline for submission to AceNotes is 10:00 a.m. on the requested date of publication. Only articles concerning UE related/sponsored activities will be accepted. Articles submitted to AceNotes may be edited for length and clarity. Submitter contact information is at the end of each article.