| | |
| --- | --- |
| AceNotes Today | Friday, February 19, 2016 |
UE celebrates its founding and 162 years this Sunday
The University of Evansville's 162nd Founders Day celebration is this Sunday, February 21, at 10:30 a.m. in Neu Chapel. This year's Edgar M. McKown speaker will be Harlaxton College principal Gerald Seaman. Emeriti faculty will also be honored during the ceremony for their years of service to the University.
Founders Day ceremonies are held in observance of four important events in the history of the University of Evansville:
On February 8, 1810, John C. Moore, founder of Moores Hill College, was born. In addition to contributing $3,000 and 12 acres to the school, Moore personally paid the school's deficits until his death in 1871.
The story of the University of Evansville began 162 years ago on February 10, 1854, when Moores Hill Male and Female Collegiate Institute was incorporated. This fledgling institution was located in Moores Hill in Dearborn County, about 40 miles west of Cincinnati.
On February 17, 1919, the school was relocated and Evansville College was incorporated. The College achieved its first major academic goal in 1931 by winning accreditation from the North Central Association of Colleges and Secondary Schools.
Rapid growth and years of dedication to meeting the area's higher education requirements were recognized by the state legislature's action in renaming the school. On February 17, 1967, the University of Evansville was incorporated.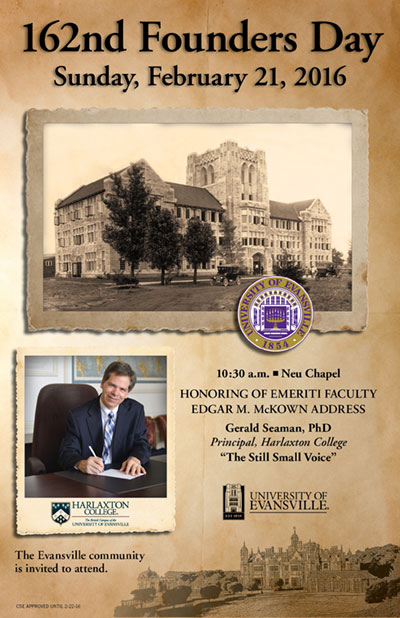 Road Trip to Main Street on Saturday, February 20
During Road Trip weekend, the Office of Admission invites all UE students to take a Road Trip to Main Street for lunch, followed by the Men's Basketball game on Saturday, February 20. All UE students, whether or not they are hosting for Road Trip, may ride the busses.
The Southern Illinois Salukis will seek to avenge their overtime loss to the Purple Aces Men's Basketball team. Let's fill the Ford Center and show both the Salukis and our high school guests our Aces spirit.
Schedule:
Noon - Busses begin shuttling UE students to Main Street (load in front of Carson Center). Last bus departs at approximately 2:15 p.m.
Noon – 2:45 p.m. - Downtown restaurants offering discounts to those with UE ID.
2:00 p.m. – Ford Center doors open.
2:15 p.m. – Road Trip visitors depart UE for the Ford Center.
3:00 p.m. – Game begins. Busses return to UE following the game.
The following restaurants will offer a 10 percent discount on food to those presenting UE ID.
Angelo's Italian Restaurant (305 Main Street)
Backstage Bar and Grill (524 Main Street)
Piece of Cake Bakery (210 Main Street)
All UE students will receive a $5 coupon for concessions upon arrival at the Ford Center, and those enrolled in the Aces Student Rewards program will receive double points for swiping in at this game! Your student club or organization can still enroll in the Aces Student Rewards program.
Are you prepared for the HLC visit?
The University of Evansville will host a visit February 29 - March 2, with a team representing its regional accrediting agency, the Higher Learning Commission (HLC).
While on campus, the peer review team will likely spend time visiting various programs and departments, observing classrooms or co-curricular activities, and meeting with individuals and groups (including open forums with faculty, staff, and students). The HLC Steering Committee has developed a set of sample questions peer review team members may ask, which is intended to be a helpful guide in preparing for the campus visit. Click here The University of Evansville will host a visit February 29 - March 2, with a team representing its regional accrediting agency, the Higher Learning Commission (HLC).
While on campus, the peer review team will likely spend time visiting various programs and departments, observing classrooms or co-curricular activities, and meeting with individuals and groups (including open forums with faculty, staff, and students). The HLC Steering Committee has developed a set of sample questions peer review team members may ask, which is intended to be a helpful guide in preparing for the campus visit. Click here to access the list of questions.
The #readingseries is back today
Please join the fun folks in the Department of Creative Writing for the first spring #readingseries. This student reading will feature poetry, fiction, and nonfiction from Joy Grace Chen, Kirsti Ethridge, and Sam Frost. The reading will start at 4:00 p.m. today in the back room of The Slice. It's bound to be a terrific hour, so please come on by!
2016 RecycleMania Tournament
The 2016 RecycleMania tournament is under way! The competition, which encourages waste reduction and recycling on campuses nationwide, ends April 2.
UE is one of many schools participating this year. UE will compete in several weight-based categories that measure recycling and waste reduction per capita, as well as overall campus recycling weights as a percentage of total waste generated.
RecycleMania is about more than simply winning. It is a time to engage the entire campus community in awareness and action to reduce waste, recycle more, and protect the environment. More information can be found at www.recyclemania.org.
So let's all recycle! Check upcoming AceNotes and UE's Environmental Management Facebook page for more information.
If any of our recycle bins are full, or if you have questions, call ext. 2697 or e-mail js652@evansville.edu.
UE Theatre presents Lily Dale
The University of Evansville Department of Theatre proudly presents Horton Foote's Lily Dale, opening today at 7:30 p.m., in Shanklin Theatre. Additional performances are at 7:30 p.m. on February 20, 25, 26, and 27, and at 2:00 p.m. on February 21 and 28.
In one of nine plays comprising the prolific playwright's The Orphans' Home Cycle, Horton Foote once again masterfully mixes the bitter with the sweet and the sad with the comic in his typically appealing manner. In 1909, Horace Robedaux boards a train bound for Houston to visit his mother and self-absorbed sister only to find himself fighting a raging fever and at the mercy of an icy stepfather. Horace's desperate longing to connect with his estranged family is a vivid reminder of the lasting heartbreak that people endure to survive in life's ever-changing landscape.
Professor John David Lutz directs Lily Dale. Professor emeritus Joseph P. Flauto Jr. serves as the scenic designer; Professor Patti McCrory is the costume designer; Aaron Curry, a senior from Glendale, Arizona, is the lighting designer; David Dawson, a senior from Arlington, Texas, serves as the sound designer; and TJ Baldassare, a senior from Westminster, Colorado, is the dramaturg.
The seven-person cast features juniors Demi Davis, from Leesburg, Georgia, as Lily Dale Robedaux; Nate DeCook, from Holland, Michigan, as Horace Robedaux; Rachel Barkalow, from Cincinnati, Ohio, as Corella Davenport; sophomores Braden Wilkerson, from Fort Worth, Texas, as Mrs. Coons; Jacob Sellers, from Fort Branch, Indiana, as Pete Davenport; Davis Brinker, from Minneapolis, Minnesota, as Will Kidder; and freshman Isaac Baker, from Bowling Green, Kentucky, as Albert Thornton.
Ticket prices are $15 for adults and $13 for senior adults, students, and UE faculty and staff. UE students may obtain one free student rush ticket beginning at noon on the day of the performance they wish to attend. Tickets may be purchased by calling 812-488-2031, Monday through Friday, noon to 5:00 p.m.
Musical Madness goes to the '80s
Musical Madness Goes to the '80s is set for today and tomorrow, at 7:30 p.m., in Eykamp Hall, Ridgway University Center. Doors will open at 6:30 p.m. This event will be a flashback to an exciting era with singing and dancing, all choreographed and written by students.
Tickets for Musical Madness will be available in Ridgway University Center today at 11:30 a.m.-12:30 p.m., during lunch, and 5:00-7:00 p.m., during dinner. The tickets cost $5 per person. All proceeds benefit Youth First.
Student Publications information meeting today
Come learn about the positions available with Crescent Magazine and the LinC for the 2016-17 school year. An information session is planned for today at 6:00 p.m. in Eykamp Hall, Room 253, Ridgway University Center. There are many positions to choose from, including various columnist positions, reporters/writers, social media assistants, event planner, and photographers.
This Weekend in Music: student recitals
This Sunday, the Department of Music will present two student recitals in Wheeler Concert Hall. At 1:00 p.m., pianist Joseph Effinger, a student of professor of music Anne Hastings Fiedler, will present his senior recital. A joint senior recital presented by flutist Rebecca Mathes and trombonist Damian Peak will follow at 2:30 p.m. Rebecca is a student of consortium instructor Cara Dailey, while Damian is a student of associate professor Kenneth Steinsultz. All three students present the recitals in partial fulfillment of their respective degree requirements, and both recitals are free and open to the public.
NSLS Speaker 2 Broadcast
The Speaker 2 Broadcast is today from 6:00-7:00 p.m. in Eykamp Hall, Room 252, Ridgway University Center. Remember all members must attend three speaker broadcasts as part of their requirements to be officially inducted in April.
NSLS Leadership Training Day
Leadership Training Day for new members is on Sunday, February 21, from 1:00-4:00 p.m. in Room 162, Schroeder School of Business Building. Everyone is encouraged to bring their own drink. Snacks will be provided. Remember all members must attend LTD as part of their requirements to be officially inducted in April.
UE Health and Fitness Fair
The 2016 Health and Fitness Fair will be held in the Student Fitness Center on Thursday, February 25, from 11:00 a.m. - 2:00 p.m. The event is free for all students, faculty, and staff. Over 25 vendors will be present with prizes and giveaways.
Venturing Crew Spring Break trip
Join Venturing Crew for Spring Break! The trip will be Tuesday, March 8 through Sunday, March 13, so you will also have part of that week free. All payments ($150) are due by Friday, February 26, to Calvin Wertman in Residence Life. You must be a Venturing Crew member to come!
You have a choice between two options for this trip:
1) Backpacking (test hike required!)
Backpackers will take an extensive hiking trip to see some of the most beautiful views in North Carolina! You will enjoy a challenging hike, carrying all necessary equipment on your back for three days. Because this is a physically intensive journey, to participate in backpacking you must participate in a required test hike to make sure that everyone on the trip is safe and having fun. Test hike times are Sunday, February 21, at 3:00 p.m., or Saturday, February 27, at 3:00 p.m., at Audubon State Park. Based on your test hike performance, you may be asked to consider base camping to ensure that you have the best trip possible. To sign up for a test hike (even if you have not paid yet), e-mail Kyle Abraham (ka115@evansville.edu) and Alex Schmitt (as564@evansville.edu) with your preferred time.
2) Base camping
Base campers will stay at Camp Daniel Boone in North Carolina and will participate in fun outdoor activities such as fishing and rock climbing. Also, prepare for a visit to the REI outdoors store and the Biltmore estate!
Fix it: Healthcare at the Tipping Point
The Department of Philosophy and Religion, the UE College Democrats, Tri-State Jobs with Justice, and the Southwest Indiana Chapter of Hoosiers for a Common Sense Health Plan are co-sponsoring a showing of the documentary, "Fix It: Healthcare at the Tipping Point", followed by an open discussion. The documentary will be shown on Thursday, February 25, at 7:00 p.m., in Room 162, Schroeder School of Business Building. The event is free and open to the public.
Despite the passage of the Affordable Care Act, the skyrocketing costs of health care to both individuals and businesses continue to rise at a significantly higher rate than the cost of living as well as growth in the GDP. That places a debilitating strain on the economy, not to mention the nation's health. Can this level of increasing costs be sustained, while still moving toward universal coverage? What can be done about it? This documentary will discuss these questions.
For any questions, contact UE professor emeritus Dick Connolly at 812-479-1298 or at dc25@evansville.edu.

Spring graduates - take note
This is a reminder to all Spring 2016 graduates to attend Commencement Central to finalize graduation plans. It only takes a few minutes to complete, and you can do it either Monday, February 29, from 4:00-6:00 p.m., upstairs in Ridgway University Center, or on Tuesday, March 1, from 11:00 a.m.-2:00 p.m., outside the UE Bookstore in Ridgway University Center. You'll meet with representatives from the Office of Alumni and Parent Relations, Office of the Registrar, and the Center for Career Development. You can also purchase your cap and gown and/or order graduation announcements, all in one stop. Please mark your calendars and plan to attend.
Make plans to attend Career Day
Looking for a full-time professional position? Cooperative education opportunity? Internship? Summer job? Career Day will include over 100 employers interested in hiring you. The event is set for Tuesday, February 23, 11:00 a.m.– 2:00 p.m., Carson Center, Meeks Family Court. See registered employers in JobLink (evansville-csm.symplicity.com). Also, pre-register for the event in JobLink to allow employers to view your resume early!
Thanks to this year's sponsors:
Aflac
Becker Professional Education
Ciholas
Deaconess Hospital
Fifth Third Bank
MasterBrand Cabinets, Inc.
U.S. Navy

Steve Yates speaking at Wahnita DeLong Reading today
You are invited to join us today at 4:00 p.m. in the Melvin Peterson Gallery to hear Steve Yates speak at the Creative Writing Wahnita DeLong Reading Coffee Hour.
Yates has been granted three Literary Arts fellowships from the Mississippi Arts Commission - two for his fiction and one for his creative nonfiction. He is the recipient of an individual artist's grant from the Arkansas Arts Council for his fiction as well.
In 2010 Moon City Press published his novel, Morkan's Quarry. Portions of Morkan's Quarry first appeared in Missouri Review, Ontario Review, and South Carolina Review. A novella-length excerpt was a finalist for the Pirate's Alley Faulkner Society William Faulkner/Wisdom Award for the Best Novella. Moon City Press published the sequel, The Teeth of the Souls, in March 2015. Two excerpts from it appeared in Missouri Review, one in Elder Mountain: A Journal of Ozarks Studies, and a novella-length excerpt appeared in Kansas Quarterly/Arkansas Review.
Village Housing Request Cards
Students interested in living in the Villages (Townhouse, North Hall, Apartments, or Houses) for 2016-17 should pick up Village request cards in the Office of Residence Life.
The Villages are reserved primarily for students with 60 plus credit hours. In order to apply to live in the Villages, each person in your group must have at least 44 credit hours on file with the University by the end of the previous fall semester.
Village request cards are due back to the Office of Residence Life by 5:00 p.m., today.
More information on the housing assignments process can be found on the residence life section of the University website at www.evansville.edu/residencelife/whereWillYouLive.cfm.

Let Crescent Magazine know what you think of Sodexo
Crescent Magazine is soliciting students' opinions about Sodexo, UE's food service provider, as it explores areas to be included in a news story for its April issue. All answers are anonymous. Go here to complete the survey!
UE Bookstore Road Trip weekend hours
The UE Bookstore will have extended hours on Saturday for Road Trip weekend. Today's hours will be 8:00 a.m.-4:30 p.m. Saturday hours will be extended to 9:00 a.m.-3:00 p.m.
Textbook return and availability
The UE Bookstore will be starting the process of returning unsold textbooks from the spring semester soon. Used books will be returned initially, and then new copies. If you still need a textbook, please stop by the Bookstore to purchase it. If for you are unable to purchase it now but would like us to hold a copy for you for a later date, please contact the Bookstore and we'll be happy to hold a book for you. Professors are advised to contact the Bookstore at ext. 2679 if there are books they would like us to keep longer if the texts are not used until later in the term. If you have questions, please contact the Bookstore.
Survey concerning energy drink consumption
Have you ever used energy drinks like Red Bull, Monster, or 5-Hour Energy? If you have, please consider completing the following survey: www.surveymonkey.com/r/GSTFYZ8.
Completing the survey will also give you the opportunity to participate in a focus group regarding these products.
This survey is part of a mechanical engineering class project.
L2L Conferences deadline extension!
The deadline to sign up for the L2L conference has been extended to today.
Do you want to gain valuable leadership skills? Then sign up for the annual L2L Leadership Conference. The conference is planned for February 27, from 10:00 a.m.-3:00 p.m., with sign-in starting at 9:30 a.m. This year's conference title is "Declare Your Leadership" and it's all about how to communicate as a leader. You'll also get donut holes and lunch.
There is a $10 deposit that can be given to Megan Sicard in the Office of Cultural Engagement and International Services in Ridgway University Center. The deposit will be returned at the end of the conference.
Don't miss this opportunity! Sign-ups ends today at midnight.
Go to www.evansville.edu/studentengagement/leadershipConference.cfm and click "Reserve your spot today" to sign-up.
Alumni Association Award recipients
The 2016 UE Alumni Association Awards will be presented at the Founders Day Luncheon this Sunday, February 21, in Eykamp Hall, Ridgway University Center, immediately following the Founders Day Chapel Service and Convocation. Joyce Bowles '64, a decorated Army nurse and nurse educator, is this year's Distinguished Alumna; Jack Barner, retired vice president of development and alumni relations, is the Samuel Orr Honorary Alumnus, and David Bertorello '89 (posthumously) is the Edie Bates Volunteer Service award recipient.
For more information contact alumni@evansville.edu or ext. 2586.
Purple Aces Set to host Wichita State and Missouri State this weekend
The University of Evansville Women's Basketball team will return to action at the Ford Center this weekend, closing out the current three-game homestand with Wichita State tonight and Missouri State on Sunday afternoon.
The Purple Aces (2-21, 1-11 Missouri Valley) are coming off one of their better performances of the season a week ago, falling 66-63 to Southern Illinois. UE shot a scorching 54% from the field in the contest, thanks in large part to the contributions of Camille Coleman, whose 26 points on 10-for-17 shooting netted her the MVC's Newcomer of the Week award. Sara Dickey chipped in another 17, missing just three shots from the field, but the Salukis' eight second-half three-pointers ultimately proved to be the difference in the contest.
Dickey, who currently ranks third in school history with 1,528 points, is also third in the Valley this season with a 16.5 points-per-game average.
Kenyia Johnson, who hasn't been as crucial in recent weeks for UE, will get another crack at Wichita State today after putting the Aces on her back in the first meetings between the two teams earlier this season. The game, which was a 58-50 win for the Shockers, saw Johnson go 8-of-9 from the field for 18 points, five assists, four rebounds, and a pair of steals. Her efforts were ultimately all for naught as WSU mounted an impressive comeback and then went 8-for-8 from the free throw line to hold on for the win.
Three-time defending MVC champion WSU enters the weekend with a 6-18 overall record, including a 3-9 mark in conference play. However the team is coming off a victory last time out, halting a four-game skid with a 65-62 decision over Loyola.
On Sunday, Kerri Gasper will be looking to repeat the heroics of a 9-for-10, 22-point outing against Missouri State last month. The freshman almost single-handedly pulled the Aces back into the contest in Springfield, but it proved to be too little, too late as UE fell 77-70.
The Bears (17-8, 10-3 MVC) will take on Southern Illinois today, and the team is looking to build off wins against Loyola and Bradley a week ago.
Tipoff from the Ford Center is slated for 7:00 p.m. today and 1:00 p.m. on Sunday.

Softball heads south to Nashville
Fresh off an opening weekend that saw the Purple Aces softball team win four of its first five games, the squad will be back in action this weekend, heading to the Tiger Classic.
Hosted by Tennessee State, the tournament will take place at Tiger Stadium on the campus of TSU in Nashville. The schedule includes:
February 19 – at Tennessee State – 6:15 p.m.
February 19 – vs. East Tennessee State – 8:30 p.m.
February 20 – vs. Louisiana Monroe – 6:00 p.m.
February 20 – vs. Butler – 8:15 p.m.
February 21 – vs. Northern Kentucky – 2:00 p.m.
The season got off to a quick, productive start for the Purple Aces, who won four of their first five contests at the Trojan Invite. The 4-1 start for Evansville is its best since doing the same in 2007. That season saw UE win 12 of its first 13 games on its way to a 33-20 mark.
In the first weekend of the season, Valley Player of the Week Danielle Freeman showed just why she is one of the top offensive players in the MVC as she batted .571 in the opening weekend while leading Evansville to a 4-1 mark. Freeman opened the season going 1-2 while drawing two walks versus Eastern Michigan.
She followed with her top game of the weekend, going 3-4 with 4 RBIs and three runs scored against Alabama State as she notched her first home run of the season. She recorded another 2-hit outing at Troy while posting one hit in the other two games. Freeman notched four doubles on the weekend while walking three times. She struck out just three times in 14 plate appearances.
In her first official weekend of collegiate action, freshman Morgan Florey made four appearances while pitching a total of 12.1 innings. She picked up two saves while finishing with an unbelievable 22 strikeouts and an ERA of 3.65. Florey went four innings in Friday's win over EMU, fanning eight batters. In Saturday's victory over Alabama State,
Florey saw two scoreless innings of work, striking out four on the way to her first save. Florey completed the weekend with two shutout innings against Eastern Michigan as she earned her second save of the season.

Aces set career marks in second day of MVCs
The Missouri Valley Conference Championships continued for Women's Swimming and Diving on Thursday in Carbondale.
Kicking off the day was the 500 Freestyle. Sophomore Jessi Hildebrand stepped up for the team and swam a time of 5:22.74. Additionally, freshmen Megan Schremp and Bridget Sheridan both achieved season best times in the preliminary round.
Evansville had much success in the form of the 50 Freestyle. On top for the Aces was junior Michaela Kent, taking home fifth place with a career-best time of 23.80. Following suit was freshman Kristen Myers in eleventh place with a time of 24.16 and senior Abby Smith in thirteenth with 24.20. Freshman Kayla Aitken also earned a career best time of 25.58.
Sophomore diver Courtney Coverdale performed in her usual fashion as well. She earned second place as her score of 264.65 was nearly 20 points ahead of the third place score.
Evansville kept up the energy when the 200 Freestyle Relay team of Abby Smith, Mackenzie Harris, Kristen Myers, and Michaela Kent took to the water. Seeded fifth, the four edged out Southern Illinois by a slim margin of .44 seconds to earn third place and a spot on the podium.
These efforts have move the Aces up to fifth place with 127 points, ahead of Little Rock with 121 points. Leading the way is Southern Illinois with 284 points and Missouri State with 281 points.
"I am very happy for all the girls tonight. They had a great, great night," said Head Coach Rickey Perkins. "Courtney finishing second was amazing. I'm extremely proud of the 200 Free Relay, especially the two seniors after enduring injuries and illness this season to still come out in third place. I'm excited for Michaela's fifth place finish. I'm excited for the team; we'll only get better as the meet goes on."
Today is another full day with the following events taking place: 400 IM, 100 Butterfly, 200 Freestyle, 100 Breastroke, 100 Backstroke, 3-Meter Diving (B-Final), and 400 Medley relay. Prelims take place at 11:00 a.m. with the finals going at 6:00 p.m.

Contribute to AceNotes
To have content considered for inclusion in AceNotes, please submit a Marketing Request Form. Deadline for submission to AceNotes is 10:00 a.m. on the requested date of publication. Only articles concerning UE related/sponsored activities will be accepted. Articles submitted to AceNotes may be edited for length and clarity. Submitter contact information is at the end of each article.