| | |
| --- | --- |
| AceNotes Today | Thursday, February 18, 2016 |
UE celebrates its founding and 162 years this Sunday
The University of Evansville's 162nd Founders Day celebration is this Sunday, February 21, at 10:30 a.m. in Neu Chapel. This year's Edgar M. McKown speaker will be Harlaxton College principal Gerald Seaman. Emeriti faculty will also be honored during the ceremony for their years of service to the University.
Founders Day ceremonies are held in observance of four important events in the history of the University of Evansville:
On February 8, 1810, John C. Moore, founder of Moores Hill College, was born. In addition to contributing $3,000 and 12 acres to the school, Moore personally paid the school's deficits until his death in 1871.
The story of the University of Evansville began 162 years ago on February 10, 1854, when Moores Hill Male and Female Collegiate Institute was incorporated. This fledgling institution was located in Moores Hill in Dearborn County, about 40 miles west of Cincinnati.
On February 17, 1919, the school was relocated and Evansville College was incorporated. The College achieved its first major academic goal in 1931 by winning accreditation from the North Central Association of Colleges and Secondary Schools.
Rapid growth and years of dedication to meeting the area's higher education requirements were recognized by the state legislature's action in renaming the school. On February 17, 1967, the University of Evansville was incorporated.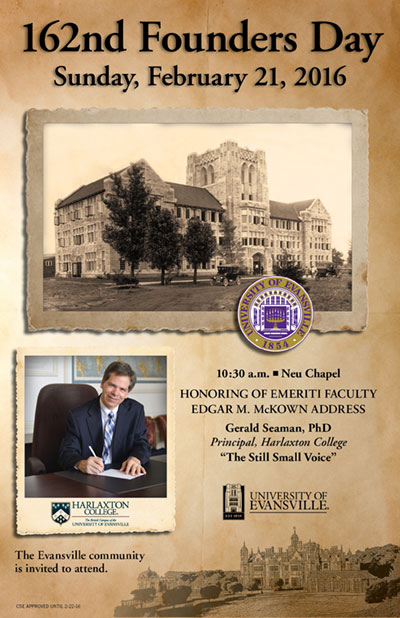 Road Trip to Main Street on Saturday, February 20
During Road Trip weekend, the Office of Admission invites all UE students to take a Road Trip to Main Street for lunch, followed by the Men's Basketball game on Saturday, February 20. All UE students, whether or not they are hosting for Road Trip, may ride the busses.
The Southern Illinois Salukis will seek to avenge their overtime loss to the Purple Aces Men's Basketball team. Let's fill the Ford Center and show both the Salukis and our high school guests our Aces spirit.
Schedule:
Noon - Busses begin shuttling UE students to Main Street (load in front of Carson Center). Last bus departs at approximately 2:15 p.m.
Noon – 2:45 p.m. - Downtown restaurants offering discounts to those with UE ID.
2:00 p.m. – Ford Center doors open.
2:15 p.m. – Road Trip visitors depart UE for the Ford Center.
3:00 p.m. – Game begins. Busses return to UE following the game.
The following restaurants will offer a 10 percent discount on food to those presenting UE ID.
Angelo's Italian Restaurant (305 Main Street)
Backstage Bar and Grill (524 Main Street)
Piece of Cake Bakery (210 Main Street)
All UE students will receive a $5 coupon for concessions upon arrival at the Ford Center, and those enrolled in the Aces Student Rewards program will receive double points for swiping in at this game! Your student club or organization can still enroll in the Aces Student Rewards program.
Cafe Court change during Road Trip
Due to scheduling during Road Trip, Café Court will be adjusting dinner hours on Saturday, February 20. The dinner hours that evening will run from 5:00-7:00 p.m. Thank you for your support.
HLC visit: How to prepare, what to expect
The University of Evansville will host a visit February 29 - March 2, with a five-person review team representing its regional accrediting agency, the Higher Learning Commission (HLC).
Before the Visit
Prior to visiting UE, the peer review team will spend several weeks carefully reviewing UE's Assurance Argument, verifying assertions made in the argument by examining supporting documents provided in an Electronic Resource Room, and identifying people and groups with whom they want to meet while on campus. In addition to the materials provided by UE, the peer review team will also read any comments submitted to the HLC through the Third-Party Comment process and results of a survey the HLC administers to UE students six weeks prior to the campus visit.
During the Visit
While on campus, the peer review team will likely spend time visiting various programs and departments, observing classrooms or co-curricular activities, and meeting with individuals and groups (including open forums with faculty, staff, and students). The HLC Steering Committee has developed a set of sample questions that peer review team members may ask, which is intended to be a helpful guide in preparing for the campus visit.
After the Visit
Several weeks after the campus visit, the peer review team will prepare a draft report, which will be sent to UE to review and correct any errors of fact. The team will then prepare a final report of its findings and recommendations for UE's accreditation status. UE will receive a copy of this report and have an opportunity to provide a formal written response to the HLC. This response will become part of the official record of the evaluation. The HLC will review the final report and UE's response and notify UE in writing when the review process is completed and final action by the HLC has been determined.
May we pray for you?
"When people talk, listen completely" - Ernest Hemingway
The UE Newman Catholic Campus Ministry Team would like to listen to you, be it your thoughts, questions, prayer requests, or whatever else that may be on your mind. Please stop by Jazzman's Cafe and look for a Ministry Team member in bright blue and let us listen to you. We will be present:
Monday 11:00 a.m.-noon
Tuesday 8:00-9:00 a.m.
Wednesday 4:00-4:30 p.m.
Thursday 4:00-5:00 p.m.
Friday 8:00-9:00 a.m.
We look forward to spending this time with you!

Festival of Hymns today in Neu Chapel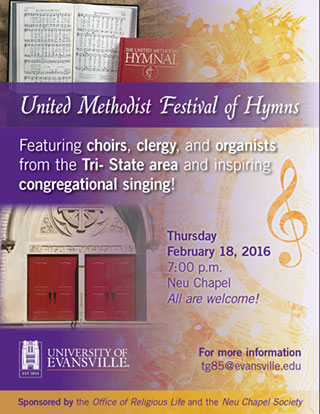 In conjunction with Founders Day, the University will celebrate its Methodist-related history by hosting a United Methodist Festival of Hymns today at 7:00 p.m. in Neu Chapel.
The ecumenical festival is designed to encourage and inspire congregational singing, with choirs, clergy and musicians from the local area and the campus community leading the collaborative effort. The event will feature some of the great hymns sung with brass, wind, and keyboard instruments, including the harpsichord, pipe organ, and piano.
UE chaplain Tamara Gieselman explained that the festival "will lead us through the Christian year as we celebrate our heritage and anticipate a bright future. We hope everyone will experience a meaningful evening with opportunity to find new energy for singing the great hymns."
The Evansville community is invited to the Hymn Festival on February 18, and the Founders Day ceremony on February 21.

NSLS new member orientation set for tonight
The orientation of new members of NSLS is set for today from 8:00-9:00 p.m. in Room 172, Schroeder School of Business Building. Those unable to attend should e-mail Jennifer Allen at ja225@ueliveevansville.onmicrosoft.com to set up a time to go through the orientation video.
Remember all members must attend orientation as part of their requirements to be officially inducted in April.
2016 RecycleMania Tournament
The 2016 RecycleMania tournament is under way! The competition, which encourages waste reduction and recycling on campuses nationwide, ends April 2.
UE is one of many schools participating this year. UE will compete in several weight-based categories that measure recycling and waste reduction per capita, as well as overall campus recycling weights as a percentage of total waste generated.
RecycleMania is about more than simply winning. It is a time to engage the entire campus community in awareness and action to reduce waste, recycle more, and protect the environment. More information can be found at www.recyclemania.org.
So let's all recycle! Check upcoming AceNotes and UE's Environmental Management Facebook page for more information.
If any of our recycle bins are full, or if you have questions, call ext. 2697 or e-mail js652@evansville.edu.
This Weekend in Music: student recitals
This Sunday, the Department of Music will present two student recitals in Wheeler Concert Hall. At 1:00 p.m., pianist Joseph Effinger, a student of professor of music Anne Hastings Fiedler, will present his senior recital. A joint senior recital presented by flutist Rebecca Mathes and trombonist Damian Peak will follow at 2:30 p.m. Rebecca is a student of consortium instructor Cara Dailey, while Damian is a student of associate professor Kenneth Steinsultz. All three students present the recitals in partial fulfillment of their respective degree requirements, and both recitals are free and open to the public.
NSLS Leadership Training Day
Leadership Training Day for new members is on Sunday, February 21, from 1:00-4:00 p.m. in Room 162, Schroeder School of Business Building. Everyone is encouraged to bring their own drink. Snacks will be provided. Remember all members must attend LTD as part of their requirements to be officially inducted in April.
UE Health and Fitness Fair
The 2016 Health and Fitness Fair will be held in the Student Fitness Center on Thursday, February 25, from 11:00 a.m. - 2:00 p.m. The event is free for all students, faculty, and staff. Over 25 vendors will be present with prizes and giveaways.
Venturing Crew Spring Break trip
Join Venturing Crew for Spring Break! The trip will be Tuesday, March 8 through Sunday, March 13, so you will also have part of that week free. All payments ($150) are due by Friday, February 26, to Calvin Wertman in Residence Life. You must be a Venturing Crew member to come!
You have a choice between two options for this trip:
1) Backpacking (test hike required!)
Backpackers will take an extensive hiking trip to see some of the most beautiful views in North Carolina! You will enjoy a challenging hike, carrying all necessary equipment on your back for three days. Because this is a physically intensive journey, to participate in backpacking you must participate in a required test hike to make sure that everyone on the trip is safe and having fun. Test hike times are Sunday, February 21, at 3:00 p.m., or Saturday, February 27, at 3:00 p.m., at Audubon State Park. Based on your test hike performance, you may be asked to consider base camping to ensure that you have the best trip possible. To sign up for a test hike (even if you have not paid yet), e-mail Kyle Abraham (ka115@evansville.edu) and Alex Schmitt (as564@evansville.edu) with your preferred time.
2) Base camping
Base campers will stay at Camp Daniel Boone in North Carolina and will participate in fun outdoor activities such as fishing and rock climbing. Also, prepare for a visit to the REI outdoors store and the Biltmore estate!
The #readingseries is back today
Please join the fun folks in the Department of Creative Writing for the first spring #readingseries. This student reading will feature poetry, fiction, and nonfiction from Joy Grace Chen, Kirsti Ethridge, and Sam Frost. The reading will start at 4:00 p.m. today in the back room of The Slice. It's bound to be a terrific hour, so please come on by!
Financial preparedness class for new parents
The University of Evansville and St. Mary's Hospital for Women & Children are offering a class on financial preparedness for new and expectant parents on Thursday, April 7, from 6:30-8:30 p.m. The class will be in the St. Mary's Gift Conference Room.
While the class is free, registration is required. To register, go to stmarys.org and click the "Class or Event" tab, or call Terry Cooper at 812-485-6016.
This class is for those having their first child and for those who are welcoming another baby to the family.
Topics to be addressed in the class include household financial planning, taxes and insurance, and resources available for those needing assistance.
Global Economic and Financial Prospects: Have We Turned the Corner Yet?
Farrukh Iqbal will be speaking to UE students from Washington DC, at 4:00 p.m. in Room 100, Koch Center for Engineering and Science, on February 25. The title of his presentation will be: Global Economic and Financial Prospects: Have We Turned the Corner Yet?"
Iqbal recently retired from the World Bank after serving there for 33 years. Most recently he worked as country director in the Middle East Region. He joined the World Bank after earning a PhD in economics from Yale University in 1981. Iqbal earned a BS degree in economics from Harvard University. He is author of several books and has published numerous articles in scholarly journals.
For questions, please contact Walayet A. Khan, research director of the Institute of Global Enterprise and professor of finance. The event is free and open to public.

UE Theatre presents Lily Dale
The University of Evansville Department of Theatre proudly presents Horton Foote's Lily Dale, opening today at 7:30 p.m., in Shanklin Theatre. Additional performances are at 7:30 p.m. on February 20, 25, 26, and 27, and at 2:00 p.m. on February 21 and 28.
In one of nine plays comprising the prolific playwright's The Orphans' Home Cycle, Horton Foote once again masterfully mixes the bitter with the sweet and the sad with the comic in his typically appealing manner. In 1909, Horace Robedaux boards a train bound for Houston to visit his mother and self-absorbed sister only to find himself fighting a raging fever and at the mercy of an icy stepfather. Horace's desperate longing to connect with his estranged family is a vivid reminder of the lasting heartbreak that people endure to survive in life's ever-changing landscape.
Professor John David Lutz directs Lily Dale. Professor emeritus Joseph P. Flauto Jr. serves as the scenic designer; Professor Patti McCrory is the costume designer; Aaron Curry, a senior from Glendale, Arizona, is the lighting designer; David Dawson, a senior from Arlington, Texas, serves as the sound designer; and TJ Baldassare, a senior from Westminster, Colorado, is the dramaturg.
The seven-person cast features juniors Demi Davis, from Leesburg, Georgia, as Lily Dale Robedaux; Nate DeCook, from Holland, Michigan, as Horace Robedaux; Rachel Barkalow, from Cincinnati, Ohio, as Corella Davenport; sophomores Braden Wilkerson, from Fort Worth, Texas, as Mrs. Coons; Jacob Sellers, from Fort Branch, Indiana, as Pete Davenport; Davis Brinker, from Minneapolis, Minnesota, as Will Kidder; and freshman Isaac Baker, from Bowling Green, Kentucky, as Albert Thornton.
Ticket prices are $15 for adults and $13 for senior adults, students, and UE faculty and staff. UE students may obtain one free student rush ticket beginning at noon on the day of the performance they wish to attend. Tickets may be purchased by calling 812-488-2031, Monday through Friday, noon to 5:00 p.m.
The Beauty of Engineering! to be held on March 5
Join the Tri-State Women in STEM for The Beauty of Engineering!, sponsored by twiSTEM and the University of Evansville College of Engineering and Computer Science. The event is on March 5, beginning at 8:00 a.m. with doors opening at 7:30 a.m. The event will be in the Koch Center for Engineering and Science.
The event will introduce girls in grades 4 through 8 to engineering and computer science. It features a rotation through educational activity stations staffed by professional women and college students in the fields of engineering and computing.

The cost is $7 per participant and is nonrefundable except in the event of cancellation or full to capacity. Enrollment is limited to the first 200 girls and registration is open until February 29. Individuals and organizations are welcome.
For more information and registration forms, please leave a message at 812-867-2085 or e-mail twiSTEM.evv@gmail.com.
Musical Madness goes to the '80s
Musical Madness Goes to the '80s is set for today and tomorrow, at 7:30 p.m., in Eykamp Hall, Ridgway University Center. Doors will open at 6:30 p.m. This event will be a flashback to an exciting era with singing and dancing, all choreographed and written by students.
Tickets for Musical Madness will be available in Ridgway University Center today at 11:30 a.m.-12:30 p.m., during lunch, and 5:00-7:00 p.m., during dinner. The tickets cost $5 per person. All proceeds benefit Youth First.
Make plans to attend Career Day
Looking for a full-time professional position? Cooperative education opportunity? Internship? Summer job? Career Day will include over 100 employers interested in hiring you. The event is set for Tuesday, February 23, 11:00 a.m.– 2:00 p.m., Carson Center, Meeks Family Court. See registered employers in JobLink (evansville-csm.symplicity.com). Also, pre-register for the event in JobLink to allow employers to view your resume early!
Thanks to this year's sponsors:
Aflac
Becker Professional Education
Ciholas
Deaconess Hospital
Fifth Third Bank
MasterBrand Cabinets, Inc.
U.S. Navy

Founders Day Fun Fact: fundraising for Evansville College
Leading the 1917 drive for Evansville College was the city's popular and dynamic mayor, Benjamin Bosse. Also lending much-needed media assistance were Howard Roosa, editor of the Evansville Courier, and Karl Kae Knecht, the newspaper's leading political cartoonist. These men made sure that, for eleven consecutive days, the college made the front page, both in word and in picture.
Enthusiasm rose as over 400 people joined the fundraising effort, and before long people who had earlier been skeptical of the campaign's chances of success became eager and ardent supporters. In fact, grade-school children gave their pennies, dimes, and quarters for the college. At Fulton School, every teacher pledged $50.
To record the progress of the fundraising drive, a huge thermometer was mounted on the 10-story Citizens Bank Building at Fourth and Main Streets. Each day, campaign leaders rode a fire truck to the building, and a sign painter ascended a ladder to paint the red mercury column up to the amount that had been raised thus far.
In order to raise the last $50,000 just before the midnight deadline on May 3, 1917, Mayor Bosse gathered together a delegation which included Francis Reitz, a Roman Catholic layperson, Methodist bishop William Anderson, President Hughes, Rev. Griffin, pastor of Trinity UMC, and Rabbi Max Merritt. These leaders, with the help of the Evansville community, not only raised the necessary $500,000, but exceeded the goal with a total of $514,000.
(Excerpts taken from George Klinger's, We Face the Future Unafraid)
Let Crescent Magazine know what you think of Sodexo
Crescent Magazine is soliciting students' opinions about Sodexo, UE's food service provider, as it explores areas to be included in a news story for its April issue. All answers are anonymous. Go here to complete the survey!
UE Bookstore Road Trip weekend hours
The UE Bookstore will have extended hours on Saturday for Road Trip weekend. Today's hours will be 8:00 a.m.-4:30 p.m. Saturday hours will be extended to 9:00 a.m.-3:00 p.m.
Textbook return and availability
The UE Bookstore will be starting the process of returning unsold textbooks from the spring semester soon. Used books will be returned initially, and then new copies. If you still need a textbook, please stop by the Bookstore to purchase it. If for you are unable to purchase it now but would like us to hold a copy for you for a later date, please contact the Bookstore and we'll be happy to hold a book for you. Professors are advised to contact the Bookstore at ext. 2679 if there are books they would like us to keep longer if the texts are not used until later in the term. If you have questions, please contact the Bookstore.
Survey concerning energy drink consumption
Have you ever used energy drinks like Red Bull, Monster, or 5-Hour Energy? If you have, please consider completing the following survey: www.surveymonkey.com/r/GSTFYZ8.
Completing the survey will also give you the opportunity to participate in a focus group regarding these products.
This survey is part of a mechanical engineering class project.
L2L Conferences deadline extension!
The deadline to sign up for the L2L conference has been extended to today.
Do you want to gain valuable leadership skills? Then sign up for the annual L2L Leadership Conference. The conference is planned for February 27, from 10:00 a.m.-3:00 p.m., with sign-in starting at 9:30 a.m. This year's conference title is "Declare Your Leadership" and it's all about how to communicate as a leader. You'll also get donut holes and lunch.
There is a $10 deposit that can be given to Megan Sicard in the Office of Cultural Engagement and International Services in Ridgway University Center. The deposit will be returned at the end of the conference.
Don't miss this opportunity! Sign-ups ends today at midnight.
Go to www.evansville.edu/studentengagement/leadershipConference.cfm and click "Reserve your spot today" to sign-up.
All library floors now open
The third floor of the library is officially open! Books with call numbers starting B 1264 - H can be found here. Some books have been temporarily shelved on the fourth floor. Their call numbers are A through B 1253 1963. If you need help finding a book, please ask at the Information Desk.
Please remember that the third floor is a dedicated silent space.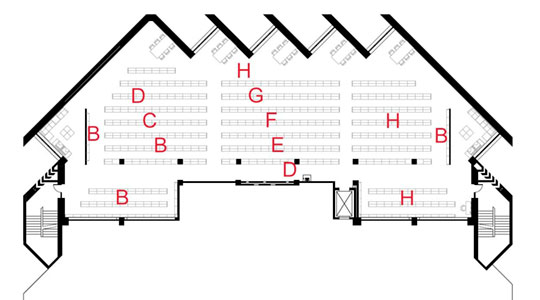 College Mentors for Kids crew sweatshirt sale
College Mentors for Kids is once again selling crew neck sweatshirts as a fundraiser for our organization! College Mentors for Kids is a non-profit national organization that connects college students with the most to give to kids who need it the most. We want school kids to look forward sooner and be able to give back later. Sweatshirts are $20, and they can be ordered by visiting Ridgway University Center on Wednesday from 11:00 a.m. - 1:00 p.m. or by e-mailing Taylor Wornica (tw151@evansville.edu). See the image below for the design. Orders will be taken until Monday, February 22. Please help our organization continue to impact the lives of young students in the Evansville area!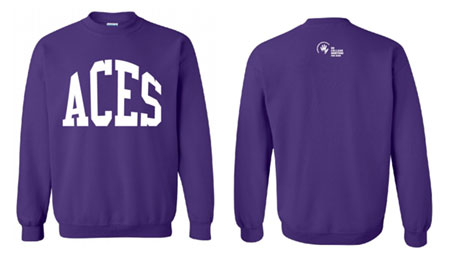 Volunteers needed
Volunteers are needed to help with the Girls IN Bloom Expo planned for April 2 on campus. Girls IN Bloom is a non-profit organization, and this is its 14th annual expo. The expo provides girls with fun, educational workshops and activities that strive to build positive self-esteem through creative expression, diversity, social and cultural issues, and community involvement.
Volunteer requirements:
Need to be available April 2 from 8:30 a.m. to 1:00 p.m.
Must be female (since this is an all-girls expo)
Background check required (Girls in Bloom pays for this)
Contact Linda Wicker at lw74@evansville.edu for more information or 812-488-1094.

Alumni Association Award recipients
The 2016 UE Alumni Association Awards will be presented at the Founders Day Luncheon this Sunday, February 21, in Eykamp Hall, Ridgway University Center, immediately following the Founders Day Chapel Service and Convocation. Joyce Bowles '64, a decorated Army nurse and nurse educator, is this year's Distinguished Alumna; Jack Barner, retired vice president of development and alumni relations, is the Samuel Orr Honorary Alumnus, and David Bertorello '89 (posthumously) is the Edie Bates Volunteer Service award recipient.
For more information contact alumni@evansville.edu or ext. 2586.
Aces earn first win in Des Moines since 2010
For the first time since February 2010, the University of Evansville Men's Basketball team earned a win at the Knapp Center as the Purple Aces defeated Drake by a final of 80-74 on Wednesday evening.
D.J. Balentine led everyone with 26 points as he downed nine of his 24 attempts for UE (21-7, 10-5 MVC). Egidijus Mockevicius, who had just four points at the break, broke out in the second half to finish with 21 tallies and 13 rebounds as he notched his twenty-third double-double of the season. Blake Simmons also finished in double figures with 11 as he downed five out of six attempts.
Drake (6-21, 1-14 MVC) was led by Reed Timmer's 16 points. The sophomore connected on 10 of his 11 free throw attempts.
"We had good contributions from all of our guys," UE head coach Marty Simmons said. "Everyone wants to look at a team's record, but Drake is a really good team. They are young and extremely talented. We are fortunate to come out with the win."
An early run saw the Purple Aces jump out to an 11-2 lead, hitting 5 of its first 6 shots. Balentine opened the game up with a three and scored 7 of UE's first 11 points in the first three minutes of the game.
Simmons nailed a three to give UE a 14-5 lead, and that edge grew to 18-5 in the first six minutes of the game. Over the final minutes of the half, it was Drake who was able to grab the momentum back from the Aces. Trailing by as many as 13 points in the opening stanza, the Bulldogs got within four as they trailed by that margin (36-32) at the break. The Aces went without a basket for the final six minutes, missing their final six attempts.
Balentine finished with 16 points in the half while Simmons tallied five.
In the opening moments of the second period, Drake got within two points at 38-36. The experienced Evansville team regained its foothold in the game, going on a 10-0 run that saw UE take its largest lead of the day at 52-38. Egidijus Mockevicius had two and-ones in the rally.
The largest lead the Aces would enjoy came with 9:29 remaining, but the Bulldogs pushed back. With Evansville up 67-53, Drake fought back, scoring the next nine points to get within five at 67-62. Mockevicius ended the run with a bucket, but a triple by Drake cut the gap to just four with just over two minutes remaining.
On the ensuing possession, Balentine hit one of the biggest shots of the night, connecting on a triple to put UE up 72-65. He did it again on the next possession to give the Aces a 75-67 lead. With one minute left, Graham Woodward knocked down another triple to get DU within five once again, making it a run that saw the Bulldogs connect on 9 out of 10 attempts.
From there, it was all Aces as they were able to finish with the 80-74 triumph. The Aces hit 51 percent of their attempts in the win.
A special day will be on tap for Saturday when the Aces welcome Southern Illinois for a 3:00 p.m. game. UE legend Jim Byers will be honored for his 50 years with the University of Evansville. The first 5,000 fans will also be given a D.J. Balentine autograph card celebrating him breaking the all-time program scoring mark.

Aces complete opening night at MVC Championship
Wednesday night saw the opening of the Missouri Valley Conference Championship for the Women's Swimming and Diving team in Carbondale, Illinois.
The Purple Aces currently place sixth with 54 points, only two points behind fifth-place Little Rock. Tied in first place are SIU and Northern Iowa with 72 points.
"I am very proud of the girls on the relays tonight," Purple Aces head coach Rickey Perkins said. "We had some fast splits. It's a good sign for the rest of the weekend. We just need to stay relaxed, have fun, be a team, and compete with our hearts."
Evansville's group of Michaela Kent, Amy Smith, Kristen Myers, and Mackenzie Harris took to the pool in the 200 Medley Relay to kick off the championship in Wednesday's final. The group swam a time of 1:45.58 to finish in fifth place ahead of Little Rock.
The title went to Northern Iowa with a time of 1:42.37
The second event of the night was the 800 free relay. Myers was joined by Madi Jones, Jessi Hildebrand, and Bridget Sheridan as the group clocked in a 7:55.36. Evansville took sixth in the event.
A full day of action is set for Thursday with the following events taking place: 500 free, 200 IM, 50 free, 1 meter diving, and 200 free relay. Prelims take place at 11:00 a.m. with the finals going at 6:00 p.m.
Contribute to AceNotes
To have content considered for inclusion in AceNotes, please submit a Marketing Request Form. Deadline for submission to AceNotes is 10:00 a.m. on the requested date of publication. Only articles concerning UE related/sponsored activities will be accepted. Articles submitted to AceNotes may be edited for length and clarity. Submitter contact information is at the end of each article.