| | |
| --- | --- |
| AceNotes Today | Wednesday, February 10, 2016 |
Higher Learning Commission campus visit - this month!
The University of Evansville will host a visit February 29 - March 2, with a team representing its regional accrediting agency, the Higher Learning Commission (HLC).
The team will review the institution's ongoing ability to meet the commission's Criteria for Accreditation, standards of quality that institutions are expected to address. The Criteria emerge out of a set of guiding values that are grounded in shared tenets of the academic community.
Because the standards against which UE will be evaluated are common expectations at colleges and universities, looking at our policies, practices and outcomes will be more than just an exercise in accountability. It will be an opportunity for us to respond to those things that matter both to us at UE and to the larger higher education community.
Click here to learn more about the HLC and what to expect during the visit or follow along on social media using #HLCatUE or #myUEdegree.
Black Student Union presents: The Soul of Soul Food
Please come out to Eykamp Hall, Room 251, Ridgway University Center, today at 7:00 p.m., to learn, taste, and talk all things soul food. The Black Student Union and UEAAA will provide traditional African American dishes for the UE community to try. BSU will also give a brief lesson on the rich history of African American cuisine.
Help us fight cancer!
Are you interested in helping fight against cancer? Then join us for the first Relay for Life team captain meeting of the year! Today at 7:00 p.m., there will be an informational meeting about Relay for Life in Room 117, Hyde Hall. If you or your organization would be interested in creating a team, please attend this meeting or send a representative and you could win a gift card to a local restaurant! E-mail mp214@evansville.edu with any questions.
I-House: Argentina
Argentina will be the country featured at I-House this week! Analia Pereira will be presenting. She is a Fulbright Spanish teaching assistant. Her hobbies include singing (or any kind of performing), swimming, dancing, hanging out with friends, traveling, experiencing new adventures, etc. Her favorite part of UE is the friendliness of students, faculty, and staff; the different possibilities UE gives her to learn about the American language and culture; and the attention and importance UE gives to international students. She will be making different kinds of food from Argentina for I-House! She has a lot planned, so make sure to stop by tonight at 7:00 p.m., upstairs in Ridgway University Center!
Ash Wednesday Service with Bishop Thompson
All are welcome to join us as we celebrate our Ash Wednesday Mass today, at 5:00 p.m. in Neu Chapel. Bishop Charles Thompson will be here to celebrate with us as we begin the holy season of Lent.
Beginning Wednesday, February 18, the Newman Club will be participating at the 5:30 p.m. Wednesday Masses at St. Benedict Cathedral rather than holding our regular 9:30 p.m. Wednesday night Masses. We will meet each Wednesday at 5:00 p.m. at the Newman Center before making our way to the Cathedral.
We hope to see you there! Please call/text Kristel at 812-760-8610 for more information!
Ash Wednesday and the Imposition of Ashes
Ash Wednesday is today, and will be observed on campus with Ashes to Go from 11:00 - 11:30 a.m. in Ridgway University Center, followed by a brief 12:15 p.m. Ash Wednesday Service in Neu Chapel. Ashes to Go will return to Ridgway University Center beginning at 1:00 p.m. for those who are unable to attend the service in Neu Chapel.
University chaplain Tamara Gieselman will be presiding over the service along with Neu Chapel organist Patrick Ritsch.
All are welcome.
In the Christian church, Ash Wednesday begins the season of Lent, a 40-day period of discipline and study prior to the Festival of the Resurrection, Easter. You are invited to be imposed upon, as you remember your mortality, while at the same time believing the good news of the Gospel.
Village Housing information meetings tonight
Students wishing to reside in Village Housing (Townhouses, North Hall, or other Village units) for the 2016-17 year should attend one of the scheduled information meetings. There will be information meetings today in Eykamp Hall, Room 252, Ridgway University Center. There will be two meetings (4:00 p.m. and 9:00 p.m.).
For more information, see www.evansville.edu/residencelife and select the Returning Student section on the left side menu.
Information meetings about selecting a residence hall room will be later in February.

To Harlaxton with Love
Do you love Harlaxton? If you do, why not make her your Valentine? Come by our table in Ridgway University Center today from 11:00 a.m. – 1:00 p.m. and write a Valentine to Harlaxton. Then come celebrate on February 12 from 11:00 a.m. - 2:00 p.m. in Dunigan Lounge in the Schroeder School of Business Building.
Alumni, future students, faculty, and staff who love Harlaxton are all invited
Fix it: Healthcare at the Tipping Point
The Department of Philosophy and Religion, the UE College Democrats, Tri-State Jobs with Justice, and the Southwest Indiana Chapter of Hoosiers for a Common Sense Health Plan are co-sponsoring a showing of the documentary, "Fix It: Healthcare at the Tipping Point", followed by an open discussion. The documentary will be shown on Thursday, February 25, at 7:00 p.m., in Room 162, Schroeder School of Business Building. The event is free and open to the public.
Despite the passage of the Affordable Care Act, the skyrocketing costs of health care to both individuals and businesses continue to rise at a significantly higher rate than the cost of living as well as growth in the GDP. That places a debilitating strain on the economy, not to mention the nation's health. Can this level of increasing costs be sustained, while still moving toward universal coverage? What can be done about it? This documentary will discuss these questions.
For any questions, contact UE professor emeritus Dick Connolly at 812-479-1298 or at dc25@evansville.edu.

Dessert Sale this Friday!
The Phi Alpha Delta Pre-Law fraternity dessert sale is back this Friday! We will be selling cake pops and 4-layer brownies for $3.50 a piece in Ridgway University Center from 11:00 a.m. - 1:00 p.m. and 5:00 - 7:00 p.m. Cash and credit cards accepted. A portion of our proceeds will benefit the Flint Water Fund.
Hope to see you there!

United Methodist Festival of Hymns scheduled for Founders Day week
Mark your calendars and plan now to attend the Festival of Hymns on Thursday, February 18, at 7:00 p.m. in Neu Chapel. The campus community is invited to the ecumenical festival, which is intended to encourage and inspire congregational singing. Choirs, clergy, and musicians from the local area and campus community will lead the collaborative effort. Hymns with brass, wind, and keyboard instruments, including the harpsichord, pipe organ, and piano, will lead us through the Christian year as we celebrate our heritage and anticipate a bright future. All those who love to "sing lustily and with good courage" will be especially interested in the festival. We hope everyone will experience a meaningful evening with an opportunity to find new energy for singing the great hymns.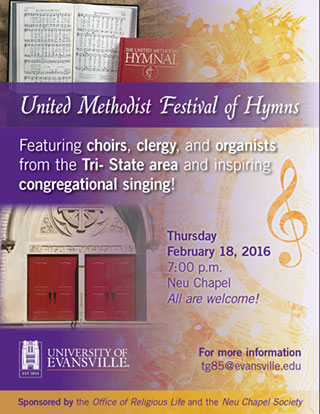 The event is tied to the University's Founders Day celebration on Sunday, February 21, and celebrates UE's Methodist heritage, but the Festival of Hymns is an ecumenical, community-wide event. All are welcome!
The Beauty of Engineering! to be held on March 5
Join the Tri-State Women in STEM for The Beauty of Engineering!, sponsored by twiSTEM and the University of Evansville College of Engineering and Computer Science. The event is on March 5, beginning at 8:00 a.m. with doors opening at 7:30 a.m. The event will be in the Koch Center for Engineering and Science.
The event will introduce girls in grades 4 through 8 to engineering and computer science. It features a rotation through educational activity stations staffed by professional women and college students in the fields of engineering and computing.

The cost is $7 per participant and is nonrefundable except in the event of cancellation or full to capacity. Enrollment is limited to the first 200 girls and registration is open until February 29. Individuals and organizations are welcome.
For more information and registration forms, please leave a message at 812-867-2085 or e-mail twiSTEM.evv@gmail.com.
Mentoring Program Speaker Series Luncheon
Please join us for the Speaker Series Luncheon on Wednesday, February 17, at noon in Eykamp Hall, Room 253, Ridgway University Center. This event is open to the campus community. The speaker will be John Vernasco '84, vice president of sales at ThermoFisher Scientific. His topic will be "Unleash your Value Proposition."
To reserve a free boxed lunch, please RSVP to ds120@evansville.edu by Monday, February 15, no later than noon.
Writing Center Boot Camp! Outlines, Introductions, and Conclusions
Writing Center Boot Camp! Outlines, Introductions, and Conclusions is planned for Wednesday, February 10, 5:00 p.m., in the Writing Center. Learn to incorporate vivid language into your introductions and conclusions, and learn how outlining can help organize your thoughts and make writing essays easier. This session will also address the value of annotation. Whether you're writing a research paper or just want to make your writing more compelling in general, it's all about detail and organization! Join us for this useful workshop.
Career Day set for February 23
We expect over 100 employers for Career Day 2016! Looking for a full-time professional position? Cooperative education opportunity? Internship? Summer job? Then make plans to attend Career Day on Tuesday, February 23, 11:00 a.m.– 2:00 p.m., Carson Center, Meeks Family Court. See registered employers in JobLink (evansville-csm.symplicity.com/). Also, pre-register for the event in JobLink to allow employers to view your resume early!
Thanks to our event sponsors:
Aflac
Becker Professional Education
Ciholas
Deaconess Hospital
Fifth Third Bank
MasterBrand Cabinets, Inc.
U.S. Navy

Program offered on study skills, time management apps, and strategies
Need to improve your study and time management skills? Love technology? Then join us today at 4:00 p.m., in Eykamp Hall, Rooms 253 and 254, Ridgway University Center, for an informative and interactive program that will show you apps and strategies that will improve your note taking, studying, and time management skills. The presentation is hands-on as Brian Norton, director of assistive technology at Easter Seals Crossroads, will be bringing 50 iPads for participants to use. The apps and strategies demonstrated can be used on a variety of devices. This event is open to everyone on campus and sponsored by Disability Services, Academic Advising, and the Resource Center. Contact db132@evansville.edu with any questions.
Steve Yates speaking at Wahnita DeLong Reading today
You are invited to join us today at 4:00 p.m. in the Melvin Peterson Gallery to hear Steve Yates speak at the Creative Writing Wahnita DeLong Reading Coffee Hour.
Yates has been granted three Literary Arts fellowships from the Mississippi Arts Commission - two for his fiction and one for his creative nonfiction. He is the recipient of an individual artist's grant from the Arkansas Arts Council for his fiction as well.
In 2010 Moon City Press published his novel, Morkan's Quarry. Portions of Morkan's Quarry first appeared in Missouri Review, Ontario Review, and South Carolina Review. A novella-length excerpt was a finalist for the Pirate's Alley Faulkner Society William Faulkner/Wisdom Award for the Best Novella. Moon City Press published the sequel, The Teeth of the Souls, in March 2015. Two excerpts from it appeared in Missouri Review, one in Elder Mountain: A Journal of Ozarks Studies, and a novella-length excerpt appeared in Kansas Quarterly/Arkansas Review.
Huge career fair in Indy!
Register today for Collegiate Career Expo. The career fair is next week on February 18. There are 130 employers expected, and they would love to meet UE students.
Event Details:
Thursday, February 18
10:00 a.m. - 3:00 p.m. Eastern
Downtown Indianapolis Marriott
You don't even have to drive! The University of Evansville will provide bus transportation. A $10 required deposit is refundable upon attendance. Reserve your seat now (www.evansville.edu/careercenter/busReservationForm.cfm).
Fair registration is through UE JobLink (evansville-csm.symplicity.com/). Click the Jobs Tab -> CSM Jobs -> Posting #722252.
Find a list of registered employers here: cccc-in.org/event-2060555.
Need assistance with your job, internship, co-op, or graduate school search? Please contact the Center for Career Development: career@evansville.edu or 812-488-1083.

Celebrating 40 Days of Peace
Join us in continuing to celebrate 40 Days of Peace! Today's action: Take time to listen to a stranger. What is their story?
Today's quote: "I destroy my enemies when I make them my friends."
Work-study still available!
There are jobs available through federal work-study offered by the Office of Financial Aid for UE students. Eligibility is based on federal need as shown through the FAFSA. You can go here to find the application. Applications may also be obtained at the UE Office of Financial Aid, in Room 116, Olmsted Administration Hall. Questions regarding eligibility and job availability should be directed to Catherine Carver at cc204@evansville.edu.
Let Crescent Magazine know your opinion
Crescent Magazine is soliciting students' opinions about Sodexo, UE's food service provider, as it explores areas to be included in a news story for its April issue. All answers are anonymous. Go here to complete the survey!

Why celebrate Founders Day in February?
Founders Day will be celebrated this year on Sunday, February 21, at 10:30 a.m. in Neu Chapel. Founders Day ceremonies are held in observance of four important events in the history of the University of Evansville.
On February 8, 1810, John C. Moore, founder of Moores Hill College, was born. In addition to contributing $3,000 and 12 acres to the school, Moore personally paid the school's deficits until his death in 1871.
The story of the University of Evansville began 158 years ago on February 10, 1854, when Moores Hill Male and Female Collegiate Institute was incorporated. This fledgling institution was located in Moores Hill in Dearborn County, about 40 miles west of Cincinnati.
On February 17, 1919, the school was relocated and Evansville College was incorporated. The College achieved its first major academic goal in 1931 by winning accreditation from the North Central Association of Colleges and Secondary Schools.
Rapid growth and years of dedication to meeting the area's higher education requirements were recognized by the state legislature's action in renaming the school. On February 17, 1967, the University of Evansville was incorporated.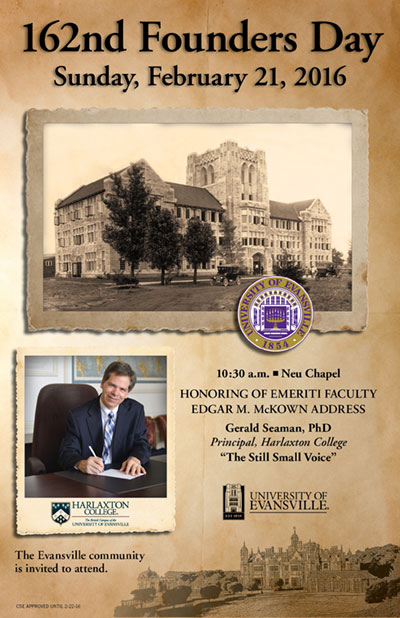 2016 Summer Study Abroad focus on Asia
Are you interested in exploring Asia this summer? UE offers an affordable four-week summer Asian program in Korea from June 26 to July 22. If you would like further information about the program such as credits, fees, detailed schedules, site visits, etc., please contact associate professor of political science Young Kim by e-mail at yk28@evansville.edu, or in his office in Room 53, Schroeder School of Business Building.
The priority application deadline is Friday, February 19. The application is available in the Office of Education Abroad in Room 261, Schroeder School of Business Building.
UE's master's in athletic training now accepting applications
The UE athletic training program is looking for motivated students to pursue a master's degree in athletic training. A certified athletic trainer's job settings include, but are not limited to: high school/collegiate/professional sports, clinics and hospitals, occupational health, military, performing arts, physician extender, and more.
A two-year program, starting in May, includes course work, clinical skills, and practical experience. Financial aid packages are available.
For more information, go here or contact Kathy Liu, assistant professor of athletic raining and exercise and sport science, at kl154@evansville.edu.
Robert Dion interviewed on 2016 presidential race
Robert Dion, associate professor of political science, was recently interviewed by Brad Byrd during Channel 25's In-Depth segment. Dion discussed the Iowa Caucuses and the 2016 presidential race. To listen to the interview, go here.
Beavers publishes chapter on the philosophy of technology
Anthony Beavers, professor of philosophy and director of the Cognitive Science Modeling Lab, just published a chapter, "The Philosophy of Technology," in The Macmillan Interdisciplinary Handbooks: A Primer on Philosophy, edited by Donald Borchert, James Petrik, and Arthur Zucker, Cengage, 2016. This book is the first of several in a series, including one on the philosophy of technology currently being edited by Beavers.
UE alumnus Jack DuArte has just released his sixth novel, Kidnap the Pope
Jack DuArte '66 has just completed his sixth novel, Kidnap the Pope. In this novel, Adolf Hitler's attempts to avenge the overthrow of his close friend Il Duce, Benito Mussolini. It follows the world's actions leading up to the events that fixed this remarkable story in the classic annals of WWII
Jack is a historical fiction writer and lives in Lexington, Kentucky, with this wife, Susan. His previous novels are The Resistance, Singapore, Spitfire, Malta, and The White Mouse.
Reviews of his work can be found on Amazon, Kindle, and Goodreads.
Congratulations, Jack!
Faculty/Staff Basketball Tickets Available
Faculty and staff may pick up their two complimentary tickets for our upcoming Men's and Women's Basketball games.
The men's team will take on Illinois State on Thursday, February 11, at 8:00 p.m. The women's team will take on Southern Illinois on Sunday, February 14, at 1:00 p.m.
Tickets can be picked up Monday-Friday, 8:30 a.m.-5:00 p.m., from Carson Center Athletic Ticket Office. A UE ID must be presented at the time of pickup.
Please call 812-488-ACES if you have any questions.
Contribute to AceNotes
To have content considered for inclusion in AceNotes, please submit a Marketing Request Form. Deadline for submission to AceNotes is 10:00 a.m. on the requested date of publication. Only articles concerning UE related/sponsored activities will be accepted. Articles submitted to AceNotes may be edited for length and clarity. Submitter contact information is at the end of each article.