| | |
| --- | --- |
| AceNotes Today | Wednesday, February 3, 2016 |
Theresa Hoffherr receives February Employee Excellence Award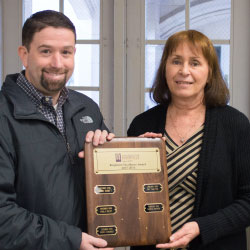 Theresa Hoffherr, publications assistant in Content Design, has been presented with the February 2016 Employee Excellence Award. Along with her expertise in all facets of print production, Theresa is known for her work ethic and willingness to help others. Theresa has a positive impact on departments all across campus and keeps projects on track for the entire University. One of the many who nominated her for the award pointed out that "Theresa is pleasant, professional, reliable, and organized, and willing to lend extra help when departments are up against a deadline or need more information."
Congratulations, Theresa, and thank you for all that you do.

Water outage in Koch Center for Engineering and Science
At 7:00 a.m., on Wednesday, February 3, the water in Koch Center for Engineering and Science will be shut off for maintenance work. The outage should last approximately one hour. Any discoloration of the water afterwards can be resolved by running water until it clears. If you have any questions or concerns, please contact the Physical Plant at ext. 2775
UNICEF presents "Not My Life"
Join UNICEF Campus Initiative today, February 3, at 6:30 p.m., Room 170, Schroeder School of Business Building, to watch Not My Life. This film from Academy Award nominee Robert Bilheimer is the first to depict the cruel practices of human trafficking and modern slavery on a global scale.
The screening will be followed by a discussion session that takes viewers into a world where millions of children are exploited through dehumanizing practices that include forced labor, domestic servitude, begging, sex tourism, sexual violence, and child soldiering.
You can watch the trailer here.
I-House: South Korea
This week's I-House is about South Korea! Jihyun Oh and Juseok Oh will be the presenters. Jihyun is a journalism major who loves taking pictures. Juseok is a literature major who likes hiking and board games. Their favorite part about UE is that there are a lot of events. Be sure to come to I-House tonight at 7:00 p.m., upstairs in Ridgway University Center, to hear all about South Korea!
Writing Boot Camp: Thesis Statements
Writing Boot Camp: Thesis Statements is planned for today, February 3, 5:00-5:30 p.m., in the Writing Center. At this Writing Boot Camp, you will learn the basics of thesis writing. This workshop will also address what the thesis statement is, why it is important, and how it should be structured. We will also cover some basic tips on organizing essays. Join us for this brief but important session.
Black Student Union presents: From Slave Fields to Athletic Fields
Please come out and kick off Black History Month with the viewing of The Express, today, February 3, Eykamp Hall, Room 251, Ridgway University Center, 5:00-7:30 p.m. This film is centered around Ernie Davis who won the Heisman Trophy in 1961. He was the first African American to do so. Born into poverty, Davis overcame many obstacles to get into Syracuse University's football program. Under the guidance of head coach Ben Schwartzwalder, Davis became one of the best players in Syracuse's history.
After the movie, there will be a panel discussion on African American athletes, including current and past athletes from UE.
Ash Wednesday service with Bishop Thompson
All are welcome to join us as we celebrate our Ash Wednesday Mass on Wednesday, February 10, 5:00 p.m., in Neu Chapel. Bishop Charles Thompson will be here to celebrate with us as we begin the holy season of Lent. We hope to see you there! Please call/text Kristel at 812-760-8610 for more information!
Guest speaker to lecture on amazing discoveries of forgotten Jewish history
Please join Religious Life and the Department of History as we welcome Rabbi Mark Glickman to UE on Saturday, February 6. He will speak at 7:00 p.m. in Room 170, Schroeder School of Business Administration Building. This event is free and open to the public.
Glickman's talk will be based on his book, Sacred Treasure: The Cairo Genizah: The Amazing Discoveries of Forgotten Jewish History in an Egyptian Synagogue Attic.
The subject of Glickman's book and lecture is a discovery made in 1896, by Rabbi Solomon Schechter of Cambridge University. In that year, Schechter stepped into the attic of the Ben Ezra Synagogue in Cairo, Egypt, and found the largest treasure trove of medieval and early manuscripts ever discovered. He had entered the synagogue's genizah - its repository for damaged and destroyed Jewish texts which held nearly 300,000 individual documents, many of which were over 1,000 years old.
Considered among the most important discoveries in modern religious history, its contents contained early copies of some of the Dead Sea Scrolls, early manuscripts of the Hebrew Bible, and other sacred literature. The importance of the genizah's contents rivals that of the Rosetta Stone, and by virtue of its sheer mass alone, it will continue to command our attention indefinitely.
Glickman's book has been described as "Indiana Jones meets The Da Vinci Code in an old Egyptian synagogue." It is the first accessible, comprehensive account of Schechter's astounding discovery. It is an amazing story of one of the most important discoveries in modern religious scholarship. The book explains why this enormous collection was amassed, how it was discovered and the many lessons to be found in its contents. It will also show how Schechter's find, though still being "unpacked" today, forever transformed our knowledge of the Jewish past, Muslim history, and much more.
Program offered on study skills, time management apps, and strategies
Need to improve your study and time management skills? Love technology? Then join us today at 4:00 p.m., in Eykamp Hall, Rooms 253 and 254, Ridgway University Center, for an informative and interactive program that will show you apps and strategies that will improve your note taking, studying, and time management skills. The presentation is hands-on as Brian Norton, director of assistive technology at Easter Seals Crossroads, will be bringing 50 iPads for participants to use. The apps and strategies demonstrated can be used on a variety of devices. This event is open to everyone on campus and sponsored by Disability Services, Academic Advising, and the Resource Center. Contact db132@evansville.edu with any questions.
Village Housing information meetings tonight
Students wishing to reside in Village Housing (Townhouses, North Hall, or other Village units) for the 2016-17 year should attend one of the scheduled information meetings. There will be information meetings today in Eykamp Hall, Room 252, Ridgway University Center. There will be two meetings (4:00 p.m. and 9:00 p.m.).
For more information, see www.evansville.edu/residencelife and select the Returning Student section on the left side menu.
Information meetings about selecting a residence hall room will be later in February.

TIAA-CREF counseling appointments
The TIAA-CREF representative will be on the UE campus on Wednesday, February 24, and Thursday, February 25, for individual counseling sessions. To schedule an appointment, call TIAA-CREF at 1-800-732-8353 or 317-706-6200. The sessions are held in Room 158, the Clifford Rare Books Room, University Libraries.
If you have any questions, call Carol McCraney at ext. 2943.
Scholars for Syria Lecture Series: The historical and political context of the Syrian crisis
Wes Milner, executive director of international programs, will be presenting a lecture on the historical and political context of the current Syrian crisis on Thursday, February 4, 6:00 p.m., Room 162, Schroeder School of Business Building. This lecture, which is part of the Scholars for Syrian Lecture Series, is free and open to the public.
The seminar will be followed by a panel discussion and an open discussion facilitated by Scholars for Syria.
As we struggle to deal with the complexities of the current situation in Syria and the broader Middle East and North Africa, we are reminded that these devastating events have not occurred in a vacuum. From a colonial past to the more recent Arab Spring and struggles among regional actors, geopolitical shifts have exacerbated an already difficult scenario.
Milner is responsible for facilitating collaboration across academic and non-academic offices to advance international engagement of students, faculty, and staff on the Evansville campus and at international sites. Previously, he served as director of the International Studies Program and chair of the Department of Law, Politics, and Society.
If you have questions, please e-mail Gail Vignola at gv15@evansville.edu.
Gain access to 130 employers at Career Expo!
If you have not registered for Collegiate Career Expo, the time is now! 130 employers are expected for this huge career fair in Indy. Plus, it's free for you! The fair is scheduled for Thursday, February 18, 2016, 10:00 a.m. - 3:00 p.m. Eastern time at the Downtown Indianapolis Marriott. The University of Evansville will provide bus transportation. A $10 required deposit is refundable upon attendance. Reserve your seat now (www.evansville.edu/careercenter/busReservationForm.cfm).
Fair registration is through UE JobLink (evansville-csm.symplicity.com/). Click the Jobs Tab -> CSM Jobs -> Posting #722252.
Find a list of registered employers here: cccc-in.org/event-2060555.
Need assistance with your job, internship, co-op, or graduate school search? Please contact the Center for Career Development: career@evansville.edu or 812-488-1083.

Celebrating 40 Days of Peace
Join us in celebrating 40 Days of Peace with an action and a quote for each day.
Today's action is to perform one act of kindness.
Today's quote: "If you want to look for world peace, go home and love your families." - Mother Theresa
UE's Environmental Policy is CREST
UE's Environmental Policy is CREST, which stands for:
Continuous Improvement
Reduce, Reuse, and Recycle
Environmental Compliance
Sustainability
Training and Education
This provides the foundation of UE's Environmental Management System (EMS), a process to continuously improve our environmental impact.
It's important for you to be aware of UE's EMS and to understand your role in supporting it. All University employees and students are responsible for complying with applicable regulatory programs, EMS requirements and procedures. You can help by improve our environmental impact by:
Taking recyclable materials like paper, aluminum cans, and plastic bottles to the nearest recycle pick-up location.
Not littering - put trash in waste receptacles so it doesn't end up going down the storm drains and eventually into the river. However, never put hazardous chemicals in the trash.
Calling UE Office of Safety and Security at 812-471-6911 if you see a spill near a campus storm drain.
For more information, check out the following resources:
EMS: AceLink/Areas/Environmental Management
Recycling program at AceLink/Areas/Recycling
Environmental Management's Facebook page
If you have questions, please call 812-488-2697 or e-mail js652@evansville.edu.

Sign up this week for Venturing Crew ski trip
Join Venturing Crew for a night of skiing and snowboarding on Friday, February 12, at Paoli Peaks! This event will be part of "A Snowballing Weekend" co-hosted by Venturing Crew, RSA, and SAB. You can sign up for the trip at tables in Ridgway University Center tomorrow and Thursday, February 4, from 11:00 a.m. - 1:00 p.m., and 5:00 - 7:00 p.m. The cost of the trip will be $15 per person. You must pay with cash or check when you sign up.
This trip is open to all current UE students, so be sure to bring your UE student ID to reserve your place.
A limited number of slots will be available during each Ridgway University Center table time, so sign up as soon as possible! Don't miss a great weekend!
Space for nine more teams! Register for Nerd Wars by February 10!
It's your lucky day! The deadline to enter a team for Nerd Wars Trivia Night has been extended to February 10! The Honors Program is hosting Nerd Wars Trivia Night on Tuesday, February 16, at 7:00 p.m. in Eykamp Hall, Ridgway University Center. Teams of five consisting of students, faculty, administrators, and staff will battle in a competition of wit while enjoying pizza, popcorn, and soda. The winning student team and the winning faculty/administrator/staff team will receive $25 MasterCard/VISA gift cards.
Registration materials can be picked up in the Powell Honors Lounge, from Jayme Williams in Room 238 in Koch Center of Engineering and Science, or can be done online by clicking here.
The entry fee is $5 per person.
Those who are unable to create a team of five may still register. Any questions can be emailed to Stephen at sl192@evansville.edu or Paige at ph89@evansville.edu.
Spectators and participants may also enter in the ELFFAR (this is not a raffle) for the chance to win a LG Tone Pro wireless headset, a Sony Blue Tooth wireless speaker, a Fitbit Flex wireless wristband, a Roku streaming stick with remote, Buffalo Wild Wings gift cards, Hacienda Mexican Restaurant gift cards, TGI Friday's gift cards, Orange Leaf gift cards, a selfie stick, and more!
Special Education program receives national recognition from CEC
The School of Education is proud to announce that its program in special education - mild intervention - has received national recognition from the Council for Exceptional Children (CEC).
The CEC, considered the leading body in the field of special education, requires a lengthy, detailed process to verify that a program qualifies for recognition. Relevant student data must be tracked and gathered, and evidence must show that program quality meets CEC standards.
This recognition increases the program's credibility because of the excellence it requires. Students, professors, and administrators benefit as the program gains additional prestige.
Elementary education program nationally recognized by ACEI
The School of Education is proud to announce that its program in elementary education has received national recognition from the Association for Childhood Education International (ACEI), a global community of educators and advocates who unite knowledge, experience, and perspectives in order to exchange information, explore innovation, and advocate for children.
The recognition is data driven. The school's faculty develop rubrics and provide evidence that the programs meet ACEI's standards, including that the school's teacher candidates have demonstrated a high level of competence in the use of the major concepts, principles, theories, and research related to the development of children and young adolescents.
The data also provided evidence that teacher candidates are well educated in collaboration with families, colleagues, and community agencies, and in being able to reflect on their professional growth.
Ebeling publishes articles in three peer-reviewed journals
Associate professor of archaeology Jennie Ebeling co-authored three articles published in peer-reviewed journals in the last few months of 2015. They are "An Ancient Winery in Jezreel," in Bet Mikra 60/1 (Hebrew), "The tabun and its Misidentification in the Archaeological Record" in Levant 47/3; and "A Basalt Vessel Workshop and its Products at Iron Age Hazor, Israel" in the Journal of Field Archaeology 40/6.
Andueza publishes an encyclopedia entry
Lorena Andueza, assistant professor of Spanish, has published an encyclopedia entry on Irony in Enciclopedia de Lingüística Hispánica published by Routledge. This encyclopedia provides comprehensible coverage of the major and subsidiary fields of hispanic linguistics, and it is a reference for graduate and undergraduate students of Spanish and for anyone with an academic or professional interest in the Spanish language and linguistics.
Road trip to UNI on tap for UE Men's Basketball
Another big Missouri Valley Conference tilt looms for the Purple Aces Men's Basketball team as they trek to Cedar Falls to face UNI tonight.
Fans in Evansville can catch the game on ESPN3.com and the WatchESPN app.
A record Ford Center crowd of 10,034 were in attendance as the Purple Aces faced off against #22 Wichita State on Sunday. D.J. Balentine scored 18 points to lead the way as the Aces fell by a final of 78-65. He now has 2,253 points in his career as he chases Colt Ryan's program mark of 2,279. Egidijus Mockevicius registered 16 points and 12 rebounds as he knocked down 12 of his 14 free throw attempts.
Balentine is also looking for his 100th career double digit game. He has 99 in his career and will look for the mark in the McLeod Center where he has averaged 20.3 points per game, including his career day two years ago where he registered 43 points. In Sunday's game, he jumped past Larry Humes into second place on the Aces' all-time scoring list.
Mislav Brzoja has averaged 18 points per game in the last two outings. He posted his top game at UE in Carbondale last week, posting 25 points. He followed that up with 11 against Wichita State.
UNI comes into Wednesday's match-up with a 12-11 overall mark and 4-6 in Missouri Valley Conference play. The Panthers are coming off of a 67-58 home victory over Southern Illinois as Bennett Koch recorded 22 points and 11 rebounds while hitting 8 of his 9 attempts. Four Panthers average double figures, led by Wes Washpun's 14.3 points per game; Matt Bohannon checks in with 12.3 points and his hit a team-high 67 3-pointers this season.

Faculty and staff basketball ticket pick-up
Faculty members and staff can now pick up their two complimentary tickets at the Carson Center ticket office for the Men's Basketball game this Saturday, February 6. You must show your UE ID to get tickets.
Contribute to AceNotes
To have content considered for inclusion in AceNotes, please submit a Marketing Request Form. Deadline for submission to AceNotes is 10:00 a.m. on the requested date of publication. Only articles concerning UE related/sponsored activities will be accepted. Articles submitted to AceNotes may be edited for length and clarity. Submitter contact information is at the end of each article.