| | |
| --- | --- |
| AceNotes Today | Tuesday, February 2, 2016 |
Theresa Hoffherr receives February Employee Excellence Award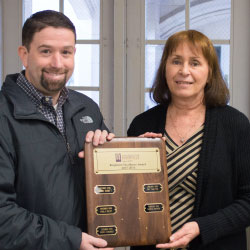 Theresa Hoffherr, publications assistant in Content Design, has been presented with the February 2016 Employee Excellence Award. Along with her expertise in all facets of print production, Theresa is known for her work ethic and willingness to help others. Theresa has a positive impact on departments all across campus and keeps projects on track for the entire University. One of the many who nominated her for the award pointed out that "Theresa is pleasant, professional, reliable, and organized, and willing to lend extra help when departments are up against a deadline or need more information."
Congratulations, Theresa, and thank you for all that you do.

Water outage in Koch Center for Engineering and Science
At 7:00 a.m., on Wednesday, February 3, the water in Koch Center for Engineering and Science will be shut off for maintenance work. The outage should last approximately one hour. Any discoloration of the water afterwards can be resolved by running water until it clears. If you have any questions or concerns, please contact the Physical Plant at ext. 2775
This Week in Music: First Tuesday Concert Series
The Department of Music continues the First Tuesday Concert Series in Wheeler Concert Hall tonight, February 2, at 7:30 p.m. with a performance by the UE Faculty Chamber Winds, an ensemble that includes faculty members, consortium instructors, and guest artists.
For the concert, associate professor and director of bands Kenneth Steinsultz will lead the ensemble in a performance of three works by the noted English composer Gordon Jacob (1895-1984). Jacob taught composition at the Royal College of Music for some 45 years, and as a composer, he produced a large output of orchestral, chamber, and choral works.
This First Tuesday Concert will include Jacob's Old Wine in New Bottles, his Sextet in B-flat for Piano and Winds, Op. 6 (with professor of piano Anne Fiedler joining the ensemble), and his More Old Wine in New Bottles.
The concert is free and open to the public.
Village Housing information meetings tonight
Students wishing to reside in Village Housing (Townhouses, North Hall, or other Village units) for the 2016-17 year should attend one of the scheduled information meetings. There will be information meetings today in Eykamp Hall, Room 252, Ridgway University Center. There will be two meetings (4:00 p.m. and 9:00 p.m.).
For more information, see www.evansville.edu/residencelife and select the Returning Student section on the left side menu.
Information meetings about selecting a residence hall room will be later in February.

TIAA-CREF counseling appointments
The TIAA-CREF representative will be on the UE campus on Wednesday, February 24, and Thursday, February 25, for individual counseling sessions. To schedule an appointment, call TIAA-CREF at 1-800-732-8353 or 317-706-6200. The sessions are held in Room 158, the Clifford Rare Books Room, University Libraries.
If you have any questions, call Carol McCraney at ext. 2943.
UNICEF presents "Not My Life"
Join UNICEF Campus Initiative today, February 3, at 6:30 p.m., Room 170, Schroeder School of Business Building, to watch Not My Life. This film from Academy Award nominee Robert Bilheimer is the first to depict the cruel practices of human trafficking and modern slavery on a global scale.
The screening will be followed by a discussion session that takes viewers into a world where millions of children are exploited through dehumanizing practices that include forced labor, domestic servitude, begging, sex tourism, sexual violence, and child soldiering.
You can watch the trailer here.
I-House: South Korea
This week's I-House is about South Korea! Jihyun Oh and Juseok Oh will be the presenters. Jihyun is a journalism major who loves taking pictures. Juseok is a literature major who likes hiking and board games. Their favorite part about UE is that there are a lot of events. Be sure to come to I-House tonight at 7:00 p.m., upstairs in Ridgway University Center, to hear all about South Korea!
Writing Boot Camp: Thesis Statements
Writing Boot Camp: Thesis Statements is planned for today, February 3, 5:00-5:30 p.m., in the Writing Center. At this Writing Boot Camp, you will learn the basics of thesis writing. This workshop will also address what the thesis statement is, why it is important, and how it should be structured. We will also cover some basic tips on organizing essays. Join us for this brief but important session.
Black Student Union presents: From Slave Fields to Athletic Fields
Please come out and kick off Black History Month with the viewing of The Express, today, February 3, Eykamp Hall, Room 251, Ridgway University Center, 5:00-7:30 p.m. This film is centered around Ernie Davis who won the Heisman Trophy in 1961. He was the first African American to do so. Born into poverty, Davis overcame many obstacles to get into Syracuse University's football program. Under the guidance of head coach Ben Schwartzwalder, Davis became one of the best players in Syracuse's history.
After the movie, there will be a panel discussion on African American athletes, including current and past athletes from UE.
Scholars for Syria Lecture Series: The historical and political context of the Syrian crisis
Wes Milner, executive director of international programs, will be presenting a lecture on the historical and political context of the current Syrian crisis on Thursday, February 4, 6:00 p.m., Room 162, Schroeder School of Business Building. This lecture, which is part of the Scholars for Syrian Lecture Series, is free and open to the public.
The seminar will be followed by a panel discussion and an open discussion facilitated by Scholars for Syria.
As we struggle to deal with the complexities of the current situation in Syria and the broader Middle East and North Africa, we are reminded that these devastating events have not occurred in a vacuum. From a colonial past to the more recent Arab Spring and struggles among regional actors, geopolitical shifts have exacerbated an already difficult scenario.
Milner is responsible for facilitating collaboration across academic and non-academic offices to advance international engagement of students, faculty, and staff on the Evansville campus and at international sites. Previously, he served as director of the International Studies Program and chair of the Department of Law, Politics, and Society.
If you have questions, please e-mail Gail Vignola at gv15@evansville.edu.
Gain access to 130 employers at Career Expo!
If you have not registered for Collegiate Career Expo, the time is now! 130 employers are expected for this huge career fair in Indy. Plus, it's free for you! The fair is scheduled for Thursday, February 18, 2016, 10:00 a.m. - 3:00 p.m. Eastern time at the Downtown Indianapolis Marriott. The University of Evansville will provide bus transportation. A $10 required deposit is refundable upon attendance. Reserve your seat now (www.evansville.edu/careercenter/busReservationForm.cfm).
Fair registration is through UE JobLink (evansville-csm.symplicity.com/). Click the Jobs Tab -> CSM Jobs -> Posting #722252.
Find a list of registered employers here: cccc-in.org/event-2060555.
Need assistance with your job, internship, co-op, or graduate school search? Please contact the Center for Career Development: career@evansville.edu or 812-488-1083.

Lisa Kretz to be Guest Speaker at February Andiron Lecture
Lisa Kretz, assistant professor of philosophy, will be the speaker for the Andiron Lecture on February 3. All the lectures in the series are at 4:00 p.m. in Eykamp Hall, Room 252, Ridgway University Center, preceded by a social hour with beverages at 3:45 p.m. The lectures are free and open to the public
Kretz's topic will be "Emotional Responsibility and Teaching Ethics: Student Empowerment."
After overhearing a student complain that her ethics class was depressing, Kretz wondered how she could change her classes to generate a sense of empowerment rather than depression; a sense of hope rather than despair. Drawing from David Hume's and Martin Hoffman's work on the psychology of empathy and sympathy, she contends that dominant Western philosophical pedagogy is inadequate for facilitating morally empowered students.
She also stipulates that adequate analysis of the role emotion should play in pedagogy requires tending to the politics of emotional expression and how oppression functions.
In this lecture, she will argue that ethical educators have a moral responsibility to facilitate not only critical moral thinking but also critical moral agency. She will expound upon the idea that ethical education should involve the provision of tools for effective citizen engagement and that reasoning alone is insufficient for this goal. The role of emotion in ethical decision-making and action remains devalued and under analyzed. Approaches that fail to adequately recognize the role of emotion in ethical education are to the detriment of effective ethical pedagogy. In this lecture, Kretz will recommend a number of methods for remedying this omission so as to provide tools for moral action.
Kretz's main areas of research are ethics (with a special emphasis on environmental and non-human animal ethics), critical pedagogy, student empowerment, the theory-action gap, moral psychology, anti-oppression activism, and most recently, food issues. Her articles have appeared in the Journal of Agricultural & Environmental Ethics, the Journal for Critical Animal Studies, Ethics & the Environment, Ethics and Education, and Teaching Ethics. She has given over 50 presentations to various audiences on her research and has three forthcoming book chapters.
For further information, call Annette Parks at 812-488-1070 or the William L. Ridgway College of Arts and Sciences at 812-488-2589
1095-C forms delayed
The IRS has extended the deadline for the distribution of the 1095-C forms to employees that are eligible to participate in the University's health plans. This form will be used to complete questions regarding health insurance offers and coverage on your 2015 tax return.
We anticipate the forms to be available around the middle of February. An AceNotes Extra will notify you when the forms are ready to view/print from WebAdvisor.
If any questions, please feel free to contact Gloria Spencer at ext. 2159.
2015 W-2s processed
W-2 forms have been processed for all employees and student workers. Employees and student workers who did not provide their consent to electronic W-2s should receive their W-2 in the mail Saturday or Monday. If you have already provided consent to electronic W-2s, you can view/print your W-2 now. Simply log on to WebAdvisor, click on Employees or Students, click on Employee Self Service, click on W-2 Information and then click on 2015 W-2 Statement.
If you have any questions, please feel free to contact Gloria Spencer at ext. 2159 or gs55@evansville.edu.

Sign up this week for Venturing Crew ski trip
Join Venturing Crew for a night of skiing and snowboarding on Friday, February 12, at Paoli Peaks! This event will be part of "A Snowballing Weekend" co-hosted by Venturing Crew, RSA, and SAB. You can sign up for the trip at tables in Ridgway University Center tomorrow and Thursday, February 4, from 11:00 a.m. - 1:00 p.m., and 5:00 - 7:00 p.m. The cost of the trip will be $15 per person. You must pay with cash or check when you sign up.
This trip is open to all current UE students, so be sure to bring your UE student ID to reserve your place.
A limited number of slots will be available during each Ridgway University Center table time, so sign up as soon as possible! Don't miss a great weekend!
Space for nine more teams! Register for Nerd Wars by February 10!
It's your lucky day! The deadline to enter a team for Nerd Wars Trivia Night has been extended to February 10! The Honors Program is hosting Nerd Wars Trivia Night on Tuesday, February 16, at 7:00 p.m. in Eykamp Hall, Ridgway University Center. Teams of five consisting of students, faculty, administrators, and staff will battle in a competition of wit while enjoying pizza, popcorn, and soda. The winning student team and the winning faculty/administrator/staff team will receive $25 MasterCard/VISA gift cards.
Registration materials can be picked up in the Powell Honors Lounge, from Jayme Williams in Room 238 in Koch Center of Engineering and Science, or can be done online by clicking here.
The entry fee is $5 per person.
Those who are unable to create a team of five may still register. Any questions can be emailed to Stephen at sl192@evansville.edu or Paige at ph89@evansville.edu.
Spectators and participants may also enter in the ELFFAR (this is not a raffle) for the chance to win a LG Tone Pro wireless headset, a Sony Blue Tooth wireless speaker, a Fitbit Flex wireless wristband, a Roku streaming stick with remote, Buffalo Wild Wings gift cards, Hacienda Mexican Restaurant gift cards, TGI Friday's gift cards, Orange Leaf gift cards, a selfie stick, and more!
2016-2017 ARSAF Grants available to faculty
The UE Alumni Association is once again sponsoring Alumni Research and Scholarly Activity Fellowships (ARSAF) for faculty. Applications for funding for the 2016-17 fiscal year are due by 5:00 p.m. on April 1. More information and the online application can be found here on AceLink.
Questions? Contact alumni@evansville.edu or ext. 2586.
Ebeling publishes articles in three peer-reviewed journals
Associate professor of archaeology Jennie Ebeling co-authored three articles published in peer-reviewed journals in the last few months of 2015. They are "An Ancient Winery in Jezreel," in Bet Mikra 60/1 (Hebrew), "The tabun and its Misidentification in the Archaeological Record" in Levant 47/3; and "A Basalt Vessel Workshop and its Products at Iron Age Hazor, Israel" in the Journal of Field Archaeology 40/6.
Andueza publishes an encyclopedia entry
Lorena Andueza, assistant professor of Spanish, has published an encyclopedia entry on Irony in Enciclopedia de Lingüística Hispánica published by Routledge. This encyclopedia provides comprehensible coverage of the major and subsidiary fields of hispanic linguistics, and it is a reference for graduate and undergraduate students of Spanish and for anyone with an academic or professional interest in the Spanish language and linguistics.
Robert Dion Leads Teacher Workshop on the Constitution
Robert Dion was the featured speaker during a daylong seminar last week in Indianapolis that focused on how to teach about the American Constitution. The workshop, which brought together educators from around the state, was sponsored by the Center for Civic Education's James Madison Legacy Project and funded in part by the U.S. Department of Education. Dion is the chair of the Department of Law, Politics, and Society at the University of Evansville.
Faculty and staff basketball ticket pick-up
Faculty members and staff can now pick up their two complimentary tickets at the Carson Center ticket office for the Men's Basketball game this Saturday, February 6. You must show your UE ID to get tickets.
Contribute to AceNotes
To have content considered for inclusion in AceNotes, please submit a Marketing Request Form. Deadline for submission to AceNotes is 10:00 a.m. on the requested date of publication. Only articles concerning UE related/sponsored activities will be accepted. Articles submitted to AceNotes may be edited for length and clarity. Submitter contact information is at the end of each article.