| | |
| --- | --- |
| AceNotes Today | Thursday, January 28, 2016 |
Sympathy to family and friends of UE alumna Susan Kelley Jordan
The UE community was saddened to learn of the death of Susan Kelley Jordan, an alumna of the University. Jordan died after pushing schoolchildren out of the way of a bus that jumped a curb at the Indianapolis elementary school where she was the principal. The bus struck and killed Jordan, but the children survived with only two receiving injuries.
Jordan, who had served as principal at Amy Beverland Elementary School for 22 years, was described at a news conference as a legend by Lawrence Township Schools superintendent Shawn A. Smith.
The school district canceled all classes Wednesday. About 1,000 people gathered for a vigil Wednesday at St. Simon the Apostle Catholic Church to honor Jordan. Gov. Mike Pence ordered flags at state facilities in Marion County to be flown at half-staff, and UE has also lowered its flags to half-staff in her honor.
Services for Jordan will be held at St. Luke's United Methodist Church at 100 W. 86th Street, in Indianapolis, with a viewing Friday from 2:00 – 8:00 p.m. and a funeral Saturday at 3:00 p.m.
Jordan earned her bachelor's degree in education from UE in 1968 and her master's degree in education from the University in 1971.
More information on Jordan can be found here and also here.
UELA blood drive sign-ups today
The University of Evansville Leadership Academy will be hosting a blood drive on February 2, in Eykamp Hall, Ridgway University Center, noon - 6:00 p.m. You can sign up today at the tables in Ridgway University Center.
Let's talk about consent
Eighty-five percent of UE students report getting consent every time. Let's get to 100 percent! Stop by the Ridgway University Center lobby from 11:00 a.m. - 2:00 p.m., Thursday, January 28, and get your picture taken in your "It's On Us" T-shirt and pledge to get consent every time. Don't have a shirt? No problem ... We have plenty to give away! Other giveaways will be available along with a chance to have your voice heard through social media.
UE Bookstore Under Armour 20 percent off sale
The UE Bookstore is offering 20 percent off all Under Armour merchandise from January 27-30 (Wednesday through Saturday). This includes all T-shirts, sweatshirts, shorts, and more. Stop in and save.
Faculty scholarship display and reception
The faculty scholarship display is happening now! Stop by the library to see what your colleagues have been up to. The display runs until January 30. A reception to honor faculty scholars will take place during Fridays @ Five: Friday, January 29, from 4:30 – 7:00 p.m. at the Melvin Peterson Gallery. Hope to see you there!
UELA L2L conference sign ups
Attention UE students! Save the date of February 27, for the annual L2L leadership conference. The conference sign-in begins at 9:30 a.m., and the conference will take place from 10:00 a.m.-3:30 p.m. Lunch will be provided.
This year, the speaker will be Dawn J. Fraser. She will talk about how to connect to a group of people.
You can sign up for the conference from February 1 - 12. A $10 deposit is required, but it will be refunded at the end of the conference.
You can sign up for the conference here starting February 1. You can also sign up at a table in Ridgway University Center from February 9 - 11.
Don't miss out on the chance to build up your leadership skills.
Ski and snowboard with Venturing Crew
Join Venturing Crew for a trip to Paoli Peaks for a night of skiing and snowboarding on Friday, February 12! This event will be part of "A Snowballing Weekend" co-hosted by Venturing Crew, RSA, and SAB.
You can sign up for the trip at tables in Ridgway University Center on Wednesday, February 3, and Thursday, February 4, from 11:00 a.m. - 1:00 p.m., and 5:00 - 7:00 p.m. The cost of the trip will be $15 per person. You must pay with cash or check when you sign up.
This trip is open to all current UE students, so be sure to bring your UE student ID to reserve your place.
A limited number of slots will be available during each Ridgway University Center table time, so sign up as soon as possible! Don't miss a great weekend!
Collegiate Career Expo - Indianapolis
Interested in access to the 130 employers expected at the upcoming Collegiate Career Expo? This free career fair is scheduled for Thursday, February 18, 10:00 a.m. - 3:00 p.m. (Eastern time) at the Downtown Indianapolis Marriott. The University of Evansville will provide bus transportation. A $10 required deposit is refundable upon attendance. Reserve your seat now (www.evansville.edu/careercenter/busReservationForm.cfm).
Fair registration is through UE JobLink (evansville-csm.symplicity.com/). Click the Jobs Tab -> CSM Jobs -> Posting #722252.
Find a list of registered employers here: cccc-in.org/event-2060555.
Need assistance with your job, internship, co-op or graduate school search? Please contact the Center for Career Development: career@evansville.edu or 812-488-1083.

IOL applications still available
Applications for the International Orientation Leader position are due Friday, January 29, but you can still pick one up in the Office of Cultural Engagement and International Services (in the Student Life Center on the second floor of Ridgway University Center.
The selection process is for the 2016-17 school year. IOLs develop teamwork and leadership skills, share their college experiences, and help new UE students from all over the world get adjusted to life on campus. We welcome both international students and students from the United States to apply.
Questions can be directed to Megan Sicard at ms331@evansville.edu.

Celebrating 40 Days of Peace with Martin Luther King Jr.
Join us in celebrating 40 Days of Peace with Martin Luther King Jr. with an action and a quote for each day.
Today's action is to honestly and genuinely compliment at least four people.
Today's quote is:
"Moral excellence comes about as a result of habit. We become just by doing just acts, temperate by doing temperate acts, brave by doing brave acts." ~ Aristotle
Join the team - become an RA! Application due soon
Applications to join the team and become an RA are due this Friday, January 29, at 5:00 p.m., in the Office of Residence Life!
If you have not yet picked up an application to become an RA for the Fall 2016 or Spring 2017 semesters, they are available in the Office of Residence Life and online. Contact Betsy Whited at ew156@evansville.edu with any questions you have!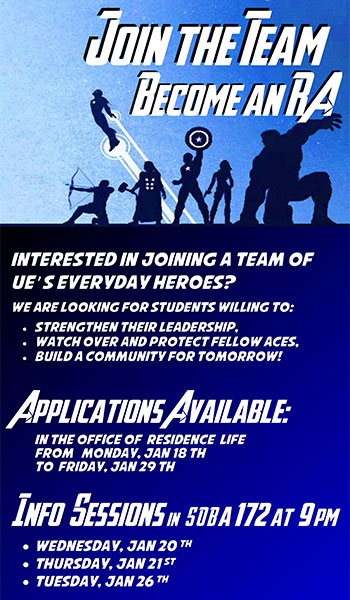 Aldred publishes research in PNAS
Katie Aldred '09, assistant professor of biology, recently had a first-author research article accepted to the Proceedings of the National Academy of Sciences. PNAS is one of the world's most-cited and comprehensive multidisciplinary scientific journals and publishes only the highest quality scientific research. The article, titled "Fluoroquinolone interactions with Mycobacterium tuberculosis gyrase: Enhancing drug activity against wild-type and resistant gyrase," identified a derivative of moxifloxacin, a commonly prescribed quinolone antibacterial, that maintains activity against mutant enzymes that commonly cause drug resistance in tuberculosis infections.
Paper by Atefeh Yazdanparast accepted for presentation at conference
Atefeh Yazdanparast, assistant professor of marketing, has had a research paper accepted for presentation and publication at the 2016 American Marketing Association Conference in Las Vegas, Nevada. The paper is titled "The Self-Affirming Role of Self-Conscious Emotions in Cosmetic Surgery Decisions." It follows an experimental approach to test the roles of pride and shame, two self-conscious emotions, in regulating consumers' decisions related to body image satisfaction.
Students can pick up tickets now for Wichita State game
Students can pick up their tickets for the Wichita State game in Carson Center today, Friday, January 29, in Carson Center. You must present your student ID to get one ticket. If you are planning on sitting with a group or a specific person, make sure you pick up your tickets together because this game will have assigned seating. One person may pick up all of the tickets for a group as long as they have one student ID for every ticket they are picking up. The first 400 students to pick up tickets are guaranteed a non-obstructed view seat in the student section. If you have any questions please call 812-488-ACES.
Aces men back on the road tonight at SIU
Another stiff road test awaits the University of Evansville Men's Basketball team as the Purple Aces travel to Carbondale, Ill. to face Southern Illinois today.
ESPN3 will televise the game as part of "The Valley on ESPN3" package. Game time is set for 8:00 p.m.
Evansville sits at 17-4 overall and 6-2 in league play following an 82-65 defeat at Indiana State on Sunday. The Sycamores scored the first eight points of the game and overcame a first-half rally that saw the Aces get within a point. D.J. Balentine scored a team-best 20 points while Egidijus Mockevicius had 13 rebounds and 10 points.
Both seniors are closing in on program records as Balentine sits with 2,210 career points and is just 69 away from Colt Ryan's program mark of 2,279, which was set just three years ago. Larry Humes is also ahead of him with 2,236.
Mockevicius has moved into second place on the all-time list with 1,089 rebounds. Dale Wise, who played from 1959 through 1961, holds the record with 1,197.
Southern Illinois has had a resurgent season that has seen them win 18 of the first 21 games this season. The Salukis are winners of their last four games and 10 of their last 11 overall.
Leading the way for SIU is Anthony Beane, who is second in the Valley with 19.3 points per game; he has made the start in all 21 games. Sean O'Brien averages 12.3 points per contest and is second on the squad with six rebounds. Their top rebounder is Bola Olaniyan, who is second in the MVC with 8.3 caroms per game.
UE swimming and diving teams honored by CSCAA
A total of 547 swimming and diving teams representing 354 colleges and universities have been named College Swimming Coaches Association of America (CSCAA) Scholar All-America Teams. The awards are in recognition of teams that achieved a grade point average of 3.0 or higher during the Fall 2015 semester. That is up 40 teams from the previous fall semester.
The University of Evansville teams each earned the honor with their stellar work in the classroom. The Aces women paced the Missouri Valley Conference while ranking 25th in the nation with a GPA of 3.50. Just as impressive were the efforts of the men, who saw a great increase in their team GPA and finished 19th in the country with a 3.29.
"In beginning of the year we talked about how each individual's GPA made up the team's overall GPA at the end of the semester. We used the example of a relay and how no one wants to be the person that causes a relay to lose," Aces head coach Rickey Perkins said. "They really took this example to heart and strived for individual success in the classroom so that the team's academic success could be seen nationally. I am very proud of the way this team has come together and how each one of them strived to be the very best student-athlete and teammate possible."
The announcement comes on the heels of last week's NCAA Convention where the topic of time demands on student-athletes was at the forefront. In an era when many are calling for more limitations on athletic commitments, how do swimmers and divers do it?
CSCAA executive director Joel Shinofield was effusive in his praise, "We really are fortunate to work with the best of the best. In reality, some would argue that swimmers and divers have some of the most demanding practice schedules, but we find that in most cases their athletic drive and academic goals simply reinforce one another."
"College swimming is a complete preparation for life, where our athletes see the results of goal-setting, perseverance, and personal accountability," said USA Swimming National Team director Frank Busch. "These values that make swimmers successful in the pool are also what make them stand out in the classroom and become high achievers in their careers after college." This is evident in that over 70% of collegiate swimming and diving teams reported that they have at least one alumnus working in the c-suite."
Over 70 percent of all Division I swimming and diving teams achieved GPAs of 3.00 or higher, including 21 women's and 19 men's teams in the current CSCAA/TYR Top 25.
Donations to be taken for former UE student-athlete
Donations will be accepted to assist former University of Evansville student-athlete Beth Csukas at Sunday's Men's Basketball game against Wichita State.
Csukas, who is a firefighter with the Evansville Fire Department, was injured in a car accident in mid-January. To assist her mounting medical costs, members of the fire department along with the staffs of the Purple Aces softball and women's soccer teams, will be accepting donations in the main lobby of the Ford Center on Sunday.
All proceeds raised on Sunday will go directly to Csukas.
Csukas came to UE in the late 1990s and was a two-sport star, playing on the Aces' softball and women's soccer squads.
Contribute to AceNotes
To have content considered for inclusion in AceNotes, please submit a Marketing Request Form. Deadline for submission to AceNotes is 10:00 a.m. on the requested date of publication. Only articles concerning UE related/sponsored activities will be accepted. Articles submitted to AceNotes may be edited for length and clarity. Submitter contact information is at the end of each article.