| | |
| --- | --- |
| AceNotes Today | Tuesday, January 26, 2016 |
This Week in Music: Three string recitals
This week, the Department of Music will present three artist-in-residence string recitals. Eykamp String Quartet member and EPO associate concertmaster Alicia Choi will present the Tuesday evening recital tonight in Wheeler Concert Hall at 7:30 p.m. The program will feature two works by Johannes Brahms. Choi will be joined by visiting instructor of piano Daniel En-Hao Lin for a performance of Brahms's Sonata for Violin and Piano, Op. 108. The other members of the Eykamp String Quartet (violinist Robert Anemone, violist Rose Wollman, and cellist Kirsten Jermé), along with violist Kristin Zimmerman and cellist Brady Anderson, will then join Choi for a performance of Brahms's String Sextet No. 1 in Bb Major, Op. 18.
On Friday evening at 7:30 p.m., Eykamp String Quartet violinist and Evansville Philharmonic Orchestra concertmaster Robert Anemone will return to Wheeler Concert Hall to present the second recital. Accompanied by pianist Futaba Niekawa, Anemone will perform three violin sonatas: Mozart's Sonata in C Major, K. 296; Debussy's Sonata in G Minor, L. 140; and Richard Strauss's Sonata in Eb Major, Op. 18.
On Sunday evening at 7:30 p.m., Eykamp String Quartet cellist and Evansville Philharmonic Orchestra principal cellist Kirsten Jermé will present the third recital in Wheeler Concert Hall, accompanied by pianist Futaba Niekawa as well. Repertory for the evening will include Samuel Barber's Sonata for Violoncello and Piano, Op. 6; Bach's Suite No.1 in G Major for Unaccompanied Violoncello, BWV 1007; and Brahms's Sonata for Piano and Violoncello in F Major, Op. 99.
All three concerts are free and open to the public.

Join the team - become an RA! Information session tonight!
Interested in building your leadership skills and helping pay for school? Join the Team and Become an RA!
An information session will be held tonight at 9:00 p.m., Room 172, Schroeder School of Business Building. Applications to become an RA for the Fall 2016 and Spring 2017 semesters are available in the Office of Residence Life and online. Contact Betsy Whited at ew156 with any questions you have!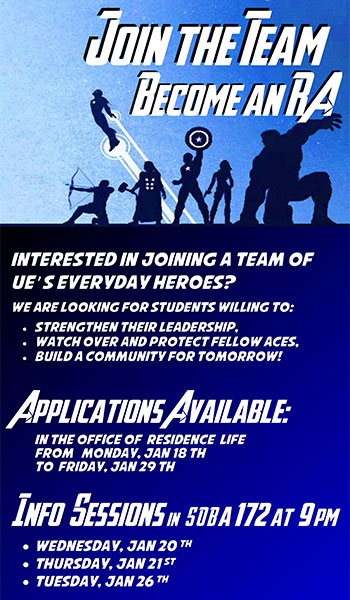 WUEV spring DJ call out meeting is today!
Do you or a friend have any interest in gaining experience in being on air, in being a DJ, or want to know more about the radio field? If so you may be interested in attending the WUEV call out meeting on January 27, 4:00 p.m., outside Hinton Studio, on the second floor of Ridgway University Center.
I-House: Venezuela
Thank you to all who came to the presentation on Syria last week. This week's presentation will be on Venezuela, and Patricia will be presenting. Her major is literature, and she loves listening to music and reading. Her favorite part about UE is learning from different cultures. So come join us at 7:00 p.m. on Wednesday night, upstairs in Ridgway University Center for a fun-filled presentation about Venezuela!
Charlas: informal conversation in Spanish on Mondays
Starting February 1, students of all levels of Spanish are invited to meet on Mondays at 5:00 p.m. at Jazzman's in Ridgway University Center to practice Spanish in a relaxed atmosphere with Fulbright foreign language teaching assistants from Venezuela and Argentina.
Celebrate Black History Month with "The Movement: 50 Years of Love and Struggle"
The UE community is invited to celebrate Black History Month by attending the theatrical production of The Movement: 50 Years of Love and Struggle on February 1, 7:00 p.m., Eykamp Hall, Room 251, Ridgway University Center. This production features Emmy Award winning actor Ron Jones playing multiple characters, taking the audience through a multifaceted journey through the ever-changing face of the African American experience.
The production will feature interactive video, stock historical footage, quotes, and some of the most memorable music of the last two generations.
The performance will be followed up by an open discussion with the audience about the content of the show. The hope is that the performance will engage people in a discussion about culture, politics, and policy.
For more information please contact LaNeeca Williams at lw161@evansville.edu or ext. 2413.
This event is sponsored by the Office of Diversity Initiatives and the UE Anti-Bias Team.
Collegiate Career Expo - Indianapolis
Interested in access to the 130 employers expected at the upcoming Collegiate Career Expo? This free career fair is scheduled for Thursday, February 18, 10:00 a.m. - 3:00 p.m. (Eastern time) at the Downtown Indianapolis Marriott. The University of Evansville will provide bus transportation. A $10 required deposit is refundable upon attendance. Reserve your seat now (www.evansville.edu/careercenter/busReservationForm.cfm).
Fair registration is through UE JobLink (evansville-csm.symplicity.com/). Click the Jobs Tab -> CSM Jobs -> Posting #722252.
Find a list of registered employers here: cccc-in.org/event-2060555.
Need assistance with your job, internship, co-op or graduate school search? Please contact the Center for Career Development: career@evansville.edu or 812-488-1083.

Free HIV testing
There will be free HIV testing on Wednesday, January 27, at the Health Center. Please call 812-488-2033 to make an appointment.
Flush Flash correction!
The recent Flush Flash incorrectly stated that the Fiji Pledge Class will have sign-ups for a volleyball tournament. The sign-ups are actually for a dodgeball tournament. There will be tables set up in Ridgway University Center lobby to sign up for the tournament from 11:00 a.m. to 1:00 p.m. on January 27, 28, and 29.
Last chance for Nerd Wars! Registration deadline is today!
The Honors Program is hosting Nerd Wars trivia night on Tuesday, February 16, at 7:00 p.m. in Eykamp Hall, Ridgway University Center. Teams of five, consisting of students, faculty, administrators, and staff, will battle in a competition of wits while enjoying pizza, popcorn, and soda. The winning student team and the winning faculty/administrator/staff team will receive $25 MasterCard/VISA gift cards.
Registration materials can be picked up in the Powell Honors Lounge, from Jayme Williams in Room 238, Koch Center of Science and Engineering, or can be done online by clicking here.
The entry fee is $5 per person.
Those who are unable to compose a team of five may still register and will be matched to make a team.
The registration deadline is today, January 27.
Any questions can be e-mailed to Stephen at sl192@evansville.edu or Paige at ph89@evansville.edu.
Looking for a job? Need some extra cash?
There are jobs available through federal work-study offered by the Office of Financial Aid for UE students. Eligibility is based on federal need as shown through the FAFSA. You can find the application here. Applications may also be obtained at the UE Office of Financial Aid in Room 116, Olmsted Administration Hall. Questions regarding eligibility and job availability should be directed to Catherine Carver at cc204@evansville.edu.
Donations to be taken for former UE student-athlete
Donations will be accepted to assist former University of Evansville student-athlete Beth Csukas at Sunday's Men's Basketball game against Wichita State.
Csukas, who is a firefighter with the Evansville Fire Department, was injured in a car accident in mid-January. To assist her mounting medical costs, members of the fire department along with the staffs of the Purple Aces softball and women's soccer teams, will be accepting donations in the main lobby of the Ford Center on Sunday.
All proceeds raised on Sunday will go directly to Csukas.
Csukas came to UE in the late 1990s and was a two-sport star, playing on the Aces' softball and women's soccer squads.
Contribute to AceNotes
To have content considered for inclusion in AceNotes, please submit a Marketing Request Form. Deadline for submission to AceNotes is 10:00 a.m. on the requested date of publication. Only articles concerning UE related/sponsored activities will be accepted. Articles submitted to AceNotes may be edited for length and clarity. Submitter contact information is at the end of each article.