| | |
| --- | --- |
| AceNotes Today | Monday, January 25, 2016 |
Newman Club presents "Women in the Church" tonight
All ar
e welcome to join the Newman Club today, January 25, at 5:00 p.m. for its weekly Monday Night Dinner and Discussion. This week we welcome Kimberly Baker, assistant professor of church history at Saint Meinrad Seminary and School of Theology. She will be discussing the role of women in the Church over the course of history.
Baker's area of specialty is the theology and spirituality of the early church. She earned her PhD in theology from Notre Dame, and her particular research focus is Augustine's preaching on the life of the Church. Baker's interest in theology first developed during her two-year post-college service experience as a campus minister in Cote d'Ivoire, West Africa. More recently, she has been involved in cross-cultural mission and learning experiences in Haiti and Calcutta, India. She is co-chair of the planning committee for a leadership conference, "Women of the Church: Strength of the Past. Hope for Tomorrow," planned for October 7-9, in Ferdinand, Indiana.
Chicken and gnocchi soup is on the menu, and we hope that you will join us for this evening of discussion and friends!
Please call/text Kristel at 812-760-8610 for more information!
Faculty scholarship display and reception
The faculty scholarship display is happening now! Stop by the library to see what your colleagues have been up to. The display runs until January 30. A reception to honor faculty scholars will take place during Fridays @ Five: Friday, January 29, from 4:30 – 7:00 p.m. at the Melvin Peterson Gallery. Hope to see you there!
This Week in Music: Three string recitals
This week, the Department of Music will present three artist-in-residence string recitals. Eykamp String Quartet member and EPO associate concertmaster Alicia Choi will present the Tuesday evening recital tonight in Wheeler Concert Hall at 7:30 p.m. The program will feature two works by Johannes Brahms. Choi will be joined by visiting instructor of piano Daniel En-Hao Lin for a performance of Brahms's Sonata for Violin and Piano, Op. 108. The other members of the Eykamp String Quartet (violinist Robert Anemone, violist Rose Wollman, and cellist Kirsten Jermé), along with violist Kristin Zimmerman and cellist Brady Anderson, will then join Choi for a performance of Brahms's String Sextet No. 1 in Bb Major, Op. 18.
On Friday evening at 7:30 p.m., Eykamp String Quartet violinist and Evansville Philharmonic Orchestra concertmaster Robert Anemone will return to Wheeler Concert Hall to present the second recital. Accompanied by pianist Futaba Niekawa, Anemone will perform three violin sonatas: Mozart's Sonata in C Major, K. 296; Debussy's Sonata in G Minor, L. 140; and Richard Strauss's Sonata in Eb Major, Op. 18.
On Sunday evening at 7:30 p.m., Eykamp String Quartet cellist and Evansville Philharmonic Orchestra principal cellist Kirsten Jermé will present the third recital in Wheeler Concert Hall, accompanied by pianist Futaba Niekawa as well. Repertory for the evening will include Samuel Barber's Sonata for Violoncello and Piano, Op. 6; Bach's Suite No.1 in G Major for Unaccompanied Violoncello, BWV 1007; and Brahms's Sonata for Piano and Violoncello in F Major, Op. 99.
All three concerts are free and open to the public.

I-House: Venezuela
Thank you to all who came to the presentation on Syria last week. This week's presentation will be on Venezuela, and Patricia will be presenting. Her major is literature, and she loves listening to music and reading. Her favorite part about UE is learning from different cultures. So come join us at 7:00 p.m. on Wednesday night, upstairs in Ridgway University Center for a fun-filled presentation about Venezuela!
Charlas: informal conversation in Spanish on Mondays
Starting February 1, students of all levels of Spanish are invited to meet on Mondays at 5:00 p.m. at Jazzman's in Ridgway University Center to practice Spanish in a relaxed atmosphere with Fulbright foreign language teaching assistants from Venezuela and Argentina.
Celebrate Black History Month with "The Movement: 50 Years of Love and Struggle"
The UE community is invited to celebrate Black History Month by attending the theatrical production of The Movement: 50 Years of Love and Struggle on February 1, 7:00 p.m., Eykamp Hall, Room 251, Ridgway University Center. This production features Emmy Award winning actor Ron Jones playing multiple characters, taking the audience through a multifaceted journey through the ever-changing face of the African American experience.
The production will feature interactive video, stock historical footage, quotes, and some of the most memorable music of the last two generations.
The performance will be followed up by an open discussion with the audience about the content of the show. The hope is that the performance will engage people in a discussion about culture, politics, and policy.
For more information please contact LaNeeca Williams at lw161@evansville.edu or ext. 2413.
This event is sponsored by the Office of Diversity Initiatives and the UE Anti-Bias Team.
Distinguished Jewish scholar to speak at UE on February 6
Please mark your calendars and make plans to join us as we welcome distinguished Jewish scholar Rabbi Mark Glickman, scholar-in-residence at Temple Adath B'nai Israel. He will be speaking at UE on Saturday, February 6 at 7:00 p.m. in Room 170 (Smythe Lecture Hall), Schroeder School of Business Building. The subject of his lecture - on which he has written a popular book - is "The Sacred Treasure of the Cairo Genizah." The event is co-sponsored by the Department of History and the Office of Religious Life.
Flush Flash correction!
The recent Flush Flash incorrectly stated that the Fiji Pledge Class will have sign-ups for a volleyball tournament. The sign-ups are actually for a dodgeball tournament. There will be tables set up in Ridgway University Center lobby to sign up for the tournament from 11:00 a.m. to 1:00 p.m. on January 27, 28, and 29.
Today is last day to sign up for Venturing Crew winter camp out
Due to the snow day last Friday, the deadline to reserve your place on Venturing Crew's annual trip to Shawnee National Forest has been extended. You must sign up for Venturing Crew's Winter Campout by 4:00 p.m., today! The trip will take place this weekend – Saturday, January 30 to Sunday, January 31.
Please take your $25 payment to Calvin Wertman in Residence Life on the second floor of Ridgway University Center. You must be a Venturing Crew member to attend.
The weather looks fantastic! You won't want to miss a great weekend of hiking in Shawnee National Forest and Garden of the Gods. Prepare to enjoy delicious food, incredible nature, and fun company!
Free HIV testing
There will be free HIV testing on Wednesday, January 27, at the Health Center. Please call 812-488-2033 to make an appointment.
Last chance for Nerd Wars! Registration deadline is today!
The Honors Program is hosting Nerd Wars trivia night on Tuesday, February 16, at 7:00 p.m. in Eykamp Hall, Ridgway University Center. Teams of five, consisting of students, faculty, administrators, and staff, will battle in a competition of wits while enjoying pizza, popcorn, and soda. The winning student team and the winning faculty/administrator/staff team will receive $25 MasterCard/VISA gift cards.
Registration materials can be picked up in the Powell Honors Lounge, from Jayme Williams in Room 238, Koch Center of Science and Engineering, or can be done online by clicking here.
The entry fee is $5 per person.
Those who are unable to compose a team of five may still register and will be matched to make a team.
The registration deadline is today, January 27.
Any questions can be e-mailed to Stephen at sl192@evansville.edu or Paige at ph89@evansville.edu.
Martin Luther King Jr. Annual Events 2016: Celebrating 40 Days of Peace
We have asked campus and community members to try their utmost for forty days to be a model of ethical behavior, integrity, and good citizenship, to treat others with the respect with which they wish to be treated, to go out of their way to be kind to others and to contribute in any way to create the "beloved community of peace" envisioned by Dr. Martin Luther King Jr.
The action item and quote are: No negative talk today, none whatsoever. "Better than a thousand hollow words is one word that brings peace." - Buddha
To pick up your 40 Day Peace poster, please visit the Office of Diversity Initiatives in Room 241, Olmsted Administration Hall.
Be a mentor!
Have you ever wanted to be a mentor? Now is your chance! College Mentors for Kids at the University of Evansville is seeking college students to be mentors to underprivileged children in the Evansville area. These children are elementary students in grades 1 through 5. Mentors would need to be available on Wednesdays from 3:30 p.m. to 5:30 p.m., although we are flexible if you have a class that ends at 3:50 p.m. or if you need to leave at 5:00 p.m. To apply, go to www.collegementors.org and then click on the "become a mentor" link. It only take five minutes to apply!
If you would like more information, please contact Taylor Wornica at tw151@evansville.edu.
College Mentors for Kids connects college students with the most to give to kids who need it the most. Help make a difference in a young child's life!
Looking for a job? Need some extra cash?
There are jobs available through federal work-study offered by the Office of Financial Aid for UE students. Eligibility is based on federal need as shown through the FAFSA. You can find the application here. Applications may also be obtained at the UE Office of Financial Aid in Room 116, Olmsted Administration Hall. Questions regarding eligibility and job availability should be directed to Catherine Carver at cc204@evansville.edu.
Road Trip hosts needed!
The Office of Admission needs current UE students who live in the residence halls to host prospective high school seniors for Road Trip on February 19-21. If you are available, you can apply to host at acelink.evansville.edu/forms/admission/RoadTripAssistance.cfm, by emailing Ashley Ross (aj53@evansville.edu) or Jonathan Kelly jk115@evansville.edu), or stopping by the Office of Admission in Room 104, Olmsted Administration Hall.
Join the Team - Become an RA!
Interested in building your leadership skills and helping pay for school? Join the team and become an RA!
Information session will be held Tuesday, January 26 in Room 172, Schroeder School of Business Building, at 9:00 p.m. Applications to become an RA for the Fall 2016 and Spring 2017 semesters are available in the Office of Residence Life and online. Contact Betsy Whited at ew156 with any questions you have!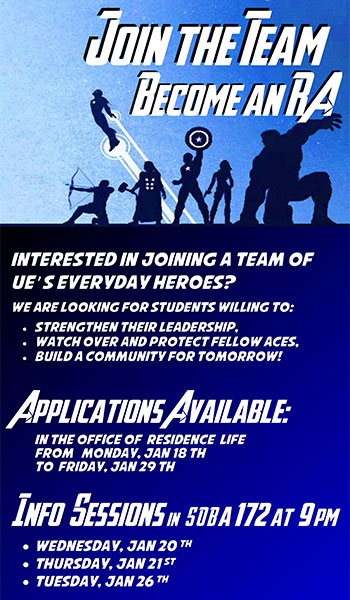 Contribute to AceNotes
To have content considered for inclusion in AceNotes, please submit a Marketing Request Form. Deadline for submission to AceNotes is 10:00 a.m. on the requested date of publication. Only articles concerning UE related/sponsored activities will be accepted. Articles submitted to AceNotes may be edited for length and clarity. Submitter contact information is at the end of each article.