| | |
| --- | --- |
| AceNotes Today | Thursday, January 14, 2016 |
Time Management and Study Skills Workshops
Start off the spring semester being organized with less stress and better grades. Attend a Time Management and Study Skills Workshop held in the Writing Center, Room 153, Clifford Library.
Dates and Times:
Thursday, January 14 at 4:00 p.m.
Tuesday, January 19 at 6:00 p.m.
UE Theatre and Mt. Vernon Senior High School Fine Arts Academy host lighting workshop
The University of Evansville Department of Theatre is teaming up with Mt. Vernon Senior High School Fine Arts Academy (Director, Dana Taylor) to present a lighting workshop with representatives of Vincent Lighting. The workshop is Saturday, January 16, at 9:00 a.m. through 3:00 p.m. in UE's Shanklin Theatre.
Twenty-five students and seven faculty members from Harrison High School, Gibson Southern High School, North High School, Castle High School, and Reitz High School will be in attendance. Mt. Vernon Senior High School Fine Arts Academy and University of Evansville Department of Theatre students and faculty will also attend.
The workshop will feature LED lighting and other theatre technology. Topics include lighting console programming and Computer Aided Design (CAD) and hand-drafting for lighting.
Catholic Mass on Sunday!
All are welcome to join us for the first Sunday Mass of the semester this Sunday, January 17, at 1:00 p.m. in Neu Chapel. Father Godfrey Mullen, O.S.B., from St. Benedict Cathedral will be here to celebrate Mass with us. Refreshments will also be served following Mass. We hope to see you there!
Please call/text Kristel at 812-760-8610 for more information!

Join the team - become an RA!
Applications to become an RA for the Fall 2016 and Spring 2017 semesters are available in the Office of Residence Life and online.
Information sessions will be held in Room 172, Schroeder School of Business Building, at 9:00 p.m. on Wednesday, January 20, Thursday, January 21, and Tuesday, January 26. Contact Betsy Whited at ew156@evansville.edu with any questions you have!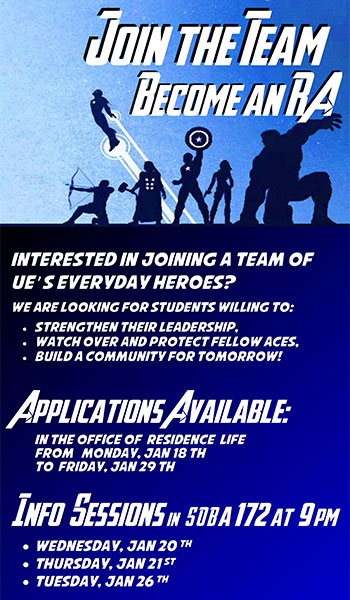 USPS closed January 18
This is a reminder that the United States Postal Service will be closed in observance of Martin Luther King Day, Monday, January 18. UE will not be able to pick up mail from the USPS on that day. Any mail picked up from UE areas by Mail Services on Monday, January 18, will be metered and mailed on the afternoon of Tuesday, January 19. For mailing questions, contact Mail Services at ext. 2197.
2016 TIAA-CREF appointment dates
The TIAA-CREF representative will be on the UE campus for individual counseling sessions. To schedule an appointment, call TIAA-CREF at 1-800-732-8353 or 317-706-6200. The sessions are held in the Clifford Rare Books Room of the University Libraries (room 158).
Sessions are planned for January 12, February 24 and 25, March 22, April 20 and 21, May 24, June 22 and 23, July 19, August 24 and 25, September 20, October 19 and 20, November 15 and December 7 and 8.
Semester abroad appointments
UE internal applications are due January 18 for students who are interested in study abroad Fall 2016 or Spring 2017 through a University approved external provider program (i.e. a program other than Harlaxton). To schedule an appointment with Education Abroad, contact bp66@evansville.edu.
W-2 and 1095-C notice for 2015
The Office of Accounting/Payroll will be issuing W-2s for 2015 no later than January 31, 2016. We are pleased to announce that you can choose one of two options to receive your W-2:
• Electronic W-2 – If you provide your consent, you will receive an e-mail notification via AceNotes Extra that your W-2 is ready to view/print on WebAdvisor.
• Paper W-2 – If you prefer, you can continue to receive a paper W-2 in the mail, as you have in the past.
Among the advantages of electronic W-2s: (1) you will have access to your W-2 a couple days earlier than a paper copy that is mailed to your home, and (2) you can print as many copies of the W-2 as you need. The electronic W-2 is IRS compliant and can be submitted with your tax return.
To take advantage of the electronic W-2 option, you must log onto WebAdvisor and select the option "Employee Self Service". Click the option "W-2 Information". Click the "Change Preferences" button and then click the first radio button to give your consent. Then click "Save". You will not receive a paper W-2 in the mail if you select the electronic W-2 option.
New this year, employees that are eligible to participate in the University's health plans will receive a 1095-C form. This form will be used to complete questions regarding health insurance offers and coverage on your 2015 tax return. Like the W-2 consent, the 1095-C form will need a consent as well. This is done by clicking on the "1095-C Information" tab (on the same screen as the W-2 Information option) and giving your consent.
If you choose to withhold your consent to view/print your online W-2 and 1095-C, a paper copy will be prepared and mailed to you at your home address.
If you have any questions, please feel free to contact Gloria Spencer at ext. 2159.

Jezreel Expedition featured in Biblical Archaeology Review magazine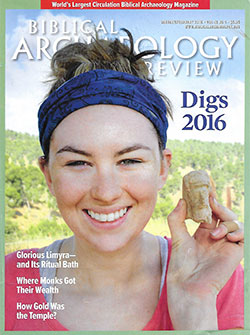 The University of Evansville's archaeological project in Israel - the Jezreel Expedition - was one of four excavations featured in the 2016 "Dig Issue" of Biblical Archaeology Review magazine.
Are you interested in excavating an important prehistoric, biblical, and crusader site in one of the most fascinating places in the world alongside an international team of scholars, including UE students, faculty, and alumni? ALL UE students are invited to participate in the 2016 season May 27-June 24. Please contact Jennie Ebeling (je55@evansville.edu) for details!
Paper by Yazdanparast and Alhenawi accepted for presentation at conference
A paper by Atefeh Yazdanparast, assistant professor of marketing, and Yasser Alhenawi, assistant professor of finance, has been accepted for presentation at the Academic of Business Research Spring Conference in New Orleans, Louisiana, in March.
The paper is titled: "The Impacts of Materialism and the Need-for-Arousal Traits on Households' Borrowing Behavior."
In this paper the authors empirically test if the psychological characteristics of decision makers affects household borrowing decisions. The findings indicate that the attitude toward borrowing and the intuition to borrow do not always match and, more interestingly, the discrepancies between the two vary across personalities. Further, the results strongly suggest that borrowing options are not homogenous and, thus, are motivated differently.
The authors also report strong evidence that personal attitudinal biases toward money, risk, financial planning, and borrowing as well as certain demographic characteristics influence households' borrowing behavior. The findings have several significant implications for policy makers, social planners, and marketers of financial services.
Alhenawi to present at conference
A paper by Yasser Alhenawi, assistant professor of finance, has been accepted for presentation at the Academic of Business Research Spring Conference in New Orleans, Louisiana, in March.
The paper is titled: "Toward a Complete Definition of Relatedness in Merger and Acquisition Transactions".
This paper investigates the interrelation between different sources of relatedness in corporate merger and acquisition transactions. It offers theoretical and empirical investigation of the issue and shows that single-dimensional measures of relatedness are complements, not substitutes, of each other, and their impacts on the market's reaction to the deal announcement are additive and interdependent. In addition, the author presents strong evidence that the market's perception of, and reaction to, the presence of relatedness in M&A deals is more sophisticated than the extant literature prescribes. The paper introduces new measures and new methodologies to the literature of mergers and acquisitions and urges researchers toward a more comprehensive definition of relatedness.
Family and friends of Barbara Jean Robertson
Barbara Jean Robertson, former Department of Mathematics adjunct faculty member at the University of Evansville, died Monday, January 11, in Newburgh, Indiana. She was 70 years old.
She is survived by husband, Joseph; daughters, Elizabeth and Jennifer; four siblings and four grandchildren.
Barbara was born on September 14, 1945. She attended Boston High School and Indiana University, earning her bachelor's and master's degrees from the University of Evansville.
Funeral services will be held at 10:00 a.m., Saturday, January 16, at Christian Fellowship Church, located at 4100 Millersburg Road in Evansville. Pastor David Neidnagel and Pastor Dale Beaver will be officiating. Burial will be in Park Lawn Cemetery. Friends may visit from 3:00 p.m. until 8:00 p.m. on Friday, January 15, at Boone Funeral Home - East Chapel, located at 5330 Washington Avenue in Evansville and from 9:00 a.m. until service time at the church.
Memorial contributions may be made to Riley's Children's Hospital at 30 S. Meridian St., Suite 200, Indianapolis IN 46204.
Lois Patton to be recognized on February 4
Earlier in the school year, it was announced that Lois Patton will be the recipient of the Missouri Valley Conference John Sanders Spirit of the Valley Award. On February 4, she will formally be honored on the University of Evansville campus for the accomplishment.
A luncheon is set for approximately noon at Ridgway University Center. All are invited to the event to honor Patton, and representatives of the Missouri Valley Conference will be on hand to present her with the award. To register, click here. Cost for attending is $20 and includes lunch and the program.
Patton, who has been a pioneer for women's athletics for 50 years, is a legend with the Purple Aces. She was responsible for starting varsity women's sports in the 1970s and built several of the great programs that continue to be successful to this day.
She still remains active with the University. Patton has volunteered countless hours to the athletic department as a photographer and is one of the most supportive fans of each program at UE.

Men's Basketball tickets now available for faculty/staff
Faculty and staff will be able to pick up their two complimentary tickets to the Men's Basketball game vs. Loyola beginning on Thursday, January 14.
The game will be played on Tuesday, January 19, at 8:00 p.m.
Tickets may be picked up at the Carson Center Athletic Ticket Office Monday-Friday, 8:30 a.m.-5:00 p.m. If you have any questions, please visit the Carson Center Athletic Ticket Office or call 488-ACES (2237).
Aces Men's Basketball rounding home stretch
It has been a tremendous year for the University of Evansville Men's Basketball program, and it is coming down the stretch. Just six home games remain in the season, which has seen the Purple Aces go 15-3 through their first 18 contests.
Our fans have made the Ford Center one of the toughest places in the country to play, as the Purple Aces are a perfect 10-0 in its home venue this season. One of its top games is quickly approaching as tickets for the January 31 game against Wichita State are selling very fast. As of 11:00 a.m. on January 13, there are just 1,819 tickets remaining for the contest against the Shockers.
To guarantee your seat for the Wichita and four of the other remaining games this season, MVC Mini Plans are still available until Tuesday, January 19. Plans start as low as $55, and you receive a ticket to the Wichita State, Loyola, and Southern Illinois game, as well as two other games of your choice.
For more information or to purchase your tickets, call 812-488-ACES or visit the Carson Center Ticket Office. Mini plans are only available at the Carson Center, while other single game tickets can be purchased at the Ford Center and on Ticketmaster.com.

Pep rally set for Indiana State road game
On January 24, a pep rally will be held prior to the University of Evansville Men's Basketball game at Indiana State as the Purple Aces go for the season sweep against the Sycamores. Open to the first 200 fans to register with the UE alumni office, the cost is $20 and includes a game ticket, pep rally buffet, and drinks (lemonade and tea). There will also be a cash bar. Just a three minute walk to the Hulman Center, the pregame event will be held at the Indiana Theater, which is located at 683 Ohio Street in Terre Haute. It will run from 1:00 p.m. until 3:30 p.m. ET with a program starting at 2:45 p.m. The game against the Sycamores is set to begin at 4:00 p.m. ET. Fans can register at the link above by January 20. For more information, contact alumni@evansville.edu or call 812-488-2586.
Contribute to AceNotes
To have content considered for inclusion in AceNotes, please submit a Marketing Request Form. Deadline for submission to AceNotes is 10:00 a.m. on the requested date of publication. Only articles concerning UE related/sponsored activities will be accepted. Articles submitted to AceNotes may be edited for length and clarity. Submitter contact information is at the end of each article.