| | |
| --- | --- |
| AceNotes Today | Wednesday, January 13, 2016 |
Catholic Mass Tonight at Neu Chapel!
All are welcome to join the Newman Club for the first Wednesday Night Mass of the semester tonight at 9:30 pm in Neu Chapel. Confessions will also be available beginning at 9:00 pm. We hope to see you there!
Please call/text Kristel at (812) 760-8610 for more information!

Time Management and Study Skills Workshops
Start off the spring semester being organized with less stress and better grades. Attend a Time Management and Study Skills Workshop held in the Writing Center, Room 153, Clifford Library.
Dates and Times:
Wednesday, January 13, at 3:00 p.m.
Thursday, January 14, at 4:00 p.m.
Tuesday, January 19, at 6:00 p.m.
Catholic Mass on Sunday!
All are welcome to join us for the first Sunday Mass of the semester this Sunday, January 17, at 1:00 p.m. in Neu Chapel. Father Godfrey Mullen, O.S.B., from St. Benedict Cathedral will be here to celebrate Mass with us. Refreshments will also be served following Mass. We hope to see you there!
Please call/text Kristel at 812-760-8610 for more information!

Institute for Banking and Finance – financial preparedness program for new and expectant parents
Welcoming a new baby into your family can bring many questions about finances. Being prepared for the expenses of the first few months with your baby, costs for daycare, saving for college, and the overall costs for raising a child can leave parents feeling stressed.
That's why St. Mary's Hospital and the University of Evansville's Institute for Banking and Finance are teaming up to help new parents and parents-to-be learn more about being financially prepared for a family.
The next session will be Wednesday, January 20, 6:30-8:00 p.m. in the St. Mary's Gift Conference Room. Everyone is welcome. Attendance is free but registration is required. Call Terry Cooper, personal birth consultant, at 812-485-6016 or go online to stmarys.org/classes to reserve your spot.
2016 TIAA-CREF appointment dates
The TIAA-CREF representative will be on the UE campus for individual counseling sessions. To schedule an appointment, call TIAA-CREF at 1-800-732-8353 or 317-706-6200. The sessions are held in the Clifford Rare Books Room of the University Libraries (room 158).
Sessions are planned for January 12, February 24 and 25, March 22, April 20 and 21, May 24, June 22 and 23, July 19, August 24 and 25, September 20, October 19 and 20, November 15 and December 7 and 8.
Semester abroad appointments
UE internal applications are due January 18 for students who are interested in study abroad Fall 2016 or Spring 2017 through a University approved external provider program (i.e. a program other than Harlaxton). To schedule an appointment with Education Abroad, contact bp66@evansville.edu.
Online Reservations for Group Study Rooms
UE Libraries has upgraded its online reservation system for group study room reservations. To make a reservation:
Create an account using your UE e-mail*, and
Make a reservation.
Each student may only reserve a study room for 2 hours per day.
* Accounts created with non UE e-mails will be deleted and all reservations cancelled.
Questions? Please ask at the Information Desk or e-mail Meg Atwater-Singer at ma35@evansville.edu.
Glass Display Cases in the Library
Do you have a club you want people to know about? Do you have an event you want others to attend? How about showing off your class work? If you said YES, then the Library has a display case for you! Contact Julie Wilson at jw223@evansville.edu or (812) 488-1062 for more information or to make a reservation.
SDG2 Pcard Monthly Cycle Calendar for 2016
The 2016 Pcard monthly cycle calendar for SDG2 is available in AceLink on the Pcard website under Training Materials, Dates to Remember. This information is also available in SDG2. For questions, please contact Kim Winsett at extension 2940 or KW83.
2016 IN Sales Tax Exemption Certificate
The Indiana State Sales Tax Exemption Certificate for 2016 is now available on three AceLink Area websites (Accounting & Audit, Purchasing and Pcard for your convenience under Forms & Instructions.
W-2 and 1095-C notice for 2015
The Office of Accounting/Payroll will be issuing W-2s for 2015 no later than January 31, 2016. We are pleased to announce that you can choose one of two options to receive your W-2:
• Electronic W-2 – If you provide your consent, you will receive an e-mail notification via AceNotes Extra that your W-2 is ready to view/print on WebAdvisor.
• Paper W-2 – If you prefer, you can continue to receive a paper W-2 in the mail, as you have in the past.
Among the advantages of electronic W-2s: (1) you will have access to your W-2 a couple days earlier than a paper copy that is mailed to your home, and (2) you can print as many copies of the W-2 as you need. The electronic W-2 is IRS compliant and can be submitted with your tax return.
To take advantage of the electronic W-2 option, you must log onto WebAdvisor and select the option "Employee Self Service". Click the option "W-2 Information". Click the "Change Preferences" button and then click the first radio button to give your consent. Then click "Save". You will not receive a paper W-2 in the mail if you select the electronic W-2 option.
New this year, employees that are eligible to participate in the University's health plans will receive a 1095-C form. This form will be used to complete questions regarding health insurance offers and coverage on your 2015 tax return. Like the W-2 consent, the 1095-C form will need a consent as well. This is done by clicking on the "1095-C Information" tab (on the same screen as the W-2 Information option) and giving your consent.
If you choose to withhold your consent to view/print your online W-2 and 1095-C, a paper copy will be prepared and mailed to you at your home address.
If you have any questions, please feel free to contact Gloria Spencer at ext. 2159.

Paper by Yazdanparast and Alhenawi accepted for presentation at conference
A paper by Atefeh Yazdanparast, assistant professor of marketing, and Yasser Alhenawi, assistant professor of finance, has been accepted for presentation at the Academic of Business Research Spring Conference in New Orleans, Louisiana, in March.
The paper is titled: "The Impacts of Materialism and the Need-for-Arousal Traits on Households' Borrowing Behavior."
In this paper the authors empirically test if the psychological characteristics of decision makers affects household borrowing decisions. The findings indicate that the attitude toward borrowing and the intuition to borrow do not always match and, more interestingly, the discrepancies between the two vary across personalities. Further, the results strongly suggest that borrowing options are not homogenous and, thus, are motivated differently.
The authors also report strong evidence that personal attitudinal biases toward money, risk, financial planning, and borrowing as well as certain demographic characteristics influence households' borrowing behavior. The findings have several significant implications for policy makers, social planners, and marketers of financial services.
Alhenawi to present at conference
A paper by Yasser Alhenawi, assistant professor of finance, has been accepted for presentation at the Academic of Business Research Spring Conference in New Orleans, Louisiana, in March.
The paper is titled: "Toward a Complete Definition of Relatedness in Merger and Acquisition Transactions".
This paper investigates the interrelation between different sources of relatedness in corporate merger and acquisition transactions. It offers theoretical and empirical investigation of the issue and shows that single-dimensional measures of relatedness are complements, not substitutes, of each other, and their impacts on the market's reaction to the deal announcement are additive and interdependent. In addition, the author presents strong evidence that the market's perception of, and reaction to, the presence of relatedness in M&A deals is more sophisticated than the extant literature prescribes. The paper introduces new measures and new methodologies to the literature of mergers and acquisitions and urges researchers toward a more comprehensive definition of relatedness.
Edwards Travels to Finland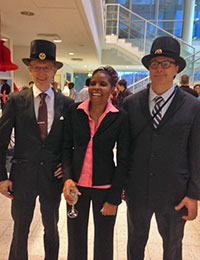 Dale Edwards, chair of the Department of Biology, recently traveled to Jyväskylä, Finland to serve as the Opponent for the public examination of a doctoral dissertation in the Department of Biology and Environmental Science at the University of Jyväskylä. The title of the dissertation was Connection between temperature, larval production, virulence and geographical distribution of Rhipidocotyle parasites infecting the duck mussel, Anodonta anatina. While at the University of Jyväskylä, Edwards presented a lecture titled Of Mites and Mollusks: The Ecology and Evolution of Water Mites Parasitizing Freshwater Mussels, and collaborated with Finnish biologists on parasites infecting freshwater bivalves of Finland.
Family and friends of Barbara Jean Robertson
Barbara Jean Robertson, former Department of Mathematics adjunct faculty member at the University of Evansville, died Monday, January 11, in Newburgh, Indiana. She was 70 years old.
She is survived by husband, Joseph; daughters, Elizabeth and Jennifer; four siblings and four grandchildren.
Barbara was born on September 14, 1945. She attended Boston High School and Indiana University, earning her bachelor's and master's degrees from the University of Evansville.
Funeral services will be held at 10:00 a.m., Saturday, January 16, at Christian Fellowship Church, located at 4100 Millersburg Road in Evansville. Pastor David Neidnagel and Pastor Dale Beaver will be officiating. Burial will be in Park Lawn Cemetery. Friends may visit from 3:00 p.m. until 8:00 p.m. on Friday, January 15, at Boone Funeral Home - East Chapel, located at 5330 Washington Avenue in Evansville and from 9:00 a.m. until service time at the church.
Memorial contributions may be made to Riley's Children's Hospital at 30 S. Meridian St., Suite 200, Indianapolis IN 46204.
UE men improve to 10-0 at home with 84-65 win over Drake
The senior duo of D.J. Balentine and Egidijus Mockevicius combined to score 45 points as the Purple Aces men's basketball team improved to 10-0 at home with an 84-65 victory over Drake at the Ford Center.
Balentine hit 9 of his 20 attempts to tally 24 points; his efforts led all scorers. Mockevicius posted his first double-double in three games for the University of Evansville (15-3, 4-1 MVC). The native of Lithuania had 21 points on a 9-of-12 shooting night and recorded a game-high 12 rebounds.
"I thought we played in spurts, we had some good runs throughout the game," Aces head coach Marty Simmons said. "We played much better as the game went along. They (Drake) have some great offensive players who you have to play hard against and we were able to do so. We just need to put together a full 40 minutes."
Mislav Brzoja had a solid night, hitting five field goals and all four free throw attempts to register 15 points. Jaylon Brown hit double figures once again, hitting 5 out of 7 attempts to record 11. Adam Wing finished just shy of double digits with 9 points. He also hauled in five rebounds.
A 6-0 stretch opened the night for the Purple Aces as three players gave UE the early lead. Drake quickly rallied back with four of their own. The Bulldogs would get within just one at 14-13 at the 11:10 mark as Reed Timmer scored his sixth point of the game.
From there, the Aces finished the period on a 24-9 run. They started that rally off with 11 points in a row as Mislav Brzoja finished it up with a three. Drake was scoreless for almost six minutes before a Jacob Enevold bucket with 5:20 left in the half got them back on the board. They cut the gap to seven before Evansville rolled once again, taking a 38-22 lead into the locker room.
"Our first half defense was pretty good giving up just 22 points," Balentine said. "We wanted to come out early and set the tempo."
Mockevicius posted ten points in the half as the Aces shot 55.2%. They also held a 21-8 rebounding advantage at the break.
Less than four minutes into the second half, an and-one by Timmer saw the Bulldogs cut the gap to just 11 at 42-31. Evansville responded with a 15-5 run of its own to take its largest lead of the game at 57-36. Balentine notched eight points in the stretch as UE knocked down four of its five attempts.
Drake refused to give up, getting back within ten points with under 7 minutes on the clock as Billy Wampler hit the sixth triple of the night for his squad to make it a 68-58 game. That is as close as the Bulldogs would get as the Aces were able to pull away to go back up by 21 in the final minute before Drake hit the last bucket of the game for the final – 84-65.
Sophomore Reed Timmer was the leader for Drake. He scored 19 points as he connected on 6 of his 9 attempts and was 6/7 from the charity stripe. Jacob Enevold and Billy Wampler registered 14 apiece.
The Purple Aces had another great shooting day, hitting 32 of their 60 attempts to finish at 53.3%. After shooting 36% in the opening stanza, the Bulldogs finished the game at 43.4%.
Evansville heads to Illinois State for a rare Friday evening MVC game. The Aces and Redbirds meet in an 8 p.m. game that will be televised on ESPN2. UE looks for its first win at Redbird Arena since 2011.
Contribute to AceNotes
To have content considered for inclusion in AceNotes, please submit a Marketing Request Form. Deadline for submission to AceNotes is 10:00 a.m. on the requested date of publication. Only articles concerning UE related/sponsored activities will be accepted. Articles submitted to AceNotes may be edited for length and clarity. Submitter contact information is at the end of each article.