| | |
| --- | --- |
| AceNotes Today | Monday, January 11, 2016 |
Memorial Service for Bailey George
A memorial service in honor of student-athlete, Bailey George has been scheduled for Monday, January 11 at 6:00 p.m. in Neu Chapel. The campus community is invited to attend.
Bailey Marie George, age 20, of Aviston, Illinois, passed away on Tuesday, January 5, at Barnes Jewish Hospital in St. Louis, Missouri. She was born on April 13, 1995, at Scott Air Force Base Hospital, in Shiloh, Illinois, the daughter of Randy George and Shelise Zurliene.
Bailey was studying psychology and exercise science at UE; she was a member of the University of Evansville cross country team and a beloved student on our campus.
The family has suggested the Melanoma Research Foundation, University of Evansville Cross Country Program, Camp His Kids, or Kamp Kanakuk as appropriate memorial funds.
UE's Office of Counseling Services is available to students, (812) 488-2663.
Newman Club Monday Night Dinner TONIGHT
You are invited to share in the Newman Club's hospitality by joining us for a variety of hot, homemade soups and sandwiches this Monday, January 11, at 5:00 p.m. at the Newman Center before the 6:00 p.m. memorial service for Bailey George in Neu Chapel.
Newman Center is located across the street from the Koch Center at 1901 Lincoln Avenue. Look for the big purple and white banner on the corner of Lincoln and Frederick Avenues.
All are welcome! Please text or call Kristel at 812-760-8610 for more information.
This Week in Music: An Organ Concert
Adjunct Organ Instructor Helen Skuggedal Reed will give an organ concert on Tuesday, January 12, at 7:30 p.m. in Wheeler Concert Hall. The program includes music by J. S. Bach, Louis Couperin, Mendelssohn, and others. Of special note is the local premiere of selections from Douze Courtes Pièces (Op. 43, 2008) by French-Canadian composer and organist Rachel Laurin.
Ms. Reed joined the UE music faculty in January 2015. A graduate of the University of Michigan, she also serves as organist at Eastminster Presbyterian Church and as principal harpsichordist for the Evansville Philharmonic.

Institute for Banking and Finance – financial preparedness program for new and expectant parents
Welcoming a new baby into your family can bring many questions about finances. Being prepared for the expenses of the first few months with your baby, costs for daycare, saving for college, and the overall costs for raising a child can leave parents feeling stressed.
That's why St. Mary's Hospital and the University of Evansville's Institute for Banking and Finance are teaming up to help new parents and parents-to-be learn more about being financially prepared for a family.
The next session will be Wednesday, January 20, 6:30-8:00 p.m. in the St. Mary's Gift Conference Room. Everyone is welcome. Attendance is free but registration is required. Call Terry Cooper, personal birth consultant, at 812-485-6016 or go online to stmarys.org/classes to reserve your spot.
Time Management and Study Skills Workshops
Start off the spring semester being organized with less stress and better grades. Attend a Time Management and Study Skills Workshop held in the Writing Center, Room 153, Clifford Library.
Dates and Times:
Wednesday, January 13, at 3:00 p.m.
Thursday, January 14, at 4:00 p.m.
Tuesday, January 19, at 6:00 p.m.
Online Reservations for Group Study Rooms
UE Libraries has upgraded its online reservation system for group study room reservations. To make a reservation:
Create an account using your UE e-mail*, and
Make a reservation.
Each student may only reserve a study room for 2 hours per day.
* Accounts created with non UE e-mails will be deleted and all reservations cancelled.
Questions? Please ask at the Information Desk or e-mail Meg Atwater-Singer at ma35@evansville.edu.
Glass Display Cases in the Library
Do you have a club you want people to know about? Do you have an event you want others to attend? How about showing off your class work? If you said YES, then the Library has a display case for you! Contact Julie Wilson at jw223@evansville.edu or (812) 488-1062 for more information or to make a reservation.
Hoverboards Banned from Campus
Due to potential fire hazard, the University of Evansville has temporarily banned all hoverboards and similar devices from campus property and approved university housing effective immediately. This includes campus walkways, parking lots, residence halls, village properties and fraternity housing. This policy applies to all staff, students and visitors. The policy will be revisited as improvements are made to devices that lower the risk of fire
Ray Shelton Named Employee of the Month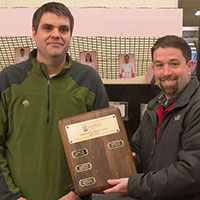 Ray Shelton, mechanical and civil engineering technician, has received the January 2016 IMPACT Employee of the Month award. Since joining UE in 2014, Ray has proven himself invaluable in keeping the lab courses running smoothly. The Bowen Labs and Engineering Annex are kept very neat, clean, and organized for UE engineering students.
Known for being dedicated to his position, Ray willingly gives his time to aid students in projects and enables a culture of performance and safety in all areas of the shop and laboratory space. Ray is always pleasant, has a smile on his face, and a kind word for everyone around him. He's a great role model and influence for our future engineers. Thank you, Ray, for all that you do!

Birth Announcement - Liam James Campbell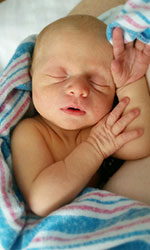 Congratulations to Amanda Campbell, director of university relations and content delivery, and her husband Will on the birth of their son Liam James Campbell. Liam was born Thursday, January 7, at 7:15 p.m. He was 7 lbs., 5 oz., and 20 inches.
Plikuhn and Knoester Publish Book Chapter
Mari Plikuhn, assistant professor of sociology, and Matthew Knoester, assistant professor of education, published a book chapter entitled "A Foot in Two Worlds: First-Generation College Graduates, Academic Success, and Family Relationships" in the newly-released edited volume, "The Working Classes and Higher Education: Inequality of Access, Opportunity, and Outcome."
Edwards Travels to Finland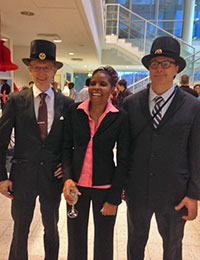 Dale Edwards, chair of the Department of Biology, recently traveled to Jyväskylä, Finland to serve as the Opponent for the public examination of a doctoral dissertation in the Department of Biology and Environmental Science at the University of Jyväskylä. The title of the dissertation was Connection between temperature, larval production, virulence and geographical distribution of Rhipidocotyle parasites infecting the duck mussel, Anodonta anatina. While at the University of Jyväskylä, Edwards presented a lecture titled Of Mites and Mollusks: The Ecology and Evolution of Water Mites Parasitizing Freshwater Mussels, and collaborated with Finnish biologists on parasites infecting freshwater bivalves of Finland.
Tonight's Marty Simmons Radio Show cancelled
Tonight's Marty Simmons Radio Show set for Turoni's in Newburgh has been cancelled due to the slick road conditions in the Evansville area.
The show will resume on its normal schedule next week at 6:00 p.m.
Tomorrow, the Purple Aces men's basketball team will take on Drake at the Ford Center at 7:00 p.m. Tickets are available for just $5 with the Courier and Press Coupon. At halftime, the ZOOperstars will be performing.
Robinson joins 500-rebound club in loss to Loyola
Sasha Robinson joined an elite club for the University of Evansville women's basketball team on Friday night as the junior pulled down 11 rebounds in a 63-49 loss to Loyola at the Ford Center.
The total was a season high for Robinson as the Nashville, Ind., native helped the Aces (1-13, 0-3 MVC) actually out-rebound the visiting Ramblers (6-7, 2-0 MVC), who boast of one of the top front courts in the Missouri Valley Conference. Robinson now has 505 boards in her career, and she is 59 away from moving into the top 10 in school history.
"It's not easy to out-rebound a team like that," UE head coach Oties Epps said. "Sasha did a great job in that match-up on the glass. Both Sara and Kenyia did extremely well for us too, but we needed to be better on defense tonight."
The Aces were led offensively by the trio of Sara Dickey, Kenyia Johnson and Aaliyah Gaines as the team made a concerted effort to attack the rim all night. Dickey ended with 14 points and Johnson was 6-of-10 from the field with 12. Gaines added another 10 off the bench, but the group was no match for the Rambler duo of Taylor Manuel and Dakota Vann, which combined for 34 points.
"I thought we created a lot of good looks at the basket, but we have to find that healthy balance between going all the way, pulling up and kicking out for the three when we drive the lane," Epps said. "I think we'll get better at that once we sit down and study the film. We have to take care of the ball better too because our margin for error is too small to give it away like we did tonight."
Dickey now has 1,368 points for her career, which is the fifth-best total in UE history.
After falling behind early the Aces were able to keep pace with the visitors in the second quarter before eventually cutting the deficit to two points less than three minutes into the third. However, Loyola responded forcefully, reeling off 14 consecutive points to take a commanding 46-30 lead late in the frame and effectively put things out of reach for UE.
Aces defense stellar in 67-35 win over Bradley
Redshirt junior Willie Wiley had a career-best 8 points while Blake Simmons hit a pair of triples to finish with 13 as the University of Evansville men's basketball team led wire-to-wire in a 67-35 win over Bradley on Saturday afternoon at the Ford Center.
"We were ready to play and had a lot of intensity. It was good to see," UE head coach Marty Simmons said. "Bradley is a good team who missed some open shots that they will hit in the future."
Defense was the name of the game for the Purple Aces (14-3, 3-1 MVC) as they held Bradley to a Ford Center record of 35 points. It was the best defensive effort since November of 1999 when UE held Northwestern to just 26 points. The Aces finished the game shooting 53.2% while Bradley (2-15, 0-4 MVC) shot 26.1%. D.J. Balentine was the top scorer for UE, finishing with 16 points on an accurate 5-of-9 day from the floor.
"We wanted to make a statement in the first 4-8 minutes of the game," Balentine said. "I was happy to take fewer shots and that is a big key for me. I would rather shoot less and score more."
Blake Simmons had a stellar game, recording 13 points while hitting a pair of triples. Jaylon Brown was strong once again, posting 14 points as he knocked down 6 out of 8 shots. Having his best game as an Ace was Willie Wiley, who connected on four out of six attempts to record 8 points. He also had a pair of blocks and steals.
Donte Thomas was the leader for the Braves with 11 points. He was 4-for-5 from the floor.
Evansville jumped to an early 8-0 lead as Blake Simmons started it off with a layup and D.J. Balentine added a three. After missing their six shots, Antoine Pittman knocked down a three to get the Braves on the board. That started a 5-0 run as BU got within three at 8-5.
Simmons continued to play well and his efforts were pivotal in a 13-1 run to give the Aces a 21-6 lead at the midpoint of the half. Pittman struck again with another trey, halting a 2-for-14 shooting streak to begin the game for the Braves. The Aces led by as many as 19 in the half, but after Bradley cut the lead to 15, Balentine nailed a three at the buzzer to make it a 36-18 game at the half.
Balentine led everyone with 13 points in the half as the Aces shot 55% while holding the Braves to 23.1%.
In the second half, Evansville outscored the Braves by a 31-17 margin. UE led by as many as 32 points, which was the final margin at 67-35. The Aces had a 34-29 rebounding advantage behind eight Egidijus Mockevicius caroms.
On Tuesday, the Aces are right back in action at the Ford Center, facing Drake at 7 p.m. Fans can purchase tickets for just $5 with the coupon from the Courier and Press. It will also mark the annual visit by the ZOOperstars, who will perform at halftime.
Aces end skid with 62-46 victory over Bradley
EVANSVILLE – It may have been a cold, snowy day outside of the Ford Center on Sunday afternoon, but inside, visiting Bradley had no answer for the hot shooting of Sara Dickey as the University of Evansville women's basketball team picked up a 62-46 victory over the Braves.
"I'm happy for our girls because they've worked extremely hard, and it was just a matter of time before we would put it all together," UE head coach Oties Epps said. "We still have some things to work on, but we executed our game plan, and we did a lot of good things today."
The win marked the first of the Missouri Valley Conference season for the Aces, who moved to 2-13 overall and 1-3 in league play. Meanwhile, Bradley dropped to 4-10 and 0-3, respectively.
Dickey, who moved up to fifth all-time in the UE history books on Friday night, enjoyed one of her most efficient outings of the year, going 8-for-14 from the field and 4-for-7 from distance to end with a game-best 23 points.
"This was a good opportunity for us today, and hopefully it will be a spark for us going into the rest of conference play," Dickey said. "Our main focus was to attack. Everyone was able to penetrate and drive, and that opened it up for me to hit some three-pointers."
Joining her in double figures in the contest was Sasha Robinson, who logged her first double-double of the season with 10 points and 14 rebounds. Kenyia Johnson also continued her impressive run of performances at the Ford Center, racking up eight points, five rebounds and five assists.
The Aces wasted little time in getting rolling as Johnson and Dickey keyed a 15-4 run to start the contest. As was the case on Friday night, UE came out determined to find opportunities driving towards the rim, and the shots would fall early and often as the Aces out-scored the visitors from Peoria, Ill., 30-18 in the paint.
"I thought Aaliyah [Gaines] and Kenyia did a great job of getting downhill, which made the game a little bit easier, especially for Sara," Epps said. "It wasn't just about driving the paint. It was making the right reads too, which we did a better job of doing today than we did on Friday night."
UE was able to maintain a comfortable lead throughout the second quarter, going into the break up 30-21, and it was the third quarter where the Aces put the game out of reach. Dickey drained a pair of three-pointers as the Braves called an early timeout, and UE would never look back, taking a 22-point lead at one point and out-scoring Bradley 20-10 in the frame.
"This was absolutely one of the best defensive performances that we've had all year," Epps said. "We were able to protect the paint and force teams to shoot from the outside. We've lost games this year because teams were able to get inside of our defense, but that wasn't the case today. We had a lot of energy and rotated well, and they did a great job out there."
Bradley shot just 30% in the game, including an anemic 2-of-24 from beyond the arc.
The Aces will return to action next weekend with a trip to Carbondale, Ill., to take on Southern Illinois.
Contribute to AceNotes
To have content considered for inclusion in AceNotes, please submit a Marketing Request Form. Deadline for submission to AceNotes is 10:00 a.m. on the requested date of publication. Only articles concerning UE related/sponsored activities will be accepted. Articles submitted to AceNotes may be edited for length and clarity. Submitter contact information is at the end of each article.