| | |
| --- | --- |
| AceNotes Today | Friday, December 4, 2015 |
The HLC Typo Game… find a typo, win a beverage
Dear Campus Community,

Great news-- thanks to your feedback we continue to make steady progress on the Assurance Argument for Reaffirmation of Accreditation by HLC! New drafts are now available on Acelink:

https://acelink.evansville.edu/Areas/HLC/AssuranceArgument.cfm

In appreciation of your willingness to plow through 35,000 words, we are offering to reward the first five people who respond with editing remarks with the beverage of your choice at the Slice. Please email comments and questions to hlc_answers@evansville.edu. Comments must be received before December 15 to be eligible to win.

As always, we appreciate your time and commitment to the University.

Sincerely,

Mark Valenzuela, PhD, and Chris Mohn, PhD
Co-chairs, HLC Assurance Committee
University of Evansville Christmas on Campus Planned for Today, December 4
The University of Evansville will mark the holidays with Christmas on Campus today, December 4. The celebration will include photos with Purple Santa, ice skating, carriage rides, Candlelight Advent Vespers and the lighting of the University's Christmas tree. All of the day's activities are free and open to the public.
The complete schedule for Christmas on Campus follows:
Photos with Purple Santa
Ridgway University Center
5:00 – 7:00 p.m.
A special visitor from the North Pole kicks off Christmas on Campus. Everyone is invited to tell Santa what's on their wish list for Christmas this year, and have their photos taken with him Since Santa will be visiting on a Purple Friday he'll wear his purple suit to support the Aces.
Snow Globe Photos
Library Terrace
5:30 – 7:30 p.m. and 8:30 – 10:30 p.m.
Stand inside a life-sized snow globe that will be set up outside of the UE library and have a picture taken. This is a great chance to create a unique holiday photo.
Ice Skating
Memorial Plaza
5:30 – 7:30 p.m. and 8:30 – 10:30 p.m.
Enjoy ice skating on Memorial Plaza. The ice will be artificial so it won't matter how cold it is or isn't outside!
Advent Vespers
Neu Chapel
7:30 p.m.
This service will include selections by UE's choirs, organists, Christmas carol singing with candlelight, and readings from sacred scripture in the beautifully decorated Neu Chapel.
Carriage Rides
Outside Ridgway University Center
8:30 – 10:30 p.m.
Get in the holiday spirit by taking a horse-drawn carriage ride outside of Ridgway University Center.
Cookies and Hot Chocolate
Bower-Suhrheinrich Library Lobby
8:30 – 10:30 p.m.
Come in from the cold and warm up with hot chocolate and cookies in the lobby of the UE library.
Kettle Corn
May Studio Theatre Plaza
8:30 – 10:30 p.m.
Enjoy a snack of kettle corn on the plaza of the May Studio Theatre.
Lighting of the Christmas Tree and Caroling
Outside Graves Hall
8:35 p.m.
UE President Thomas A. Kazee will flip the ceremonial 6-foot light switch illuminating the newly planted Norway spruce tree, the University's campus Christmas tree. Neu Chapel Organist Patrick Ritsch will lead carol singing following the tree lighting.
Pop! Goes the Wassail - 2:00-3:30 PM Today in Dunigan Lounge!
Faculty, administrators, and staff are invited to the inaugural pop-up gathering at UE TODAY from 2:00-3:30 p.m. in Dunigan Lounge (Room 160), Schroeder School of Business Building. Before the semester winds down and we all scatter for a well-deserved break, the campus community is invited to the wassail bowl for a come-and-go mini-break. There will be wassail, coffee, and treats for all UE personnel. Push the pause button, take a breather and "pop-in" as your schedule permits for informal conversation and good cheer.
Increased Enforcement of Parking Regulations on Walnut Street Begins Today
The Evansville Police Department has notified the Office of Safety & Security that on Monday, December 7, they will begin increased enforcement of the parking regulations on Walnut Street, which will include the towing of vehicles that are in violation.
Parking regulations on Walnut Street from Rotherwood Avenue to the downtown area in these areas follows:
No parking on westbound Walnut between 6 a.m. to 9 a.m., Monday through Friday
N0 parking on eastbound Walnut between 3 p.m. to 6 p.m., Monday through Friday
Vehicles parking in violation of these regulations will be ticketed and towed. This action is being taken due to an increased number of complaints filed with the police department and other city offices.
If you routinely park in these areas please make sure you are not parked there during the prohibited times to avoid being ticketed and your vehicle being towed.
Tonight! A Campus Christmas: Candlelight Vespers in Neu Chapel
You are invited to attend the University of Evansville's annual Candlelight Advent Vespers service this evening, December 4 at 7:30 p.m. in Neu Chapel.
This year's Vespers service will feature Kantorei, UE's smallest and most select choir and the University Choir. The service will include Advent and Christmas carols by candlelight and sacred readings by UE students, faculty, and administrators. Douglas Reed, University Organist Emeritus, and Patrick Ritsch, Neu Chapel Organist, will be providing pre-service selections and accompanying hymns and carols on the Holtkamp organ.
Be sure to come early for good seats. All are welcome!
Advent II in University Worship this Sunday, Neu Chapel, 11:00 AM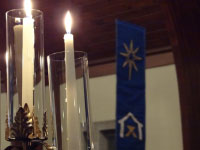 The last University Worship service of the semester is this Sunday, December 6 at 11:00 a.m. Join the community of faith as we explore Advent II and the prophetic word, which announces the coming of Christ. You're invited for hot chocolate/coffee and donuts before and after the service. All are welcome!
Bring Paper to be Shredded – Wednesday, December 9
Free off site paper shredding by Piranha Mobile Shredding will return to the campus once again on Wednesday, December 9, from 9:45 a.m. - 1:00 p.m. All UE students, faculty, staff and alumni can take advantage of this free service by bringing paper to the Piranha truck in Koch parking lot. Paper will be shredded offsite.
So, if mounds of paper are taking over your office, home, or room, this is the time to gather those old files, receipts, cancelled checks, tax forms, etc. No need to take out the staples or paper clips. Avoid identity theft by having confidential information permanently destroyed.
Please no telephone books, magazines or newspapers. Also, please note that there is a 100 lb. paper limit per visit (number of visits is not limited).
Pancakes Are Coming!!!!
The Pancake Study Break is back for the fall semester! Take this opportunity to relax a bit before finals start. Join us for pancakes and excitement on Tuesday, December 8, from 10:00 pm to midnight in the dining hall in Ridgway University Center. Door prizes will be awarded. The event is free of charge for UE students. A UE ID will be required.
Ladies in Pink and Trebles Without a Cause Concert
UE's all-female a Capella group, Ladies in Pink, and the all-male a Capella group, Trebles Without a Cause, join together for their end of the semester concert. The concert will feature contemporary tunes along with a few familiar Christmas jingles. Come join us for the fun on December 5 at 3 p.m. in Shanklin Theatre!
Chi Omega Dishes for Wishes on Saturday, December 5
The women of Chi Omega will be serving a huge variety of their favorite foods on Saturday, Dec. 5 in Eykamp Hall, Ridgway University Center. Tickets are $10 for early admission (5-5:30 pm) or $8 for regular admission (5:30-7:30 pm) and are available from any Chi Omega, or at the door. Proceeds benefit the Make-a-Wish foundation. Come enjoy a delicious dinner to support an amazing cause!
Friendly Reminder: Neu Chapel Sanctuary Open for Quiet Time and Meditation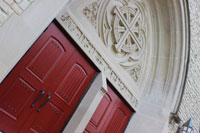 Feeling as though you need to take a walk and clear your heart and mind? Need a brief escape from your computer screen? The Neu Chapel sanctuary is open daily for quiet time and meditation during mid-day hours and/or lunch-time. The Interfaith Prayer room at the southwest corner of Neu Chapel is available for individual private prayer-time. Thank you for your flexibility on those days when musicians and other University groups reserve Neu Chapel for rehearsals at mid-day. For more information contact University Chaplain Tammy Gieselman, tg85@evansville.edu.
Cherie Leonhardt named December 2015 Employee of the Month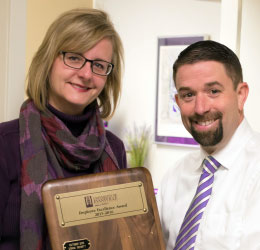 Cherie Leonhardt, assistant director of the honors program and coordinator of veterans affairs, has received the December 2015 Employee Excellence Award. Cherie began her career at the University of Evansville in 1989, first as an admission counselor, then as assistant director of admissions and finally as associate director.
In 1995 Cherie left to take a marketing position at Health South but after two years she missed her UE work and colleagues and returned to the University as the director of transfer admissions. In 2004 Cherie became the assistant director of the honors program and in 2009 she took on additional responsibility as the coordinator of the veteran's program.
Cherie has a strong work ethic and her commitment and enthusiasm for students is evident by the success of both programs.
When asked about her current position, Cherie replied, "I love working at the University of Evansville and I wouldn't want to work anywhere else!"
Questionable Solicitation Letters on University Housing Units
The Office of Safety & Security has received several complaints from students in the Rotherwood Townhouses concerning letters left in their door. These letters are from a company identified as GN-Info, PO Box 520, Danville, New Hampshire.
They are offering the opportunity to make up to $50,000 a year and more by sending $1 or 2 stamps to their address along with your name and address. They will then send the information to you, free of charge, on how you can use their strategy to accomplish this income. We have seen letters on some of our other properties around campus.
We have researched this company and it appears to be a "letter stuffing" opportunity, at home, for anyone. All you need to do is buy their "mailing kit" at a cost of $99. You should be very cautious on answering this letter. It would be wise to remember the old adage, "If it seems too good to be true, it probably isn't."
Last Call for Official Transcripts
Any current student needing their official transcript must submit an order no later than 5pm on Wednesday December 10. Orders placed after 5:00 pm will not be processed until Monday December 21. NO EXCEPTIONS.
You can place your order through: www.getmytranscript.com.
If you have any questions contact the Office of the Registrar.
UE Winter Housing
The residence halls will be closed for winter break from noon on December 17 to noon on January 8. Students participating in official University functions or other approved activities have the opportunity to apply for Winter Housing. Simply submit an Online Winter Request Form (hyper link this link https://www.surveymonkey.com/r/WinterHousing by noon on Reading & Study Day to be considered. For more information about Winter Housing, contact the office of residence life.
Knoester and Parkison Publish Manuscript in Critical Education
Matthew Knoester, assistant professor of education, and Paul Parkison, chair of the Department of Education, have published a manuscript in Critical Education, a refereed, open access journal published by the Institute for Critical Education Studies (ICES).
In a manuscript entitled "Where is Citizenship Education in the Age of Common Core State Standards?", (http://ices.library.ubc.ca/index.php/criticaled) the following is perspective is presented:
"There was a time in United States history when the central argument for investing in public education was to ensure that voters were sufficiently informed about the issues of the day to make wise decisions: education for self-governance. According to multiple sources, voter ignorance remains a serious concern and this may be a factor in why the political system in the United States is not more responsive to the needs and preferences of the electorate. Based on an analysis of political discourse and educational policy initiatives, this essay argues that democratic citizenship education has been sidelined by the focus on education for jobs and the economy and outlines what a serious focus on education for active democratic citizenship should entail."
Contributions to Critical Education are critically examined, contemporary education contexts, practices, and theories.
Critical Education publishes theoretical and empirical research as well as articles that advance educational practices that challenge the existing state of affairs in society, schools, higher education, and informal education.
Model United Nations Delegations Garner Awards
The University of Evansville's delegations recently completed three days of simulation at the 37th Annual Indiana Consortium of International Programs (ICIP) Model United Nations.
For the first time in its history, the conference was actually hosted by UE. The experience is part of an honors DISC 300H class offered each fall.
This year UE fielded six country delegations: Joe Estes and Josh Easton (China), Carl Minnette and Ashton Thompson (Russia), Levon Gibson and Julia Wickersham (New Zealand), Seong-Woo Song and Chunyu Lin (Chile), Adam Anthony and Oscar Gomez (Jordan), and Cynthia Medina and Kye Ri Park (France). Megan King served as UN Security Council President.
While all participants performed well in light of only returning a few veterans, UE claimed a number of awards. Joe Estes was named best delegate, Carl Minnette won 3rd best delegate, China (Joe Estes and Josh Easton) was 2nd best delegation while Russia (Carl Minnette and Ashton Thompson) won 3rd best delegation in their respective councils.

History Major Bailey Schnur Wins Peace Scholarship
History major Bailey Schnur is the first recipient of the Evansville Veterans for Peace organization's Gary E. May Peace Scholarship. Bailey read the essay at the November meeting of the Evansville Veterans for Peace, and according to the organization's president, "She was a grateful and deserving winner. It was moving to hear Bailey read her obviously heart-felt peace essay."
Well done Bailey!
Royalty Day with the Aces
Join the UE Women's Basketball team this Saturday at 1:00 pm for Royalty Day when the Purple Aces take on Murray State. All children dressed as royalty (prince, princess, king, queen, etc.) will receive a ticket for just $3! For more information, call 812-488-ACES!
Contribute to AceNotes
To have content considered for inclusion in AceNotes, please submit a Marketing Request Form. Deadline for submission to AceNotes is 10:00 a.m. on the requested date of publication. Only articles concerning UE related/sponsored activities will be accepted. Articles submitted to AceNotes may be edited for length and clarity. Submitter contact information is at the end of each article.