| | |
| --- | --- |
| AceNotes Today | Thursday, December 3, 2015 |
The HLC Typo Game… find a typo, win a beverage
Dear Campus Community,

Great news-- thanks to your feedback we continue to make steady progress on the Assurance Argument for Reaffirmation of Accreditation by HLC! New drafts are now available on Acelink:

https://acelink.evansville.edu/Areas/HLC/AssuranceArgument.cfm

In appreciation of your willingness to plow through 35,000 words, we are offering to reward the first five people who respond with editing remarks with the beverage of your choice at the Slice. Please email comments and questions to hlc_answers@evansville.edu. Comments must be received before December 15 to be eligible to win.

As always, we appreciate your time and commitment to the University.

Sincerely,

Mark Valenzuela, PhD, and Chris Mohn, PhD
Co-chairs, HLC Assurance Committee
University of Evansville Christmas on Campus Planned for Today, December 4
The University of Evansville will mark the holidays with Christmas on Campus today, December 4. The celebration will include photos with Purple Santa, ice skating, carriage rides, Candlelight Advent Vespers and the lighting of the University's Christmas tree. All of the day's activities are free and open to the public.
The complete schedule for Christmas on Campus follows:
Photos with Purple Santa
Ridgway University Center
5:00 – 7:00 p.m.
A special visitor from the North Pole kicks off Christmas on Campus. Everyone is invited to tell Santa what's on their wish list for Christmas this year, and have their photos taken with him Since Santa will be visiting on a Purple Friday he'll wear his purple suit to support the Aces.
Snow Globe Photos
Library Terrace
5:30 – 7:30 p.m. and 8:30 – 10:30 p.m.
Stand inside a life-sized snow globe that will be set up outside of the UE library and have a picture taken. This is a great chance to create a unique holiday photo.
Ice Skating
Memorial Plaza
5:30 – 7:30 p.m. and 8:30 – 10:30 p.m.
Enjoy ice skating on Memorial Plaza. The ice will be artificial so it won't matter how cold it is or isn't outside!
Advent Vespers
Neu Chapel
7:30 p.m.
This service will include selections by UE's choirs, organists, Christmas carol singing with candlelight, and readings from sacred scripture in the beautifully decorated Neu Chapel.
Carriage Rides
Outside Ridgway University Center
8:30 – 10:30 p.m.
Get in the holiday spirit by taking a horse-drawn carriage ride outside of Ridgway University Center.
Cookies and Hot Chocolate
Bower-Suhrheinrich Library Lobby
8:30 – 10:30 p.m.
Come in from the cold and warm up with hot chocolate and cookies in the lobby of the UE library.
Kettle Corn
May Studio Theatre Plaza
8:30 – 10:30 p.m.
Enjoy a snack of kettle corn on the plaza of the May Studio Theatre.
Lighting of the Christmas Tree and Caroling
Outside Graves Hall
8:35 p.m.
UE President Thomas A. Kazee will flip the ceremonial 6-foot light switch illuminating the newly planted Norway spruce tree, the University's campus Christmas tree. Neu Chapel Organist Patrick Ritsch will lead carol singing following the tree lighting.
Catholic Mass Tonight at Neu Chapel!
All are welcome to join us for Wednesday night Mass this evening at 9:30 pm in Neu Chapel. Father Christopher Droste will be here to celebrate Mass with us and will be available for Confessions starting at 9:00 pm. We hope to see you there!
Please call/text Kristel at (812) 760-8610 for more information.

Sci-Fi and Fantasy Call Out Meeting Set for Today
Come join us December 3, in Room 162, Schroeder School of Business Building, for the Sci-Fi and Fantasy Club's call out meeting (5:30 pm) and Star Wars Party (6 pm). If you have any questions, contact club president Julia Wickersham at jw488@evansville.edu.
Faculty/Staff Appreciation Day on December 3 at UE Bookstore
The annual Faculty/Staff Appreciate Sale is Thursday, December 3, from Noon to 6:00 p.m., in the UE Bookstore. All Faculty and staff employees can register for door prizes and save 20% on their purchases during this time. If you have questions please contact the Bookstore.
2016 Spring Pcard Training Schedule
Mark your calendars! The Spring 2016 Pcard Training Session Schedule for new cardholders is available on the AceLink Pcard website under Training Materials and Dates to Remember. Pcard training sessions are held in the Physical Plant Conference Room in the General Services building. To reserve a training spot, contact Terry Voges in the Office of Administrative Services at extension 2941 or email at tv35@evansville.edu.
For additional Pcard information, visit the Pcard website on AceLink at http://acelink/Areas/Pcard/

2016 SPRING PCARD TRAINING SCHEDULE:
Monday, Jan. 11 from 2-4 p.m.
Thursday, Feb. 11 from 9-11 a.m.
Tuesday, Mar. 8 from 2-4 p.m.
Wednesday, Apr. 13 from 9-11 a.m.
Thursday, May 5 from 2–4 p.m.

Bring Paper to be Shredded – Wednesday, December 9
Free off site paper shredding by Piranha Mobile Shredding will return to the campus once again on Wednesday, December 9, from 9:45 a.m. - 1:00 p.m. All UE students, faculty, staff and alumni can take advantage of this free service by bringing paper to the Piranha truck in Koch parking lot. Paper will be shredded offsite.
So, if mounds of paper are taking over your office, home, or room, this is the time to gather those old files, receipts, cancelled checks, tax forms, etc. No need to take out the staples or paper clips. Avoid identity theft by having confidential information permanently destroyed.
Please no telephone books, magazines or newspapers. Also, please note that there is a 100 lb. paper limit per visit (number of visits is not limited).
Ladies in Pink and Trebles Without a Cause Concert
UE's all-female a Capella group, Ladies in Pink, and the all-male a Capella group, Trebles Without a Cause, join together for their end of the semester concert. The concert will feature contemporary tunes along with a few familiar Christmas jingles. Come join us for the fun on December 5 at 3 p.m. in Shanklin Theatre!
December PT Club Meeting
The PT Club's final meeting of the semester will be December 3 at 12 pm in Room 100 in Koch Center. We will be electing our new officers and celebrating the semester's end! Please come and join us!
Cherie Leonhardt named December 2015 Employee of the Month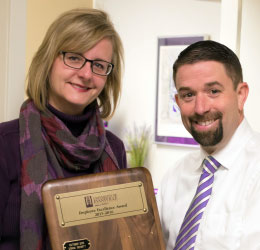 Cherie Leonhardt, assistant director of the honors program and coordinator of veterans affairs, has received the December 2015 Employee Excellence Award. Cherie began her career at the University of Evansville in 1989, first as an admission counselor, then as assistant director of admissions and finally as associate director.
In 1995 Cherie left to take a marketing position at Health South but after two years she missed her UE work and colleagues and returned to the University as the director of transfer admissions. In 2004 Cherie became the assistant director of the honors program and in 2009 she took on additional responsibility as the coordinator of the veteran's program.
Cherie has a strong work ethic and her commitment and enthusiasm for students is evident by the success of both programs.
When asked about her current position, Cherie replied, "I love working at the University of Evansville and I wouldn't want to work anywhere else!"
Questionable Solicitation Letters on University Housing Units
The Office of Safety & Security has received several complaints from students in the Rotherwood Townhouses concerning letters left in their door. These letters are from a company identified as GN-Info, PO Box 520, Danville, New Hampshire.
They are offering the opportunity to make up to $50,000 a year and more by sending $1 or 2 stamps to their address along with your name and address. They will then send the information to you, free of charge, on how you can use their strategy to accomplish this income. We have seen letters on some of our other properties around campus.
We have researched this company and it appears to be a "letter stuffing" opportunity, at home, for anyone. All you need to do is buy their "mailing kit" at a cost of $99. You should be very cautious on answering this letter. It would be wise to remember the old adage, "If it seems too good to be true, it probably isn't."
Last Call for Official Transcripts
Any current student needing their official transcript must submit an order no later than 5pm on Wednesday December 10. Orders placed after 5:00 pm will not be processed until Monday December 21. NO EXCEPTIONS.
You can place your order through: www.getmytranscript.com.
If you have any questions contact the Office of the Registrar.
Attention December 2015 Graduates
Attention December 2015 graduates - If you have earned a military honorable discharge or a general discharge under honorable conditions, are on active duty, or in active drilling status, please notify the Cherie Leonhardt in the Office of Veterans Affairs at cl29@evansville.edu or call 488-2141 ASAP. The Office of Veterans Affairs and UE VETS have a special graduation gift for you!
Timecard Entry for January 1, 2016 Payroll
As employees will not return from the Christmas holiday break until after the normal time card entry deadline of Saturday, December 26, for the January 1, 2016 bi-weekly payroll, the Office of Accounting/Payroll is asking all staff to enter their time on WebAdvisor for the pay period December 13 to 26 by Wednesday, December 16. Supervisors are asked to approve timecards by Thursday, December 17.
If you have any questions, please contact Gloria Spencer at ext. 2159.

Christmas Donations
Graves Hall is collecting the following donations for the Evansville Rescue Mission and the Christian Life Center this Christmas season: new gloves, mittens, socks, hats scarves for men, women and children. These items can be placed on the Christmas tree in the lobby of Graves Hall. We are also collecting new or gently used coats for children in grades K-5. The coats can be placed in the box in the lobby of Graves Hall. Also, men's toiletries for the Evansville Rescue Mission (body wash, shampoo, shaving cream, deodorant, disposable shavers, toothpaste, toothbrushes, body lotion) can be put in one of the designated boxes in the lobby of Graves hall. Please No travel sizes; No bar soap; No items containing alcohol. Thank you!
Model United Nations Delegations Garner Awards
The University of Evansville's delegations recently completed three days of simulation at the 37th Annual Indiana Consortium of International Programs (ICIP) Model United Nations.
For the first time in its history, the conference was actually hosted by UE. The experience is part of an honors DISC 300H class offered each fall.
This year UE fielded six country delegations: Joe Estes and Josh Easton (China), Carl Minnette and Ashton Thompson (Russia), Levon Gibson and Julia Wickersham (New Zealand), Seong-Woo Song and Chunyu Lin (Chile), Adam Anthony and Oscar Gomez (Jordan), and Cynthia Medina and Kye Ri Park (France). Megan King served as UN Security Council President.
While all participants performed well in light of only returning a few veterans, UE claimed a number of awards. Joe Estes was named best delegate, Carl Minnette won 3rd best delegate, China (Joe Estes and Josh Easton) was 2nd best delegation while Russia (Carl Minnette and Ashton Thompson) won 3rd best delegation in their respective councils.

History Major Bailey Schnur Wins Peace Scholarship
History major Bailey Schnur is the first recipient of the Evansville Veterans for Peace organization's Gary E. May Peace Scholarship. Bailey read the essay at the November meeting of the Evansville Veterans for Peace, and according to the organization's president, "She was a grateful and deserving winner. It was moving to hear Bailey read her obviously heart-felt peace essay."
Well done Bailey!
Coleman's has career night against Bowling Green
Freshman Camille Coleman had the best night of her young career as she scored 19 points in a 74-56 loss for the University of Evansville women's basketball team against Bowling Green on Tuesday night.
Coleman hit six of her 10 attempts, four triples and all three free throws to lead everyone with 19 points. Aaliyah Gaines also had a solid night, posting 10 points and four rebounds. Sara Dickey had eight points while lead the Aces (1-5) with 5 rebounds and 4 assists.
Three Falcons (4-2) hit the double-digit mark, led by Lauren Tibbs' 15-point outing. Rachel Myers had 14 while Carly Santoro finished the night with 10.
"I was encouraged with our team's ability to execute tonight, I thought we were able to create a lot of good shots," head coach Oties Epps said. "We will work hard to improve our transition defense and scoring this week. This road swing has been challenging and it will help us in the long run. We are looking forward to playing at home on Saturday. I anticipate that our team will have a renewed energy."
Evansville held strong in the early minutes as a Coleman triple gave them a 3-0 lead, but with the score tied at 5-5, BGSU finished the opening quarter on a 12-2 run to lead by a 17-7 score going into the second. In the final minutes of the second quarter, Bowling Green extended its lead to 31-14 before UE reeled off the final three points to enter the break trailing 31-17.
A 6-2 run, which came via two more Coleman triples, got the Aces within 10 points at 33-23 in the first 90 seconds of the third quarter, but the Falcons once again extended their lead. With 20 seconds remaining in the period, Erin Sinnott hit a layup to get the Aces back within 12 going into the fourth stanza. After UE cut the gap to ten once again (52-42), Bowling Green clamped down, going on an 18-6 run to take their largest lead at 70-48 before finishing up with the 74-56 win.
Following a 6-game road trip to open up the season, the Aces will finally be at home on Saturday afternoon. UE will be at the Ford Center to face Murray State in a 1 p.m. game.
- INFO: For all of the latest information on University of Evansville women's basketball, log on to the sport page on GoPurpleAces.com or follow the program on Twitter via @UEAthletics_WBB.
- DONATE: For information on giving to UE Athletics or its individual athletics programs, visit the DONATE tab on the top of GoPurpleAces.com.
- TICKETS: To purchase tickets for University of Evansville athletics events, log on to GoPurpleAces.com and click on the TICKETS tab on top of the page.

Contribute to AceNotes
To have content considered for inclusion in AceNotes, please submit a Marketing Request Form. Deadline for submission to AceNotes is 10:00 a.m. on the requested date of publication. Only articles concerning UE related/sponsored activities will be accepted. Articles submitted to AceNotes may be edited for length and clarity. Submitter contact information is at the end of each article.