| | |
| --- | --- |
| AceNotes Today | Thursday, November 19, 2015 |
UE Theatre presents fantastical musical Big Fish
The University of Evansville Department of Theatre proudly presents Andrew Lippa and John August's musical Big Fish, based on the novel by Daniel Wallace, and the Columbia Pictures Film. Big Fish opened Friday Nov. 13, in UE's Shanklin Theatre. Additional performances are at 7:30 p.m. on Nov. 20 and Nov. 21 and at 2:00 p.m. on Nov. 22.
Set in the Deep South, this family-friendly, heart-warming, and fantastical musical is centered on Edward Bloom, a traveling salesman who possesses a strong desire to be a hero, both to himself and his son. His penchant for spinning tall tales and elaborate daydreams is solely to convince himself there is meaning and purpose to his ordinary life. This musical's moving score honors the age-old art of storytelling, by invoking the sense that imagination can transform even the humblest man's life story into an unforgettable epic adventure.
Big Fish is directed by Artistic Director R. Scott Lank, choreographed by Ricki Newman and features a 9¬-person student orchestra, led by musical director Gregory B. Rike, Professor of Music. Department Chair Eric Renschler serves as the scenic designer; Professor of Theatre Patti McCrory is the costume designer; Assistant Professor of Theatre, Stephen Boulmetis is the lighting designer; Will Koch, a senior from Santa Clause, IN., is the sound designer; Kendall Reasons, a junior from Springhill, TN., is the dramaturge; Alison Clifton, a senior from Temple, TX., serves as the associate costume designer; and Aaron Curry, a senior from Glendale, AZ., serves as the associate lighting designer. The show is stage managed by Hannah Cava, a senior from Las Vegas, NV.
The cast features Taylor Jones, a senior from Las Vegas, NV., as Edward, the larger than life story-teller, and McKenna Ceci, a junior from Peachtree, GA., as Sandra. The 25-person cast also features Nate DeCook, a junior from Holland, MI., as Will, and Konner Rudisill, an 11-year-old resident of Newburgh, IN., as Young Will.
Ticket prices are $18 for adults and $15 for senior adults, students and UE faculty and staff. UE students may obtain one free student rush ticket beginning at noon on the day of the performance they wish to attend. Including Big Fish, the rest of the Shanklin Theatre Season includes Lily Dale, by Horton Foote, Feb. 19 through 28; and Richard III, by William Shakespeare, Apr. 15 through 24.
Tickets may be purchased by calling (812) 488–2031, Monday through Friday, noon to 5 p.m.
Cranberry Sauce Drive in Ace's Place and Cafe Court
The annual Gobbler Gathering through the Evansville Rescue Mission needs our help to assist in providing a Thanksgiving meal for those in need. UE's goal is to donate 500 cans of Cranberry Sauce. Residential units have a chance to win a Pizza party for donating the most number of cans. Cans can be donated via cash, credit or AceBucks in Cafe Court or Ace's Place through the end of the week.
This Weekend in Music: A Senior Recital and Ensemble Concerts
Department of Music student Lucas Pate (violin) will offer his Senior Recital in Wheeler Concert Hall this Saturday, November 21, at 1:00 p.m. Lucas is a student of Professor Carol Dallinger, and his recital performance is in partial fulfillment of the requirements for the Bachelor of Science Degree in Music Management.
Three small wind ensembles will join together for a Woodwind Chamber Ensembles concert in Wheeler Concert Hall on Sunday afternoon, November 22, at 2:00 p.m. The Clarinet Ensemble, under the direction of Associate Professor of Clarinet and Department Chair Thomas Josenhans; the Flute Ensemble, under the direction of Consortium Flute Instructor Cara Dailey; and the Saxophone Ensemble, under the direction of Assistant Professor of Music Education Shawn Teichmer, will perform a variety of works and arrangements from Haydn and Mozart to the modern era.
The UE Mixed Choir and Women's Chorus will present a concert in Neu Chapel on Sunday evening at 6:00 p.m. Associate Professor and Director of Choral Activities Dennis Malfatti will lead the choirs in a program that will include works by Mozart, Schubert, Camille Saint-Saëns, and Sir Edward Elgar, just to name a few. Pianist Kristin Jones will accompany the ensembles.
The Department's small brass and percussion ensembles will then offer a concert in Neu Chapel at 7:30 p.m. Professor of Trumpet Timothy Zifer will conduct the Trumpet Ensemble, while Assistant Professor of Low Brass Ken Steinsultz will lead the Low Brass Ensemble, Consortium Horn Instructor Emily Britton will lead the Horn Ensemble, and Consortium Percussion Instructor Ross Erickson will lead the Percussion Ensemble. Musical selections will range from the Renaissance to the present, including works by Cipriano de Rore, Quirino Gasparini, Béla Bartók, and Steve Reich.
All four recitals are free and open to the public.
Last #readingseries of 2015
Please join the literary folks in creative writing at The Slice on Friday, November 20, at 4:00 pm for the last student reading of the semester. This week will feature fiction and nonfiction by Josh Best, Sam Frost, and Sari Baum. Hope to see you there!
29th Annual International Bazaar Tonight!
The best part of the year - the International Bazaar - is tonight! The event is from 5:00 p.m. to 8:00 p.m., with the student preview at 4:30 p.m. and food being served until 7:00 p.m.
Visitors to the bazaar will have the opportunity to experience the food, customs and cultures of UE's international students, a diverse group that represent 51 countries. There will be all-you-can-eat cuisine, music, games, dancing, photo opportunities, and more.
The event is open to the public. General admission is $10. UE students and children five and under will be admitted for free.
Proceeds from the event will benefit Soles 4 Souls, an international not-for-profit organization that donates shoes for people in need. Guests will receive $2 off admission if they bring a pair of shoes for donation.
The bazaar is part of the University's celebration of International Education Week.
To learn more about the bazaar, visit www.evansville.edu/iew or contact the Office of Cultural Engagement and International Services at 812-488-2279 or ms331@evansville.edu.
Discount on Santa Run Registration Fee for UE Community
UE students, staff, administrators and faculty are invited to participate in the Rotary Club of Evansville Santa Run with a special discount of $5.00 off of the $25 registration fee. To register for the run using the UE discount, go to www.evansvillerotary.com and use the code: campus5
This special discount will be offered until November 20.
The Santa Run takes place Saturday, December 5 at 10:00 am at the Buffalo Trace Council Eykamp Center off the Lloyd Expressway. This officially timed 5k run or 1 mile walk is for serious and not so serious runners, walkers, families, and friends. Santa suits and other goodies included for the first 500 registrants.
Annual Holiday Art and Crafts Sale
The Department of Art is pleased to announce its annual Holiday Art and Crafts Sale. Everyone in the UE community who creates art or crafts is welcome to participate. This includes faculty, staff, students, spouses, children, parents, relatives and friends.
The date of this year's sale is Thursday, December 3. Barring another car crashing into the building, the sale will be held in the Melvin Peterson Gallery, located immediately across from campus. Doors will open at 7:00 a.m. and the sale will continue until 6:00 p.m. Participating artists and craftsmen may drop work off the day prior to the sale or on the morning of the sale before the doors open. Vendors do not need to stay with their work as Art Department staff and volunteers will be on site to handle the sale.
If you would like to join in this year's Holiday Sale, or think you might want to participate but need more information, please contact the Department of Art at ca5@evansville.edu or 812-488-2043.
By November 20: Donate Personal Hygiene Items
Students in a philosophy class are collecting personal hygiene items to give to the homeless. Please help donate new, unused soap, toothpaste, toothbrushes, deodorant, sugarless gum, shampoo, conditioner, tissues, and feminine hygiene products. NO items containing alcohol. There is a donation box in Ridgway University Center. Last day to donate is this Friday, November 20!
Interested in Working for the Office of Admission?
The Office of Admission is looking for several student callers for the remainder of this school year. We are looking for energetic, friendly, customer service oriented students to call prospective students and assist the admission counselors with student interaction. Hours will primarily be in the evening with some later afternoon hours. An application and interview is required for this position. An interview will be scheduled once your application is reviewed. If you are interested in applying, please download, print, and complete the Admission Student Caller Application. You can contact Catie Taylor (ct37@evansville.edu) in the Office of Admission with questions or for additional information.
Environmental Management System Objectives
This is the Third in a series of communications about UE's Environmental Management System (EMS). It is important for you to be aware of the EMS and to understand your role in supporting it and helping to implement it where appropriate. So far we've covered UE's Environmental Policy (ride the CREST) and Roles, Responsibility and Authority.
The items covered in this memo are Significant Environmental Aspects, Objectives and Targets.
Significant Environmental Aspects (SEA's) are activities that do, or can, significantly impact the environment. They require controls, training and monitoring to ensure compliance.
UE's Significant Environmental Aspects are:
Hazardous material use in Chemistry and Biology.
Hazardous waste generated in Chemistry and Biology.
Objectives and Targets help promote continuous improvement in our environmental performance. UE's current Objectives and Targets are:
Reduce Hazardous Chemicals in Biology and Chemistry Departments:
Biology: Remove Peroxide formers from biology inventory, identify and determine less hazardous substitutes for hazardous/toxic chemicals.
Chemistry: Reduce the re-ordering of chemicals that are currently in-stock by June 2016, by comparing to the fiscal year 2013 data. Consider less hazardous substitutes for hazardous/toxic chemicals.
Reduce Hazardous Waste in Biology and Chemistry Departments:
Implement waste testing and new waste label to improve characterization of RCRA hazardous versus non-RCRA hazardous waste.
For additional information, or if you've got any questions, comments or suggestions, please contact Jan Schrader, Manager Risk and Environmental Management at js652 or 2697.
You can also find additional information in AceLink/Areas/Environmental Management.

Christmas Donations
Graves Hall is collecting the following donations for the Evansville Rescue Mission and the Christian Life Center this Christmas season: new gloves, mittens, socks, hats scarves for men, women and children. These items can be placed on the Christmas Tree in the lobby of Graves Hall. We are also collecting new or gently used coats for children in grades K-5. The coats can be placed in the box in the lobby of Graves Hall. Also, men's toiletries for the Evansville Rescue Mission (body wash, shampoo, shaving cream, deodorant, disposable shavers, toothpaste, toothbrushes, body lotion) can be put in one of the designated boxes in the lobby of Graves Hall. Please NO travel sizes; NO bar soap; NO items containing alcohol. Please contact Pam Young X2848 or Karen Doss X2360 if you have any questions. Thank you!
Personalized Copies of World War II Book Available
Professor of history James MacLeod's new book, 'Evansville in World War II' is now available and the author will happily personalize and sign your copies. An ideal holiday gift, it costs $21.99 and can be delivered to your office. Contact MacLeod at either ext. 2599 or email jm224@evansville.edu. Don't delay!
World Religions, REL 212 @ Harlaxton this Summer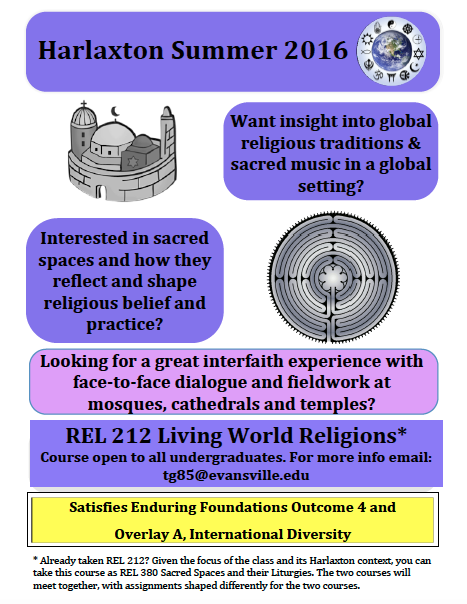 Want to learn more about the religions of the world and immerse yourself in religious culture? Do you have a desire to engage with people who are different than you? Interested in sacred spaces and how they reflect and shape religious beliefs and practice? If you are looking for a unique interfaith experience with fieldwork at mosques, cathedrals, and temples, REL 212 "Living World Religions" at Harlaxton is for you!
Sign up today for summer at Harlaxton 2016! Satisfies Enduring Foundations Outcome 4 and Overly A. If you've already taken REL 212, you may take this course as REL 380, "Sacred Spaces and Their Liturgies." The two courses will meet together, with assignments shaped differently for the two courses.
Click link below to sign up. For more information about the course contact Tammy Gieselman, tg85@evansville.edu
https://www.evansville.edu/studyabroad/applicationForAdmission.cfm

Planning Ahead - Mail Services Reminder
As the Thanksgiving holiday approaches, please notify Mail Services via email mailservices@evansville.edu. If your area or office is going to be locked early or your folks are taking a vacation day and will not be available to accept mail delivery on Wednesday, November 25.
Also, areas requiring UPS services for shipping out UE packages should plan to have UPS packages ready to ship from Mail Services by Tuesday, November 24. For questions, contact Mail Services at extension 2197.

UE Mail Services - Thanksgiving Week
Since UE campus will be closing at noon on Wednesday, November 25, please note the following Mail Services adjustments and plan accordingly. These adjustments will help to ensure there is sufficient time to complete mail processing before campus is closed for Thanksgiving:
Mail Services Adjustments
The daily mail run will begin at 8:30 a.m.
All outgoing mail must be in UE Mail Services for processing on November 25, no later than 10:00 a.m.
Please note that the USPS will also be closed on Thursday, November 26th for Thanksgiving Day.
While UE Mail Services is closed, those needing to mail a letter, etc. later in the day may do so by taking their mail to the Post Office and paying for the postage via a UE Pcard.
UPS Adjustments:
The last day to ship UPS Ground packages for the week of Thanksgiving from Mail Services is Tuesday morning, November 24.
UPS is closed on Thanksgiving Day for pickup and deliveries.
On Friday, November 27, there is UPS delivery and pickup of air and international packages only. Pickups are available if you have made pre-arrangements with UPS by Wednesday, November 25 or via UPS On-Call Pickup service and at all UPS Drop Boxes. Please note that guaranteed delivery confirmation times will be extended 90 minutes on Friday.
For urgent shipments, UPS Express Critical is available 365 days a year. For more information on this services go to www.expresscritical.com.
For mailing questions, contact Mail Services at extension 2197 or mailservices@evansville.edu.
UE Central Receiving - Thanksgiving Week
Since UE campus will be closing at noon on Wednesday, November 25, please note the following Central Receiving adjustments and plan accordingly. These adjustments will help to ensure there is sufficient time to complete deliveries before campus closes for Thanksgiving:
Central Receiving Adjustments
• The daily receiving run will begin in the morning at 10:00 a.m. on Wednesday, November 25.
• UE Central Receiving will close at noon on Wednesday, November 25th and re-open on Monday morning, November 30.
• Please note that campus offices expecting packages are asked to notify Central Receiving for possible alternatives.
• Offices that plan to be locked earlier than noon on November 25 due to employee vacations are asked to notify Central Receiving in advance to avoid unnecessary morning deliveries.
For delivery questions, contact Central Receiving at extension 2181 or email at centralreceiving@evansville.edu
Support Our Troops with "Operation: Care Package"
Pi Gamma Mu honor society is sending good will to our troops deployed during the holidays in the form of care packages, and WE WANT YOU!
For $40, you can sponsor one of four themed care packages, which includes the contents, decoration, and, shipping. The four themes are:
"Thankful for Your Service" - fall and Thanksgiving-themed items
"A Little Piece of Home" - comfort foods and reminders of home
"Good for a Rainy Day" - games, books, and puzzles
"Our Support Comes Naturally" - healthy food and fitness items
In addition, you can choose the military branch and gender of the service member who will receive your care package, and include a personalized note of support for our troops! Who can sponsor a care package? Anyone! Individuals, departments, programs, organizations, teams, community members, and anyone who wants to support our troops! You can sponsor as many care packages as you want, and each can have a different theme and/or military branch!
To participate, the order form can be found at:
https://www.surveymonkey.com/r/OperationCarePackage
For more information, contact faculty sponsor, Mari Plikuhn, assistant professor of sociology, at mp168@evansville.edu or 812-488-2707. The care package drive runs through November 20.
Wheeler Fund Award
The Wheeler Fund was established in remembrance of Walton M. Wheeler, Jr. (1908-60). A prominent Evansville attorney, Mr. Wheeler served on the Board of Trustees of Evansville College from 1953-1960. Each year the fund is used to purchase special materials designed to enhance the library collection. This year the total amount, to be divided according to the nature and merit of the proposals received, is $967.00.
PURPOSE: The materials should be ones an academic department could not ordinarily afford through its library budget and which would make a significant addition to present library holdings. Proposals should fulfill one of the following purposes:
• To purchase library materials for a new academic program:
• To purchase library materials for an existing program;
• To purchase cross-disciplinary enrichment materials.
These materials should NOT include pieces of equipment or computer software. They should NOT entail continuing costs, as do periodicals and databases.
PROCEDURE: Applications will follow a two-step process:
1. Statement of Intent - This should consist of a one-page (200-300 words) description of the overall purpose of your proposal and a description of the type of material you wish the library to acquire.
PLEASE SUBMIT FOUR COPIES OF THE STATEMENT OF INTENT BY Friday, January 15, 2015
2. Formal Proposal - Statements considered by the committee to be most promising will be returned with encouragement to prepare a formal proposal. The proposal should include: (1) a 300-500 word rationale; (2) an itemized budget listing materials to be purchased; and (3) any additional supporting data the applicant wishes to present. The previously submitted Statement of Intent is not equivalent to the proposal.
IF SELECTED, PLEASE SUBMIT FOUR COPIES OF THE FORMAL PROPOSAL BY Monday, February 15, 2015
Holiday Season Hours
The University of Evansville will be closed during the holidays to allow our employees to enjoy this special time with their families.
The following November-December-January holiday schedule will be observed:
Thanksgiving
Wednesday, November 25, 2015 – close at noon
Thursday, November 26, 2015
Friday, November 27, 2015
Christmas/New Year's
Wednesday, December 23, 2015, through Friday, January 1, 2016 – returning on Monday, January 4, 2016
Kretz delivers Paper on Bias at Indiana Philosophical Association Conference
Lisa Kretz, assistant professor of philosophy, delivered a paper titled "Thinking About Bias" based on the collaborative research that she and Matthew Knoester, assistant professor of education, performed in the spring of 2015. It was presented at the Indiana Philosophical Association conference that occurred November 13 -14 in Richmond, Indiana, at Earlham College.
Birth Announcement - Mackenna Diane Lewis
Erin and Mitch Lewis have welcomed a newborn daughter to the world! Mackenna Diane Lewis made her debut on November 15. She was 6 lbs., 13 oz., and 50.8 cm. long. Erin is the program manager at the Institute for Global Enterprise. Jeffrey Braun, chair of the Physics department, is Mackenna's proud grandfather!
Aces volleyball set for final weekend of season
This weekend, the Purple Aces complete the 2015 season with visits to Missouri State and Wichita State. UE takes on MSU on Friday at 7 p.m. before heading west to Wichita for a 7 p.m. game on Saturday evening to wrap up the year.
With 473 kills this season, Genesis Miranda is the new single-season record holder for the Purple Aces. Her 19 kills on Friday against Indiana State put her past Julie Groves, whose record was 454.
Senior Kim Deprez is pursuing a mark of her own as she currently has 572 digs on the season, just six away from moving into the top five on the Aces single-season list. For the season, Deprez has notched 5.06 digs per set, the top total in the Missouri Valley Conference. She also stands in 26th in the NCAA.
In Saturday's match against Illinois State, Evansville was credited with 11.0 total team blocks, including 20 block assists. Leading the way for the Aces in that department was freshman Joselyn Coronel, who recorded six blocks assists.
Missouri State enters the final weekend solidly in the MVC Tournament field with an 11-5 league mark and a 20-9 tally overall. Sophomore Lily Johnson is one of the best offensive players in the Valley as her 4.38 kills per set leads the way in the conference. She has posted a total of 499 on the season. Most of her kills have come with help from Kinsey Batten, who has notched an MVC-best 11.03 assists per set.
MVC leader Wichita State goes into the final matches with a chance to clinch the regular season title. The Shockers stand at 14-2 in conference play, just one game ahead of Southern Illinois, who is 13-3. Overall, WSU is 23-7, the top win total in the MVC. Their key to success is their ability to spread the ball around as leading scorer Abbie Lehman ranks 11th in the conference with 2.83 kills per set. On defense, Lehman is even better as her 1.13 blocks per frame is second overall.
- INFO: For all of the latest information on University of Evansville volleyball, log on to the sport page on GoPurpleAces.com or follow the program on Twitter via @UEAthletics_VB.
- DONATE: For information on giving to UE Athletics or its individual athletics programs, visit the DONATE tab on the top of GoPurpleAces.com.
- TICKETS: To purchase tickets for University of Evansville athletics events, log on to GoPurpleAces.com and click on the TICKETS tab on top of the page.
Women's basketball picks up 72-63 win at Cleveland State
A 19-point performance by Sara Dickey helped the University of Evansville women's basketball team earn a 72-63 victory over Cleveland State on Tuesday evening at the Wolstein Center.
"I am very proud of our girls, I thought that we learned from each game that we played to this point," UE head coach Oties Epps said. "At Xavier we learned to improve our execution. We did that at Miami, but learned that we have to do better in finishing the game. Tonight we did that."
"We showed good fight tonight, our press was great for 40 min, everyone on the court contributed in some way," Epps continued.
Dickey drained a game-high five 3-pointers on her way to 19 points, leading everyone. Ashley Hawkins finished with 16 points in her top effort at UE (1-2) while Laura Friday tallied 11 points with each tally coming from the free throw line.
"I definitely feel like it is coming together for us," Dickey said. "Ashley had a great game tonight and was very aggressive. We were making the right reads on offense and finished the layups when we needed."
Cleveland State (0-2) opened the game up on a 6-2 stretch before the Aces rallied back with five points in a row to take their first lead at 7-6 on a Dickey trey. Evansville led by as many as five in the opening stanza before CSU got within four at 20-16. Three minutes into the second quarter, the Vikings grabbed the lead back as Ashanti Abshaw hit a layup to give them a 21-20 lead.
That advantage for CSU was short-lived as Jordan Campbell got in on the 3-point shooting, hitting one to put UE on top for good. Her shot began what would be a 17-7 run to end the half. The Aces went to the locker room up 37-28, marking their largest lead to that point.
Out of the half, Cleveland State notched the first field goal, but a 5-0 stretch saw the Aces extend their lead to double figures at 42-30. The Vikings kept their deficit around the 10-point mark, but a Brooke Smith bucket with four minutes left saw them cut the gap to just five at 57-52.
The difference came on the ensuing possession for UE. Following a miss, Kerri Gasper grabbed the rebounds and Dickey hit a three that proved to be the dagger. In the final minute, Gasper hit two free throws to make it a 67-56 game before the Vikings closed to the final of 72-63.
Evansville did a stellar job on the boards on Wednesday, tying Cleveland State with 38 rebounds. On the defensive end, UE finished with a 28-21 edge. Evansville also outshot CSU by a 42.0%-38.5% tally.
Next up for UE is a trip to San Luis Obispo, Calif. for next week's Cal Poly/ShareSLO Holiday Tournament where the Aces take on Montana State and Santa Clara.
- INFO: For all of the latest information on University of Evansville women's basketball, log on to the sport page on GoPurpleAces.com or follow the program on Twitter via @UEAthletics_WBB.
- DONATE: For information on giving to UE Athletics or its individual athletics programs, visit the DONATE tab on the top of GoPurpleAces.com.
- TICKETS: To purchase tickets for University of Evansville athletics events, log on to GoPurpleAces.com and click on the TICKETS tab on top of the page.

Faculty/Staff Men's Basketball Tickets Available Starting November 18
Faculty & staff will be able to pick up their two complimentary tickets for the men's basketball game against Belmont starting on Wednesday, November 18, at 8:30 am.
The game will be played at the Ford Center at 12:30 pm on Saturday, November 21. We are also hosting our annual Fan Fest event prior to this game. Fan Fest will be held at the Freedom Plaza in front of the Ford Center beginning at 10:30 am.
For more information, please visit the Carson Center Athletic Ticket Office or call 488-ACES
Contribute to AceNotes
To have content considered for inclusion in AceNotes, please submit a Marketing Request Form. Deadline for submission to AceNotes is 10:00 a.m. on the requested date of publication. Only articles concerning UE related/sponsored activities will be accepted. Articles submitted to AceNotes may be edited for length and clarity. Submitter contact information is at the end of each article.