| | |
| --- | --- |
| AceNotes Today | Wednesday, November 18, 2015 |
Cranberry Sauce Drive in Ace's Place and Cafe Court
The annual Gobbler Gathering through the Evansville Rescue Mission needs our help to assist in providing a Thanksgiving meal for those in need. UE's goal is to donate 500 cans of Cranberry Sauce. Residential units have a chance to win a Pizza party for donating the most number of cans. Cans can be donated via cash, credit or AceBucks in Cafe Court or Ace's Place through the end of the week.
Newman Club Presents Small Groups With the Seminarians!
All are welcome to come share their faith, fellowship, and a simple supper with our seminarians, Ambrose and Tam, tonight from 5:00-5:45 pm at the Newman Center. These small group sessions are a great way to not only meet fellow students but to also ask and reflect about your faith. We hope to see you there!
Please call/text Kristel at (812) 760-8610 for more information!

Catholic Mass and Adoration Tonight in Neu Chapel!
All are welcome to join us tonight for Mass and adoration of the Blessed Sacrament. Adoration will begin at 8:30 pm and continue until Mass time at 9:30 pm. Father Godfrey Mullen from St. Benedict Cathedral will be celebrating Mass with us and will be available for confessions beginning at 9:00 pm. We hope to see you there!
Please call/text Kristel at (812) 760-8610 for more information!

Evansville Air Quality Table in Ridgway University Center
The Air Quality Action Group from PHIL 316 will be presenting information on Evansville's air quality from 11:00 am to 1:00 pm in Ridgway University Center today. Information about resources for determining air quality--from apps to indicator plants--will be provided. Anyone who stops by the table will have a chance to win one of two air purifying plants that will be raffled off. Stop by to learn more!
I-House
This Wednesday, I-House features a segment on Cuba followed by a sing-along of canonical and traditional songs of Spanish America led by the students of the Intro to Hispanic Culture: Latin America class. If time allows there will be a short salsa dance workshop to end the session. There will be refreshments, so come out to I-House and get revved up for International Bazaar on Friday!
Make sure you come out at 7:00 p.m., to the usual place on the second floor of Ridgway University Center to hear about Cuba and sing some fun songs in Spanish!
Uncharted International in Ridgway University Center
Are you looking for Christmas gifts that will also help a good cause and are fair trade? Students from Marketing 325 will be selling products from Uncharted International, a not-for-profit organization that supports adult, orphan women and children from Myanmar, Central Asia, China, and the Middle East who have survived Human trafficking rings or were saved from being trafficked by being in an orphanage. The organization was founded to help those in poverty have hope for a future. All products are handmade by Myanmar women and 90% of each sale will pay the salary of the woman that produced that product.
Some of the items that will be sold are blankets, headbands, wallets, jewelry, and more!
You can find us in first floor Ridgway, by the information station on these dates:
Wednesday, November 18 from 10:30 a.m.-1:00 p.m.
Thursday, November 19 from 12:30-3:00 p.m.
For more information about Uncharted International visit unchartedinternational.org.

Writing Boot Camp! APA & CMS Style
Research paper coming up? Join us this Wednesday, November 18, at 5:00 p.m. in the Writing Center for some help with citation. This final workshop will cover how to format and cite papers according to the APA and CMS style manuals, including the cover and reference pages, internal citations, running heads, footnotes, and endnotes.
Language and Culture Capsules Planned for Today
On Wednesday, November 18 in Ridgway University Center, International Education Week will offer 30-minute, interactive and fun language and culture capsules from noon to 3:30 p.m. Languages: Persian, Russian, German, French, Thai, Spanish, Portuguese, Chinese. For more information contact studyabroad@evansville.edu or visit www.evansville.edu/iew
Last #readingseries of 2015
Please join the literary folks in creative writing at The Slice on Friday, November 20, at 4:00 pm for the last student reading of the semester. This week will feature fiction and nonfiction by Josh Best, Sam Frost, and Sari Baum. Hope to see you there!
Student Art Exhibition Opens in Krannert Gallery on November 19
The Department of Art would like to announce the second exhibition in the Senior Showcase series for 2015. The students participating are Hali Martin, Bethany Boeglin, Lelia Dant, Emily Kern, and Aryeh Lax. The opening reception is scheduled for 11:00 a.m. to noon on Thursday, November 19, in Krannert Gallery. This event is free and open to the public. Please stop by to meet the artists and view their artwork.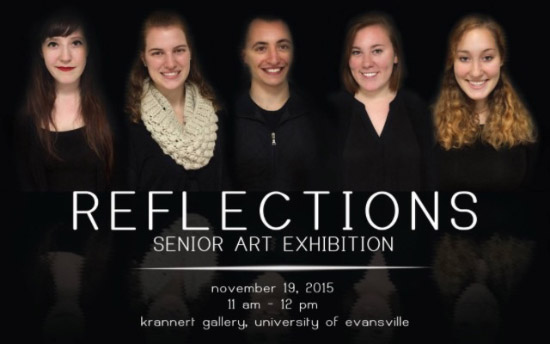 29th Annual International Bazaar Tonight!
The best part of the year - the International Bazaar - is tonight! The event is from 5:00 p.m. to 8:00 p.m., with the student preview at 4:30 p.m. and food being served until 7:00 p.m.
Visitors to the bazaar will have the opportunity to experience the food, customs and cultures of UE's international students, a diverse group that represent 51 countries. There will be all-you-can-eat cuisine, music, games, dancing, photo opportunities, and more.
The event is open to the public. General admission is $10. UE students and children five and under will be admitted for free.
Proceeds from the event will benefit Soles 4 Souls, an international not-for-profit organization that donates shoes for people in need. Guests will receive $2 off admission if they bring a pair of shoes for donation.
The bazaar is part of the University's celebration of International Education Week.
To learn more about the bazaar, visit www.evansville.edu/iew or contact the Office of Cultural Engagement and International Services at 812-488-2279 or ms331@evansville.edu.
Discount on Santa Run Registration Fee for UE Community
UE students, staff, administrators and faculty are invited to participate in the Rotary Club of Evansville Santa Run with a special discount of $5.00 off of the $25 registration fee. To register for the run using the UE discount, go to www.evansvillerotary.com and use the code: campus5
This special discount will be offered until November 20.
The Santa Run takes place Saturday, December 5 at 10:00 am at the Buffalo Trace Council Eykamp Center off the Lloyd Expressway. This officially timed 5k run or 1 mile walk is for serious and not so serious runners, walkers, families, and friends. Santa suits and other goodies included for the first 500 registrants.
Runners and Walkers wanted!!
Join other walkers, runners and philanthropists on December 12, at 9 am, at the downtown Old National Bank Building to participate in this year's Jingle Bell Run. This 5k raises funds and awareness in hopes of finding a cure of arthritis.
Use the UE discount code below for $5 off any type of registration!
DISCOUNT CODE: UOFEJBR15

Interested in Working for the Office of Admission?
The Office of Admission is looking for several student callers for the remainder of this school year. We are looking for energetic, friendly, customer service oriented students to call prospective students and assist the admission counselors with student interaction. Hours will primarily be in the evening with some later afternoon hours. An application and interview is required for this position. An interview will be scheduled once your application is reviewed. If you are interested in applying, please download, print, and complete the Admission Student Caller Application. You can contact Catie Taylor (ct37@evansville.edu) in the Office of Admission with questions or for additional information.
UE Storm Drains
Important information about UE storm drains:
UE has a storm water management program to keep pollutants out of storm drains.
You can identify storm drains on campus by the red tag or fish stamp.
Water going down a storm drain is NOT TREATED to remove pollutants before going to the river.
You can help prevent storm water pollution by fixing oil leaks on your car.
If you see a spill other than water near a UE storm drain, you should call UE Security at 812-471-6911 to report the spill.
For more information, go to https://www.evansville.edu/offices/administrativeservices/stormwater.cfm

Environmental Management System Objectives
This is the Third in a series of communications about UE's Environmental Management System (EMS). It is important for you to be aware of the EMS and to understand your role in supporting it and helping to implement it where appropriate. So far we've covered UE's Environmental Policy (ride the CREST) and Roles, Responsibility and Authority.
The items covered in this memo are Significant Environmental Aspects, Objectives and Targets.
Significant Environmental Aspects (SEA's) are activities that do, or can, significantly impact the environment. They require controls, training and monitoring to ensure compliance.
UE's Significant Environmental Aspects are:
Hazardous material use in Chemistry and Biology.
Hazardous waste generated in Chemistry and Biology.
Objectives and Targets help promote continuous improvement in our environmental performance. UE's current Objectives and Targets are:
Reduce Hazardous Chemicals in Biology and Chemistry Departments:
Biology: Remove Peroxide formers from biology inventory, identify and determine less hazardous substitutes for hazardous/toxic chemicals.
Chemistry: Reduce the re-ordering of chemicals that are currently in-stock by June 2016, by comparing to the fiscal year 2013 data. Consider less hazardous substitutes for hazardous/toxic chemicals.
Reduce Hazardous Waste in Biology and Chemistry Departments:
Implement waste testing and new waste label to improve characterization of RCRA hazardous versus non-RCRA hazardous waste.
For additional information, or if you've got any questions, comments or suggestions, please contact Jan Schrader, Manager Risk and Environmental Management at js652 or 2697.
You can also find additional information in AceLink/Areas/Environmental Management.

Christmas Donations
Graves Hall is collecting the following donations for the Evansville Rescue Mission and the Christian Life Center this Christmas season: new gloves, mittens, socks, hats scarves for men, women and children. These items can be placed on the Christmas Tree in the lobby of Graves Hall. We are also collecting new or gently used coats for children in grades K-5. The coats can be placed in the box in the lobby of Graves Hall. Also, men's toiletries for the Evansville Rescue Mission (body wash, shampoo, shaving cream, deodorant, disposable shavers, toothpaste, toothbrushes, body lotion) can be put in one of the designated boxes in the lobby of Graves Hall. Please NO travel sizes; NO bar soap; NO items containing alcohol. Please contact Pam Young X2848 or Karen Doss X2360 if you have any questions. Thank you!
World Religions, REL 212 @ Harlaxton this Summer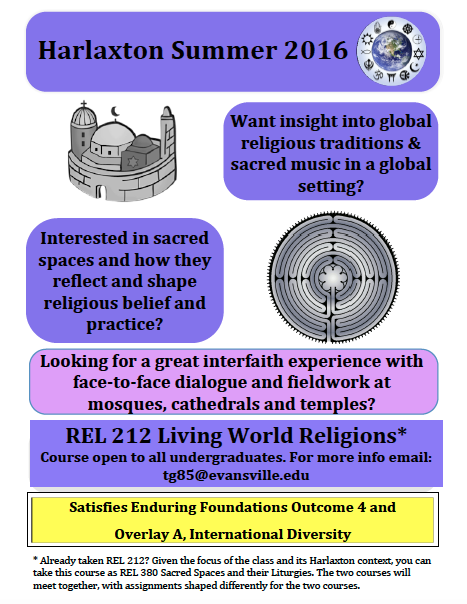 Want to learn more about the religions of the world and immerse yourself in religious culture? Do you have a desire to engage with people who are different than you? Interested in sacred spaces and how they reflect and shape religious beliefs and practice? If you are looking for a unique interfaith experience with fieldwork at mosques, cathedrals, and temples, REL 212 "Living World Religions" at Harlaxton is for you!
Sign up today for summer at Harlaxton 2016! Satisfies Enduring Foundations Outcome 4 and Overly A. If you've already taken REL 212, you may take this course as REL 380, "Sacred Spaces and Their Liturgies." The two courses will meet together, with assignments shaped differently for the two courses.
Click link below to sign up. For more information about the course contact Tammy Gieselman, tg85@evansville.edu
https://www.evansville.edu/studyabroad/applicationForAdmission.cfm

Honorary Degree Committee Seeks Your Nominations
The University of Evansville Honorary Degree Committee is now soliciting your recommendations for honorary degrees to be conferred at the May 2015 Commencement.
We need your help in selecting accomplished individuals to receive one of our university's highest honors.
According to the UE Faculty and Administrator Manual, the committee is charged with requesting and reviewing honorary degree nominations made on the basis of individual service to the University and individual achievement. An honorary degree may also be awarded to individuals who exemplify the University's mission. Selected persons have excelled in a variety of areas--law, medicine, education, business, literature, politics, and entertainment. Last year's recipients were UE Professor Emeritus of Chemistry Jean Beckman and the Honorable Lee Hamilton.
The committee will forward nominations to President Kazee so he can make his recommendations to the faculty. The faculty will vote on the final list of nominees.
Please email the following information to Robert Dion, committee chairperson, at rd35@evansville.edu, by Monday, November 23:
1. Nomination by (include name, phone and email address)
2. Name of person nominated
3. Title and/or profession of nominee
4. Rationale for the nomination (see criteria above)
5. Any biographical or background information on the nominee
6. Address information for contacting the nominee
The committee looks forward to receiving your recommendations.
Planning Ahead - Mail Services Reminder
As the Thanksgiving holiday approaches, please notify Mail Services via email mailservices@evansville.edu. If your area or office is going to be locked early or your folks are taking a vacation day and will not be available to accept mail delivery on Wednesday, November 25.
Also, areas requiring UPS services for shipping out UE packages should plan to have UPS packages ready to ship from Mail Services by Tuesday, November 24. For questions, contact Mail Services at extension 2197.

UE Mail Services - Thanksgiving Week
Since UE campus will be closing at noon on Wednesday, November 25, please note the following Mail Services adjustments and plan accordingly. These adjustments will help to ensure there is sufficient time to complete mail processing before campus is closed for Thanksgiving:
Mail Services Adjustments
The daily mail run will begin at 8:30 a.m.
All outgoing mail must be in UE Mail Services for processing on November 25, no later than 10:00 a.m.
Please note that the USPS will also be closed on Thursday, November 26th for Thanksgiving Day.
While UE Mail Services is closed, those needing to mail a letter, etc. later in the day may do so by taking their mail to the Post Office and paying for the postage via a UE Pcard.
UPS Adjustments:
The last day to ship UPS Ground packages for the week of Thanksgiving from Mail Services is Tuesday morning, November 24.
UPS is closed on Thanksgiving Day for pickup and deliveries.
On Friday, November 27, there is UPS delivery and pickup of air and international packages only. Pickups are available if you have made pre-arrangements with UPS by Wednesday, November 25 or via UPS On-Call Pickup service and at all UPS Drop Boxes. Please note that guaranteed delivery confirmation times will be extended 90 minutes on Friday.
For urgent shipments, UPS Express Critical is available 365 days a year. For more information on this services go to www.expresscritical.com.
For mailing questions, contact Mail Services at extension 2197 or mailservices@evansville.edu.
UE Central Receiving - Thanksgiving Week
Since UE campus will be closing at noon on Wednesday, November 25, please note the following Central Receiving adjustments and plan accordingly. These adjustments will help to ensure there is sufficient time to complete deliveries before campus closes for Thanksgiving:
Central Receiving Adjustments
• The daily receiving run will begin in the morning at 10:00 a.m. on Wednesday, November 25.
• UE Central Receiving will close at noon on Wednesday, November 25th and re-open on Monday morning, November 30.
• Please note that campus offices expecting packages are asked to notify Central Receiving for possible alternatives.
• Offices that plan to be locked earlier than noon on November 25 due to employee vacations are asked to notify Central Receiving in advance to avoid unnecessary morning deliveries.
For delivery questions, contact Central Receiving at extension 2181 or email at centralreceiving@evansville.edu
Support Our Troops with "Operation: Care Package"
Pi Gamma Mu honor society is sending good will to our troops deployed during the holidays in the form of care packages, and WE WANT YOU!
For $40, you can sponsor one of four themed care packages, which includes the contents, decoration, and, shipping. The four themes are:
"Thankful for Your Service" - fall and Thanksgiving-themed items
"A Little Piece of Home" - comfort foods and reminders of home
"Good for a Rainy Day" - games, books, and puzzles
"Our Support Comes Naturally" - healthy food and fitness items
In addition, you can choose the military branch and gender of the service member who will receive your care package, and include a personalized note of support for our troops! Who can sponsor a care package? Anyone! Individuals, departments, programs, organizations, teams, community members, and anyone who wants to support our troops! You can sponsor as many care packages as you want, and each can have a different theme and/or military branch!
To participate, the order form can be found at:
https://www.surveymonkey.com/r/OperationCarePackage
For more information, contact faculty sponsor, Mari Plikuhn, assistant professor of sociology, at mp168@evansville.edu or 812-488-2707. The care package drive runs through November 20.
Join our campus social initiative!
Have you heard about events like the Changemaker Challenge? Do you have a passion for social innovation? Then you may be interested in some of the open positions in the Social Innovation Club!
Open positions include: master emailer, newsletter author, website management, university relations chair, photographer, promotion and flyers chair, volunteer events chair, corporate relations chair, individual relations chair, pitch organizer, interclub relations chair, academic representatives, secretary for recruitment, event planner, vice president of volunteers, and vice president of special projects
If you would like to know more about any of these positions, then please let us know and we can send you the job description! Contact ll115@evansville.edu or po22@evansville.edu or stop by the Institute for Global Enterprise for more information!
UE Winter Housing
The residence halls will be closed for winter break from noon on December 17 to noon on January 8. Students participating in official University functions or other approved activities have the opportunity to apply for Winter Housing. Simply submit an Online Winter Request Form (hyper link this link https://www.surveymonkey.com/r/WinterHousing by noon on Reading & Study Day to be considered. For more information about Winter Housing, contact the office of residence life.
Kretz delivers Paper on Bias at Indiana Philosophical Association Conference
Lisa Kretz, assistant professor of philosophy, delivered a paper titled "Thinking About Bias" based on the collaborative research that she and Matthew Knoester, assistant professor of education, performed in the spring of 2015. It was presented at the Indiana Philosophical Association conference that occurred November 13 -14 in Richmond, Indiana, at Earlham College.
Birth Announcement - Mackenna Diane Lewis
Erin and Mitch Lewis have welcomed a newborn daughter to the world! Mackenna Diane Lewis made her debut on November 15. She was 6 lbs., 13 oz., and 50.8 cm. long. Erin is the program manager at the Institute for Global Enterprise. Jeffrey Braun, chair of the Physics department, is Mackenna's proud grandfather!
Mockevicius scores 1000th point as UE wins again
University of Evansville senior and reigning Missouri Valley Conference Player of the Week Egidijus Mockevicius scored 20 points and also notched the 1,000th point of his career as the Purple Aces men's basketball team earned an 84-59 victory over Marian on Tuesday evening at the Ford Center.
"It is a great accomplishment for him, he has gotten better every year since he has been here and we are very proud of what he has done," head coach Marty Simmons said. "With the game, we are going to have to play better tougher and smarter, we have a really good team coming in here on Saturday. We need a good few days of practice to be able to win on Saturday."
That opponent on Saturday is Belmont, who defeated Marquette in the opening weekend and fell at Arizona State on Monday night. Prior to the game, which begins at 12:30 p.m., Fan Fest will be held at Freedom Plaza just outside the Ford Center. Fan Fest is set to begin at 10:30 a.m.
On Tuesday, it was Mockevicius leading all scorers with 20 points and 11 rebounds along with two blocked shots. D.J. Balentine finished the night with 17 points and a game-high 7 assist while Jaylon Brown notched 13 on an efficient 5-of-7 shooting night. Dion Smith was the top scorer for Marian (5-1), notching 11 points. Wesley Stowers finished with ten.
Entering the game just 13 points shy of the 1,000-point plateau, Egidijus Mockevicius got to work in the first half, hitting six of his first seven shots to reach the mark in the first half. He was the leading scorer in the opening frame, but Marian did their best to keep it close.
Evansville scored the first four points and extended that edge to 12-7 on a Balentine jumper. The Knights fought back as a Dion Smith free throw gave them their first lead of the night at 13-12 with 13:51 left in the period.
A quick spurt by the Aces saw them take a 23-17 lead as they scored nine of the next 11 tallies. Just as they did earlier, Marian did not give up. A Curtis Green triple got them within one once again at 26-25 inside of the 6-minute mark. UE was able to get separation over the final minutes of the half as a 13-0 run saw them go up 39-25 with 2:27 left. The final point of that run was a put-back by Mockevicius, which marked his 1,000th career point.
In the second half, Evansville was able to turn it on, leading by as many as 29 points with 2:43 remaining. The Knights cut into the gap in the final minute to make it the final of 84-59.
UE outscored the Knights, 14-2, on the fast break and also had a 60-16 advantage on points in the paint.
"We ran well in transition, made layups and really emphasized going inside," Aces junior Blake Simmons said.
As a team, UE shot 52.5% while holding Marian to 34.5%. Mockevicius was the most efficient shooter, hitting 9 of his 10 attempts. With his 1,000th point, Mockevicius becomes the 47th player in program history to reach the mark.
- INFO: For all of the latest information on University of Evansville athletics men's basketball, log on to the sport page on GoPurpleAces.com or follow the program on Twitter via @UEAthletics_MBB.
- DONATE: For information on giving to UE Athletics or its individual athletics programs, visit the DONATE tab on the top of GoPurpleAces.com.
- TICKETS: To purchase tickets for University of Evansville athletics events, log on to GoPurpleAces.com and click on the TICKETS tab on top of the page.

Faculty/Staff Men's Basketball Tickets Available Starting November 18
Faculty & staff will be able to pick up their two complimentary tickets for the men's basketball game against Belmont starting on Wednesday, November 18, at 8:30 am.
The game will be played at the Ford Center at 12:30 pm on Saturday, November 21. We are also hosting our annual Fan Fest event prior to this game. Fan Fest will be held at the Freedom Plaza in front of the Ford Center beginning at 10:30 am.
For more information, please visit the Carson Center Athletic Ticket Office or call 488-ACES
Contribute to AceNotes
To have content considered for inclusion in AceNotes, please submit a Marketing Request Form. Deadline for submission to AceNotes is 10:00 a.m. on the requested date of publication. Only articles concerning UE related/sponsored activities will be accepted. Articles submitted to AceNotes may be edited for length and clarity. Submitter contact information is at the end of each article.