| | |
| --- | --- |
| AceNotes Today | Thursday, November 12, 2015 |
Swing Dance Fundraiser for Phi Alpha Theta
Please join Phi Alpha Theta, the History Honors Society, for swing dancing and fun on Thursday, November 12, from 7:00-10:00 p.m. The Swing Cats will be directing the event at SWIRCA located on 16 W. Virginia St. The admission fee, with UE ID, will be $8 for lessons and dancing. Please contact jn125@evansville.edu with any questions.
Psychology Club Panel TONIGHT
UE's Psychology Club will host a panel discussion on "The Psychology of Parenting," tonight in Room 170 (Smythe Lecture Hall), Schroeder Family School of Business Building, at 7:00 p.m. A panel of psychologists will be discussing parenting techniques and strategies, covering a range of issues parents typically encounter, and offering best-practice approaches. This event is free and open to all UE students and the public.
Sierra Club Presentation Tonight
On November 12, The Sierra Club will be holding a presentation at 5:30 p.m. in Ridgway University Center's upstairs lounge. Come to this event and get the chance to win a solar powered USB charger!
Join the Newman Club at the Annual March For Life!
All are welcome to apply today to join the Newman Club at the March for Life in Washington, D.C., from January 21-January 24, 2016. The March for Life is one of the largest pro-life rallies in the world and is held annually in the nation's capital.
Please call/text Kristel at (812) 760-8610 for more information on how to apply! Applications will be due on Monday, November 30.

Newman Club Monday Night Dinner and Discussion
Don't forget to join us on Monday, November 16, from 5:00-6:30 p.m., at the Newman Center for our weekly Monday Night Dinner and Discussion. This Monday, we will feature UE junior Fran Prexl who will be leading a discussion on "Mary, the Mother of God". Spaghetti is on the menu this week! We hope to see you there!
Please call/text Kristel at (812) 760-8610 for more information!

This Weekend in Music: Double Reed Day
Oboe and bassoon players are invited to attend the Department of Music's Double Reed Day in Krannert Hall of Fine Arts this Sunday, November 15, from noon to 6:00 p.m.
Elizabeth Robertson, music consortium faculty (oboe), and Edwin Lacy, emeritus professor of music and adjunct instructor of music (bassoon) will host the event with guest artists Christa Garvey, professor of oboe at the University of Wisconsin-Eau Claire, and Robert Barris, retired professor of bassoon at Northwestern University and former member of the Detroit Symphony.
Participants will attend lectures, recitals, and master classes and have an opportunity to perform in a masses double reed ensemble at the end of the day.
Admission is $25 for non-UE students and free to UE students. The opening recital at 12:15 p.m. is free and open to the public.

PT Club Meeting Set for Monday
The PT club will be having a meeting Monday, November 16, at 12:00 pm in Room 100, Koch Center. This is a change from our normal location! We will be nominating officers for next year so if you are interested in getting more involved please attend. We look forward to seeing you!
Pocahontas Movie Panel Discussion Tonight
Come watch the movie Pocahontas followed by an educational panel on American media rewriting minorities and women this Friday November 13, at 6:00 pm in Room 172, Schroeder School of Business Administration. Those in GWS101-4 (Gender Women's Studies) can get extra credit for this event.
Discount on Santa Run Registration Fee for UE Community
UE students, staff, administrators and faculty are invited to participate in the Rotary Club of Evansville Santa Run with a special discount of $5.00 off of the $25 registration fee. To register for the run using the UE discount, go to www.evansvillerotary.com and use the code: campus5
This special discount will be offered until November 20.
The Santa Run takes place Saturday, December 5 at 10:00 am at the Buffalo Trace Council Eykamp Center off the Lloyd Expressway. This officially timed 5k run or 1 mile walk is for serious and not so serious runners, walkers, families, and friends. Santa suits and other goodies included for the first 500 registrants.
FCA Huddle Monday Night!
On Monday, November 16, at 9:00 pm, UE's FCA will be hosting its next huddle. Members of USI's FCA will be joining in for a night of fun and worship. There is also a guest speaker lined up for the night. It'll be a great time, see you there!
Lunch and Lead International Education Week Edition
Meet, eat and discover leadership at Lunch and Lead! We invite you to our session on Tuesday, November 17, 12:15 pm-1:15 pm. This week's presentation is "Experiental Learning and Model United Nations" with UE's Model UN student members. This Lunch and Lead session is held in conjunction with International Education Week! Bring your lunch and meet us in Eykamp 252, Ridgway University Center. All members of the UE community are welcome.
Paddy Murphy Pageant Ticket Sales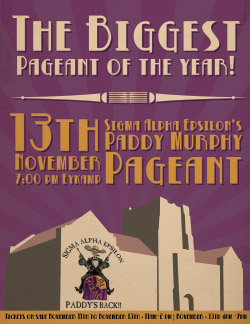 It's that time of the year again and PADDY'S BACK!!!! Get excited for Sigma Alpha Epsilon's 2nd annual talent competition! Hosted on Friday, November 13, the Eykamp Hall doors will open at 6:45 pm. Tickets will be sold during dining hours for $5. Please come and support the ladies of UE as they compete in our philanthropy benefiting Riley Children's Hospital!
Runners and Walkers wanted!!
Join other walkers, runners and philanthropists on December 12, at 9 am, at the downtown Old National Bank Building to participate in this year's Jingle Bell Run. This 5k raises funds and awareness in hopes of finding a cure of arthritis.
Use the UE discount code below for $5 off any type of registration!
DISCOUNT CODE: UOFEJBR15

Annual Holiday Art and Crafts Sale
The Department of Art is pleased to announce its annual Holiday Art and Crafts Sale. Everyone in the UE community who creates art or crafts is welcome to participate. This includes faculty, staff, students, spouses, children, parents, relatives and friends.
The date of this year's sale is Thursday, December 3. Barring another car crashing into the building, the sale will be held in the Melvin Peterson Gallery, located immediately across from campus. Doors will open at 7:00 a.m. and the sale will continue until 6:00 p.m. Participating artists and craftsmen may drop work off the day prior to the sale or on the morning of the sale before the doors open. Vendors do not need to stay with their work as Art Department staff and volunteers will be on site to handle the sale.
If you would like to join in this year's Holiday Sale, or think you might want to participate but need more information, please contact the Department of Art at ca5@evansville.edu or 812-488-2043.
FSA ID Notifications from U.S. Department of Education
This week, the U.S. Department of Education began sending emails to students who filed the 2015-16 FAFSA reminding them to create a FSA ID. This will be used in place of the PIN to sign the FAFSA. If you have not done so already, please follow the instructions in the email you receive to create your FSA ID. We encourage you and your parent to create your FSA ID now to avoid processing delays when you file the 2016-17 FAFSA.
Donation Drive: Personal Hygiene Items
Students in a philosophy class are collecting personal hygiene items to give to the homeless. Please help donate new, unused soap, toothpaste, toothbrushes, deodorant, sugarless gum, shampoo, conditioner, tissues, and feminine hygiene products. NO items containing alcohol. There will be donation boxes in Ridgway University Center until November 20.
Wheeler Fund Award
The Wheeler Fund was established in remembrance of Walton M. Wheeler, Jr. (1908-60). A prominent Evansville attorney, Mr. Wheeler served on the Board of Trustees of Evansville College from 1953-1960. Each year the fund is used to purchase special materials designed to enhance the library collection. This year the total amount, to be divided according to the nature and merit of the proposals received, is $967.00.
PURPOSE: The materials should be ones an academic department could not ordinarily afford through its library budget and which would make a significant addition to present library holdings. Proposals should fulfill one of the following purposes:
• To purchase library materials for a new academic program:
• To purchase library materials for an existing program;
• To purchase cross-disciplinary enrichment materials.
These materials should NOT include pieces of equipment or computer software. They should NOT entail continuing costs, as do periodicals and databases.
PROCEDURE: Applications will follow a two-step process:
1. Statement of Intent - This should consist of a one-page (200-300 words) description of the overall purpose of your proposal and a description of the type of material you wish the library to acquire.
PLEASE SUBMIT FOUR COPIES OF THE STATEMENT OF INTENT BY Friday, January 15, 2015
2. Formal Proposal - Statements considered by the committee to be most promising will be returned with encouragement to prepare a formal proposal. The proposal should include: (1) a 300-500 word rationale; (2) an itemized budget listing materials to be purchased; and (3) any additional supporting data the applicant wishes to present. The previously submitted Statement of Intent is not equivalent to the proposal.
IF SELECTED, PLEASE SUBMIT FOUR COPIES OF THE FORMAL PROPOSAL BY Monday, February 15, 2015
UNICEF Campus Initiative Club Is Looking for New Leaders!
The UNICEF Campus Initiative is looking for new leaders for their club. Executive Board positions are open and available to anyone, including Secretary, Chair of Fundraising, Chair of Event Planning and Co-chair of Membership Recruitment. There are no prerequisites; if you are interested please contact Chair of Member Recruitment, Marcela Pineda at mp226@evansville.edu. In order to be considered, an application will be required, as well as a Curriculum Vitae (Resume). Applications are due November 21st. It is a great opportunity to be part of a great cause!
UE Faculty and Staff to Host Students Staying on Campus for Thanksgiving
Are you a student staying on campus for Thanksgiving? A few UE faculty and staff members are willing to host students, who are remaining on campus, for a Thanksgiving meal. If you are interested, please contact Michelle Hahn at dh196@evansville.edu or call her at 812-488-2279 by Tuesday November 17.
Christmas Donations
Graves Hall will be accepting the following donations for the Evansville Rescue Mission and the Christian Life Center this Christmas season: new gloves, mittens, socks, hats, scarves for men, women and children. These items can be placed on the Christmas tree in Graves Hall after November 16. We are also collecting new or gently used coats for children in grades K-5. The coats can be placed in the box in the lobby of Graves Hall. Also, men's toiletries for the Evansville Rescue Mission (body wash, shampoo, shaving cream, deodorant, disposable shavers, toothpaste, toothbrushes, body lotions) can be put in one of the designated boxes in the lobby of Graves Hall beginning November 16. Please NO travel sizes; NO bar soap; NO items containing alcohol.
Please contact Pam Young X2848 or Karen Doss x2360 if you have any questions. Thank you!
Last Day to Drop with a W
Do you still need to drop a class this semester? If so, you have until this Friday November 13, at 5:00 p.m., to turn in your drop slip with all required signatures to the Registrar's Office. NO EXCEPTIONS.
Holiday Season Hours
The University of Evansville will be closed during the holidays to allow our employees to enjoy this special time with their families.
The following November-December-January holiday schedule will be observed:
Thanksgiving
Wednesday, November 25, 2015 – close at noon
Thursday, November 26, 2015
Friday, November 27, 2015
Christmas/New Year's
Wednesday, December 23, 2015, through Friday, January 1, 2016 – returning on Monday, January 4, 2016
The Higher Learning Commission Campus Visit: How to Prepare and What to Expect
The University of Evansville will host a visit February 29 - March 2, 2016, with a five-person review team representing its regional accrediting agency, the Higher Learning Commission (HLC).
Before the Visit
Prior to visiting UE, the peer review team will spend several weeks carefully reviewing UE's Assurance Argument, verifying assertions made in the argument by examining supporting documents provided in an Electronic Resource Room, and identifying people and groups with whom they want to meet while on campus. In addition to the materials provided by UE, the peer review team will also read any comments submitted to the HLC through the Third-Party Comment process and results of a survey the HLC administers to UE students which will be open from November 9 to November 18, 2015. mpus visit.
During the Visit
While on campus, the peer review team will likely spend time visiting various programs and departments, observing classrooms or co-curricular activities, and meeting with individuals and groups (including open forums with faculty, staff, and students). The HLC Steering Committee has developed a set of sample questions that peer review team members may ask, which is intended to be a helpful guide in preparing for the campus visit.
After the Visit
Several weeks after the campus visit, the peer review team will prepare a draft report, which will be sent to UE to review and correct any errors of fact. The team will then prepare a final report of its findings and recommendations for UE's accreditation status. UE will receive a copy of this report and have an opportunity to provide a formal written response to the HLC. This response will become part of the official record of the evaluation. The HLC will review the final report and UE's response and notify UE in writing when the review process is completed and final action by the HLC has been determined.
UE ACM Programming team places first at ACM International Programming Contest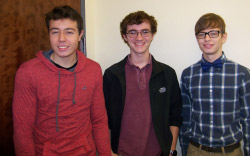 University of Evansville's ACM Programming team of Guilherme Andrade, Evan Higgins, and Kane Catt placed first out of 24 teams at the Association of Computing Machinery's (ACM) International Programming Contest, Saturday, November 7th, at the University of Louisville site of the Mid-Central Region.
Teams of the Mid-Central Region include University of Kentucky, University of Louisville, Centre College, Morehead State University, Marshall University, Georgetown College, Berea College, IU Southeast, Northern Kentucky University, and Eastern Kentucky University.

Additionally, they placed 10th overall in the entire region which consists of over 155 teams. They finished ahead of many larger schools including nearby rival, Rose-Hulman Institute of Technology.
The ACM International Programming Contest consists of nine questions which must be solved with computer programs within a five hour time limit. The UE team, Andrade (junior), Catt (junior), and Higgins (sophomore) Computer Science students solved seven out of the nine questions. The first place teams of the entire region solved eight out of the nine questions.
Congratulations on a big win for the University of Evansville!
Physician Assistant Program Receives Grants
Congratulations to University of Evansville's new Physician Assistant (PA) Program! The Office of Development and Alumni Relations is pleased to announce two new grants in support of the PA Program. The Welborn Baptist Foundation, Inc. awarded a $25,000 grant, which has assisted in facilitating a successful search for the PA program's department chair, Michael Roscoe. In addition, the Haddad Foundation provided $10,000 to support fundamental start-up investments for the program.
UE's PA program will be the first in the area to provide much needed health care to underserved populations. High school students will be able to apply for direct entry into the program for the Fall of 2016, and any undergraduate majors meeting the pre-requisites will be welcome to apply. The Department is excited and appreciative of these funding opportunities as this new program is preparing to kick off.

Daya Devanathan Publishes Paper
Daya Devanathan published her paper titled "Effects of Anodal tDCS of the Lower Limb M1 on Ankle Reaction Time of Young Adults". Sangeetha Madhavan, PT, PhD, was her research mentor and the second author of the paper. Devanathan. B.S., M.S., is a first-year physical therapist assistant student and graduate of Indiana University in psychology / biology and the University of Illinois at Chicago in rehabilitation sciences. Congratulations, Daya!"
Birth Announcement - Rachel Immanuel
Suresh Immanuel Selvaraj, associate professor of civil engineering from the College of Engineering and Computer Science, and his wife Jean Immanuel, along with their son Matthew Immanuel, welcomed a new baby girl Rachel to their family on November 3. Both mom and baby are doing well.
Volleyball set for final home weekend
This weekend, the Purple Aces volleyball team will complete its home slate with a pair of conference matches against Indiana State and Illinois State.
Friday evening's match against the Sycamores is set for a 7 p.m. start while Senior Day on Saturday will begin at 6 p.m. with the festivities beginning shortly before. Prior to the match, the five seniors on the UE squad will be honored – Kim Deprez, Stephanie Cerino, Lorena Marquez, Tathianna Cordero and Gabriela Roman.
The two weekend matches will also mark the first in-house telecasts for "The Valley on ESPN3" as each will be televised live.
With Genesis Miranda out due to injury, Mildrelis Rodriguez paced the offense to the tune of 12 kills against Southern Illinois. It was the first time in her last eight matches that she recorded double figure kills. The last time she did came in the home match against SIU when she notched 14 kills.
With 41 attempts against Missouri State last week, Genesis Miranda set the UE program single-season record with 1,272. It broke the record previous held by Julie Groves, who registered 1,256 attempts in 1998. Miranda is on the cusp of breaking another one of Groves' marks - her season record for kills. Miranda sits with 444 on the season, just 10 behind Groves mark of 454 from '98.
Indiana State comes into the weekend with a 16-15 overall record and are 5-10 in the MVC. They are tied for 7th place in the league with Drake. Bree Spengler has notched 0.33 service aces per frame and ranks third in the conference. She also paces the Sycamore offense with 2.66 kills per set. Carly Winslow ranks tenth in the league, hitting .295 on the year.
Coming into the weekend, Illinois State is solidly in the MVC Tournament with a 10-5 record and stand at 20-8 overall. They are in third place in the conference. Jaelyn Keene is the top hitter in the Valley, standing at .433. Her tally is 0.23 ahead of her nearest competition. With 3.79 kills per set, Ashley Rosch ranks third in the conference. She has posted a total of 398 on the season.
INFO: For all of the latest information on University of Evansville athletics volleyball, log on to the sport page on GoPurpleAces.com or follow the program on Twitter via @UEAthletics_VB.
DONATE: For information on giving to UE Athletics or its individual athletics programs, visit the DONATE tab on the top of GoPurpleAces.com.
TICKETS: To purchase tickets for University of Evansville athletics events, log on to GoPurpleAces.com and click on the TICKETS tab on top of the page.

Faculty/Staff Men's Basketball Tickets Available
Faculty/staff may pick up their two complimentary tickets for the men's basketball games this upcoming week. The Purple Aces are facing off against Southeast Missouri State at 2:00 pm this Sunday, November 15 and Marian at 7:00 pm on Tuesday, November 17. All home men's basketball games are played at the Ford Center. Tickets can be picked up at the Carson Center Athletic Ticket Office with a UE ID. For more information, please call 488-ACES.
Contribute to AceNotes
To have content considered for inclusion in AceNotes, please submit a Marketing Request Form. Deadline for submission to AceNotes is 10:00 a.m. on the requested date of publication. Only articles concerning UE related/sponsored activities will be accepted. Articles submitted to AceNotes may be edited for length and clarity. Submitter contact information is at the end of each article.